Defending Olympic Gold Medalist Jessie Diggins Talks About Handling Pressure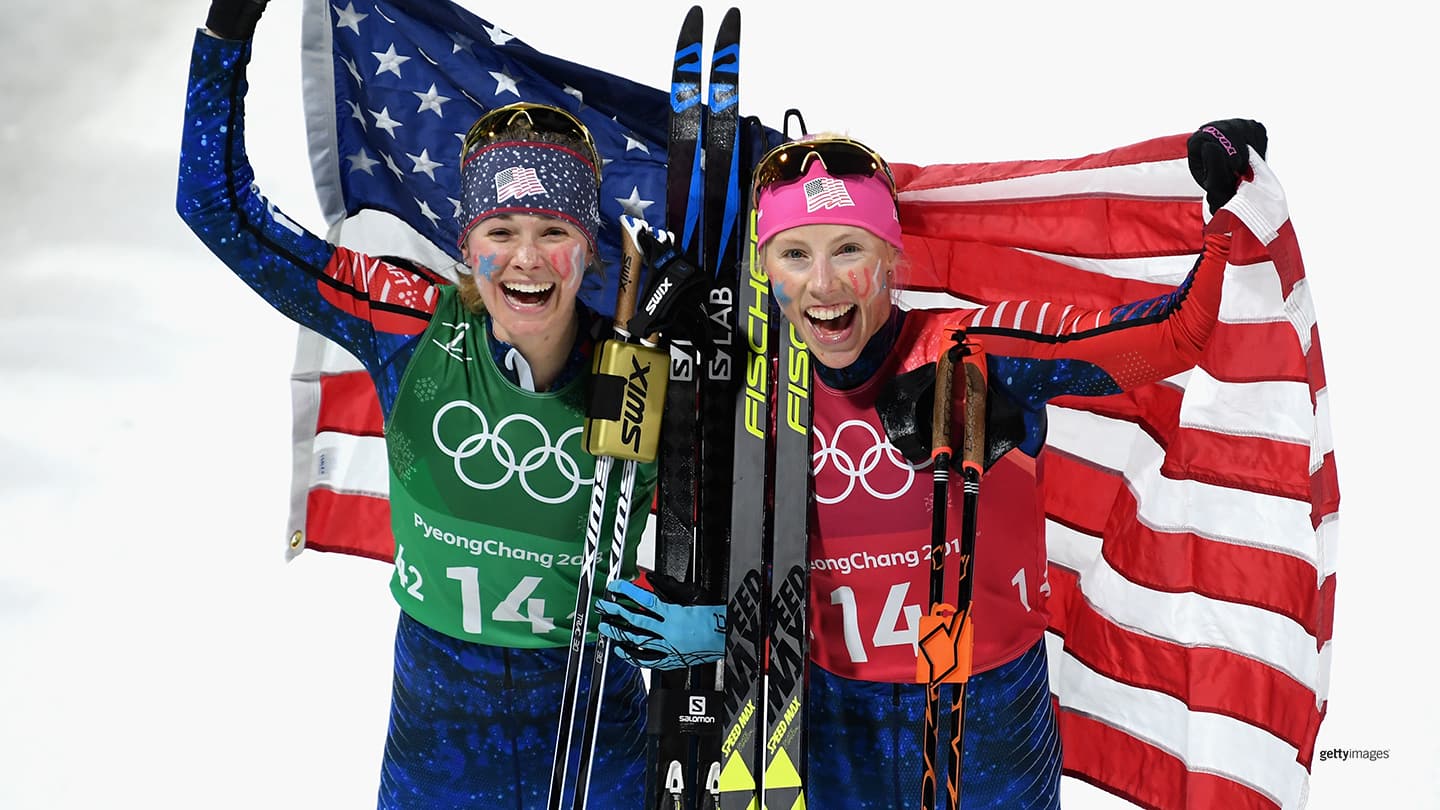 (L-R) Jessie Diggins and Kikkan Randall celebrate as they win gold during the women's team sprint final at the Olympic Winter Games PyeongChang 2018 on Feb. 21, 2018 in Pyeongchang-gun, South Korea.
BEIJING — Jessie Diggins is competing at the Olympic Winter Games Beijing 2022 with a title that no other American cross-country skier has ever had: defending Olympic gold medalist.

In her third Olympic Games, Diggins arrived in Beijing's Zhangjiakou zone as one of the faces of Team USA. As her long-time coach, Jason Cork, said in a conference call before the team left for Beijing, "I'm not really a betting man," he began, and then added, "I think she could be really successful. Realistically, there's an outside chance that she could medal multiple times."

So how is Diggins handling the pressure? Besides turning off her phone number as she announced on Instagram the other day.


Pressure is a Privilege
For starters, Diggins is acknowledging that of course there is pressure at her at these Olympic Games. After winning the team sprint gold medal with Kikkan Randall at the Olympic Winter Games PyeongChang 2018, Diggins has gone on to win the Tour de Ski and the overall world cup title last season. And in her decade-long career, she has raced in 243 world cups, won 12 races and finished on the podium 39 times. And counting. To date, she has also amassed four world championship medals.

But rather than view pressure as a negative, Diggins, now 30, has learned to flip it around and reframe it.

"It's like whoa, what a cool privileged place to be," she said. "Fifteen-year-old Jessie would be so psyched to learn that this is how I'm coming into my third Olympics."

Diggins also won't let winning an Olympic medal define her. Nor will she let anyone else define success for her. She will do the defining, and for her, success has three ingredients. First, if she crosses the finish line having left everything on the course, as she says, "with nothing left in the tank," then she will be happy no matter where she finishes.

And Diggins is famous for leaving nothing in her tank, collapsing across the finish line. Even in training, she pushes herself until she tastes blood (a reaction in athletes' lungs to intense breathing).

"She's got the ability to suffer," pointed out Cork, adding that it's usually the athletes who are willing to go deep into the pain cave who come out on top. "I think that's a huge advantage."

Second, Diggins feels successful if she is a good teammate. Even when she can barely stand after a race, she will wait at the finish line to cheer on her teammates.

"Who are you off the snow?" she said. "What kind of person are you? What do you stand for? How do you treat the people around you? That's really important."

And thirdly, she considers a race successful if she has prepared well for it.

"Did you do everything possible and not just in the last week or the last month, or even the last year, but in the last decade, have I put everything toward this?"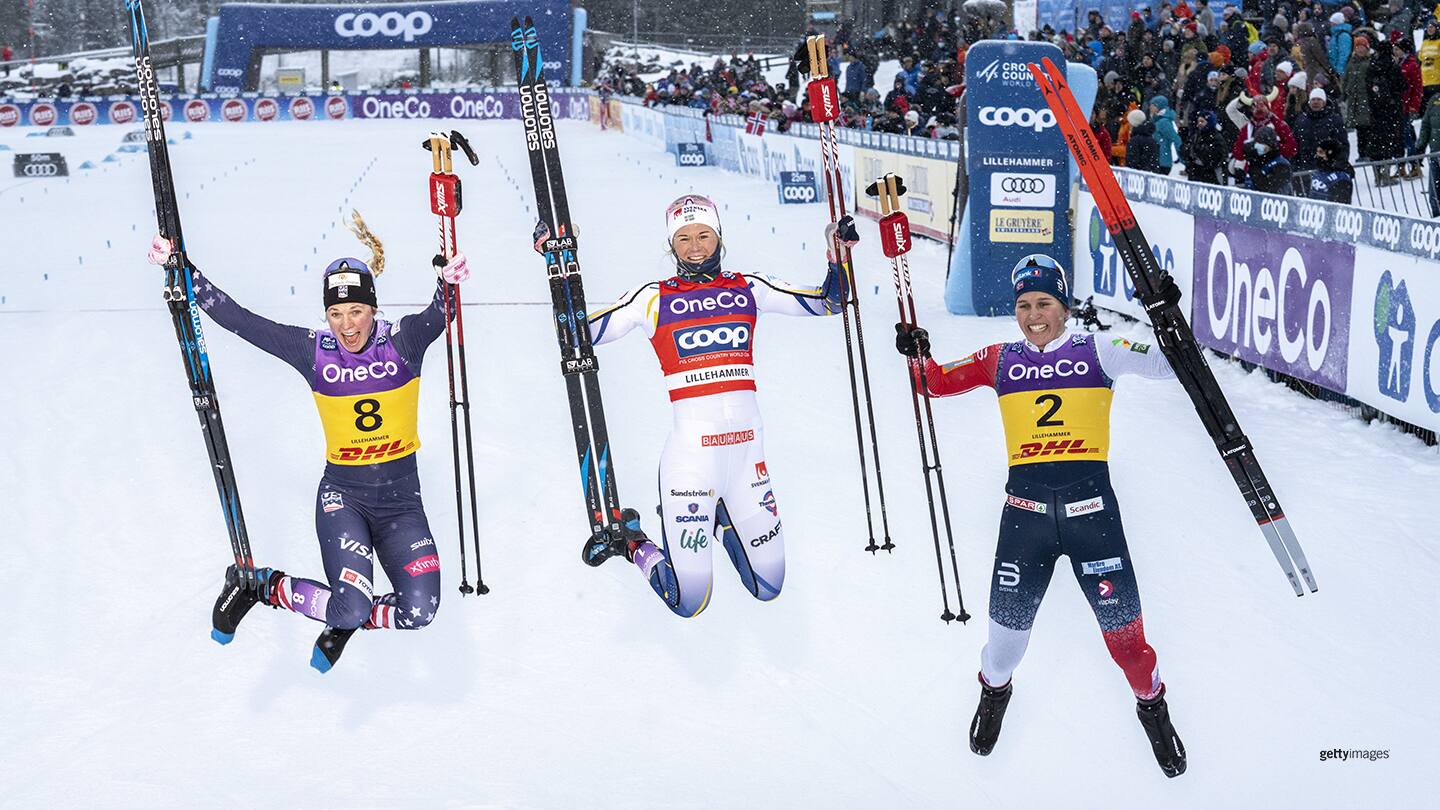 (L-R) Jessie Diggins, Maja Dahlqvist (Sweden) and Tirol Dunes Weng (Norway) celebrate on the podium at the FIS Cross-Country World Cup on Dec. 3, 2021 in Lillehammer, Norway.
"If I can do all those things and cross the finish line and look back and go, 'That was it, that was my best effort, that was everything I had,' then that will be success," she added. "It doesn't have to be a medal."

Diggins also does not feel as if she is defending anything. She likes to quote former U.S. Ski Team coach Pete Vordenberg: "Every time you do something, it's for the first time. Even if you do it again, it will be different, and you will be different. So enjoy it."

Not only are the racecourses at the Beijing Games different than there were in PyeongChang, but Diggins has matured as an athlete. And perhaps just as important, the team sprint is a classic race at the Beijing Games. In 2018, it was a freestyle event. And Diggins has traditionally been a faster freestyle skier.

"I don't have to go in there defending anything," she said. "Nothing makes that medal and what I did four years ago disappear, and I don't disappear if I don't do it again."


Diggins' Olympic Program
So with her eye on success, Diggins plans to race all six of the women's races on the Beijing Olympic schedule — just as she did four years ago at the PyeongChang Games. She is one of a handful of skiers on the women's world cup tour who excel at all distances, from the kilometer-long sprints to the 30K mass starts.

But unlike the 2018 PyeongChang Games, the cross-country ski techniques have flipped (as they always do from Games to Games). The individual sprint is a freestyle race this time (it was classic in PyeongChang, and Diggins finished sixth), and the team sprint is a classic race. The 10K interval start is classic (Diggins finished fifth in the freestyle version in 2018). And the 30K is now a freestyle event (Diggins crossed the line seventh in the 30K classic four years ago).

That said, Diggins is realistic. The Zhangjiakou zone is cold and is known for its strong winds. Although Diggins excels racing in the cold — an advantage that she will have at these Games over some of her competitors, said Cork — she knows that it can take its toll.

Diggins will weigh the energy drains at these Games and change her plan if needed. She might sit out one of the races in the middle of the Games. But she definitely likes the team events, and she plans to compete in the women's skiathlon, which opens the 2022 Olympic cross-country competition this Saturday.

"That said, traditionally, it's been great for me to simply keep racing," she said. "And I'm so excited for every single race and all the opportunities ahead."
Want to follow Team USA athletes during the Olympic Winter Games Beijing 2022? Visit TeamUSA.org/Beijing-2022-Olympic-Games to view the medal table and results.
An award-winning freelance writer based in Vermont, Peggy Shinn is in Beijing covering her seventh Olympic Games. She has contributed to TeamUSA.org since its inception in 2008.