In Tokyo Rematch, U.S. Women's Goalball Falls To Turkey In World Championships Quarterfinals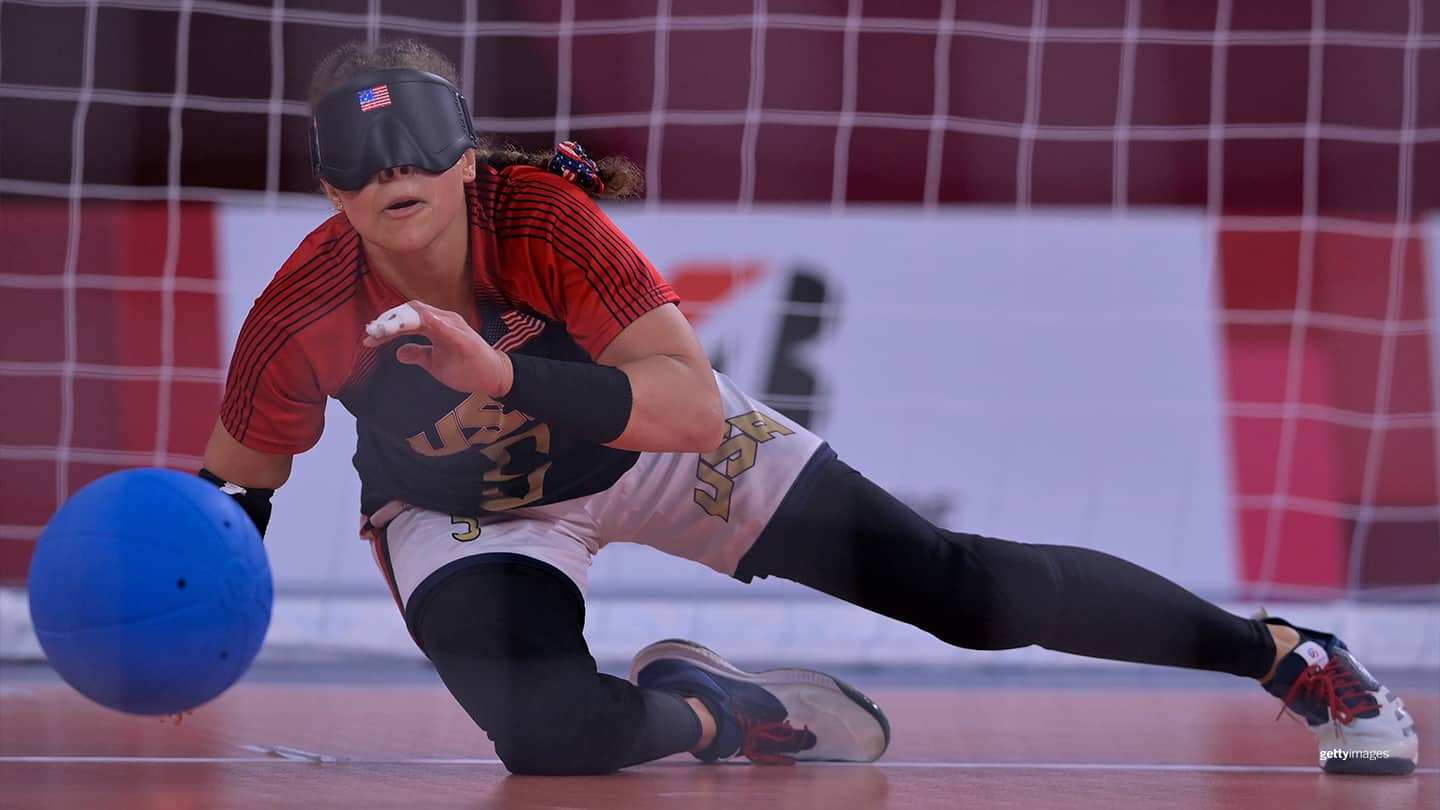 Amanda Dennis competes in the women's goalball semifinal during the Paralympic Games Tokyo 2020 on Aug. 29, 2021 in Chiba, Japan.
A little over a year ago in Tokyo, the U.S. women's goalball team fell short against Turkey in the Paralympic gold-medal game, losing 9-2.
The teams played a much tighter rematch on Thursday, but ultimately the result was the same.
Despite two goals from Asya Miller, the U.S. fell to Turkey 5-4 in sudden death overtime in the quarterfinals of the IBSA Goalball World Championships in Matosinhos, Portugal.
Sevda Altunoluk, the leading scorer in Tokyo who scored all eight goals in that gold-medal match, was again the hero for Turkey, netting all five of her country's goals. Amanda Dennis, who missed last year's gold-medal game due to injury, and fellow Paralympian Eliana Mason also scored for the U.S. on Thursday.
The loss means the sport's most successful team will miss the medals podium for the second consecutive world championships. The squad also narrowly missed the podium in 2018.
In 10 prior world championships, dating back to 1982, the U.S. women had won eight total medals, including four golds. No country, men or women, has reached the podium so many times. The story is the same at the Paralympic Games. Since the sport debuted for women in 1984, the U.S. has won two Paralympic gold medals, plus five more of other colors.
Goalball is a Paralympic team sport for athletes who are visually impaired. Two teams of three line up in front of goals that span the width of the court, with the object being to throw the ball past your opponent into the opposing net.
The Americans brought a veteran team to Portugal with four Paralympians in Dennis, Mason, Miller and Mindy Cook, along with newcomers Libby Daugherty and Shavon Lockhardt.
That group opened the tournament by going 5-2 through pool play to finish third in Group B. That set up the quarterfinal rematch against Turkey, which had gone 6-1 to finish second in Group A.
Altunoluk leads the tournament with 44 goals, while her teammate Fatma Gul Guler has scored 20 so far, tying her for eighth. No U.S. player scored more than a dozen goals, though four were in double digits: Lockhardt (12), Mason (12), Dennis (10) and Miller (10).
The U.S. men finished 3-4 in pool play and did not advance to the knockout round.
Turkey now faces Israel in a semifinal later today, while Canada plays South Korea in the other game. The men's semifinals are Brazil vs Lithuania, and China vs Ukraine.
Chrös McDougall has covered the Olympic and Paralympic Movement for TeamUSA.org since 2009 on behalf of
Red Line Editorial, Inc.
He is based in Minneapolis-St. Paul.