Coming Off Paralympic Success, U.S. Goalball Teams Aim For A Return To Podium At Worlds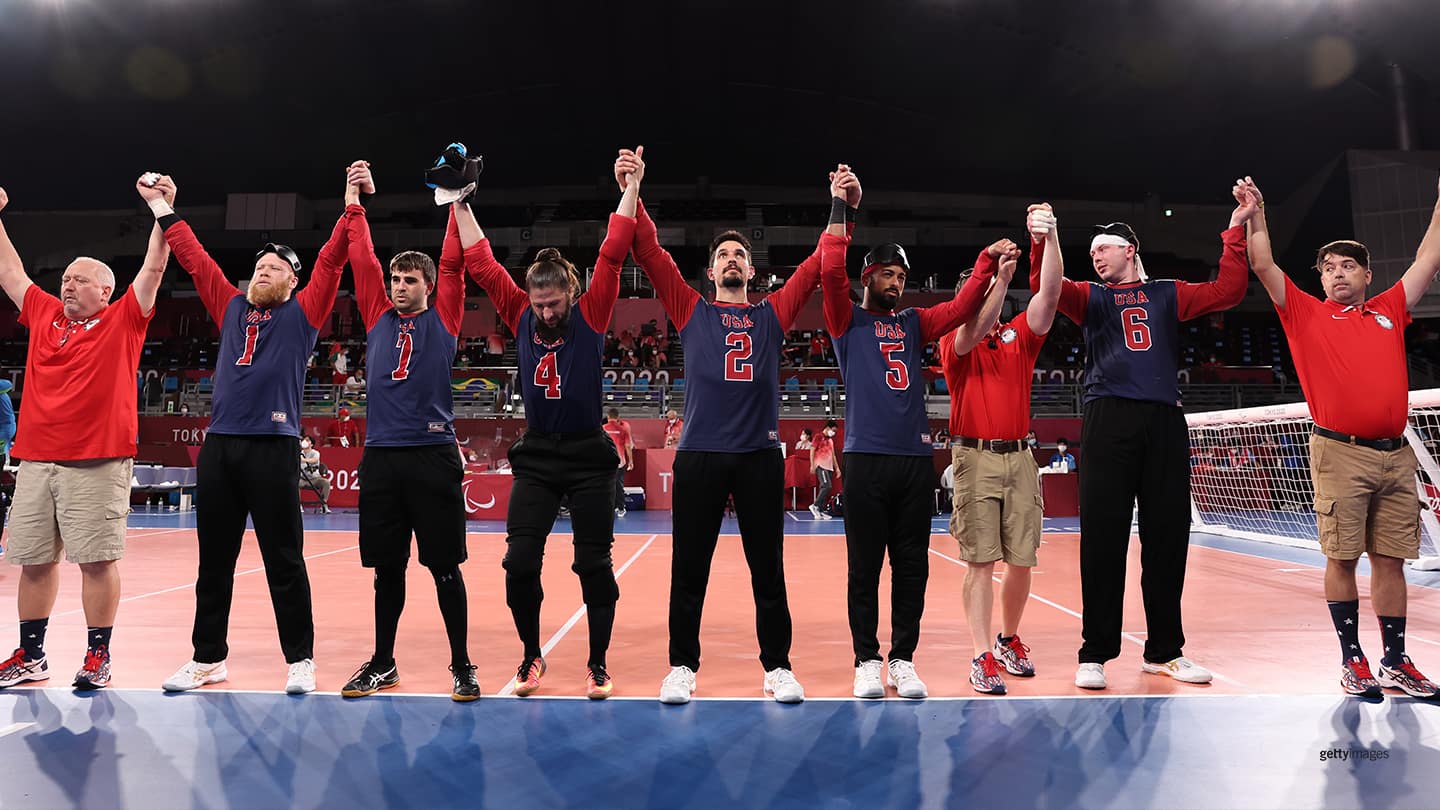 Team USA celebrates after winning the men's goalball preliminary round match against Team Brazil at the Paralympic Games Tokyo 2020 on Aug. 26, 2021 in Chiba, Japan.

Imagine trying to stop a three-pound ball, flying as fast as 40 miles per hour, and that's been thrown from roughly 30 feet away.

Now imagine the energy required to slide and dive across the court to stop that ball almost 120 times over the course of 24 minutes.

And now think about doing it without being able to see.

That's goalball.

"These aren't visually impaired athletes, these are elite athletes who happen to be visually impaired," said U.S. men's coach Keith Young. "It's an exhausting, exciting sport, the first time anyone sees goalball they get hooked."

In goalball, two teams of three line up in front of goals that span the width of the court, with the object being to throw the ball past your opponent into the opposing net.

The rare Paralympic sport that doesn't have an able-bodied equivalent in the Olympic Games, goalball been compared to reverse dodgeball before, but Young said it's better to describe the sport as a well-organized and strategized game of Human Pong.

"It's back-and-forth, it's strategic," Young said. "You have teams and players that are only listening and using their ears to react with incredible athletic movement; it's hard not to get excited about it."

Both the U.S. men's and women's teams are currently in Matosinhos, Portugal, preparing for the IBSA Goalball World Championships, with each beginning pool play on Thursday.

As added stakes, this tournament is also the first chance to lock up spots in the Paralympic Games Paris 2024, with the top two men's and women's teams earning their berths.

No team has won more medals at the world championships than the U.S. women, who have eight total, including four golds, going back to 1982. The American men have medaled three times, which is tied for the second most on the men's side.

However, both teams missed the podium at the last world championships in 2018, marking the first time in 24 years that Team USA came home without a medal.

They enter this year's tournament with high hopes.

At last year's Paralympic Games Tokyo 2020, the U.S. took silver in the women's tournament and finished fourth in the men's competition.

The men's team is currently ranked third in the world, behind Brazil and Lithuania, while the women are ranked first, ahead of Turkey and Russia. Brazil won the men's tournament and Turkey the women's in Tokyo.

Depth will be tested for the men's team, which is missing captain and 2020 Paralympian Calahan Young due to injury.

"One of the things that (assistant coach James) Wallace and I are doing is we are always trying to put the puzzle together," Keith Young (no relation to Calahan) said. "He's not here, so we called up the next man, and now we piece together the best way to map out 24 minutes."

The men's team consists of Andy Jenks, Tyler Merren, Matt Simpson, Daryl Walker and Sean Walker, who all have Paralympic experience, as well as newcomer Christian King.

Young said it's a more balanced lineup, and he plans an approach that uses the full group. While some teams will focus on three players primarily, the U.S. subs more, Young said, and he has various roles for specialists on certain offensive situations.

"It's important and vital to have that, elite athletes on both sides, you need to find the space and edge anyway you can with your roster," he said. "That's important and we will be ready for that."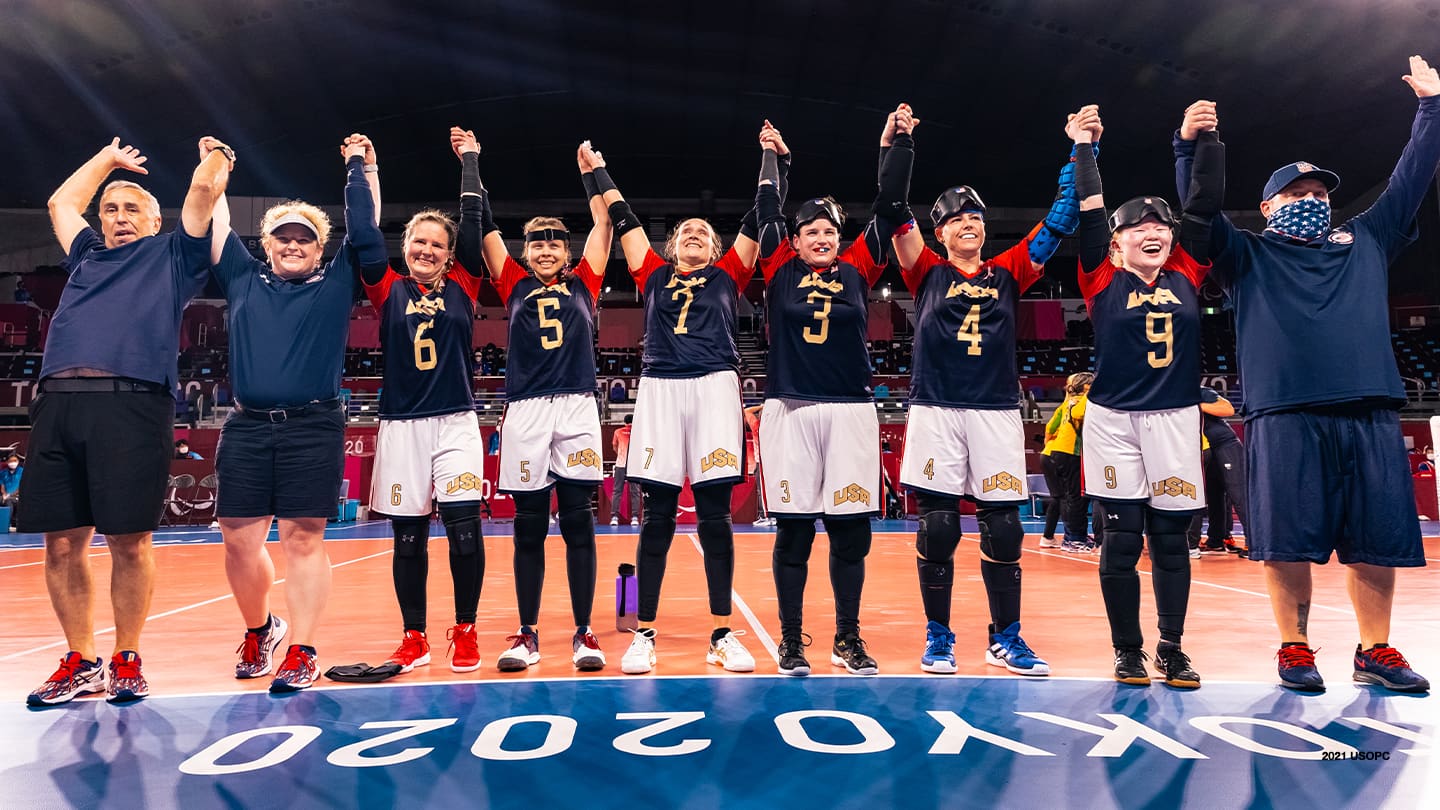 Team USA pose for a photo after winning the women's goalball semifinals against Team China at the Paralympic Games Tokyo 2020 on Aug. 29, 2021 in Chiba, Japan.

The women's team consists of Mindy Cook, Amanda Dennis, Eliana Mason and Asya Miller — who all have Paralympic medals in their career — and Paralympic hopefuls in Libby Daugherty and Shavon Lockhardt.

Jake Czechowski, the U.S. women's coach, told the team's website that their goal "it always to be the best in the world."

"World championships allow us to go out and prove that we deserve that top spot," he said. "With such a huge event, we will be challenged both on and off the court, which we love because the biggest challenges typically bring out the best in our team.

The U.S. men will play Egypt, Argentina, China, Lithuania, Ukraine, Iran and Colombia in group play. The women play Japan, Brazil, Israel, Australia, Egypt, Portugal and Great Britain. The knockout round begins on Dec. 15, with the medal rounds to be held one day later. Games are being streamed here.
Sean Shapiro is a sportswriter based in Detroit. He is a freelance contributor for TeamUSA.org on behalf of
Red Line Editorial, Inc.