Meet The U.S. Paralympic Goalball Teams
Forty-five years ago this summer, goalball made its official Paralympic debut as the 1976 Toronto Games expanded the roster of competitive sports to include opportunities for vision-impaired athletes. On Wednesday, the six men and six women who will represent Team USA at this summer's long delayed Tokyo Paralympics were announced.

The U.S. was the only country to have both its men's and women's teams medal in the 2016 Rio Games. The men took the silver for the third time in Paralympics history, while the women earned the bronze. The men also have a gold and bronze medal to their name, while the women have won two golds, two silvers and another bronze.

Now, the goal is to go for the double-gold — a sweep no country has managed since 1984, when the U.S. won both goalball events at the Paralympics in New York City.

Let's meet the U.S. athletes.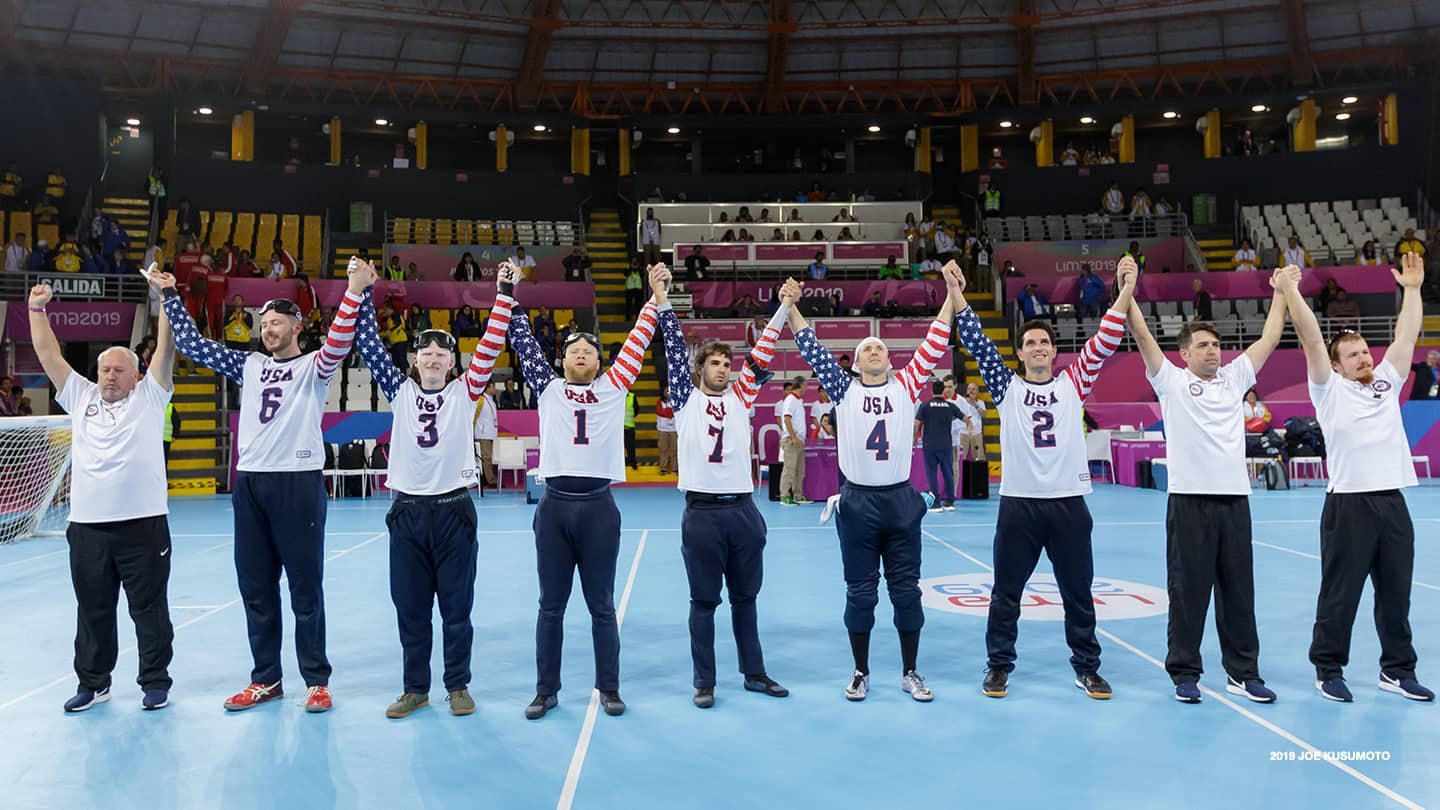 Zach Buhler

On a roster loaded with goalball veterans, Buhler is one of only two first-time Paralympians headed to Tokyo with Team USA.


Buhler, 24 of Marion, Indiana, had only just been introduced to goalball in the months prior to 2016 Rio Games. But he's earned his share of hardware — he plays Beep Baseball for the Indy Thunder, which has won the last four National Beep Baseball Association World Series.

John Kusku

Michigan native Kusku, who turns 37 in August, is back for his second-straight Paralympics, looking to add to a medal collection that includes three silvers (2016 Paralympics, 2015 Parapan American Games, 2011 Parapan American Games) and one bronze (2014 World Championships).

Tyler Merren

How long has Merren been representing Team USA as a Paralympian? One month before he won his first medal, Michael Phelps raked in eight medals in his Olympic debut at the Athens Games.


That was the summer of 2004. Now, Merren, who just turned 37, is back for his fourth Paralympics. After claiming the bronze in Athens, he helped the U.S. to a fourth-place finish in 2008 and a silver medal in 2016.


When he's not working on his own Paralympic pursuits, the Coral Springs, Florida, native helps other athletes with their own individual goals. He is the founder of ReVision Training, which creates audio fitness apps to guide visually impaired athletes through their workouts.

Matt Simpson

After being part of Team USA's silver-medal run in 2016, Simpson stepped away from goalball . . . temporarily.


The Smyrna, Georgia, native returned as planned in time to help the U.S. secure a spot in the 2020 Tokyo Games, but not before he finished the side project he had been working on — graduating from law school at the University of Virginia.


Simpson isn't just involved with goalball as a competitor. He has served on the Athletes Advisory Committee for the United States Olympic & Paralympic Committee, as well as on the board of directors for the U.S. Association of Blind Athletes and the Turnstone Center for Children and Adults with Disabilities. The Turnstone Center in Fort Wayne, Indiana, is home to the Goalball Center of Excellence, where the U.S. men's and women's national teams train.

Daryl Walker

The Tokyo Games will be Walker's third Paralympics, leaving him one trip behind four-timer Merren. Still, Walker, 39, is the elder statesman on the U.S. roster — he qualified for his first national team back in 2003.


Walker, who is from Jacksonville, Florida, has a Paralympic silver medal from Rio to go with his two bronze medals won in world championships play (2006, 2014).

Calahan Young

Young will provide a sizeable presence on his first Paralympic roster. For starters, he's 6-foot-5. But he's also an explosive scorer.


The Irwin, Pennsylvania, native scored 15 goals at the 2019 Parapan American Games, where Team USA locked up its berth to the Tokyo Paralympics.


Back in May, Young, 25, led all scorers at the Trakai Tournament in which Team USA defeated Paralympic champion, Lithuania, on its home court. Lithuania defeated the U.S. in the gold-medal game to close out the 2016 Rio Games.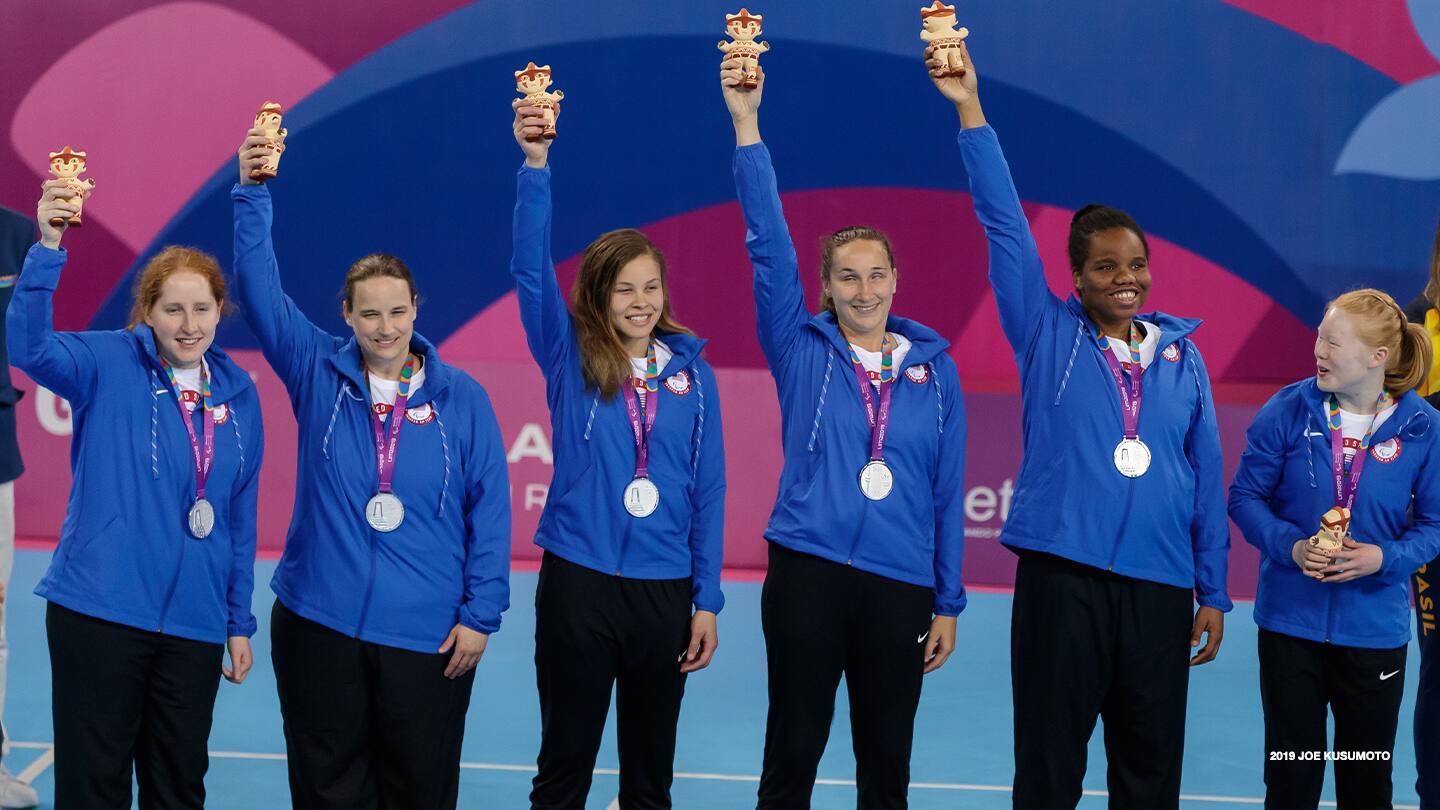 Mindy Cook

Cook is the lone Paralympic rookie on the U.S. women's roster.


The Columbus native and Ohio State graduate didn't take up goalball until 2017. She began her Team USA career at two tournaments in 2019: the Vancouver Grand Slam (where she played with current Paralympic teammates Lisa Czechowski, Amanda Dennis, Eliana Mason and Asya Miller on the USA Red team that captured gold) and the War on the Floor.

Lisa Czechowski

This will be the 10th appearance for goalball at the Paralympic Games. It will be the sixth appearance for Czechowski.


She already has three Paralympic medals for goalball in her collection: gold (2008), silver (2004) and bronze (2016). But the first medal she won was a silver in the 2000 Sydney Paralympics — for discus.


Czechowski, 42, of Boonton, New Jersey, also had the unique honor of participating in the Olympic torch relay leading up to the 2002 Winter Olympics in Salt Lake City.


Her husband, Jake Czechowski, is the head coach of the U.S. women's goalball team.

Amanda Dennis

Dennis was a reluctant participant in goalball when she was introduced to the sport as a kid growing up in Georgia. But she took to the sport quickly, and developed to the point where she made her Paralympic debut as an 18-year-old at the London Games in 2012.


Team USA finished sixth at that year's competition, but she picked up her first Paralympic medal when the U.S. women earned a bronze in 2016.


She has prepared for the 2020 Tokyo Games not entirely at Turnstone in Fort Wayne. After getting married last year to German goalball player Michael Feistle, Dennis, 27, much of her training has been based in Berlin.

Marybai Huking

Initially a figure skater, Huking transitioned quickly to goalball — once she was exposed to it after moving to Utah as a sixth grader. She wound up competing in the 2010 USABA Youth Goalball National Championships, and then became the youngest member of the U.S. women's national team that won gold at the 2014 world championships.


Huking, 24, will be making her second Paralympics appearance.

Eliana Mason

Four years after she was introduced to goalball as a 14-year-old at a summer sports camp, Mason had reached the pinnacle of her new sport. She was part of the U.S. team that won the goalball world championships in 2014.


Mason, 25, made her Paralympics debut at the 2016 Games in Rio, and brought a bronze medal back home to Beaverton, Oregon.

Asya Miller

If you've read Lisa Czechowski's bio, Miller's is going to sound strikingly familiar. They have been teammates in five consecutive Paralympic Games (2004-2016), with pretty much the same trophy case to show for it. The one slight difference — Miller also medaled in the discus event in Sydney, though she took bronze.


It's been at the world championships where their resumes diverge. Miller competed in goalball in four world championships (2006-2018). But she won three gold medals in powerlifting in 2000, 2001, 2009.


And there's the small matter of the ESPY nomination. After winning goalball gold at the 2008 Beijing Games and powerlifting gold at the 2009 world championships, Miller, now 41, was one of four finalists for an ESPY Award (ESPN's sports version of the Oscars) in the category of Best Female Athlete with a Disability.
David Seigerman is a veteran sportswriter, producer, author and the producer/writer/host of the new sports podcast, Out Of Left Field. He is a freelance contributor to
TeamUSA.org
on behalf of
Red Line Editorial, Inc.