Sled Hockey Gold Medalist Jack Wallace Has His Eyes Set On Paris 2024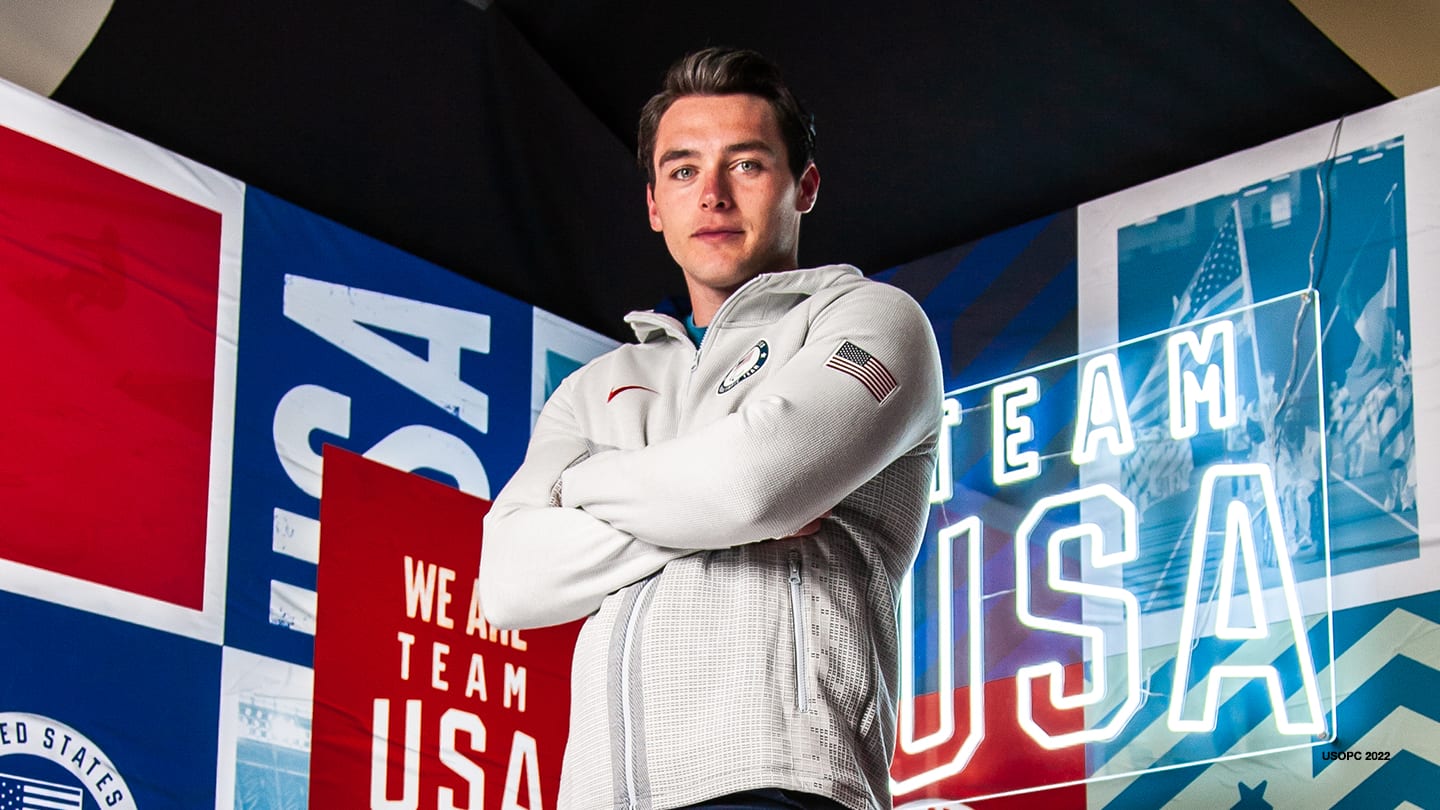 Jack Wallace poses for a photo at the Team USA Week photo shoot on May 2, 2022 in Washington, D.C.
When two-time Paralympic sled hockey player Jack Wallace started in sprint kayak, his only goal was to not fall out of the boat. Now, three years later, he's ranked No. 10 in the world, and his new goal is the Paralympic Games Paris 2024.

After finishing first in the B-finals at the 2022 ICF Canoe Sprint & Paracanoe World Championships earlier this month, the 24-year-old closed out the season at the 2022 Pan American Championships in Halifax, Canada, with a first-place finish and his first international podium in the sport.

"It's funny because this was my first experience getting up on a podium. In sled hockey, we do the ceremony right on the ice," shared Wallace, a two-time Paralympic sled hockey gold medalist and two-time world champion. "So, this was my first time getting off the water — or off the ice — and changing into a different uniform and getting on a podium with the other athletes. It was a pretty cool experience. I hope to do it again!"

He credits a lot of his success in that race to a two-week training camp he attended at the U.S. Olympic & Paralympic Training Center in Lake Placid, New York. There, he met U.S. national team coach Shelley Oates-Wilding, a two-time Olympian in sprint canoe. "Shelley was able to dial in my technique and put me in a good position going into worlds," he said. Time was of the essence, too, as the competition took place a week after sled hockey national team tryouts — a team he has been on since 2016.

Oates-Wilding also helped him with his equipment. "I found out I'd been using the wrong paddle for me and what I need," he laughed. "So, I had been fighting against that and not having any real techniques."

Wallace's first time in a boat was in the summer of 2019. His pipe dream? To qualify for a summer Games. But after only a couple of months of training and competing, he was seriously injured while training sled hockey and needed surgery. The long rehabilitation process combined with the postponement of the Paralympic Games Tokyo 2020 meant that Wallace would have to put his pipe dream on hold — for another four years.

He stopped paddling altogether to focus on sled hockey and the upcoming Paralympic Winter Games Beijing 2022. He was also finishing his biomedical engineering degree from The College of New Jersey, where he graduated in May last year.
This past April was his first time back in the boat after two years off the water. With only a couple of paddling sessions under his belt post-Beijing, he began his push for Paris 2024. He hopes some of his sled hockey teammates will join him.
"They've been really supportive," he said, admitting he didn't know how they would react. "I would love to see a couple of them get in the kayak and train with me. The more competition, the better!"
The reason he started the sport — because it was an excellent cross-training tool for sled hockey — is the same reason he thought his teammates might like it. "You can get burnt out pretty quickly if you spend all winter and summer in the rink and the gym. It's been a good outlet for me to not only be outside but on the water," Wallace said.
While both sports are physically demanding, there are a lot of differences between the two, he shared.
"Hockey is a game of mistakes. It's very reactionary. Very free-flowing. You're trying to minimize the number of mistakes you make. In comparison, kayaking is about shaving milliseconds off your time. It's essentially the pursuit of perfection. You want every stroke perfect and your technique flawless."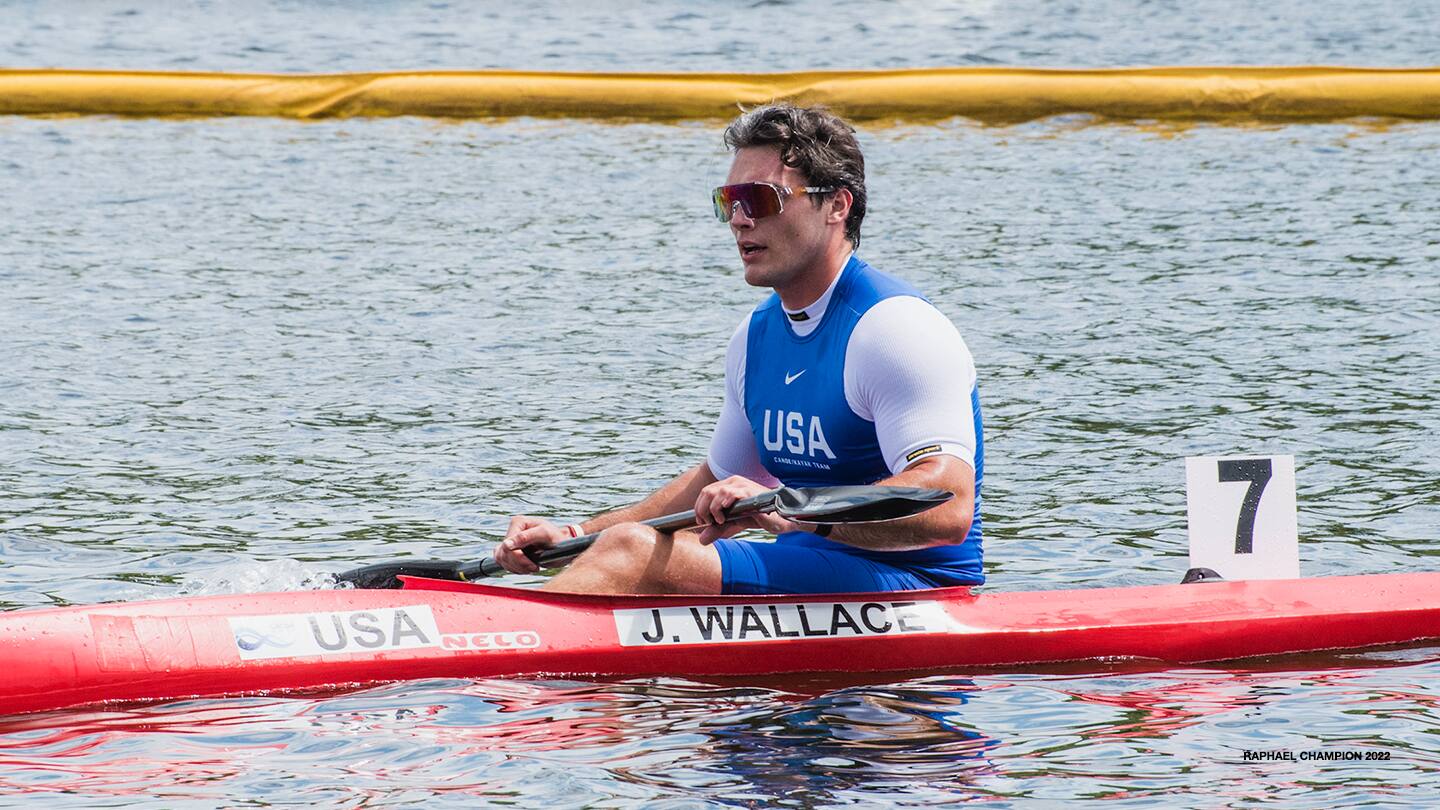 Jack Wallace looks on during a sprint kayak competition.
Wallace enjoys being involved in both sports and experiencing the different challenges they both present, but admitted that hockey will always be his first love.

Growing up the defenseman wrestled and played baseball, football, and lacrosse, but hockey was always his favorite. "It's been my number one sport since I was a kid," Wallace said, even before his accident.

In 2008, on a family vacation in New York, a 10-year-old Wallace was waterskiing and got hit by the boat's propeller. He spent several months in the hospital — three days of that were in a medically-induced coma — where doctors ultimately amputated his right leg above the knee.

A year after his injury — and not having anyone to relate to as the only kid in his town that was an amputee — he was invited to attend Camp No Limits in Maine, a camp for kids with limb loss.

"To see all these amazing, fully functioning members of society that just so happened to be amputees, not letting anything hold them back, it really kick-started my rehabilitation," said Wallace, now a counselor and adult mentor for the organization.

"At that point, I was physically healthy but mentally not in the best place. That camp helped me start the next stage of my life where I wanted to start doing things again."

The first thing he did when he got home to New Jersey was to research the closest place to play sled hockey, a sport he learned about at Camp No Limits.

Wallace went on to join his local team, the NJ Freeze, and then the National Development Sled Hockey Team for three years before making the national team.

Unlike sled hockey, where he has learned over time what works and what doesn't, "I am still very, very new to sprint kayak," he said. "At the beginning of the summer, I was going out on the water and doing different things — not knowing if it was helping. So now I'm excited to go into the fall and winter with a real training program from a high-level coach and see what I can achieve."
Figuring out how to get off the line quicker is something Wallace hopes to improve. "In most of my races, I start far behind everyone but then catch everyone by the finish."
With the ultimate finish line set to take place in the summer of 2024, his ability to dig deep and pull it out for the win bodes well for Paris.
Until then, he has a busy sled hockey season to prepare for, with the first world championship of the season set for next month.
Lisa Costantini has covered Olympic and Paralympic sports for more than a decade, including for the International Olympic Committee. She is a freelance writer who has contributed to TeamUSA.org since 2011.