Juniors Dulcy Caylor, Tiana Sumanasekera Represent A Talented Next Generation Of U.S. Gymnasts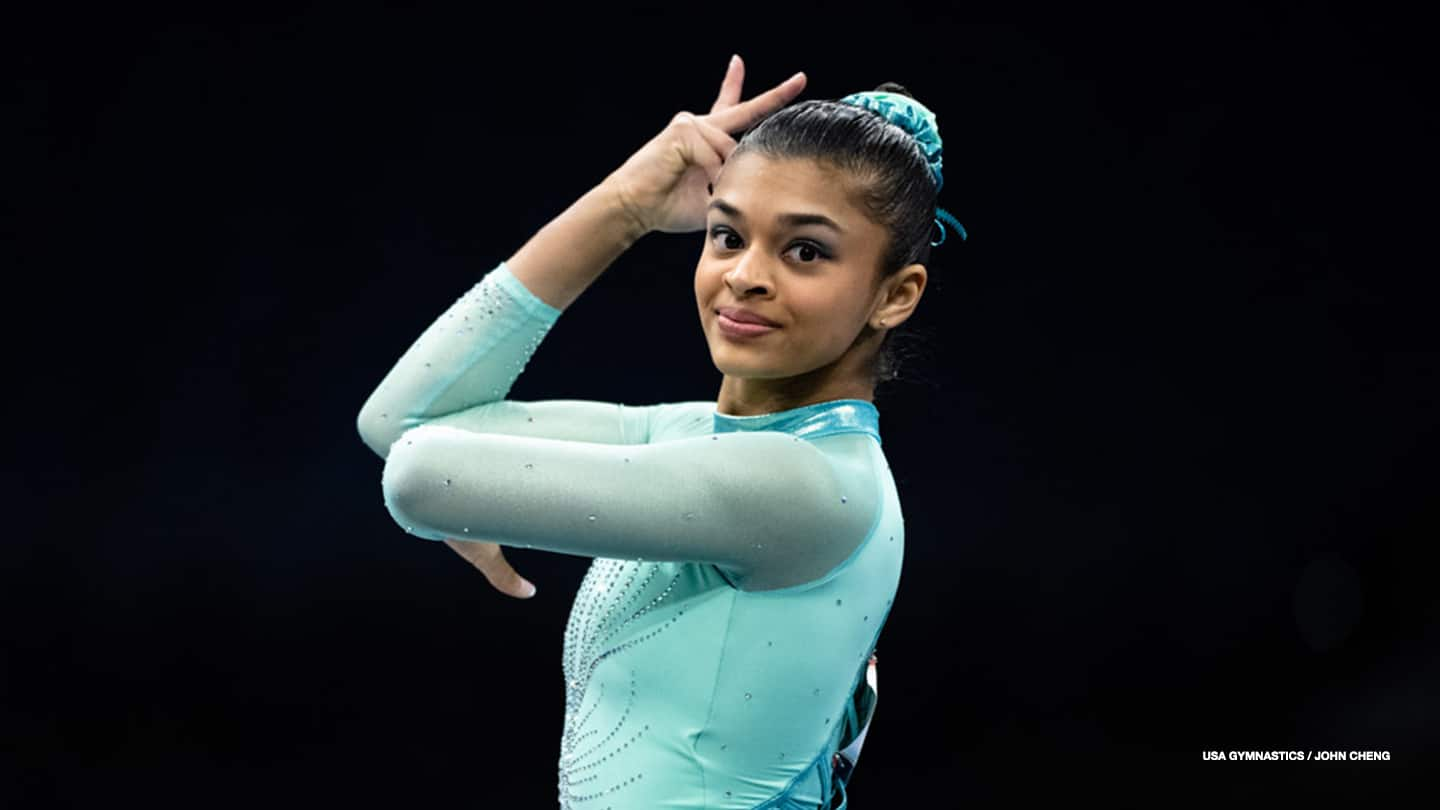 Tiana Sumansekera competes during the women's floor exercise at the 2022 U.S. Gymnastics Championships on Aug. 19, 2022 in Tampa, Fla.
TAMPA, Fla. – One year ago Tiana Sumanasekera watched the national gymnastics championships from her living room in northern California. Dulcy Caylor made it to the arena, though like most attendees, she was there strictly as a fan.

This weekend both are back, but this time as top contenders in the women's junior division at the OOFOS U.S. Gymnastics Championships in Tampa, Florida. And in a condensed three-year Olympic quad following the postponed Olympic Games Tokyo 2020, they represent some of the brightest stars from the next generation that's sure to crowd the already strong U.S. senior field in the years leading into the Olympic Games Paris 2024.

Both got off to solid starts Friday in the opening day of competition at Amalie Arena. Caylor ranked fifth in the all-around standings with 51.400 points, while Sumanasekera was two spots back with 51.250. Competition wraps up Sunday, with scores from both days combined to determine the junior national champions.

Coming off strong showings at last month's Pan American Championships in Rio, Caylor and Sumanasekera, who are both 14, were riding a wave of momentum coming into nationals.

Caylor, of Spring, Texas, won the all-around while finishing second on vault and third on balance beam in Rio. The Pleasanton, California, native Sumanasekera took second in the all-around while topping the standings in vault, balance beam and floor exercise. Both were part of the winning U.S. team.

"Even going in I didn't know I was going to make the team," Caylor said. "So going into that I was wanting to have fun with my first international experience, and I was so happy I did the best I could and won."

In elite women's gymnastics, athletes graduate to the senior level during the calendar year when they turn 16. Gymnasts aged 13 to 15 are eligible to compete at the junior level.

Even still, Caylor and Sumanasekera weren't yet among the country's top juniors last year. That's how they found themselves watching, rather than competing in, the 2021 national championships.

Caylor, who lives and trains in a Houston suburb, made the trip north to Fort Worth to watch the competition, which was one of two key selection events ahead of Tokyo. Among those in the senior field were six from Caylor's gym, World Champions Centre, including Simone Biles and Jordan Chiles, who both went on to make the Olympic team. The trip marked Caylor's first time attending an event of that magnitude.

"I learned just the whole atmosphere, how fast it moves, what is good to know," she said. "And I was just so excited to watch."

Sumanasekera was similarly enthralled watching from thousands of miles away.

"I wanted to watch just to see how it was," she said. "I knew I was going to work hard in the gym and come back stronger next year, so I was really looking forward to this year."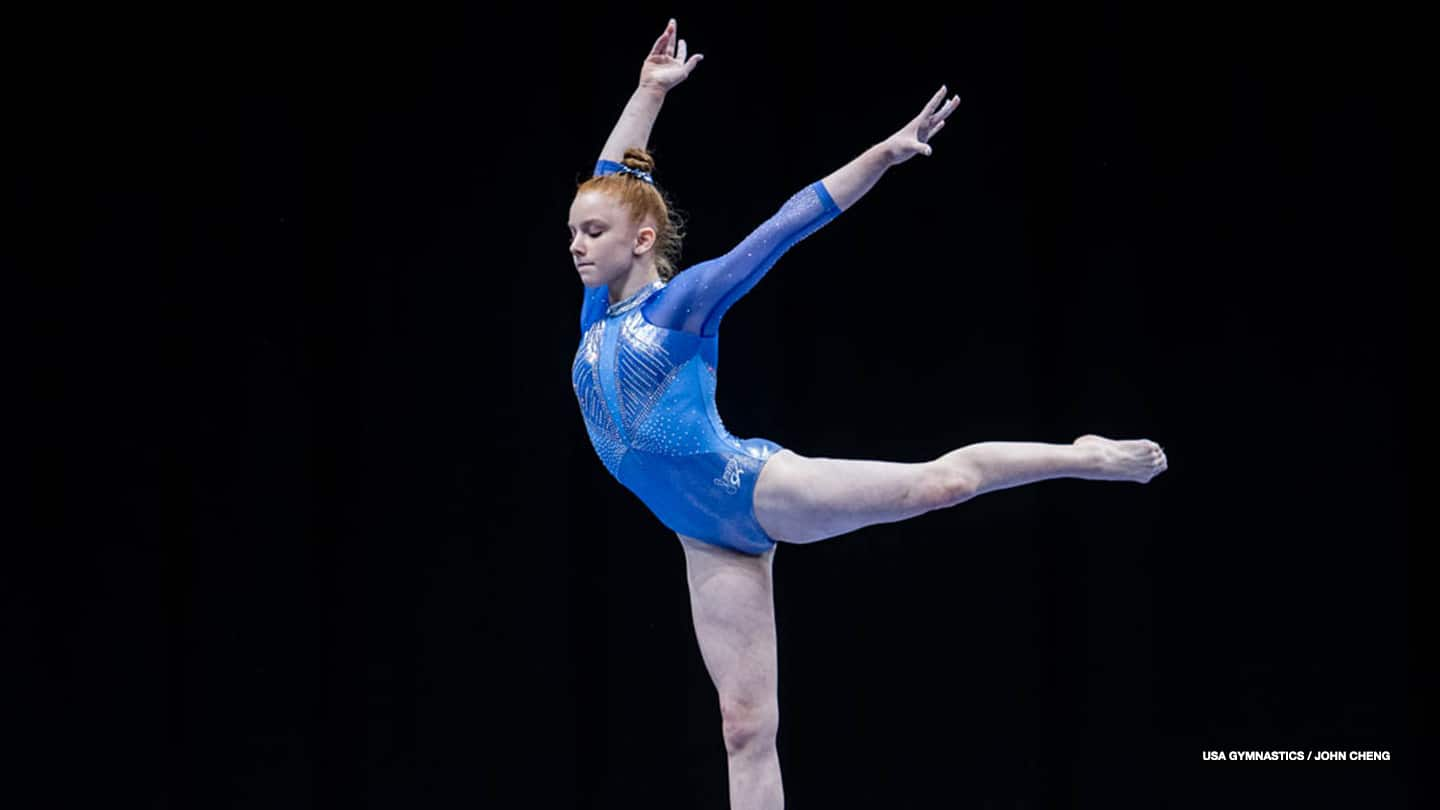 Dulcy Caylor competes during the women's pommel horse at the 2022 U.S. Gymnastics Championships on Aug. 19, 2022 in Tampa, Fla.
Both gymnasts made big leaps over the past 12 months, which they credit to the improved confidence that comes with a lot of repetition in the gym.

"I've been doing pretty much the same routines that I did last year, and I've been doing them over and over again," Sumanasekera said. "So I feel really confident this year."

Cayler and Sumanasekera have fairly traditional American gymnastics stories.

Growing up in North Carolina, Cayler's parents were often busy running the family store, so they'd drop her off at gymnastics camps to burn off some excess energy. It turned out Dulcy had some natural talent. Without an elite program at her home gym, the family moved to Texas five years ago so Dulcy could train at the WCC, which is owned by Biles' parents and has emerged as a national powerhouse in recent years.

Over on the West Coast, a local gymnastics coach discovered 6-year-old Sumanasekera when she was playing around on trampolines at a birthday party. One thing led to another, and before long she found herself climbing the ladder to the elite level. She's believed to be the first gymnast of Sri Lankan descent to represent the U.S. in international competition.

These days Caylor (going into ninth grade) and Sumanasekera (10th grade) take online school to allow for more flexibility with their gymnastics training.

For fans tuning in to the junior U.S. championships, Cayler says they can expect to see a gymnast who delivers solid, clean routines, especially on her preferred uneven bars.

"I really try hard, am consistent and do the best that I can every day and in every little was I can," she said.

Sumanasekera describes herself as "a very artistic and powerful gymnast," but most of all she's a performer. She's especially looking forward to showing off her Aladdin-themed floor exercise in front of the home crowd this weekend.

"I love competing to a big audience because it makes me stand out and perform, and performing is my favorite thing ever," she said. "So I'm just so excited."

In a sport where many of the top athletes are teenagers, it can be tempting to look at the junior results and try to predict the next big star. Cayler and Sumanasekera both graduate to the senior level next season, an ideal timeline for gymnasts looking to make the five-woman U.S. team for the 2024 Olympics in Paris.

Both admit they've long dreamed of competing in the Olympics, and that's their ultimate goal. Each also acknowledges that their sport can be a grueling one, and development isn't always linear. Any number of things could happen in the next two years to change their trajectories.

Heck, it was just one year ago that neither qualified for the national championships.

Their performances in Rio this summer made that Olympic goal feel just a little bit closer, both said. A strong showing this weekend will be another important milestone.

For now, though, they're just trying to appreciate the journey.

"I'm just going to take it step by step," Sumanasekera said, "and just enjoy every experience that I get."
Chrös McDougall has covered the Olympic and Paralympic Movement for TeamUSA.org since 2009 on behalf of
Red Line Editorial, Inc.
He is based in Minneapolis-St. Paul.