U.S. Equestrians Pick Up Three Medals At The World Championships In Denmark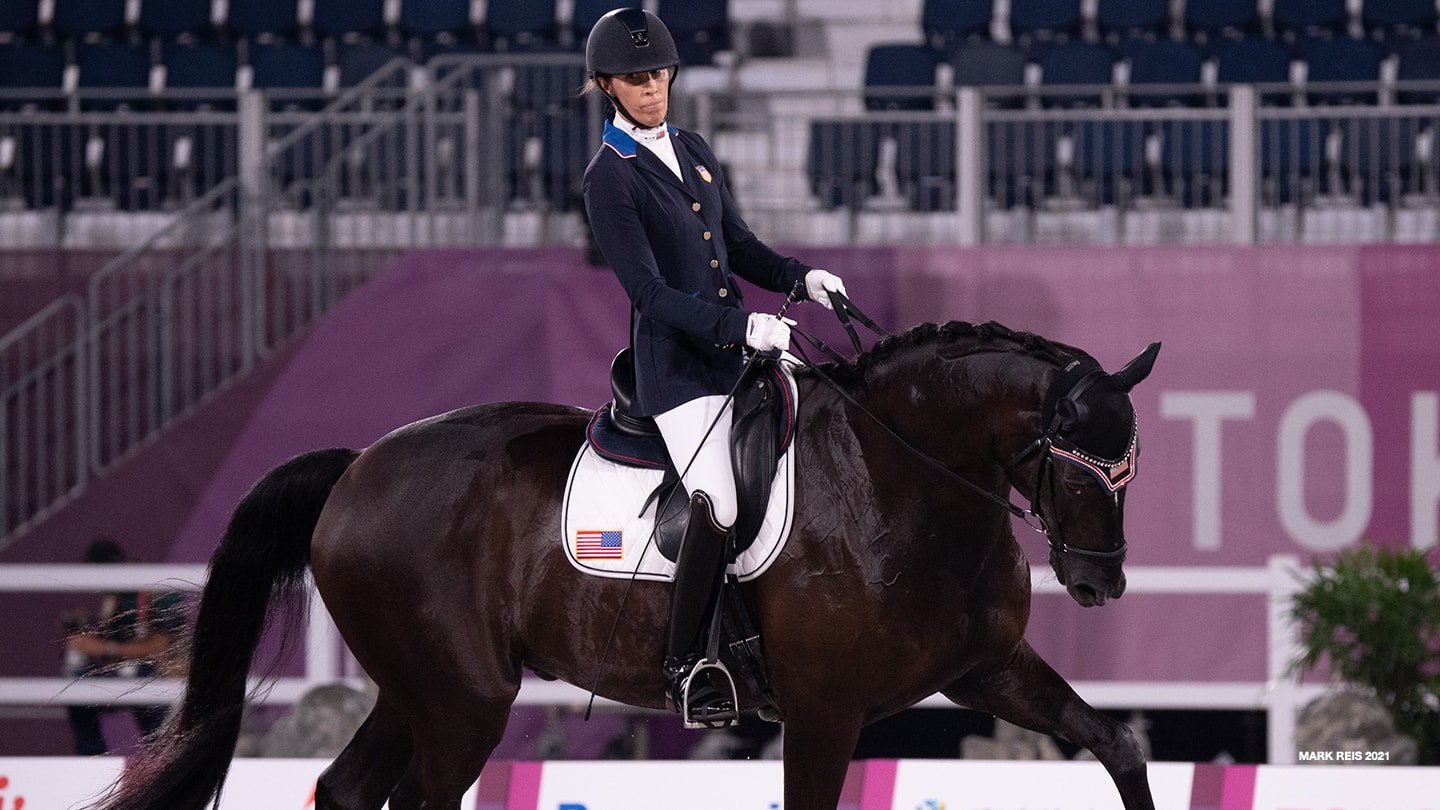 Kate Shoemaker and horse Solitaer 40 compete during the equestrian competition at the Paralympic Games Tokyo 2020 on Aug. 26, 2021 in Tokyo.
Kate Shoemaker and Quiana provided the finishing touch in a remarkable equestrian week Sunday, capturing a world championships silver medal in Herning, Denmark.

U.S. riders won three medals at the FEI World Championships and qualified teams for both the Olympic Games and Paralympic Games Paris 2024.

Shoemaker, a 2020 Paralympic team bronze medalist, and Rebecca Hart, a four-time Paralympian, each won two medals — one individually and another with the U.S. Para Dressage Team.

Shoemaker and Quiana finished second in Grade IV freestyle dressage, scoring 80.275 percent from judges.

"This is a personal best score for us," Shoemaker said. "We had so many goals coming into this, and a lot of the goals are out of your control because it involves what other people do, but we really wanted this 80 and I'm just so ecstatic we got it."

Hart, riding El Corona Texel, won an individual bronze medal in Grade III dressage earlier in the week.

But one of the big moments for the U.S. Para Dressage Team came Saturday, when Tokyo Paralympic team bronze medalists Shoemaker, Hart and Roxanne Trunnell led the U.S. to another bronze medal in team dressage. Trunnell, riding Fortunato H20; Hart, aboard El Corona Texel; and Shoemaker and Quiana, were joined by 2020 Paralympian Beatrice de Lavalette and Sixth Sense in the competition.

The third-place finish secured a spot in the Paralympic Games Paris 2024.

"What we have done really affirms our position on the world stage," said Michel Assouline, chef d'equipe for the U.S. team. "We got the bronze in Tokyo and to get this bronze again here means that it wasn't a fluke and the level of performance is great. I'm absolutely ecstatic with what they've done as a team here, and very proud of this team and these girls."

The U.S. scored 225.335 points. The Netherlands won its second consecutive world title and Denmark won silver.

A sixth-place finish in the team dressage competition Aug. 7 locked up a spot in the Olympic Games Paris 2024. Among those on the team were five-time Olympian Steffen Peters and Suppenkasper.
Paul D. Bowker has been writing about Olympic sports since 1996, when he was an assistant bureau chief in Atlanta. He is a freelance contributor to TeamUSA.org on behalf of
Red Line Editorial, Inc.