Four Athletes Named To U.S. Paralympic Equestrian Dressage Team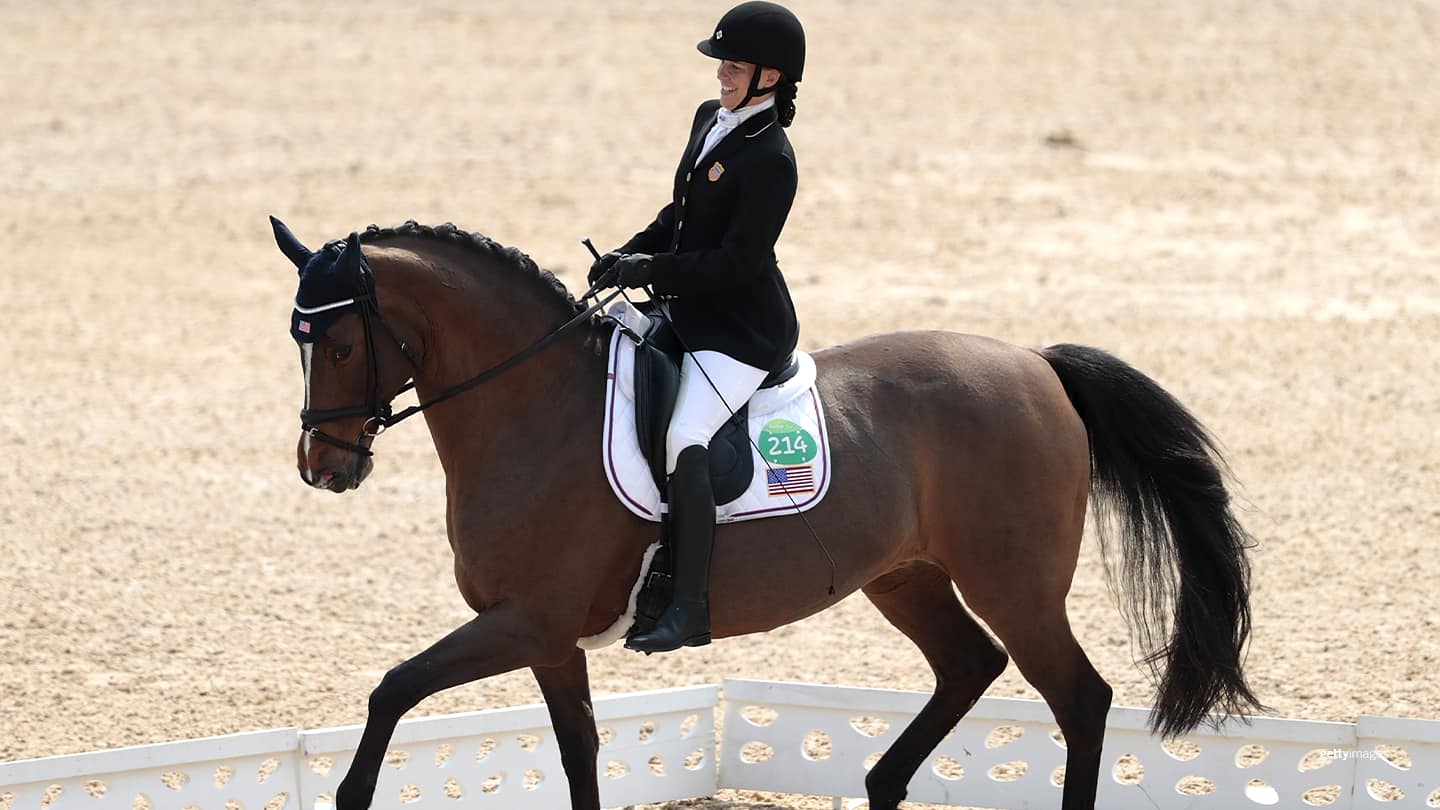 Rebecca Hart competes at the Paralympic Games Rio 2016 on Sept. 15, 2016 in Rio de Janeiro, Brazil.
US Equestrian has announced its U.S. Para Dressage Team to take part in the Paralympic Games Tokyo 2020, seeking the program's first medal since 2004.

The four athlete-and-horse combinations are Beatrice de Lavalette and Clarc, Rebecca Hart and El Corona Texel, Kate Shoemaker and Solitaer 40, and Roxanne Trunnell and Dolton. Two other combinations were nominated as team alternates: Sydney Collier and All in One, and Charlotte Merle-Smith and Guata. Following the individual tests on August 27 at the Games, three combinations will be selected to compete in the team competition.

De Lavalette, 22, has been competing in Grade I with the U.S. Para dressage team since January 2020. After losing both her legs in the 2016 Brussels airport bombing, de Lavalette returned to riding five months later. She is currently a student at the University of San Diego and also works as a motivational speaker.

Hart, 36, will be competing in her fourth consecutive Paralympic Games. Born with a genetic disease called hereditary spastic paraplegia (HSP), Hart first got involved with Para dressage after attending a competition in Atlanta in 1998. From then on, she had the goal to compete internationally, and aboard El Corona Texel has earned 11 Grade III first-place finishes in 13 tries. When not competing, Hart works to raise awareness of HSP.

Shoemaker, who turns 34 just before the Games begin, has competed with the U.S. team since 2018. She competes in Grade IV due to white matter lesions resulting from periventricular ischemia, resulting in motor control dysfunction. Shoemaker has won in every competition throughout the first half of 2021, earning her selection for Tokyo.

Trunnell, 36, will return to the Paralympic Games for the second consecutive time. The highest ranked Para dressage rider in the world, Trunnell is a two-time member of the U.S. world championship team. Formerly competing in able-bodied dressage, Trunnell contracted a virus in 2009 that caused swelling in the brain and required the use of a wheelchair. Trunnell worked her way back to ride again in Para dressage by 2012 and currently competes in Grade I.
Todd Kortemeier is a sportswriter, editor and children's book author from Minneapolis. He is a contributor to TeamUSA.org on behalf of
Red Line Editorial, Inc.