U.S. Takes Bronze For First Paralympic Medal In Team Dressage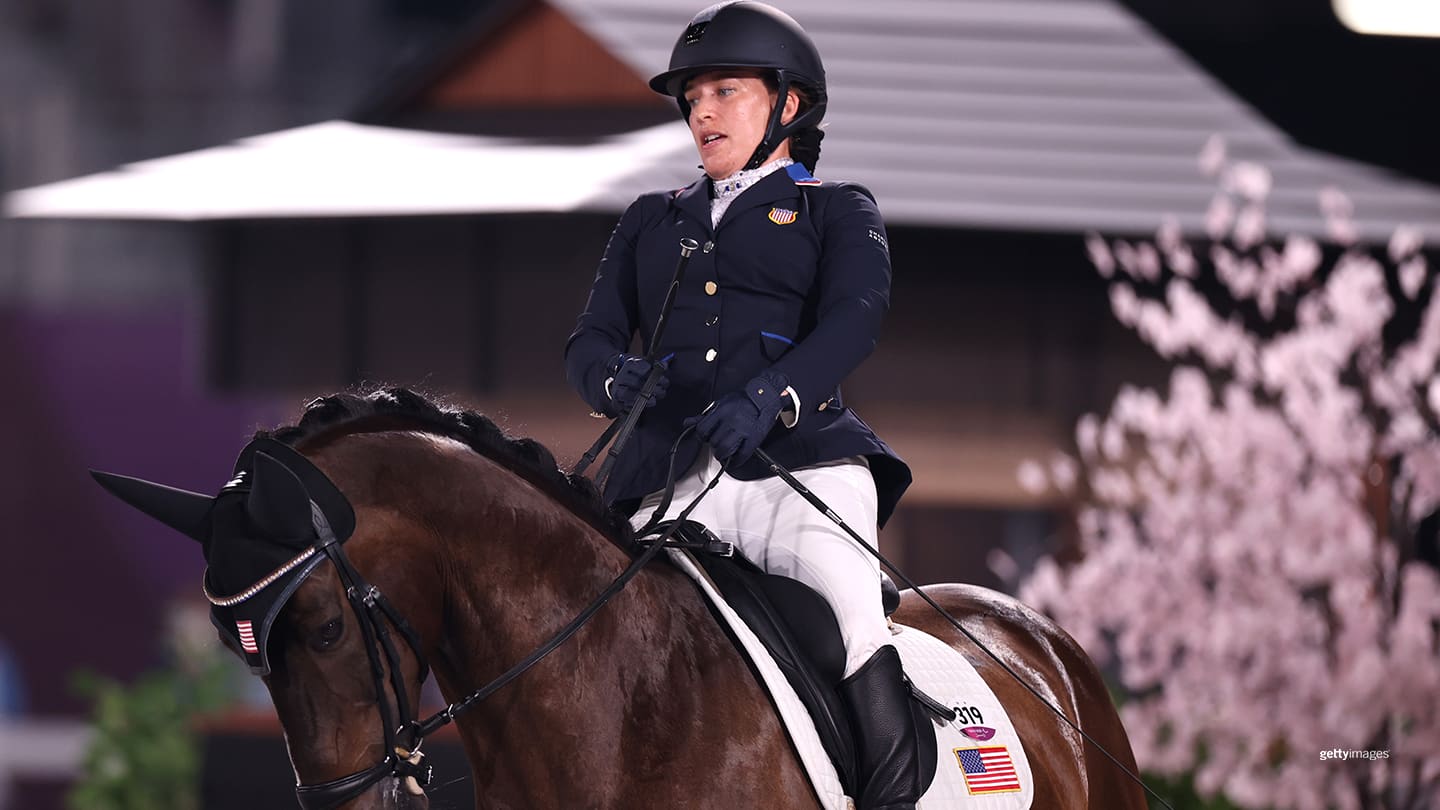 Rebecca Hart and El Corona Texel compete in the dressage individual test - grade III at the Paralympic Games Tokyo 2020 on Aug. 27, 2021 in Tokyo.
The U.S. equestrian team won its second medal of the Paralympics on Sunday when Roxanne Trunnell, Rebecca Hart and Kate Shoemaker took bronze in the dressage team test to music.
Trunnell also won the gold medal in the individual test grade I on Friday, becoming the first American to win a Paralympic medal in equestrian since 2004 and the first to win gold since 1996.

This is the first medal ever for the U.S. in team dressage at the Paralympics.

"To be able to finally after so many years get to stand on that podium as a country, it's so fulfilling," Hart said. "It's a lifelong dream that has just come through."

This was also the first year that the team test was set to music, but that didn't change the team that stood at the top of the podium. Great Britain has won every Paralympic dressage team gold medal since the sport was permanently added to the program in 1996, this time with a score of 229.905. The Netherlands wasn't far back, scoring 229.249. The U.S., which was ranked No. 1 in the world coming into Tokyo, scored 224.352.

This was also the first year that teams consisted of three riders instead of four, with all scores counting. That meant that Beatrice de Lavalette, the fourth member of the U.S. dressage team, did not compete. During the two-day event riders have to follow a specific floor plan based on their grade.

"Only having three of us and knowing there wasn't a drop score meant every single movement counted," Shoemaker said. "And then today coming in as the last rider for my team, I just needed to go in there and get it for them."

Shoemaker, a rookie Paralympian from Eagle, Idaho, and Solitaer 40 capped off the competition on Sunday at Tokyo's Equestrian Park with a score of 71.825 in Grade IV.

Trunnell and Dolton opened things up for Team USA. Hailing from Richland, Washington, the duo earned a score of 80.321 percent in the Grade I test. Tokyo marked the second Paralympics for Trunnell and Dolton, who have only been beaten once in international competition since winning the bronze medal at the 2018 World Equestrian Games.

Four-time Paralympian Hart, of Erie, Pennsylvania, and El Corona Texel followed with a 72.206 in Grade III.

Since Hart made her Paralympic debut in 2008, the U.S. team has consistently improved, going from 10th in Beijing to seventh in London and fifth in Rio before finally breaking through to the podium this weekend.

"I'm so incredibly blessed and happy to be standing here with these two amazing riders," she said. "It was a complete and total team effort."

That was a sentiment shared by Shoemaker.

"I just can't say how much I am thankful for these two, how incredibly deserving they both are of this medal," she said. "And I'm so proud to stand next to them up there today. Thank you ladies."

The dressage individual freestyle tests will take place on Monday.
Want to follow Team USA athletes during the Paralympic Games Tokyo 2020? Visit TeamUSA.org/Tokyo-2020-Paralympic-Games to view the medal table and results.
Karen Price is a reporter from Pittsburgh who has covered Olympic and Paralympic sports for various publications. She is a freelance contributor to TeamUSA.org on behalf of
Red Line Editorial, Inc.