Teen Archer Casey Kaufhold Carries Momentum Into World Cup Final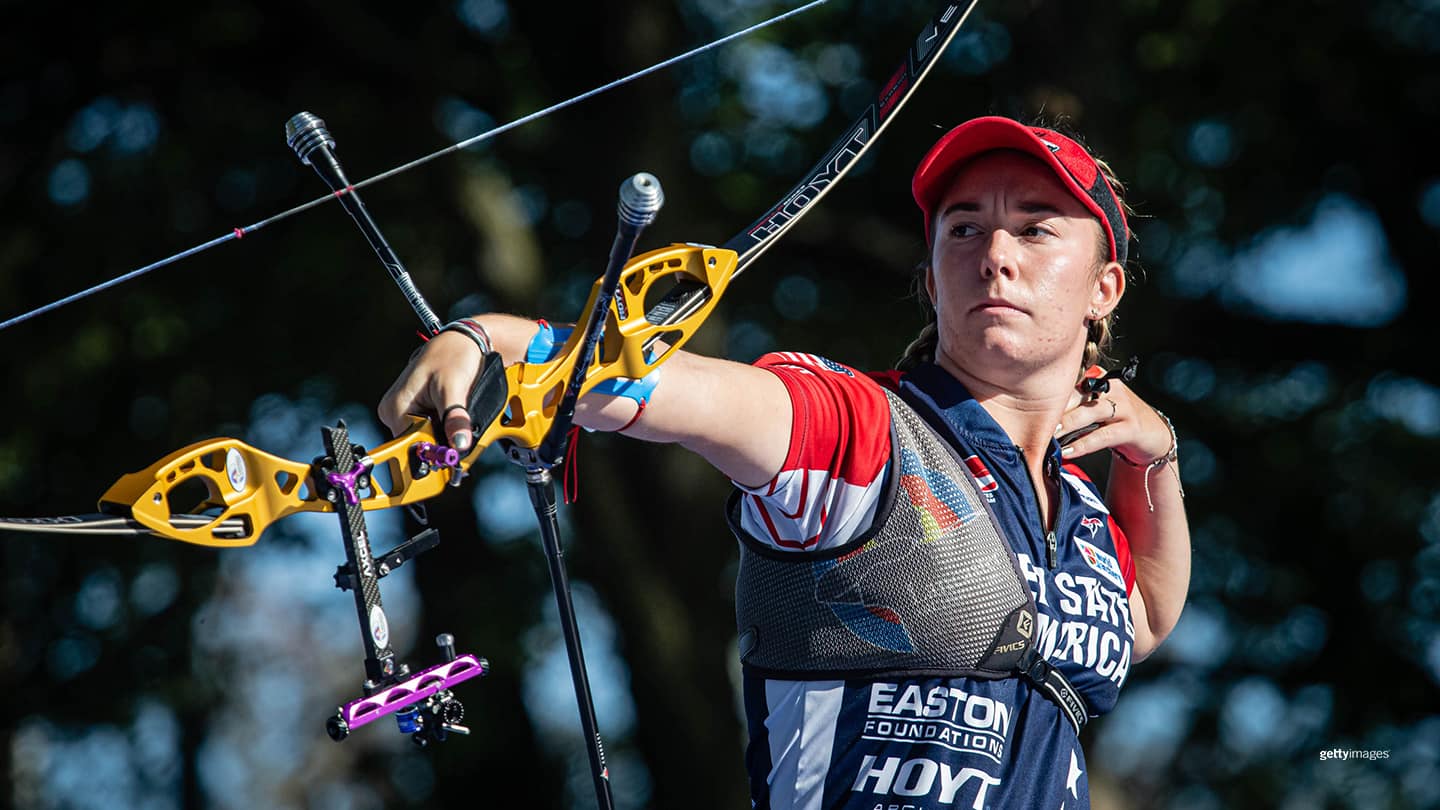 Casey Kaufhold competes during the women's recurve finals at the 2021 World Archery Championships on Sept. 26, 2021 in Yankton, South Dakota.
It's not every day that you get a shout out from Barbie. Yes, that Barbie. Imagine Casey Kaufhold's surprise when her favorite childhood toy congratulated her for winning the silver medal at the World Archery Championships.

"I really didn't expect that archery would ever be posted on the official Barbie Twitter, but that was really cool," said Kaufhold. "It's just neat to see those bigger companies posting things about archery and young girls as well."

Kaufhold, 17, had bins full of Barbie dolls when she was little, donating them to charity when she outgrew them. She said she never saw "an archery Barbie," but added, "That would be awesome if there was one."


Congrats, Casey! 👏🙌


— Barbie (@Barbie) September 27, 2021
Kaufhold is certainly helping to raise the profile of her sport. She won the first medal by a Team USA woman at the world championships since Denise Parker won a bronze in 1989. Kaufhold notched the biggest upset of the tournament, defeating triple Olympic gold medalist An San of South Korea in the semifinal.
Kaufhold will conclude her season Thursday at the World Cup Final in Yankton, South Dakota, where she won her silver medal last Sunday. Her world ranking has since jumped from No. 50 to No. 13.
"I feel really solid going into the World Cup final," Kaufhold said, "just because I've had experience up on that same stage we'll be shooting on and just knowing that I can put great shots downrange and be confident shooting against these great competitors."
With South Korea skipping the world cups this season, Kaufhold is a strong contender for a medal.
She has proven her resilience on and off the field of play.
After making her first Olympic team this year and finishing 17th in Tokyo, the Lancaster, Pennsylvania, native placed fourth at the world junior championships in Poland.
On Kaufhold's trip home from that event, her equipment was lost in transit. Making a stressful situation even worse, the national championships were about to begin.
With the same cool that she brings to the line, Kaufhold made adjustments.
"I threw a couple of pieces of equipment together that I just had in the garage, and it ended up shooting really well," she said.
Kaufhold won the national championships and was third in the U.S. Open.
Now that bow is her primary bow and the equipment that eventually arrived is her back-up.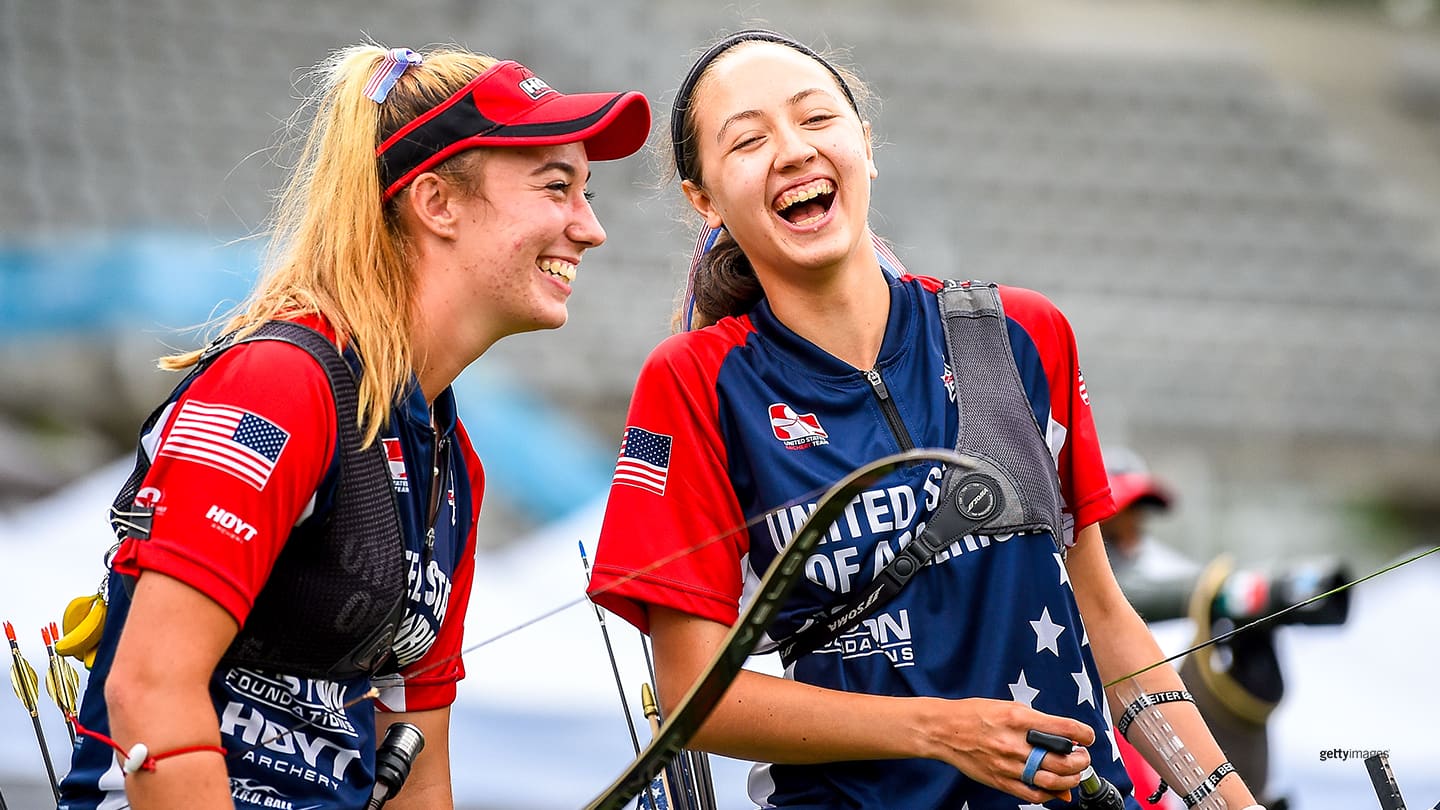 (L-R) Casey Kaufhold and Jennifer Fernandez during the 2021 Archery Final Olympic Qualification Tournament on June 20, 2021 in Paris.
"I think there's just something special about what she did that has just carried over," said Heather Pfeil, Program Coordinator for the Lancaster Archery Academy who has been coaching Kaufhold since 2013. "She had that ownership of setting it up herself and getting it ready. And the bow is just very forgiving to her."

Kaufhold was feeling so confident and relaxed at the world championships that she went into the stands to visit with her mother Carole after her 6-2 quarterfinal victory over Ankita Bhakat of India. Her next opponent was An, whose under-21 world record Kaufhold broke in May in the Olympic Trials qualification round with a score of 682 (the maximum for 72 arrows is 720).

"Everybody was saying, 'Good job,' and I whispered to my mom, 'An San doesn't know what's coming,'" said Kaufhold, "because I felt that strong up on the stage. I felt that confident. That wasn't said to be arrogant or cocky -- that was just truly how I felt and how I wanted to approach the match. I know she's such a strong competitor that if I hold back at all, I wasn't going to win that match."

With 10s on four of her first six shots, Kaufhold took a 4-0 lead. An took the next set, then Kaufhold finished with two more 10s to close out the match 6-2 against a painted backdrop of the four presidential faces from Mount Rushmore.

She then lost to South Korea's Jang Minhee 6-0 in the final.


"I know I didn't win the whole event, but to me silver at the senior world championships is a big win," Kaufhold said. "I had a long season of plenty of ups and some downs, so to finally medal on a big stage where it really mattered, especially on home soil, it was a great feeling."
She has spoken with Parker, a former teen sensation who won the Olympic team bronze medal in 1988. Kaufhold's father, Robert, competed at the same time as Parker.
"She just said, 'Have fun and be yourself,'" Kaufhold said.
So, unlike many of the other male and female archers, Kaufhold smiles and waves before and during her matches.
"That's just part of Casey's personality," Pfeil said. "Our No. 1 rule is to have fun. She was able to embrace that part of the experience this week in just having fun with her teammates and family."
"If I'm smiling and laughing, that means I'm relaxed and ready to go," Kaufhold said.
She enjoys the head-to-head aspect of the sport.
"I think it truly shows who is the strongest of the pack," Kaufhold said, "and it takes a lot of mental and physical strength to go on a stage and shoot rather than just being on the field shooting a qualification or just a plain, old elimination match. It adds a lot because you have the crowd there, you have cameras. It's a whole bunch of people cheering and if something bad happens, you might hear the crowd gasp or yell."
Although she did not perform as well as she would have liked at the Olympics, Kaufhold gained valuable insights from the experience.
"I think part of the reason why I performed so well at the world championships is I learned how I perform on stage and how I get nervous," she said.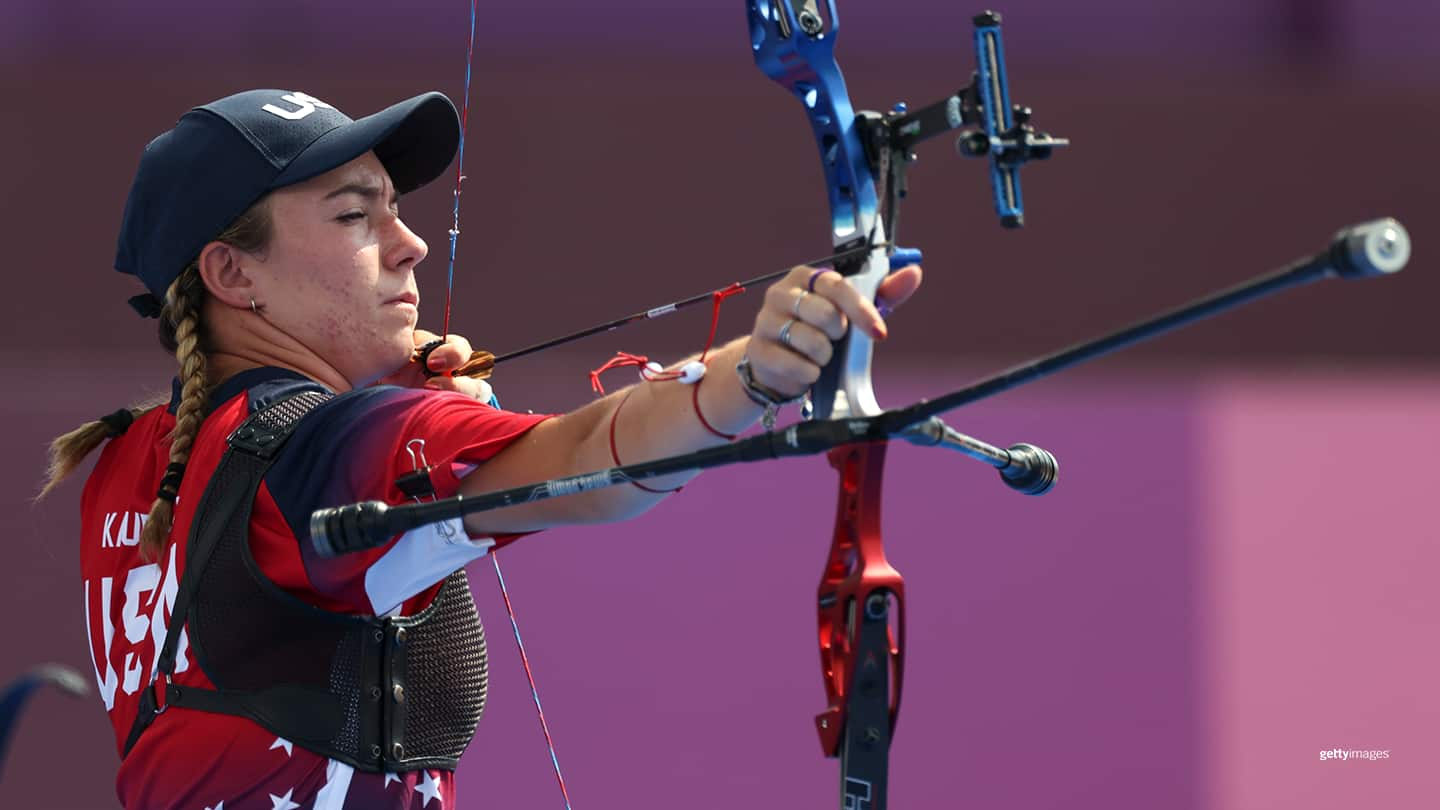 Casey Kaufhold competes in the women's team quarterfinals at the Olympic Games Tokyo 2020 on July 25, 2021 in Tokyo.
At the Olympics, Kaufhold said she felt like she had more nervous thoughts, but her body felt calm. At worlds, her mind was clear, but her body was shaking a little. "That's easier for me to deal with rather than having those nervous thoughts like, 'Oh, I have to shoot a 10 to win this,'" Kaufhold said.

She also knows that she can have a bit of a psychological advantage over her opponents since as a left-hander she is used to facing right-handed archers. They are more accustomed to seeing the backs of their rivals' heads, not their faces

"It might add a little bit of intimidation," Kaufhold said.

With her parents running Lancaster Archery Supply, Kaufhold naturally took up the sport at a young age. She started competing at age 8, but at that time she was more serious about gymnastics. A knee injury a couple of years later made her pivot to archery.

"I wasn't able to fully recover and so it was starting to get difficult to do the same things in gymnastics that I wanted to and I couldn't see myself progressing," Kaufhold said.

Switching sports meant changing her mindset. "Gymnastics is more of a performance sport," Kaufhold said, "where you're judged on how you do something. And archery is an outcome sport, where you're not judged on how the shot looks, but you're judged on where the arrow lands in the target. I love them both, I really do, but I think archery is where I am most successful."

After the World Cup Final, the high school senior gets a bit of a break until her next competition at Thanksgiving. She just joined her first school club, SADD (Students Against Destructive Decisions), which Kaufhold said "helps spread awareness about students making good decisions and being safe."

She also was named to the homecoming court at Conestoga Valley High School and made her own dresses for all of the different events.

"I picked up sewing over the lockdown of the pandemic," said Kaufhold, who had a sewing machine that she hadn't used much. "I taught myself how to make clothing. It's something that I can use as an escape from archery, because it takes a lot of attention and fine detailing.

"It's cool to make my own dresses and have my own style."

She's also in the middle of her application process for Texas A&M University. Her brother goes there and Kaufhold plans to major in Creative Business and compete for the archery team.

And she also intends to compete on the international level for years to come. Like Emma Raducanu of Great Britain and Leylah Fernandez of Canada, the women's tennis finalists at the U.S. Open, Kaufhold is a teenager in a sport dominated by adults.

"I think it's great to see more young kids in the mix with seniors," Kaufhold said. "I think in certain sports age doesn't necessarily matter. It just depends on the work you put in, how you approach it, and your mindset and physical training. I'm only 17 and some of the other athletes are in their 20s, 30s, and some even early 40s.

"Anybody can shoot, so it's really great to see that younger generation coming up."
Karen Rosen has covered every Summer and Winter Olympic Games since 1992 for newspapers, magazines and websites. Based in Atlanta, she has contributed to TeamUSA.org since 2009.