Summer Rappaport Takes Third In Hamburg World Triathlon Championship Series Race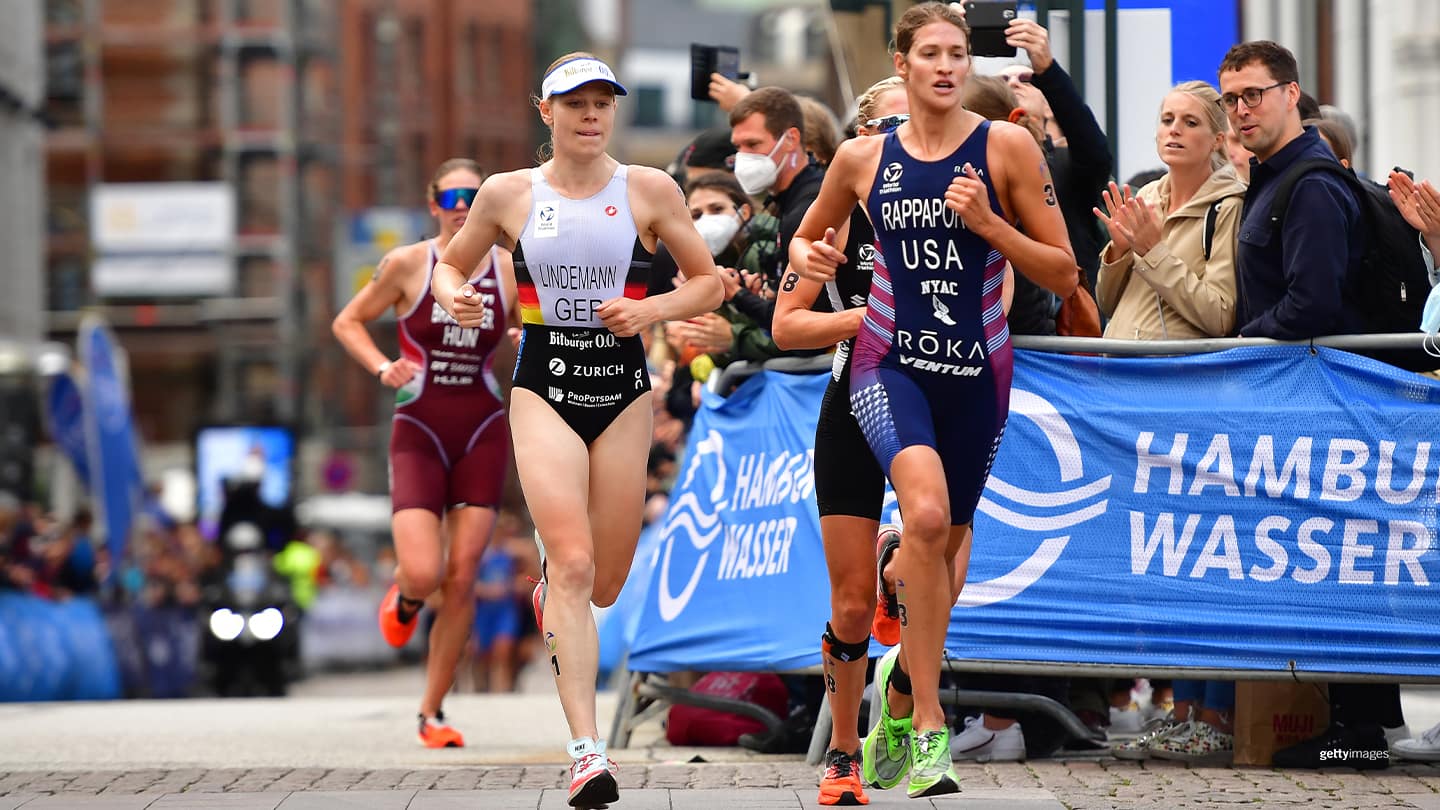 Summer Rappaport competes at the World Triathlon Championship Series Hamburg 2021 on Sept. 18, 2021 in Hamburg, Germany.
Coming off her Olympic debut in Tokyo, Summer Rappaport held strong with the lead group until the final quarter mile before ultimately finishing third at Saturday's World Triathlon Championship Series race in Hamburg, Germany.

The result matches her finish two years ago in Hamburg and marked his sixth podium finish on the circuit.

"I really wanted to race offensively and be as aggressive as possible," she told World Triathlon's website. "I definitely had some promising moments and then other moments when I needed to be on the gas a little bit more, but overall I am really proud of my execution."

The 30-year-old Rappaport, who is from Thornton, Colorado, was one of three U.S. women to finish among the top 10, joining seventh-place Kirsten Kasper and Erika Ackerlund, who took 10th. Germany's Laura Lindemann claimed her first series win in her hometown, followed by Nicole Van Der Kaay of New Zealand. Chase McQueen was the top U.S. man, finishing 29th.

Saturday's triathlon was held over a sprint distance, with a 750-meter swim followed by a 20-kilometer bike and 5K run.

Ranked seventh in the world, Rappaport was coming off a 14th-place finish in Tokyo, and then raced to 16th place at the World Championship Finals last month in Edmonton.

On an idyllic fall afternoon in Hamburg, she got off to a strong start, closing out the swim in the icy waters of Binnenalster Lake in first place.

Lindemann soon led a contingent of German racers to the front of the cycling race, with Rappaport, Kasper and Ackerlund not far behind in the lead chase group. At the transition, Lindemann fronted a four-person lead group that included Rappaport, Van Der Kaay and Hungary's Zsanett Bragmayer.

The leaders eventually dropped Bragmayer, and with 300 meters to go it was neck-and-neck until Lindemann sprinted away for the win.

"It's definitely a little bittersweet to get taken in the last few hundred meters of the race but I can't complain about a podium," Rappaport said. "My season has been a bit up and down. This might be my last race (of the season), so it feels good to be closing out on a high note."

Competition continues Sunday with a mixed relay. The United States comes into the event ranked No. 1 in the world, with Kasper and McQueen having been on the U.S. team that won at last month's WTCS race in Montreal.
Chrös McDougall has covered the Olympic and Paralympic Movement for TeamUSA.org since 2009 on behalf of
Red Line Editorial, Inc.
He is based in Minneapolis-St. Paul.