Valarie Allman Continues "Magic" Season, Breaking Own American Record In Discus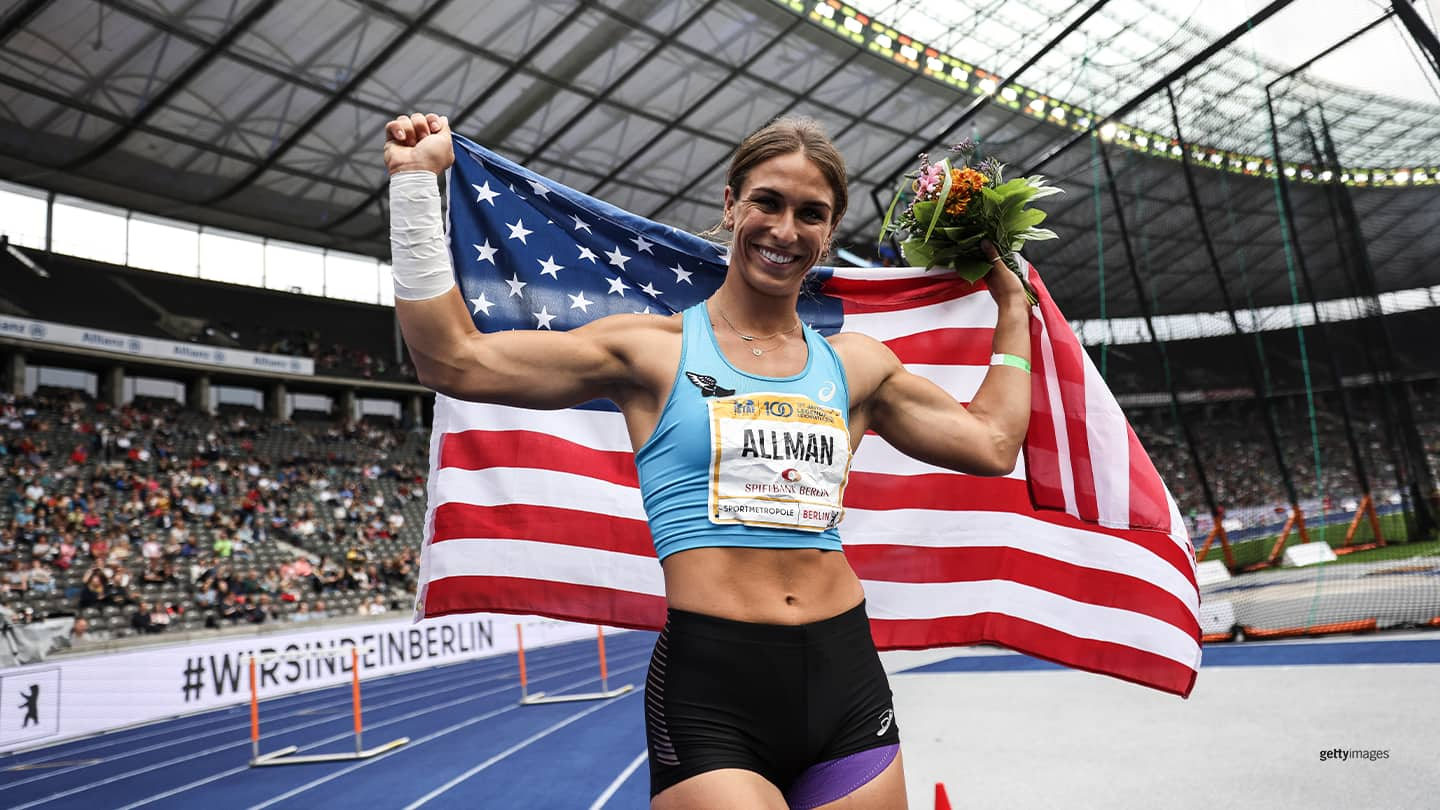 Valarie Allman celebrates after winning the women's discus throw competition during ISTAF 2021 athletics meeting at on Sept. 12, 2021 in Berlin, Germany.
After winning the Olympic gold medal and the Diamond League Trophy this year, Valarie Allman still longed to throw farther than one other person: herself.

Allman did just that Sunday, winning the women's discus throw in Berlin at the Internationales Stadionfest (ISTAF) meet.

Her first attempt flew 71.16 meters (233 feet, 5 inches), a personal best by a meter which held up for the victory.

The "AR" next to Allman's name on the results sheet did not stand for American record – although it was certainly that, eclipsing her own mark of 70.15 meters (230-2) from 2020. Allman now has eight of the top 10 throws in Team USA history - and her 68.80 in the final round in Berlin would have given her nine if secondary throws in a series were counted on the official list.

No, this AR stood for Area Record, with Allman breaking the North & Central American & Caribbean record of 70.88 meters set by Cuba's Hilda Ramos in 1992.

"This season, it's been filled with so many magic moments," Allman said. "The one thing I want to do every season is try to improve my best - 2021 was coming to the end and to have a PR feels so good! All the work paying off and to see that show up is really special."

The 26-year-old Colorado native also shattered the meet record of 68.64 meters by Margitta Pufe of East Germany that had lasted since 1979.

And, finally, the mark was the longest throw in the world this year – surpassing Jorinde Van Klinken of the Netherlands, who threw 70.22 in May — giving Allman the coved "WL" next to her name.

"HOLY MACARONI," Allman posted on Instagram below a photo showing her and coach Zebulon Sion next to the scoreboard with the winning distance.

That was a fitting exclamation since Allman's career began with pasta. Back in high school, the promise of a spaghetti dinner tempted athletes to try the field events. That led Allman, who had been a competitive dancer, to discover a new passion in life.


Allman wastes no time in the ring, digging in right from the start. At the Olympics, Diamond League final and in Berlin, her first throw was her best.
During the rain-soaked competition in Tokyo, Allman's first attempt was 68.98 meters and she threw 69.20 in Zurich for the Diamond League crown.
"My coach and I always talk about being able to set the tone right at the start of the competition," Allman said in Tokyo.
As soon as she uncorked her mighty throw in Berlin, Allman was smiling - and her smile grew even wider after the discus landed. She punched the air in celebration before a crowd of about 20,000 at the meet, which was a Continental Tour Silver competition.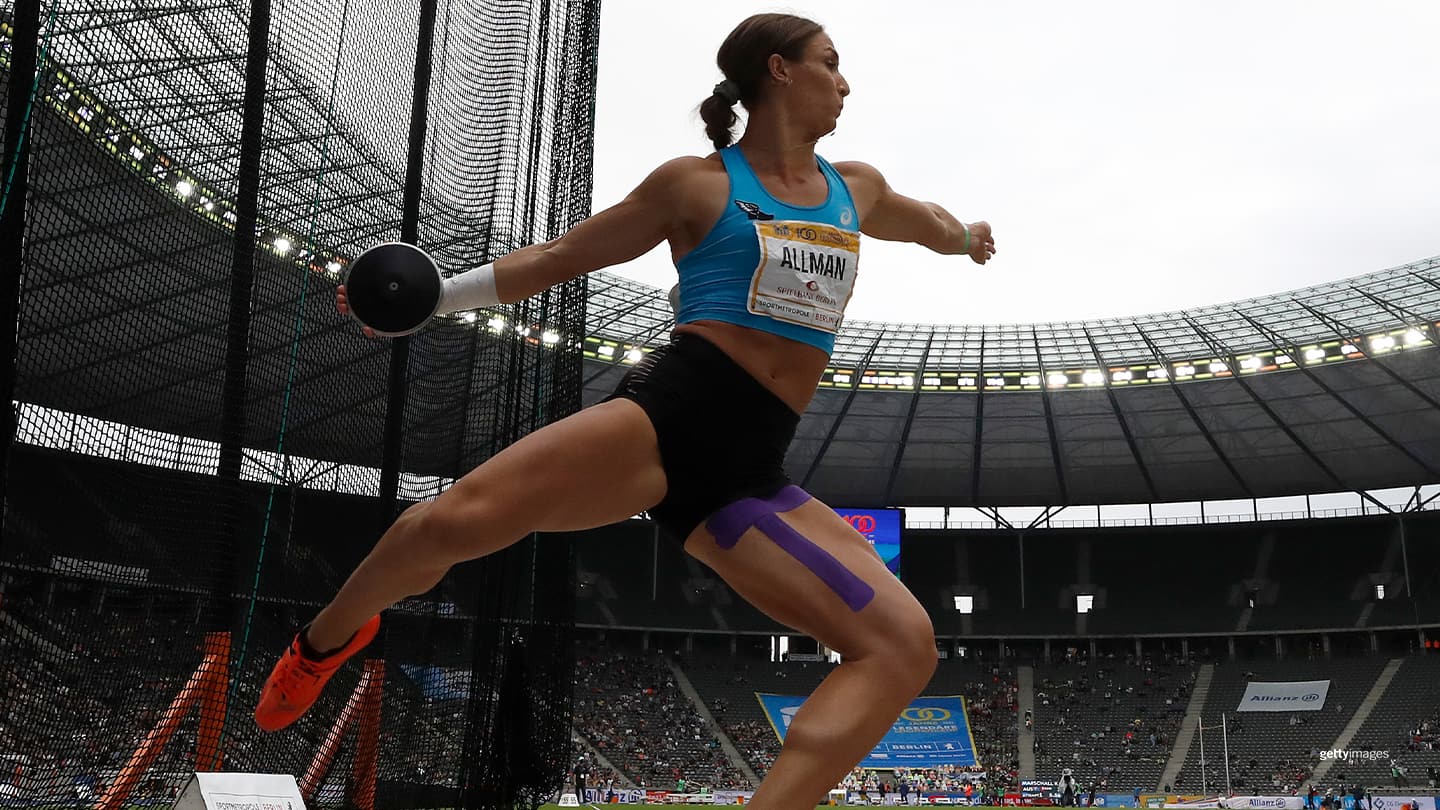 Valarie Allman competes during the women's discus throw competition at the ISTAF 2021 athletics meeting at on Sept. 12, 2021 in Berlin, Germany.
Olympic silver medalist Kristin Pudenz of Germany was second at 64.52 meters followed by Liliana Ca of Portugal at 62.45, with their best throws also coming on their first attempts.

"This stadium, and the crowd, and the field of competition was so incredible," Allman said of competing in Berlin's 1936 Olympic stadium.

Even though her first throw was more than 6 meters better than anyone else's, Allman didn't let up. After she skipped the second round, she threw 65.15 in the third round, fouled in the fourth and posted marks of 66.78 and 68.80 on her last two attempts.

"For a long time, I've been working my way up," said Allman, who was seventh at the 2019 world championships after failing to qualify for the finals at the 2017 worlds. "And now to have all this work paid off and doing it in Germany, a place where there is such an amazing history of throwing, only makes it more special."

As Diamond League champ, Allman has a bye into the 2022 World Championships in Eugene, Oregon, which will be held for the first time in the United States.

"Next season I just want to keep getting better, trying to take on big goals," Allman said. "Being able to represent your country at home – and I see how much the crowd cheers on Kristin – is so special. Having a moment like that in 2022 will just be unreal."


So this just happened… pic.twitter.com/cUhA6MFd8F

— Zebulon R. Sion (@CoachSion) September 12, 2021
Allman is now ranked No. 18 all-time – moving up from 25th - and is one of only two athletes to break into the Top 20 since 1992.
In this century, only Sandra Perkovic of Croatia has thrown farther (71.41 meters in 2017, which ranks No. 15 on the all-time list). All of the other throwers in the Top 20 posted their best throws from 1980 through 1992. Seven of those athletes, including world record holder Gabriele Reinsch (76.80 in 1988), are from East Germany, which had a well-documented state-sponsored doping program.
Allman will face Perkovic on Thursday in the final event of the season at the Boris Hanzekovic Memorial in Zagreb. Perkovic, the two-time Olympic and two-time world champion, is the hometown favorite in the World Athletics Continental Tour Gold event.
Allman defeated Perkovic at the Diamond League final on Sept. 9 by almost 2 meters. Perkovic was fourth in Tokyo, marking the first time she has not been on the podium at a worlds or Olympics since 2011.
Allman hopes to end the season on a high note. She has lost only three times this season: in late May, when she was second in the Diamond League meet in Doha; on Aug. 28 in Paris, when she placed third (with her last throw her best) and Sept. 1 in Brussels, when she finished second. In Brussels, Allman's second throw was only .05 meters better than her first.
In other Berlin events, two-time Team USA Olympian Devon Allen edged Ronald Levy of Jamaica, just as he did at the Diamond League final. Allen's time was 13.10 seconds to Levy's 13.11.
Marvin Bracy won the 100 meters in 9.95 seconds for his third win in Europe since Aug. 28. Sam Kendricks led a Team USA sweep in the pole vault, beating Olympic silver medalist Chris Nilsen on misses at 5.91 meters (19-4 ¾) while KC Lightfoot was third at 5.81 (19-0 ¾).
Kate Grace continued her standout international season after missing the U.S. Olympic team, winning the women's 1,500 meters with a personal best of 4:01.33.
Karen Rosen has covered every Summer and Winter Olympic Games since 1992 for newspapers, magazines and websites. Based in Atlanta, she has contributed to TeamUSA.org since 2009.