The Quarterfinals Prove To Be The End Point For U.S. Wheelchair Tennis Players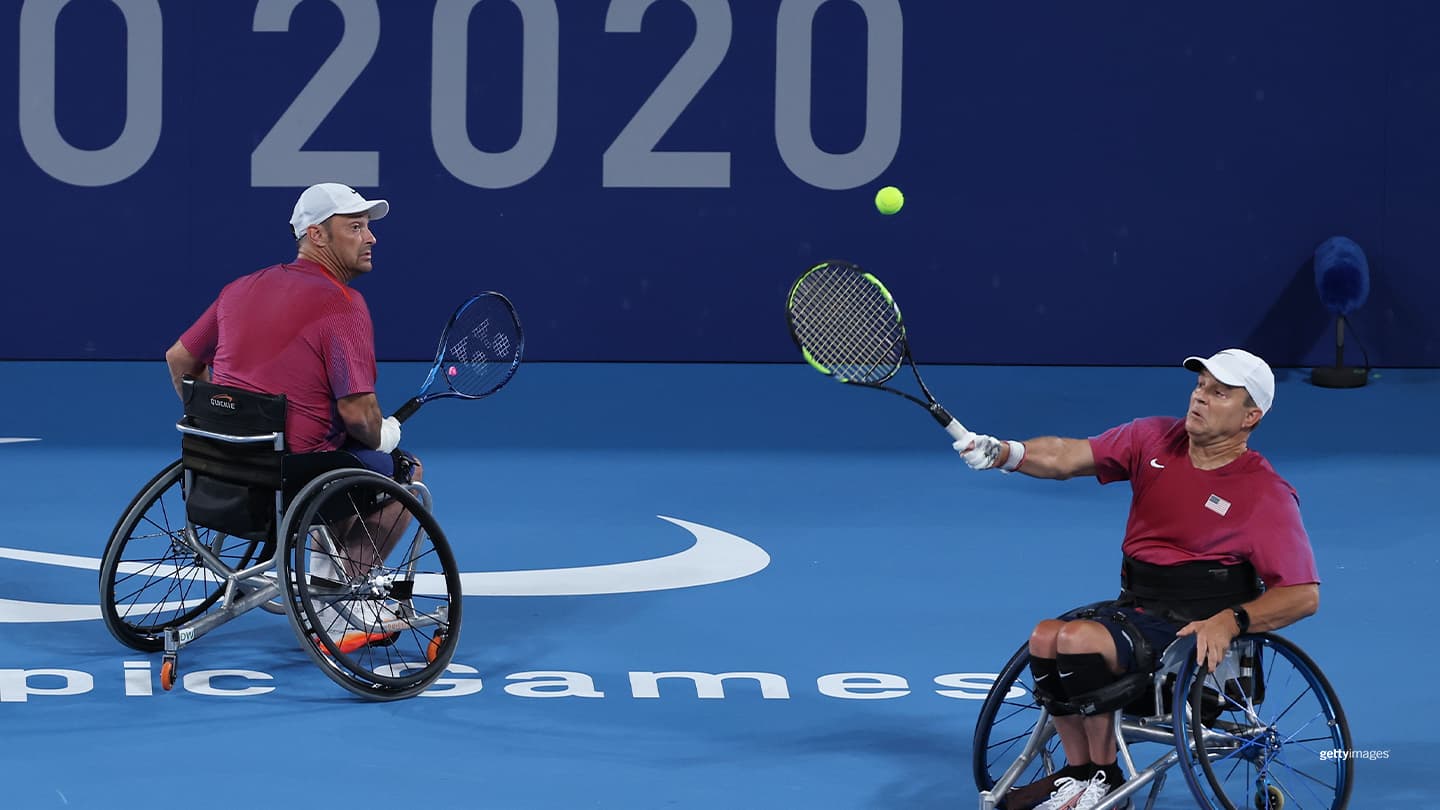 Bryan Barten and David Wagner return a shot against Sam Schroder and Niels Vink of Team Netherlands during Quad Doubles Quarterfinal at the Paralympic Games Tokyo 2020 on August 27, 2021 in Tokyo, Japan.
Dana Mathewson came to Tokyo hoping to become the first American woman to win a singles medal in wheelchair tennis since the sport became an official part of the Paralympic schedule.

That didn't happen, but the 30-year-old has plenty to be proud of in her fifth-place finish. Not to mention plenty to get ready for in her next stop of the summer.

"Gutted to have lost in such a close fight yesterday, but so proud at my performance here in Tokyo," the San Diego native wrote on social media after losing in the Paralympic quarterfinals. "The Games are over here for me, but I'm already excited and ready to head to New York for the (U.S. Open) next week!! Thank you to everyone who has sent messages and love from back home. Your words have meant the world to me. Onwards and upwards!"

Mathewson made her Paralympic debut in 2016, and earlier this year became the first U.S. woman to compete in the French Open in wheelchair tennis. The top-ranked American woman in Tokyo, she defeated France's Charlotte Fairbank and Thailand's Sakhorn Khanthasit in straight sets to advance to the quarterfinals. The road ended there, however, in a three-set loss to Great Britain's Jordanne Whiley, 6-3, 3-6, 7-5.

No American woman has medaled in wheelchair tennis since Terry Lewis won bronze in 1988, the year it was included as a demonstration sport. Wheelchair tennis has been a full Paralympic sport since 1992. Mixed gender quad singles and doubles events were added in 2004.

The quarterfinals proved to be the end point for two of her U.S. teammates as well.

David Wagner came into the Games as Team USA's most decorated tennis player, a four-time Paralympian with eight Paralympic medals in the quad events. For the first time, the 47-year-old goes home to Walla Walla, Washington, without a medal after falling to Japan's Sugeno Koji 6-4, 6-2 in the quarterfinals. He also teamed with Bryan Barten in quad doubles, but they fell to Sam Schroder and Niels Vink of the Netherlands 6-2, 6-1 also in the quarterfinals. Schroder and Vink went on to win the gold medal.

Barten's road in the quad singles event came to an end in the quarterfinals as well when the Hart, Michigan, native fell 6-0, 6-1 to Australia's Dylan Alcott, the eventual gold medalist.
"The division has changed a lot. Our players are much stronger than they've ever been, faster than they've ever been," Wagner said earlier in the tournament. "The ability to change the grip and get in the appropriate serving grip, forehand grip, backhand grip, is much more predominant now than it ever has been in our division. That poses a big challenge for athletes like myself who can't change their grips. To play tennis against that level of function is very challenging."

In men's singles, Casey Ratzlaff reached the second round in his first Paralympics but fell 6-1, 6-1 to Belgium's Joachim Gerard. Ratzlaff, of Wichita, Kansas, now moves on to the U.S. Open as the top-ranked American man.

He teamed with Conner Stroud in doubles, and the two reached the second round but fell to Spain's Spain's Daniel Caverzaschi and Martin de la Puente, 6-1, 6-2.

Stroud, of Rutherfordton, North Carolina, was the only other Paralympic rookie on Team USA this year. He lost his first-round singles match 6-4, 6-3 against Maikel Scheffers of the Netherlands.

In women's singles, Fort Mitchell, Kentucky, native Emmy Kaiser lost her first-round match against China's Huang Jinlian 6-1, 6-1. Shelby Baron of Honolulu also lost in the first round to Brazil's Meirycoll Duval 6-4, 6-4.

Baron and Mathewson lost their first doubles match against China's Wang Ziying and Zhu Zhenzhen 6-1, 6-0.

Karen Price is a reporter from Pittsburgh who has covered Olympic and Paralympic sports for various publications. She is a freelance contributor to TeamUSA.org on behalf of
R
ed Line Editorial, Inc.