Paralympian Dana Mathewson Hopes To Continue Making USA Wheelchair Tennis History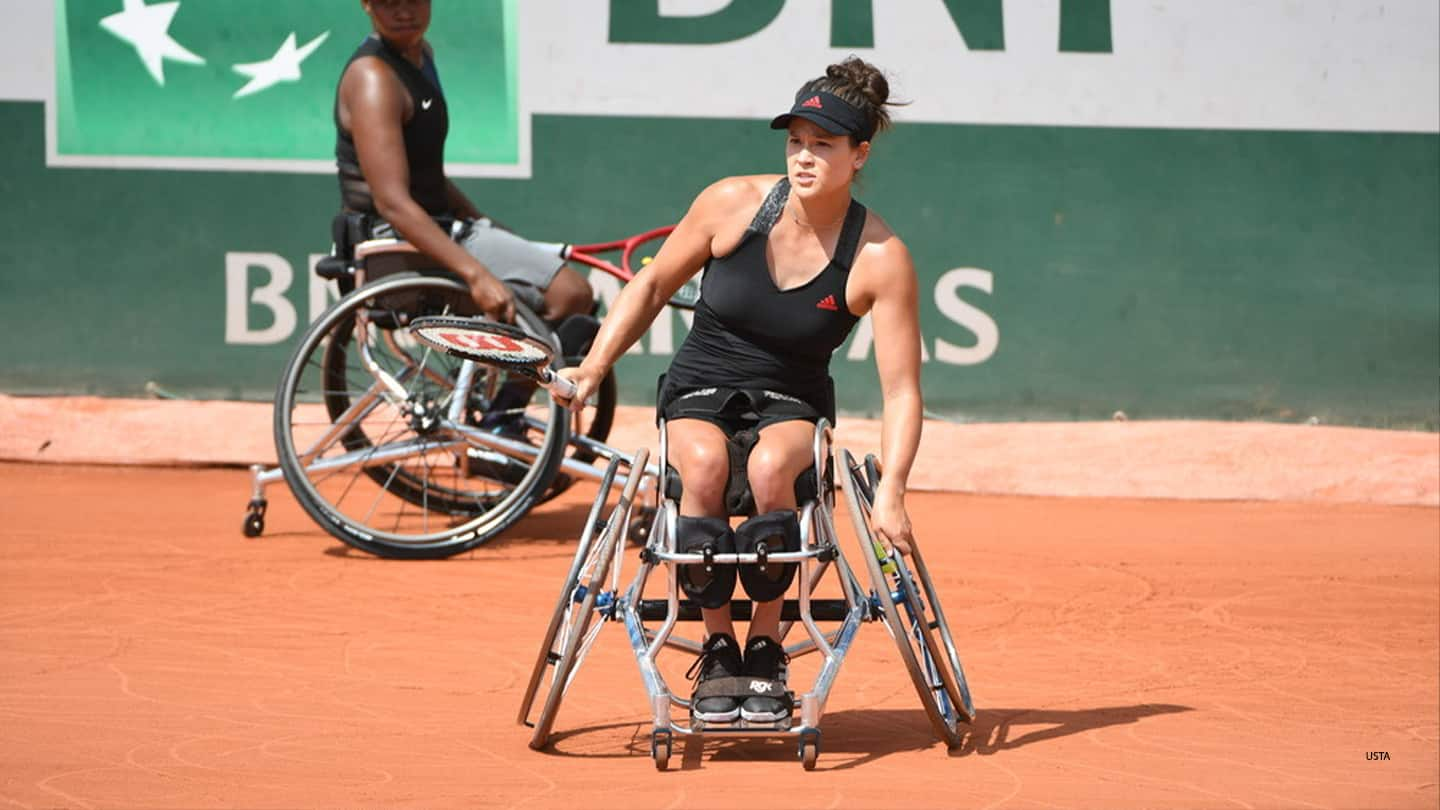 Dana Mathewson will compete in wheelchair tennis at the Paralympic Games Tokyo 2020
Dana Mathewson had always longed to play in the French Open. She just thought she'd have a little bit more notice.

Mathewson found out on May 27 that another player was ill and couldn't play. She was next in line according to the International Tennis Federation rankings, but would need to fly to Paris four days later.

"There was so much scrambling," said Mathewson, who became the first American female wheelchair tennis player to compete on the iconic red clay of Roland Garros, "and I'm a Type A person, so I was very stressed."

The 2016 Paralympian was already scheduled to play in two other tournaments in France in June, but had to change her flights, organize her travel documents, apply for accreditations, book her hotel, etc.

"It was a little bit of a hectic 48 hours," Mathewson said, "but I got everything sorted out in the end."

Her only regret is not having a little more time to prepare herself mentally for the tournament. Yet despite losing in the quarterfinals in singles and semifinals in doubles -- and spending an inordinate amount of time doing a deep clean of her chair "because there's red clay in all of these little nooks and crannies"-- Mathewson said, "It was an amazing experience. I hope I get to have it again next year."

She had even shorter notice the one time she played Wimbledon. Mathewson was on the hallowed grounds supporting an ex-boyfriend who was in the tournament when one of the female wheelchair players pulled out of doubles.

"I had 15 minutes to go get ready," Mathewson said. "I luckily had white clothes in my bag. We played a really good match, lost 4 and 4 against the No. 1 seeds, so I have technically played Wimbledon, but not fully."

Thankfully, the San Diego native has known for quite some time that she'll play for Team USA in the Paralympic Games Tokyo 2020. Mathewson, 30, has a few more tournaments this summer on the international professional circuit and will try to raise her ranking from No. 9 to at least No. 8 to earn a seeding at the Paralympics. She is the only American woman in the Top 25.

"The ability to go and possibly win a medal and wearing the letters USA on your back make it exciting," said Mathewson, who won the bronze medal in singles at the 2019 Parapan American Games, and claimed the gold in doubles with Emmy Kaiser. "I feel I always play a little bit harder when I know that I'm competing for my country, too, because it's not just for myself."

Five years ago in Rio, Mathewson won her first match in the 32-woman draw, then lost in the second round. In doubles, she and Kaitlyn Verfeurth were eliminated in the quarterfinals
Taking A Break And Coming Back
Stronger
Back then, Mathewson's goal was just to make Team USA since she had quit tennis for nearly four years to focus on college and her social life. She returned to the sport about a year before the Rio Games and joined the pro tour.

"It was the best decision I could have made because when I went back to tennis, it was because I knew I wanted to do it," Mathewson said, "not just because I'd been playing my whole life."

Not only did she miss it, she also realized tennis had become a big part of her identity.

"When you introduce yourself to people," Mathewson said, "saying that you're an athlete comes up pretty quickly, and that's just because it's a way that we identify ourselves. After I quit, there was nothing for me to say in that respect. I could say I was a student, I was this, I was that, but it wasn't the same and I think I really missed that part of myself."

She also said the break allowed her to grow as a person, "and whenever you grow outside of sport I think it makes you grow inside of sport, too, so I think it's ultimately made me better."

Mathewson even upgraded her introduction from athlete to Paralympian.

And this time around, she goes into the Games as a full-time player. After completing her masters degree at University College London, where she had been studying since 2017, Mathewson moved from England to Orlando to be based at the USTA National Training Center. However, she is still studying online for a clinical doctorate in audiology.

"I feel like I've become a more well-rounded player," Mathewson said. "That definitely changes my sights in terms of Tokyo."

Wheelchair tennis was a demonstration sport at the 1988 Paralympic Games where Terry Lewis of Team USA won a bronze medal. Since then, no American woman has reached the podium in women's singles.

Mathewson, a right-hander known as a big hitter, was 10 years old when she contracted a rare neurological disease known as Transverse Myelitis, which affected her spinal cord and caused her immune system to attack a very low region of her back.

When she got home from the hospital, one of the first things her mother, Arlene, did was tell her to empty the dishwasher. "I was like, 'What? I'm in a wheelchair now. What do you mean?'" Mathewson recalled. "She said, 'Your legs don't work, but your arms do.' That's just the best thing she could have done, was that tough love."


From Reluctance to
Resilience
Her mother also signed her up for different sports camps. "I had no interest," said Mathewson, who had been a soccer player before her injury.

She even admits to screaming in the car all the way to camp. "I think it was a mixture of not wanting to accept that this was my new life, and then not feeling like I belonged in that scenario," Mathewson said.

She quickly realized the other kids were just like her, and "they can play sports just as well as anyone on their feet or not."

Mathewson tried rugby and basketball, and than at age 13 picked up a tennis racket. "It just kind of clicked," she said. "Maybe it's the feeling of hitting that first forehand and having it come off the sweet spot of the racket. I just loved it. Or maybe it was the people.

"Looking back at it now, tennis just offers you a unique set of things that after you have a new injury can be so helpful in regaining your sense of confidence and sense of self. Being an individual sport, it taught me what I can do again with my body on my own. I know that team sports can teach you that, too, but because tennis is solo, you know that what happens out there is because you did it."

Mathewson learned resiliency, self reliance and how to set goals and achieve them. She also had the chance to travel the world and get paid as part of the world tour, where she usually plays 20-plus tournaments a year, each lasting a week.

"In tennis there are going to be days where you have a horrendous day and you're going to have a horrendous loss," Mathewson said, "and then there's equally going to be days where you're just amazing and that gets addicting and you just want to keep doing it."

In Orlando, she mostly trains with her coach, Jason Harnett, who is able-bodied. He is the national manager for wheelchair tennis, and Mathewson said, "It's like training with your boss sometimes."

They are both very competitive and make a lot of bets on the court, such as who can win a drop-shot drill. "Whenever he wins, I have to bake him a batch of chocolate chip cookies," Mathewson said, "so unfortunately my oven has been getting a lot of work."

She also works with coaches on strength and conditioning and mental skills.

Because Mathewson had been a part-time player for so long, she considers herself a late bloomer in a sport in which athletes compete well into their 30s.

"The coaches say, 'You have a lot of natural talent, but you're missing some foundational aspects,'" Mathewson said, "because I didn't have the training other people had in the beginning. So it's almost like I'm going back to school and learning algebra when I already was trying to do calculus."
Love Means Nothing in Tennis, But Off the
Court….
She and her fellow players are currently trying to change the math when it comes to draw sizes at Grand Slams. As it stands now, there are only eight competitors – the top seven ranked players and a wildcard who usually comes from the home country.

That's why it had been so hard for Mathewson to get into the French Open and Wimbledon. She also has not played the Australian Open, although she has been the fortunate American to get the wild card into the U.S. Open since 2017.

"It is really frustrating because my ranking is No. 9, but I'm still not good enough to play in a Slam, which is pretty crazy if you think about it," Mathewson said. "In the past the really high level of play was more or less those top eight players, so those were the best people to showcase at a Slam. But now the play has really deepened, and there are a lot of really good players on our tour, so showcasing them would only help our sport."

Piling on more frustration, the Grand Slams award a lot of points on the tour, "which means that anyone that's in that top seven stays in the top seven forever," Mathewson said, "and it's really hard for people to break in."

While she hopes the move to Florida will help her tennis, it has already improved her love life.

Mathewson met her boyfriend, Dristin Hughes, last October when he "saved me from a frog in my car," she said.

Mathewson was heading to a workout at the USTA when she opened the trunk of her car at her apartment complex and saw the frog. Mathewson hates frogs.

"I really don't like the way they move, the way they look, I was just panicked," she said.

Mathewson saw Hughes running by and yelled out to him, "Can you please help me?"

"I'm sure he looked at me in the wheelchair and was like, 'Well maybe she needs help with her chair or something.'"

Instead, Mathewson explained the frog situation. "He was so nice, didn't even question it, and the frog jumped everywhere. I think it peed on him, and finally he got it off. The next day there was a little note he left on my car introducing himself. We've been dating ever since."

Hughes, a med student at UCF, is even taking care of Mathewson's cockapoo puppy, Riley, while she is away.

Mathewson doesn't know how long she'll continue the nomadic life of a pro tennis player. She was attracted to audiology because she thought she could make an impact on peoples' lives, but realizes she can also do that through tennis.

"After seeing how sport changed my life, I would love to be able to do that for someone else, too," Mathewson said, "so I'm kind of seeing where the wind takes me."
Karen Rosen has covered every Summer and Winter Olympic Games since 1992 for newspapers, magazines and websites. Based in Atlanta, she has contributed to TeamUSA.org since 2009.