These Team USA Paralympians Are Cool On And Off The Field Of Play
Members of the U.S. Paralympic Team are ready to show the world what they can do on the field, with the Paralympic Games Tokyo 2020 starting up on Tuesday, but often times what they do off the field is just as impressive.
From advocacy to baking to car racing, these six athletes are cool in more ways than one.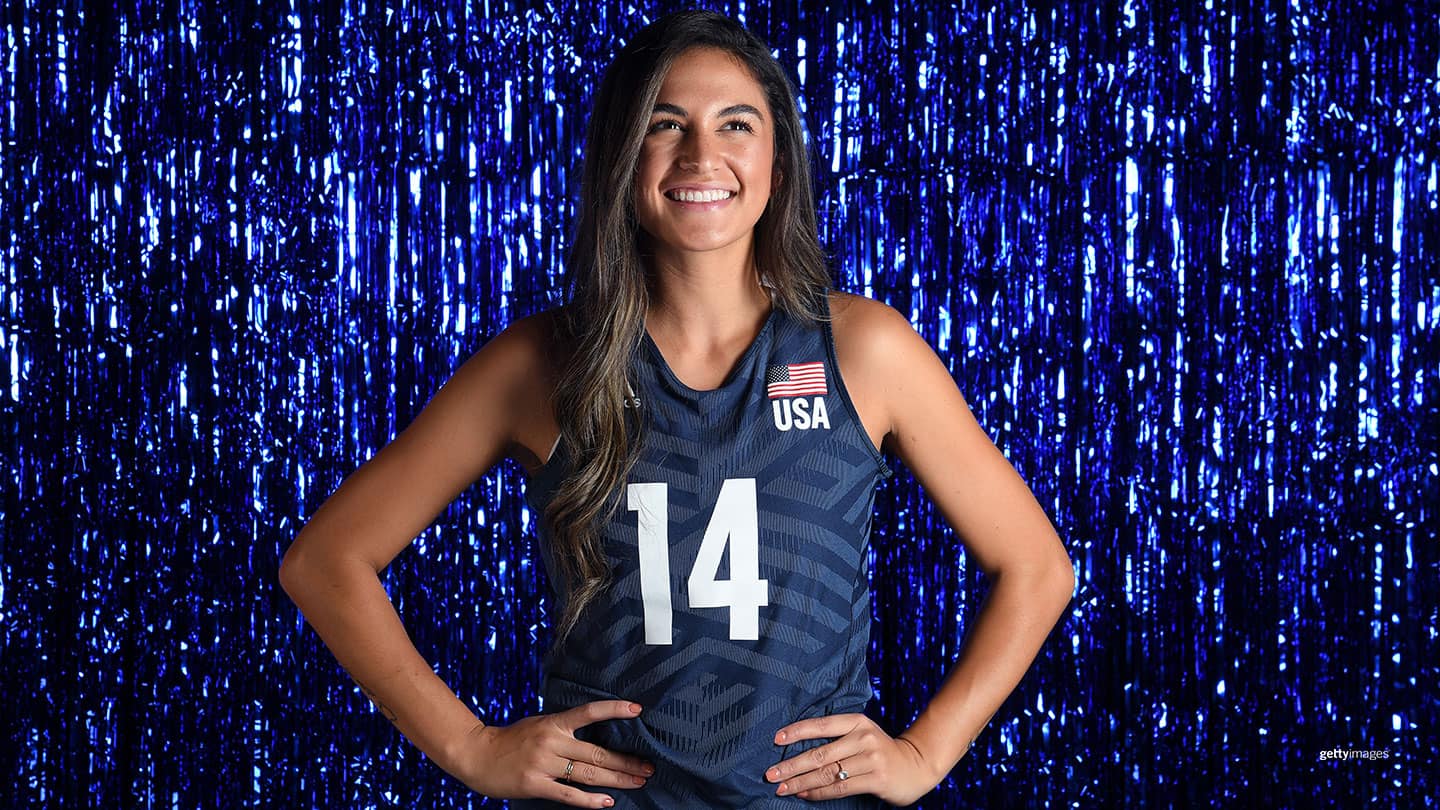 Kaleo Kanahele Maclay poses for a portrait during the Team USA Tokyo 2020 Olympics shoot on Nov. 20, 2019 in West Hollywood, Calif.
Kaleo Maclay – Sitting
Volleyball
Talk about doing it all. Kaleo Maclay is not only a two-time Paralympic medalist who'll be going for No. 3 in Tokyo, but she's also a wife, a mom and a small business owner.
Along with her husband Matthew and their business partner, Maclay runs Flower & Flour, a coffee shop, bakery and flower shop in Oklahoma City. The 25-year-old started baking right after the 2016 Paralympics and is now a top-notch cookie decorator (check out some of her creations on her Instagram). She recently told Bon Appetit magazine that her day starts at 4:30 a.m. when she goes to the coffee shop to bake for the day, then she's home by 6:30 a.m. to get her son ready for school, and by 8 a.m. she's off to train.

Women's sitting volleyball has been part of the Paralympics since 2004, and the U.S. has medaled every year. They won bronze in 2004, then silver in 2008 and 2012 before breaking through for gold in 2016 by beating three-time defending champions China in straight sets. The Americans will start their defense on Aug. 28 against Rwanda. The gold-medal match is Sept. 5.

Follow Maclay on Instagram.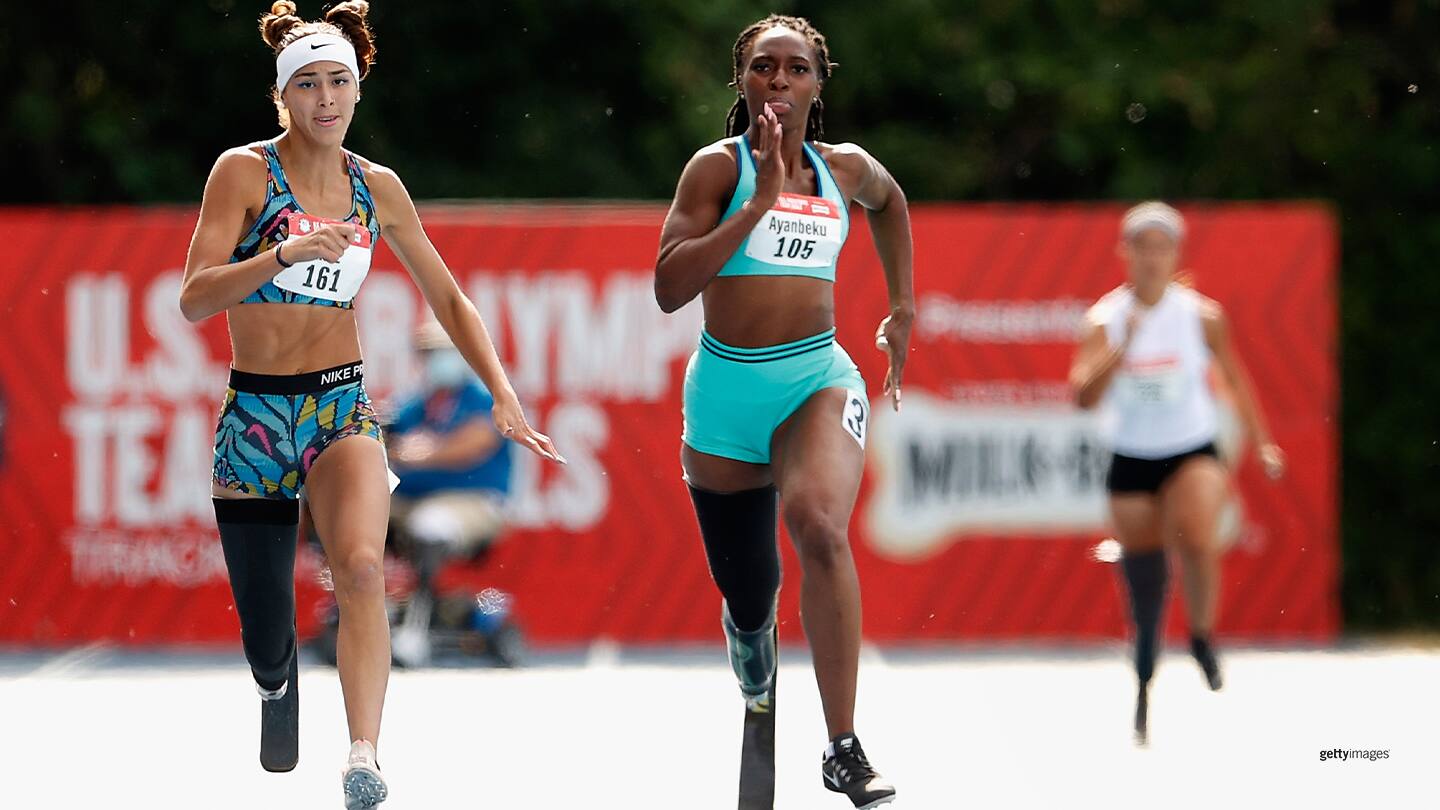 Femita Ayanbeku compete in the Women's 200 Meter Dash T44/64 Ambulatory final during the 2021 U.S. Paralympic Trials on June 19, 2021 in Minneapolis, Minnesota.
Femita Ayanbeku – Track &
Field
Femita Ayanbeku lost part of her right leg in a car accident when she was 11 years old, and at the age of 22 she founded Limb-It-Less Creations. The mission of the non-profit is to "create awareness and provide support to the amputee community, as well as people with physical disabilities."
Even though she's had to put the foundation on hiatus in order to dedicate herself to track and field Ayanbeku still embodies that undertaking every day. She's served on the board of nonprofits the Born To Run Foundation and Adaptive Sports New England, volunteered at the Boston Marathon Youth Jamboree and inspired others through her public speaking at schools and businesses.
Ayanbeku, 29, was still relatively new to running when she made her first Paralympic team in 2016, but this year she's planning big things. At the Trials in June, she broke four-time Paralympian April Holmes' 15-year-old American record in the 100-meter T64 race and was just two-tenths shy of the world record with a time of 12.84 seconds. The track and field competition begins Aug. 25; catch the women's 100-meter T64 final on Sept. 3.

Follow Ayanbeku on Instagram.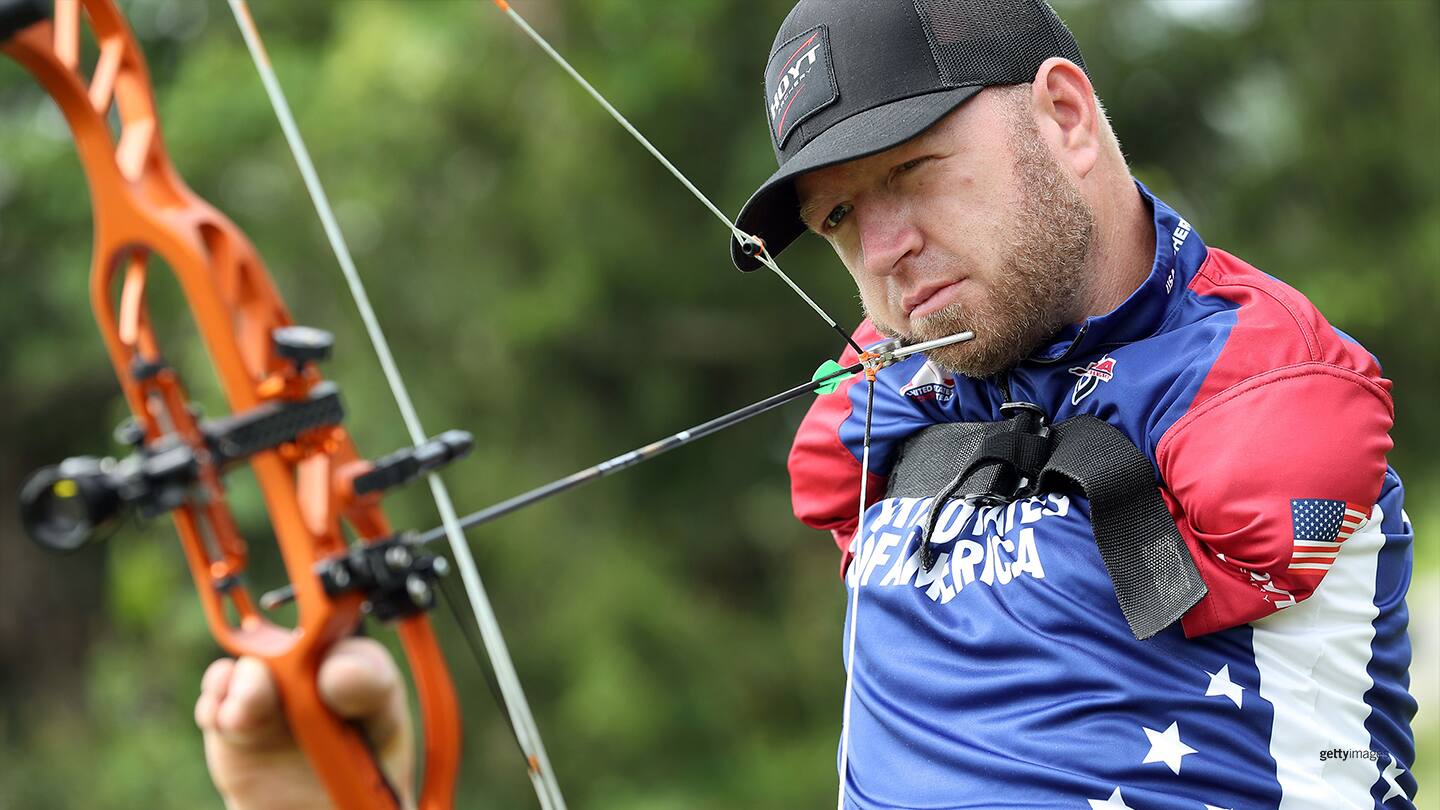 Paralympic Archer Matt Stutzman trains during a session on July 14, 2020 in Fairfield, Iowa.
Matt Stutzman is best known as the archer with no arms — even his Twitter handle is @ArmlessArcher — but the Iowa native is also a big-time car enthusiast. He not only works on them but also races them at events such as the Redneck Rally Race, which he describes as a dirt bike track for cars. He even built the engine for the car he uses in the race.
Stutzman shared his passion with the masses in the Netflix documentary "Rising Phoenix," which profiles nine Paralympians and the impact of the Paralympic Games. He even got the car he drove in the Redneck Rally Race into the film. Stutzman drives with one foot on the steering wheel and the other on the pedals, and his cars have no modifications.

This will be Stutzman's third trip to the Paralympics. He won silver in compound archery in 2012 and was fourth in 2016. This past spring at the Paralympic Trials, he broke the world record by more than 20 points when he shot 1398/1440 in a double, 50-meter round. The men's compound competition starts on Aug. 27, with the ranking round. The medal matches will be held on Aug. 31.

Follow Stutzman on Twitter.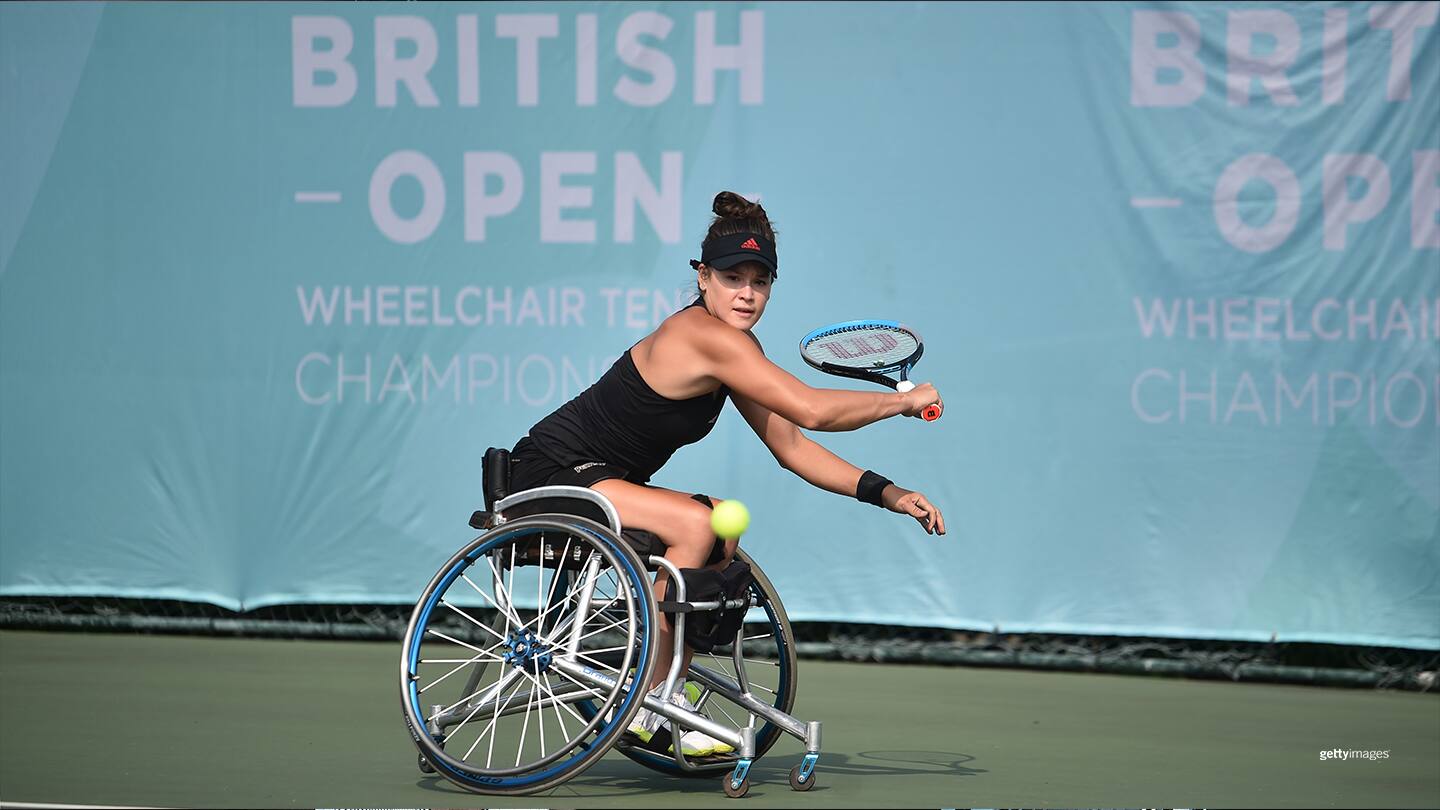 Dana Mathewson competes during the British Open Wheelchair Tennis Championships at on July 22, 2021 in Nottingham, England.
Dana Mathewson – Wheelchair
Tennis
School and sports have always been paramount in Dana Mathewson's life. She went to the University of Arizona for her bachelor's because it's one of the only schools in the country with a collegiate-level adaptive sports program and because she got a scholarship to compete on the wheelchair tennis team.
She majored in speech, language and hearing, and minored in psychology, then started on an audiology doctorate degree. In 2019 she was admitted to University College London to continue working toward her audiology doctorate, and after graduation moved back to the U.S.

While her goal is to become a pediatric audiologist one day, she's now focused on tennis full-time. She lost in the second round in singles and made it to the quarterfinals in doubles in Rio in 2016, and is currently ranked eighth in the world. The first round of the women's singles tournament starts Aug. 27.

Follow Mathewson on Instagram.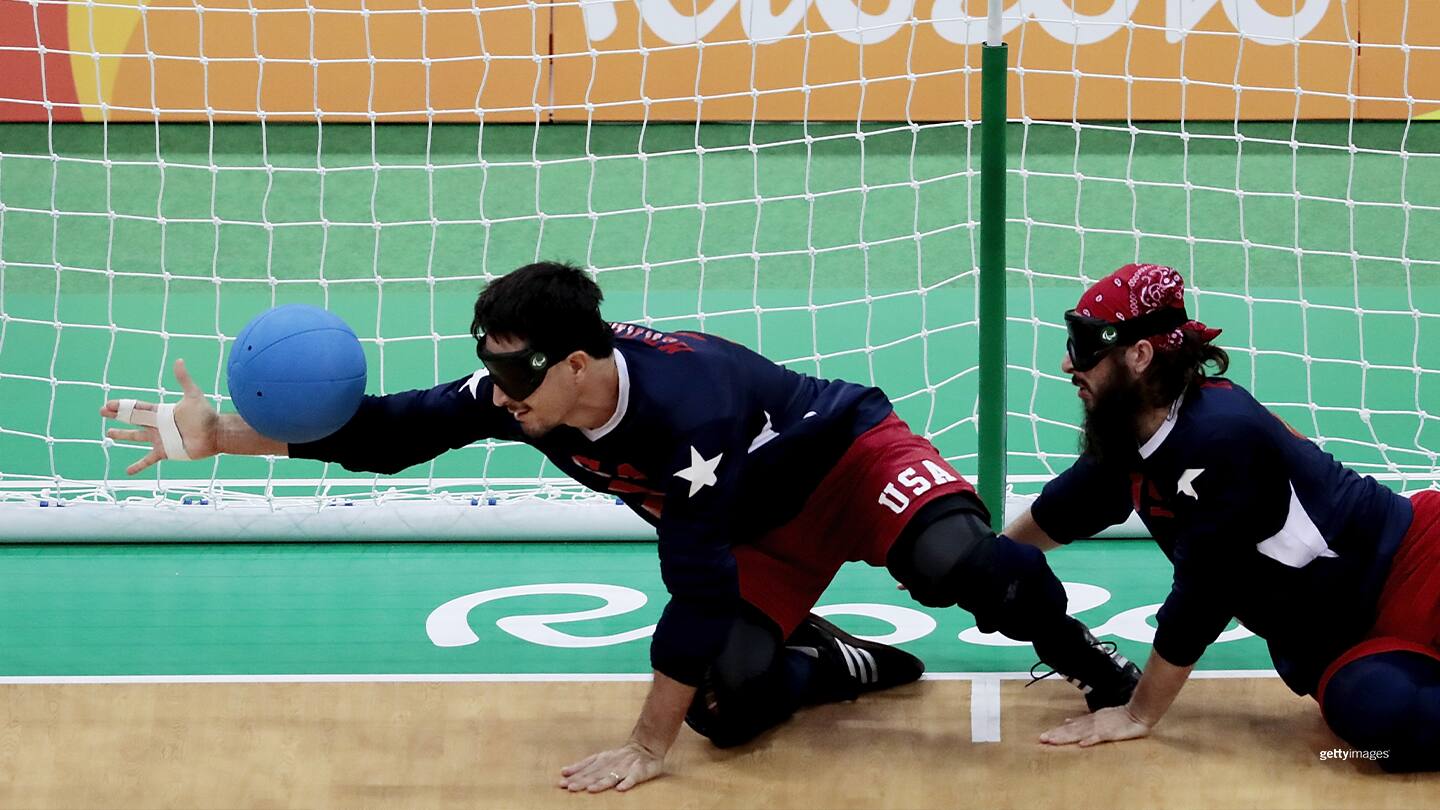 Tyler Merren competes in goalball at the Paralympic Games Rio 2016 on Sept. 12, 2016 in Rio de Janeiro, Brazil.
It isn't enough for Tyler Merren just to train himself to become the best athlete possible. He's a personal trainer who's helped develop an app for visually impaired athletes called ReVision Fitness.
It's described as "a creative way to offer audio workout training to the visually impaired" with features that involve community, self-progression and accountability. Merren saw the need for something that would help the visually impaired learn new exercises and how to use gym equipment while also bridging the accessibility gap for those looking to live a healthy and active lifestyle.

This year Merren is the most experienced member of the U.S. goalball team. This will be his fourth trip to the Paralympics, and while he has a bronze medal from 2004 and a silver from 2016 he and his teammates are ready to capture the elusive gold for the first time since 1984. The U.S. opens preliminary round play against Brazil on Aug. 25 and the medal matches are Sept. 3.

Follow Merren on Twitter.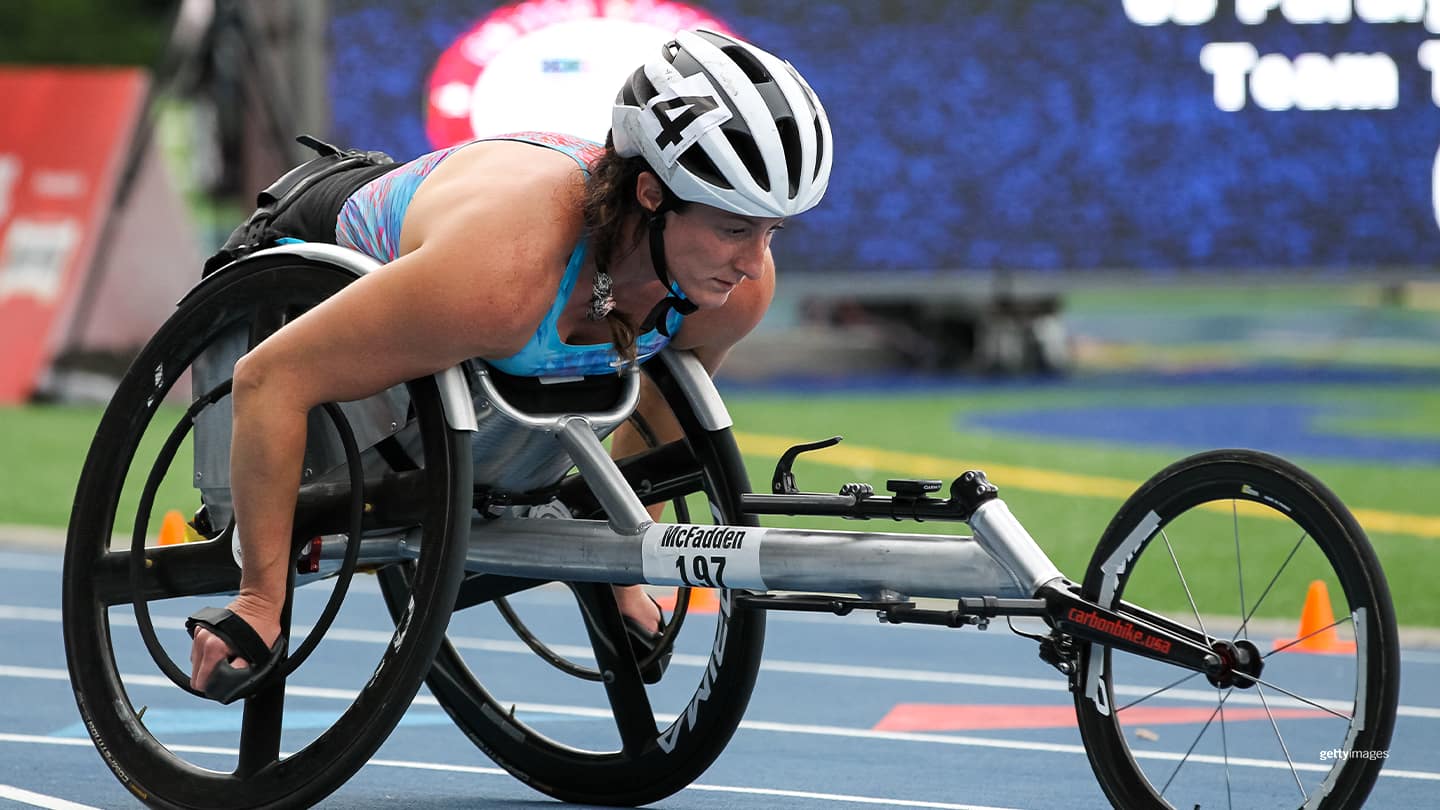 Tatyana McFadden competing in the Women's 400 Meter Dash T54 Wheelchair final during the 2021 U.S. Paralympic Trials on June 17, 2021 in Minneapolis, Minnesota.
Tatyana McFadden -Track &
Field
Tatyana McFadden has unquestionably made her mark not only on her sport but also on opportunities for athletes with disabilities nationwide.
When she was just a freshman in high school she sued her school to be able to race in her wheelchair on the same track at the same time as her able-bodied teammates, and that sparked the Maryland legislature to pass the Fitness and Athletics Equity for Students with Disabilities Act. That became federal law in 2013.
More recently, she served as an executive producer on Netflix's documentary about Paralympic athletes, "Rising Phoenix" and has also lobbied for equal pay between Olympic and Paralympic athletes. She's also helped provide wheelchairs and teach others how to race through the New York Road Runners, written a children's book and is an honorary board member of the Illinois Spina Bifida Association.

As a wheelchair racer, McFadden is among the most decorated ever. This will be her sixth Paralympics, including one trip to the Winter Games, and she has a total of 17 medals, seven of them gold. The Paralympic track and field competition runs from Aug. 27 to Sept. 5.

Follow her on Instagram.
Karen Price is a reporter from Pittsburgh who has covered Olympic and Paralympic sports for various publications. She is a freelance contributor to TeamUSA.org on behalf of
Red Line Editorial, Inc.