Expanded U.S. Open Wheelchair Fields Create Opportunity For Dana Mathewson, Other U.S. Players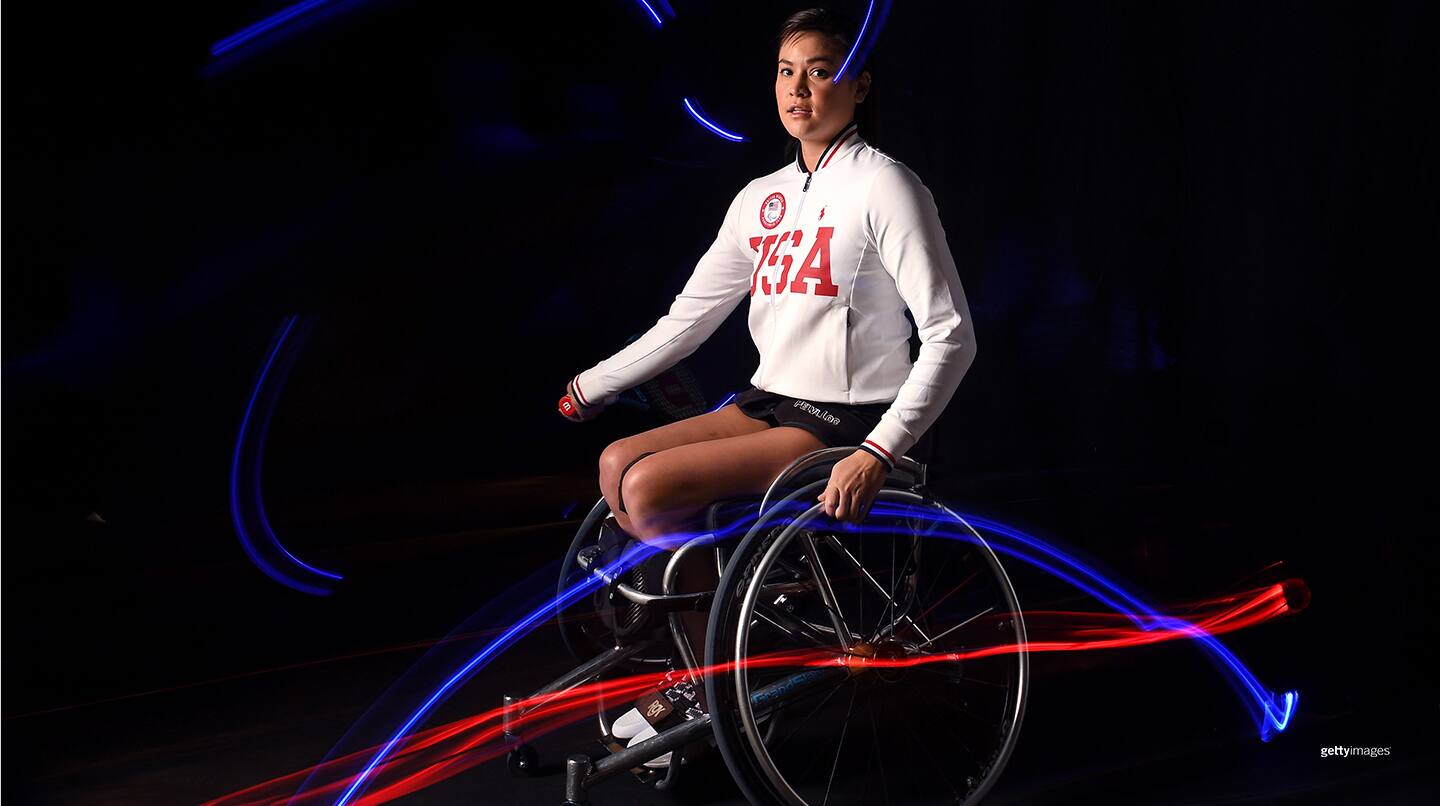 Dana Mathewson poses for a portrait during the Team USA Tokyo 2020 Olympics shoot on Nov. 19, 2019 in West Hollywood, Calif.

American tennis star Dana Mathewson's says not much has changed in her life since she won the Wimbledon wheelchair doubles title two months ago. She's still training hard and doing everything she can to prep for this month's U.S. Open.

But really, some big things have changed in Mathewson's life since July.

The Wimbledon win, with partner Yui Kamiji of Japan, marked her first Grand Slam title. It was also the first championship for an American woman in the Wimbledon wheelchair doubles event.

She's obviously thrilled to add the major to her growing resume, though Mathewson views it as something bigger in the grand scheme. Her life is changing because of increasing opportunity and visibility, both on and off the court, for her tennis career.

Wheelchair tennis is one of the few Para sports contested directly alongside able-bodied tournaments, using the same facilities. Now Mathewson, along with eight-time Paralympic quad tennis medalist David Wagner, want to push the sport further, in their own ways, through their success and hard work.

"I want people to look at me and realize I am a tennis player, and this is my job," said Mathewson, a 31-year-old native of San Diego. "I am dedicating my life, right now, to taking this as far as I can go. I want to be the best. I am so focused."

Mathewson called winning Wimbledon "a dream come true," but notes that she had been close to major championships in the past, most notably at the 2017 U.S. Open when she reached the doubles final.

"Saying I won Wimbledon feels really good," she said. "But now it is back to the beginning with the U.S. Open. We all want to win it."

Founded in 1976, wheelchair tennis — which includes an open class, and a quad class for athletes with additional impairments in the playing arm — has been a Paralympic medal sport since 1992. In 2007, the French Open added wheelchair events, giving the sport a presence at all four Grand Slams.

The growth has continued.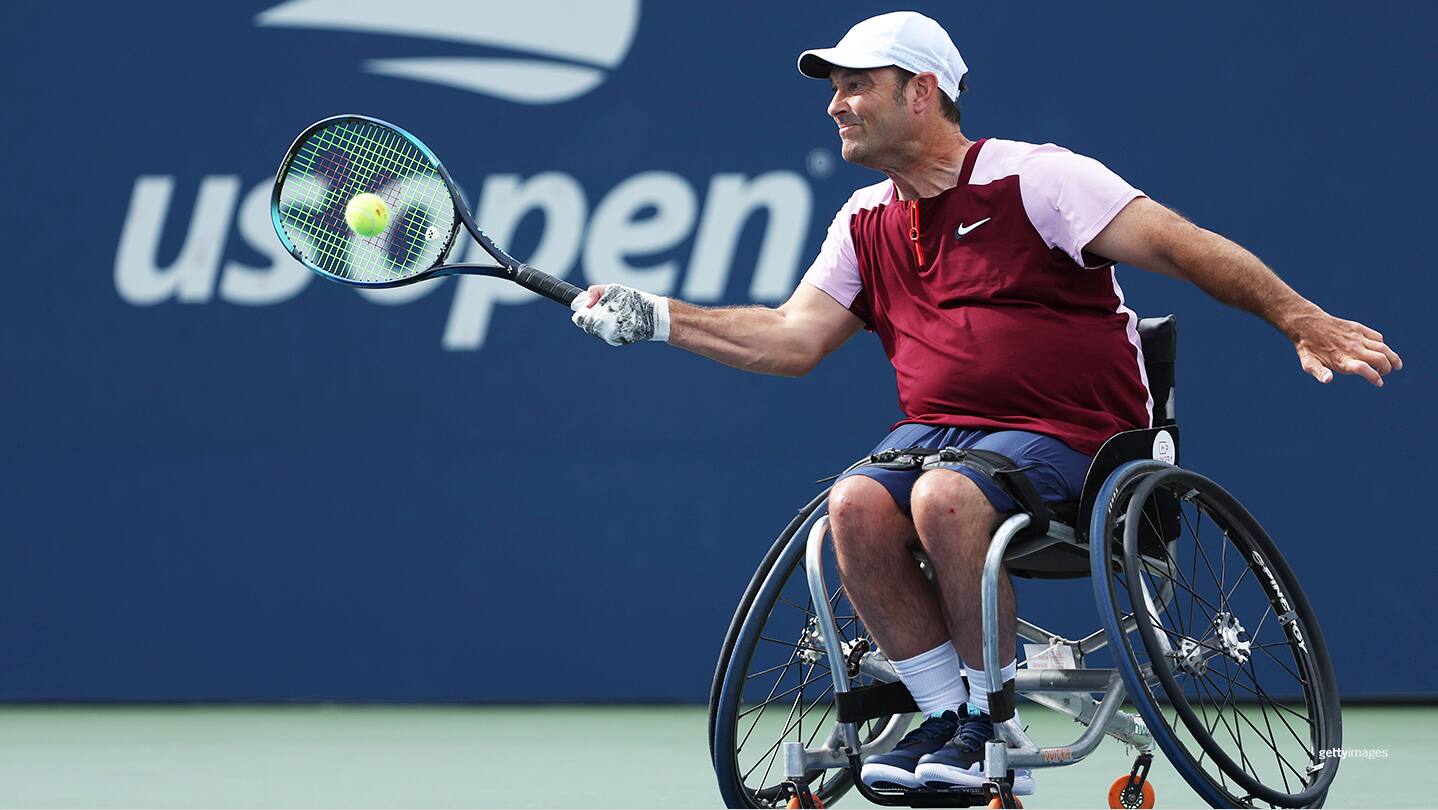 David Wagner returns a shot against Andy Lapthorne (Great Britain) during their men's quadriplegic wheelchair singles quarterfinals match at the 2022 U.S. Open on Sept. 7, 2022 in New York City.

When the U.S. Open wheelchair events begin Wednesday, they will feature the largest player fields in Grand Slam history. The men's and women's singles fields have doubled in size to 16 players each, while the doubles fields now feature eight teams each. (The quad singles field doubled in size to eight competitors last year and was unchanged for 2022.)

This year's U.S. Open is also the first Grand Slam to include a junior wheelchair competition, with fields of eight for girls and boys.

Showcasing the best wheelchair teen tennis stars at a Grand Slam is a big step, Mathewson said. Whereas the developmental pathway for able-bodied players has been well established over the decades, it remains hazy for young wheelchair players who aren't always able to access facilities, proper coaching or strong local competition.

An expansion of the sport on the college level has also helped — Mathewson is a product of the collegiate game, having played for Arizona. Meanwhile, the USTA National Campus in Orlando, where Mathewson trains, is among a growing number of places providing elite coaching and support.

"I've been really happy to see how things are changing," said Mathewson, who competed in her second Paralympic Games last year in Tokyo. "Playing college tennis is a big deal. Having the access to play at the USTA training center in Orlando, and really practice and work out like a pro, has let me take my game to the next level."

Wagner, 48, has known Mathewson for a long time and is thrilled to see her progress to the top of wheelchair tennis.

"I love Dana, she is a tremendous player and person, so I am really happy to see all the good things coming her way," the native of Walla Walla, Washington, said. "She's taken advantage the opportunities in front of her and run with it. It shows how we help game grow and increase the talent pipeline."

However, Wagner said he would like to see corresponding growth in the quad division, including at the U.S. Open. Wagner said there were high-level discussions about the issue, but ultimately the USTA kept the field at eight.

Wagner, who has won 28 major titles — six singles, 22 doubles — to go with three Paralympic gold medals, is one of the leading voices for the quad players.

"It really does not make sense to not put us at 16, because we have the players and depth in the game," Wagner said. "We need to look at how we can become more equitable for all of us. I'm obviously happy for the juniors, because that is a huge step to grow the game. But leaving the quads behind isn't right. We are not going to back down in wanting all the Grand Slams to do the right thing."

Mathewson sees the wheelchair game as a step-by-step progression.

Wagner wants to see the progression bringing everybody along in an equal way.

Which leads to a recent moment that drew a laugh from Mathewson, as she recounted the tale. After Wimbledon, she did a photoshoot for one of her sponsors. She shared the shoot with another global star — Greece's Maria Sakkari, who is able-bodied.

Two women who play tennis at a high level, both sponsored by the same company.

"I think that is how I want it to be in the end — forget about the chair, forget about 'feeling sorry for us' — just see the tennis and the athletes," Mathewson said. "Maria and I are both pro players. The bigger part of what I want out of this is for people to see how high the level of tennis is, how great this sport and the athletes are, and see us as being beyond just inspirations.

"Sure, I think it is great if I inspire you, but I want you to be really inspired by my game. That's the progress and next step for all of us. In the end, that's what we want. Opportunity."
Joanne C. Gerstner has covered two Olympic Games and writes about sports regularly for the New York Times and other outlets. She has written for TeamUSA.org since 2009 as a freelance contributor on behalf of
Red Line Editorial, Inc.