Evan Medell Scores First U.S. Medal In Paralympic Taekwondo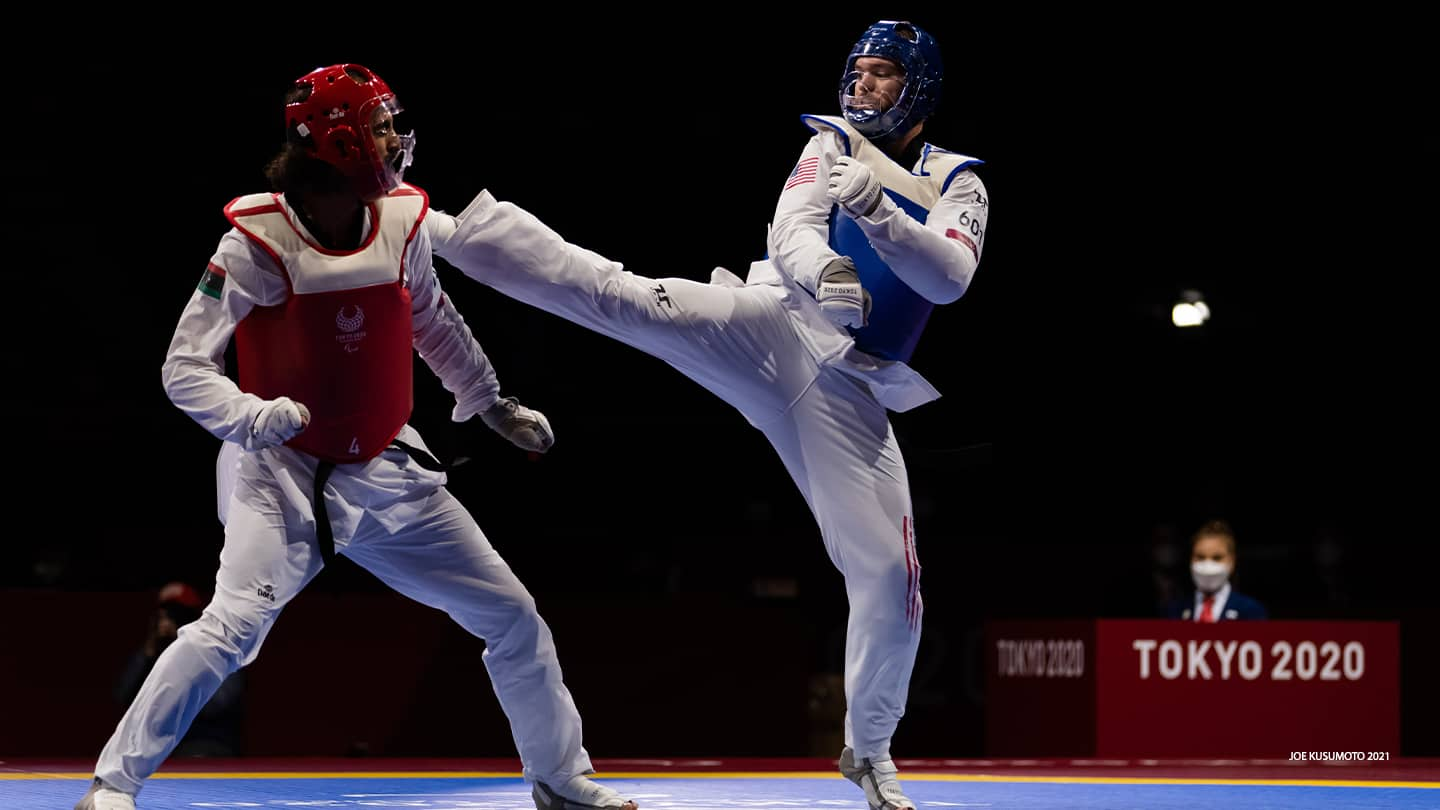 Evan Medell competes in the men's K44 +75kg taekwondo event at the Paralympic Games Tokyo 2020 on Sept. 4, 2021 in Tokyo
Evan Medell made history just by competing in taekwondo at the Paralympic Games Tokyo 2020.

With the sport being included on the Paralympic program for the first time, both he and Brianna Salinaro will be forever in the record books as the first athletes to compete for the U.S. in taekwondo at the Paralympic Games.

On Saturday, Medell did one better by becoming the first to medal.

The 24-year-old from Grand Haven, Michigan, defeated Costa Rica's Andres Esteban Molina Gomez in the K44 75 kg. class, 13-11, for the bronze medal.

"I am a bit disappointed, but it's better to walk away with a medal than no medal," he said. "Hopefully it's something to build on for U.S. taekwondo in general."

The day didn't start off quite as Medell hoped. He beat Mohamed Abidar of Libya in the quarterfinal, 22-19, but said afterward that it was a tough first match that shouldn't have been tough.

He then fell to Croatia's Ivan Mikulic in the semifinal, 28-9, and saw his hopes for a gold medal wash away. There was still the opportunity for the bronze, however.

"If you have a bad performance you just have to regather yourself to make yourself do better in the next performance," he said. "That is what I did. I took my time, went over my game plan, what I was going to do, what I wanted to do and tried to execute it."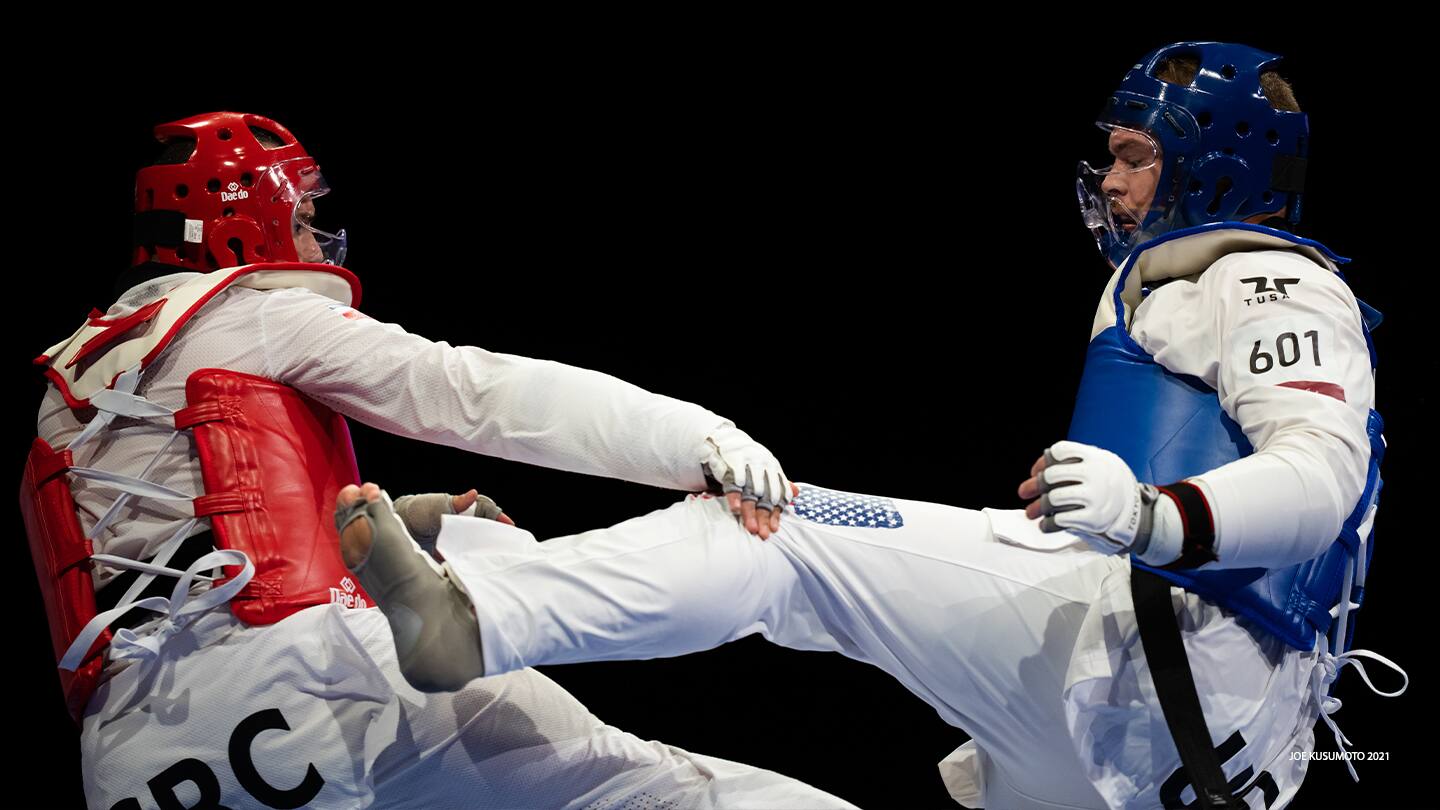 Evan Medell competes in the men's K44 +75kg taekwondo event at the Paralympic Games Tokyo 2020 on Sept. 4, 2021 in Tokyo
His game plan against Molina Gomez was to keep him at a distance then follow up. When he came in, Medell said, he tried to kick short because he rushed in.

"I knew I had to perform well for this last fight to get that medal," he said. "It's been OK."

Salinaro, 23, fought in the quarterfinal of the women's K44 58 kg. class but lost to Brazil's Silvana Mayara Cardoso Fernandes, 15-2. In the repechage she lost to Nepal's Palesha Goverdhan, 10-0.

Both Medell, who was born with brachial plexus palsy, and Salinaro, who has cerebral palsy, qualified for the Paralympic Games back at the start of 2020 by being among the top four in the world rankings as of Jan. 1. Salinaro, from Massapequa, New York, was No. 4, while Medell was No. 1 in the most competitive class in the sport after winning gold at the 2019 Parapan American Games.

Now, Medell said, he's ready for a break.

"It's been five years, it's been a long road," said the 2017 world championship bronze medalist "I've moved away from home four or five times. I haven't been with my family in five years. So I am going to take a break and then either decide to continue to Paris (2024) or retire."

Want to follow Team USA athletes during the Paralympic Games Tokyo 2020? Visit TeamUSA.org/Tokyo-2020-Paralympic-Games to view the medal table and results.
Karen Price is a reporter from Pittsburgh who has covered Olympic and Paralympic sports for various publications. She is a freelance contributor to TeamUSA.org on behalf of
Red Line Editorial, Inc.