Tokyo Qualifier Brianna Salinaro Taking More Flexibility Into Para Taekwondo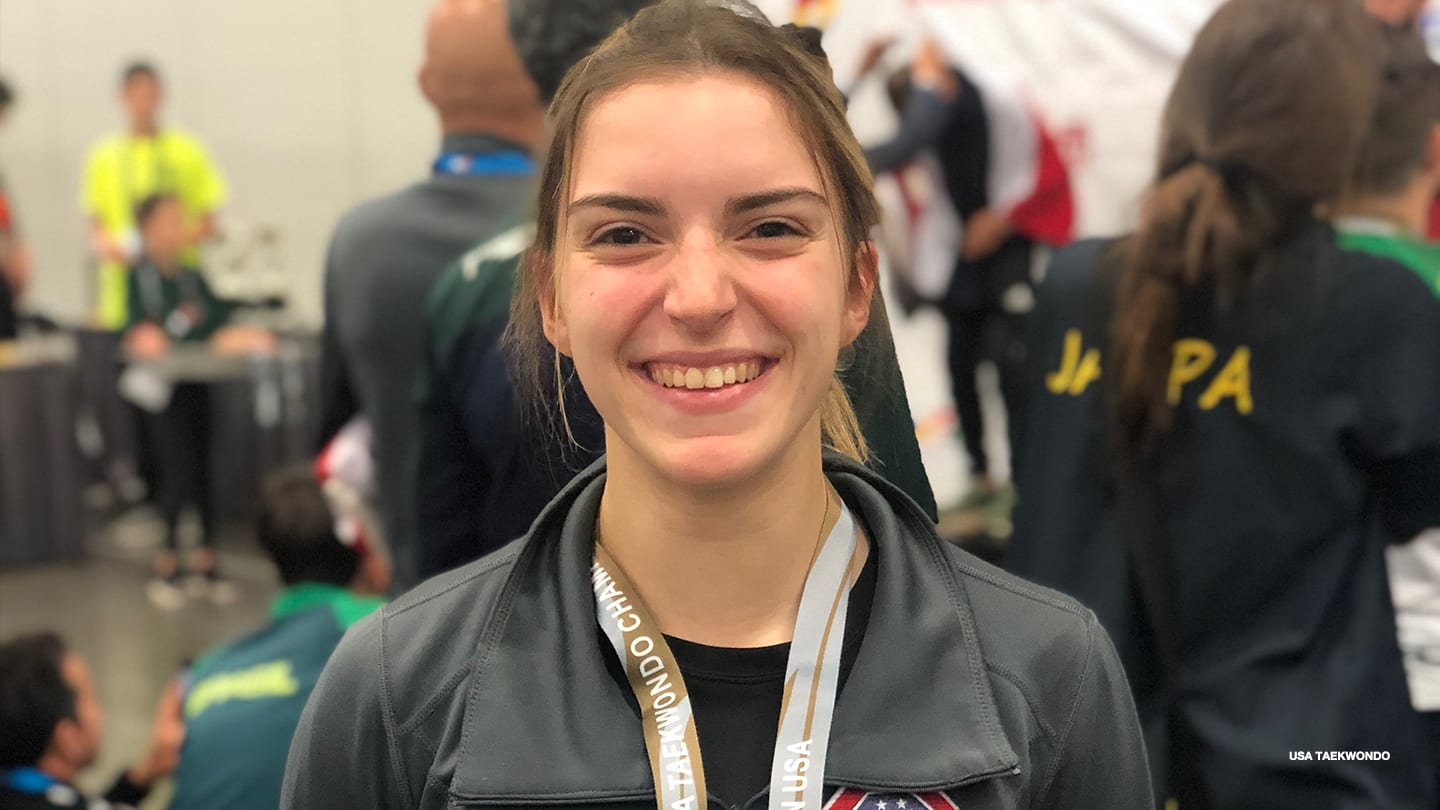 Brianna Salinaro poses for a photo at a taekwondo competition. Photo courtesy of USA Taekwondo.
Brianna Salinaro is not the same fighter that she was 16 months ago when she qualified for the Paralympic Games Tokyo 2020.

Salinaro underwent two surgeries – Sept. 14, 2020 and Jan. 28, 2021 -- to repair torn labrums on both her left and right hips.

Now with less than four months to go until the Games, the first athlete with cerebral palsy to compete in Para taekwondo on the world stage said, "I feel so much more flexible, so much stronger and a lot more optimistic about the future."

And that's not all. Salinaro said being away from competition for so long due to the pandemic "ignited that fire under me now to really just get out there and do what I can."

Her opponents may not know what kicked them.

They haven't seen her on the mat since October 2019.

"The surgeries I've gotten over the past year are going to make me a lot better fighter," said Salinaro, who considers her back kicks among her favorites to throw. "Coming home with a medal is definitely a goal and something that I think I can achieve."

Kicking for the first time with both hips repaired on April 23, she said, "It felt amazing."

Salinaro is an anomaly in the para taekwondo K44 -58 division. She competes against athletes with an arm amputation or equivalent loss of function or whose loss of toes has affected their ability to lift their heel properly.

So, while Salinaro's opponents are for the most part able-bodied below the waist, she is not. Cerebral palsy is a neurological disability that affects muscle tone, balance and coordination.

"I can envision the way I want to fight," Salinaro said, "but because my legs are so tight and the way that my brain tells my muscles how to move, it doesn't always click right away or right when I want it to. I do have a limited range of motion. I know what I want to do, but my body doesn't fully perform it."

Salinaro even loses a point if she falls down.

"It's definitely not fair, but I'm also the only one competing with CP in my weight division, so if I want to fight, this is what I have to fight," Salinaro said. "And I also think it's another challenge to overcome, and that definitely motivates me."

In addition, she's aware that her participation in Para taekwondo, which is making its Paralympic debut in Tokyo, shines a light on cerebral palsy in general.

"I think a lot of people that know about the disability think that people who have it can't do much, or are very limited," Salinaro said. "By going out there and fighting on the world stage with people that don't have the same disability as I do, that shows that people with CP are more capable than (the doubters) think."

Salinaro, who will turn 23 on May 10, won the bronze medal in the 2017 World Para Championships in the K44 -58 kg sparring division and reached the round of 16 at worlds in 2019.

She knew she was Paralympic-bound based on the results of a tournament in October 2019, but it wasn't official until Jan. 1, 2020, when Salinaro's No. 4 world ranking secured the spot.

When the Tokyo Games were postponed, Salinaro worried that she might have to re-qualify, but a couple of months later found out she was safe. "That was definitely a sigh of relief," said Salinaro, who will be the first female Para taekwondo athlete to represent Team USA at the Paralympic Games.

The absence of competitions during the pandemic allowed Salinaro to focus on other parts of her life. She graduated from Sacred Heart University with a degree in health science and had her highest grade point average in her final semester.

"I finally got to sit and focus on my studies a little bit more than usual," Salinaro said.

She also worked at two physical therapy offices as a patient care coordinator and hopes to eventually become a CEO or CFO of a major physical therapy practice.

Salinaro also took advantage of the down time to schedule the surgeries, which were the result of "the wear and tear of the constant kicking over the past 10 years or so," she said, compounded by her muscles being so tight due to cerebral palsy.

While laid up during her recovery, Salinaro worked with a trainer to get in upper body workouts two to three times a week.

"Now that I'm fully cleared to go back to it," she said. "It's full steam ahead."

Salinaro, who is from Massapequa, New York, plans to move to Oklahoma this summer to start her training camp. Her first competition back will be the Pan American Championships in June in Cancun, Mexico.

The Para taekwondo season kicks into gear after the Paralympic Games, with the world championships in China in October and then the sport's inaugural Grand Prix in December.

Salinaro plans on training for the Paralympic Games Paris 2024 and possibly 2028 in Los Angeles as well. She embraces the underdog role, she said, "because I think that is what I am. I think that helps me fuel the fire as well."

In a video for USA Taekwondo called, "My TKD Journey," Salinaro said she was excited about "redemption for years prior and to prove to myself as well as all the competitors that I'm here to stay and I'm someone you should be worried about."

Salinaro was diagnosed with CP when she was about a year old and had surgery to lengthen both Achilles tendons soon after.

She said that she was bullied for walking differently, being taken out of class for physical therapy and for falling down. Salinaro recalled that she didn't understand why she was different and was angry about it.

Taekwondo helped her become comfortable and confident with her disability. Salinaro originally tried the sport when she was 5 years old, but said, "I was one of those kids that tried every sport, quit every sport."

When her best friend in the fifth grade took her to a "bring a friend" class, Salinaro stuck with it.

"I just liked the confidence that it gave me originally," she said. "Going through the belt systems you always had a goal to achieve in the next two or three months, so it was something to look forward to. And I always thought it was fun."

Yet taekwondo is actually not one of the sports best suited to Salinaro. "I think I'd be better at basketball than I would be at taekwondo," she said, "but I think that's also what pushed me into it more. I wanted to overcome that -- I wanted to make myself better."

When Salinaro was about 13, she joined the competition team at her taekwondo school and made new friends. "It was an environment of people that wanted to see me succeed," Salinaro said, "so it pushed me to overcome the 'can'ts' and make them into 'cans.'"

She fought in able-bodied competitions until 2016, when she was introduced to Para taekwondo.

Salinaro said she "can't even put into words" the emotions she felt when she found out she could pursue a path to the Paralympic Games.

"You grow up thinking that you have these limitations and things you can't do," Salinaro said, "and then there's an avenue. Yeah, it may still not be fully fair, but you still have the opportunity to show the world what you can do, and have the opportunity to overcome and represent your country and be the first one to do it.

"It's a mind-blowing feeling for sure."
Karen Rosen has covered every Summer and Winter Olympic Games since 1992 for newspapers, magazines and websites. Based in Atlanta, she has contributed to TeamUSA.org since 2009.