U.S. Women's Goalball Advance To Finals After Double Overtime And Extra Throw Win Over Brazil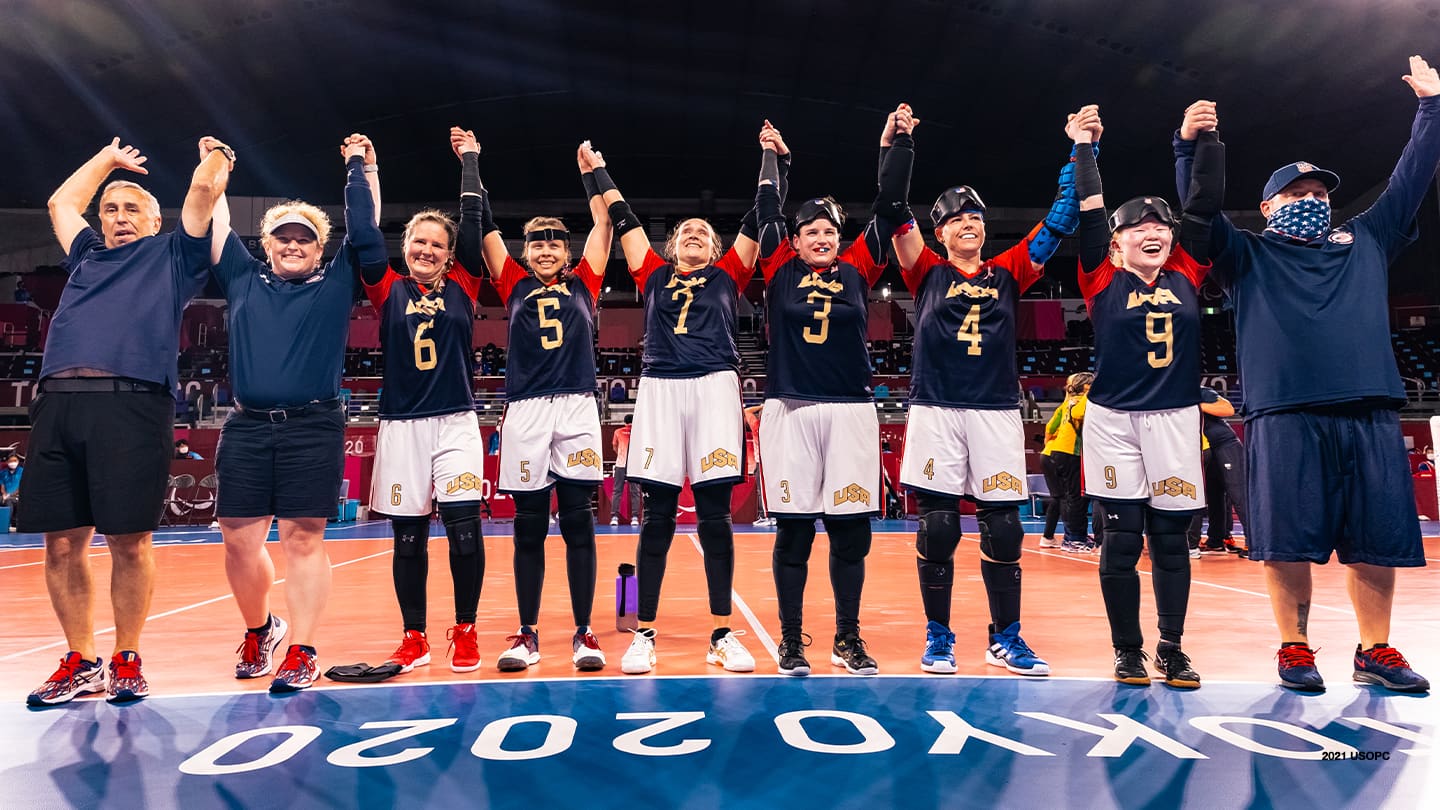 The U.S. women's goalball team celebrates their win over Brazil at the Paralympic Games Tokyo 2020 on Sept. 2, 2021 in Tokyo.
TOKYO — In what is already being called one of the greatest games in goalball history, Team USA took on Brazil in the semifinals at the Paralympic Games Tokyo 2020.

Thursday night at Makuhari Messe Hall was the second time the two teams would go up against one another in Tokyo, having played in the opening round. The U.S. narrowly won that game in a score of 6-4.

In Rio, Team USA and Brazil played for third, with the South American team leaving empty-handed. Five of the six U.S. players on this team were there for the bronze medal match in 2016.

With just over two minutes left in regulation time in tonight's game in Tokyo, Brazil had the two-point advantage, up 2-0, with first-time Paralympian Jessica Gomes scoring both goals.

By the time the hooter sounded on the end of regulation time, Team USA's two-time Paralympian Amanda Dennis — with her signature tongue-out — would have evened it up with two goals in the final 2:28 left in regulation time.
Shootout? Say less. #TokyoParalympics pic.twitter.com/9p3BpkttzJ


— Team USA (@TeamUSA) September 2, 2021
"One thing we practice a lot in Fort Wayne is these situations where we are down, and we have to come back," said Dennis about her two shots to the back of the net.

"All of us are out there. All of us are pushing every day. All of us know how to come back from behind because we do it on a daily basis. We have the belief to do it, and we have the will to do it in the Paralympics."

The game moved on to two scoreless three-minute sudden death overtime periods, before finally advancing to extra throws.

With all six players getting a chance to throw, it would go down to the final ball after Eliana Mason put the U.S. up 5-4 in the fifth round.

Luckily, this was something the team had been preparing for.

"We've practiced shoot-outs the last two and a half months — kind of what would we do in this situation when it happens," Dennis said.

"And because you practice it so often, you almost feel like you are at practice. It's not pressure going into the shoot-out."

That tactic came in handy for first-time Paralympian Mindy Cook, 32. Going into the game for the first time of the night, that final block would determine if her team would play the gold medal match against defending champions Turkey.
GOLD MEDAL GAME BOUND. 🚨@USAWGoalball wins the penalty shootout and will go for gold. #TokyoParalympics pic.twitter.com/ExGahilAs5


— Team USA (@TeamUSA) September 2, 2021
"I just mentally knew that what I needed to do was to trust the plan from my coach, and I knew that I just had to make one call: read and react to the ball," Cook said about the job at hand.

That final block advanced Team USA to the finals and sent Brazil to the bronze medal match to go up against the host country, Japan.

"One of the things that make Mindy great — there are a lot of things," head coach Jake Czechowski said, "but one of them is her determination and her focus."

"She hasn't had a lot of goalball competitions. She's relatively new to the sport, but the moment wasn't too big for her.

"She did what she needed to do, and she did what she was instructed to do: she read the ball, she exploded, and that ended up being the key block at the end of the night."

Since women's goalball was added to the Paralympics in 1984, the U.S. has won a pair of gold, two silver and two bronze medals. Tomorrow's game will have them seeking the top of the podium for the first time since 2008.
Want to follow Team USA athletes during the Paralympic Games Tokyo 2020? Visit TeamUSA.org/Tokyo-2020-Paralympic-Games to view the medal table and results.

Lisa Costantini is a freelance writer based in Orlando. She has covered Olympic and Paralympic sports for various publications, and has contributed to TeamUSA.org since 2011.