Oksana Masters Makes It Two Golds In Two Days In Road Cycling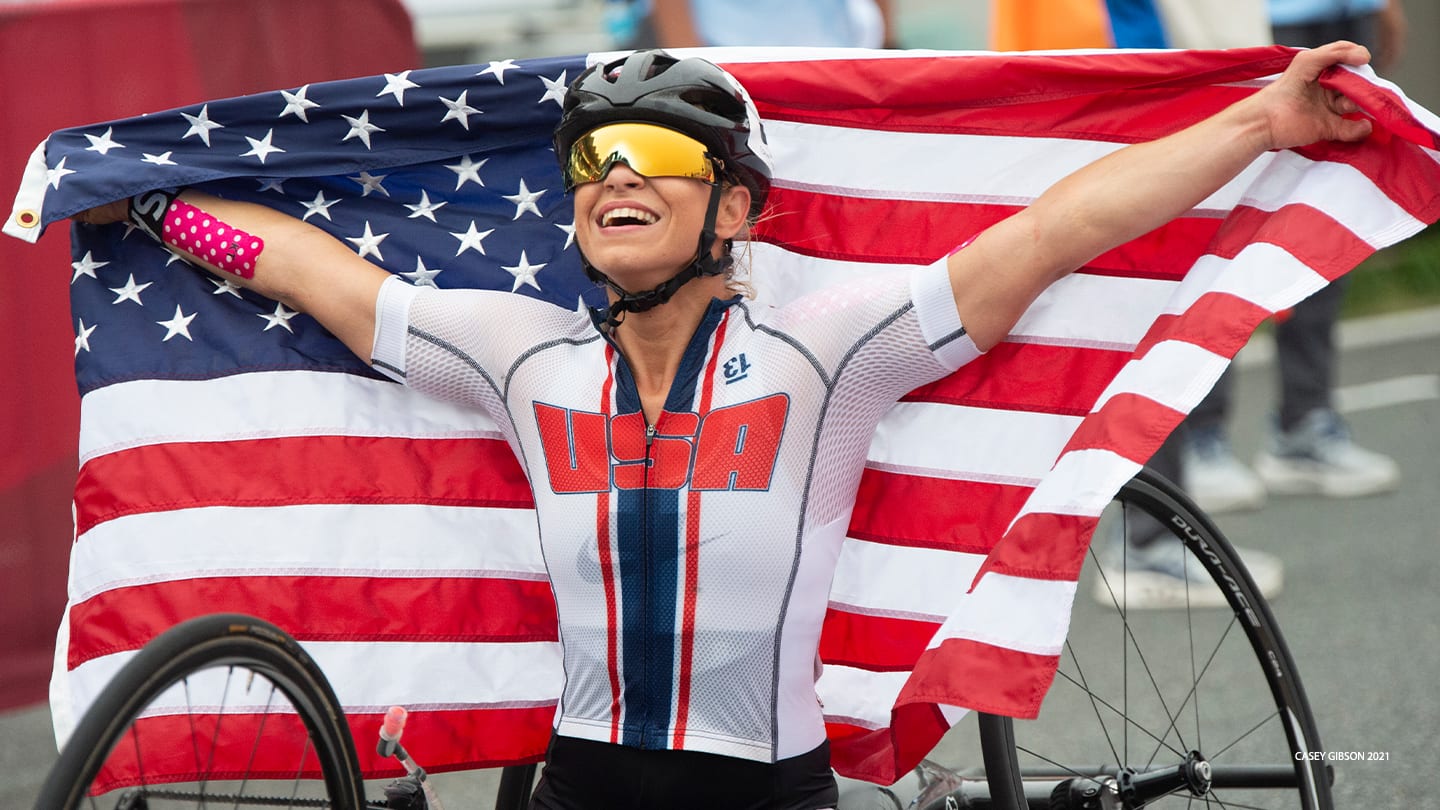 Oksana Masters celebrates winning gold in the women's H5 road race at the Paralympic Games Tokyo 2020 on Sept. 1, 2021 in Tokyo.
It's one thing to accomplish something for the first time. It's quite another to do it at the Paralympic Games.

That's what Oksana Masters of the U.S. did Wednesday in winning gold in the women's H5 cycling road race at Fuji International Speedway, just outside Tokyo.

"I can't believe it," Masters said. "I've never won a road race in my life, and I never thought I would ever win a road race in my life.

"I feel like I'm on cloud nine right now. At the start I was so nervous, I couldn't even feel my grips. I did not trust myself, but the minute that clock went off and the whistle went off, I just let my body go on autopilot.

"I don't know what to say. It doesn't seem real."

Masters finished the 66-kilometer course in 2 hours, 23 minutes, 39 seconds. China's Sun Bianbian placed second, 3:11 later to take the. Katia Aere of Italy was third in 2:28:11.

Four-time Paralympic cycling gold medalist Andrea Eskau of Germany, the defending champ, came across the finish line in fourth (2:47:25).

It was the second gold medal of the Games in as many days for Masters, who also won the H4-5 time trial event on Tuesday at the Speedway.

"Everyone was saying to me yesterday I did well," said Masters, who finished just off the podium in fourth and fifth in her Paralympic cycling debut five years ago in Rio, "and I wanted to prove to myself it wasn't a one-off, it wasn't a fluke, it wasn't an accident.

"I wanted to prove I'm growing as a cyclist and I'm making the changes to the wrongs I did back in Rio. I'm a true cyclist now. I can't wait to go on from this moment and see where it takes me."

Masters is hardly a fluke. Having taken up handcycling to help recover from a back injury, she's also competed at three world championships, winning two silver medals and a bronze.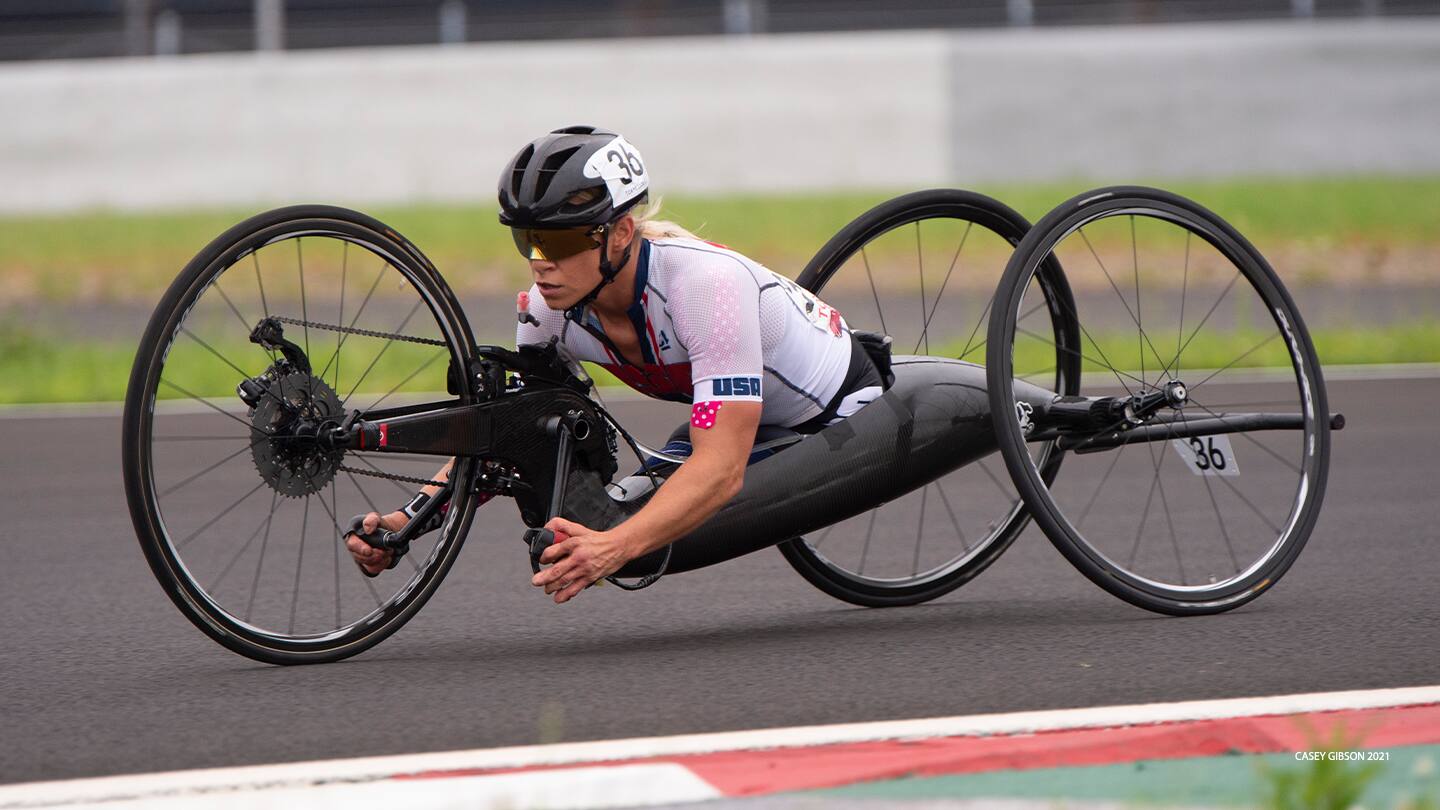 Oksana Masters competes in the women's H5 road race during the Paralympic Games Tokyo 2020 on Sept. 1 2021, in Tokyo.
Masters isn't just a cyclist, either. She has now won 10 Paralympic medals across three sports — cycling, Nordic skiing and rowing. The 32-year-old from Louisville, Kentucky, has competed in five Games.

She's also competing in Tokyo just 100 days after surgery in May to remove a tumor from her femur.

According to Masters, the Speedway course was anything but easy.

"This course is terrifying and exciting at the same time," Masters said. "It has a little of everything for every cyclist. It's got fast descents, it's got technical handling — which are my two worst things as a cyclist right now.

"But it's got climbs, it's got flats, it has everything. It challenged all of us."

Masters, who is aiming to compete in her third Paralympic Winter Games next March in Beijing, is also looking forward to cycling in Paris and Los Angeles in 2024 and 2028, respectively.

"A home Games would be a dream come true," Masters said of Los Angeles.

Masters wasn't the only U.S. medalist in cycling on Wednesday.

Alicia Dana of Putney, Vermont, took home a bronze medal after placing third in the women's H1-4 road race. Dana, a three-time Paralympian who won a silver medal in the time trial in 2016, covered the 26.4-kilometer course in 56:24. Jennette Jansen of the Netherlands won in 56:15, and Germany's Annika Zeyen collected the silver medal with a time of 56:21.

In other cycling road races, Ryan Pinney (Phoenix, Arizona) was fourth in the men's H3, and Freddie de los Santos (Hopewell Junction, New York) and Tom Davis (Fremont, Indiana) were both fifth in the men's H5 and men's H4, respectively.

Want to follow Team USA athletes during the Paralympic Games Tokyo 2020? Visit TeamUSA.org/Tokyo-2020-Paralympic-Games to view the medal table and results.
Bob Reinert spent 17 years writing sports for The Boston Globe. He also served as a sports information director at Saint Anselm College and Phillips Exeter Academy. He is a contributor to USParaSwimming.org on behalf of
Red Line Editorial, Inc.