All Or Nothing Is The Only Way For Andrew Kurka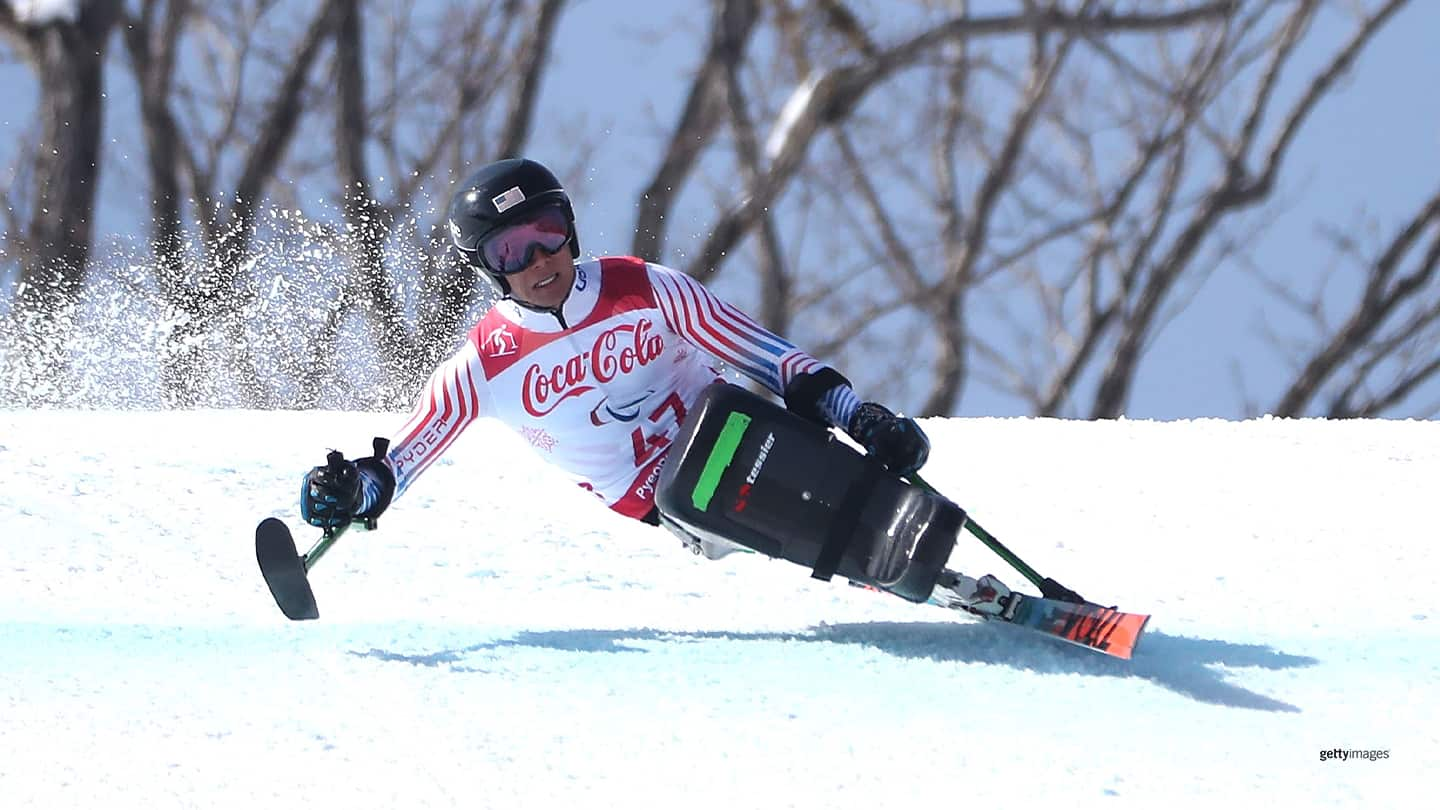 Andrew Kurka competes in the Alpine Skiing Men's Downhill, Sitting at the Paralympic Games PyeongChang 2018 on March 10, 2018 in Pyeongchang-gun, South Korea.
Little by little, the blueprint for Andrew Kurka's 2022 started taking shape as 2021 entered its fourth quarter.

On Sept. 28, Team USA confirmed his return to the Para alpine skiing national team, which equals his 12th season and, hopefully, will result in his third Paralympic Games come March.

On Oct. 1, amid a snorkeling trip to Mexico, he and girlfriend Verónica Quezada confirmed their commitment to each other. Quezada found Kurka's proposal in a bottle along the beach and accepted, which equals a to-be-determined wedding date following the Paralympic Winter Games Beijing 2022.
We sea another happy couple! 💍

Congrats to Para alpine skier @Andrew_Kurka and Verónica Quezada on their engagement!


— Team USA (@TeamUSA) October 1, 2021
When he said, "It was something I had been working towards and waiting for," Kurka meant the engagement, although the statement meshes equally well with his latest athletic achievement.
Regardless, he needed to square away the former before he could resume building up to the latter.
"A huge part of me being at ease, in both your heart and in your mind, is the importance of how smooth your personal life is going," he said.
"If you can minimize the amount of stress, if you can minimize the amount of worry, psychologically, then you can really focus on the races."
The milestone in Mexico and its long-term implications are also a can't-hurt reminder of Kurka's competitive evolution. He achieved a ring the same basic way he attains medals — calculated, contained and properly paced.
The zeal he fed and thrived on as a youth wrestler toward six Alaska state championships remains. But upon transitioning to sit skiing and cracking the national roster, Kurka was a green child compared to his peers. As such, he took to races like he was on a sugar rush, leaving everything liable to culminate in a crash.
A year before his Team USA debut, Kurka suffered his first broken ankle at the 2009 national championships. Shoulder surgery subsequently slowed his start in the international ranks. Then a broken back in 2011 ruled him out of the Winter X Games and required half a year's worth of rehab.
His second back injury in 2014 ended his Paralympic campaign before it even began. A year later he punctuated his comeback at his second world championship, where he claimed bronze in the super-G. But that was not before a broken femur forced him to forego another Winter X Games two months prior.
From overcoming injuries to the top of the podium, @Andrew_Kurka's comeback is one to remember!

Team USA Triumphs presented by @TheHartford. pic.twitter.com/sVfQv5BCF4


— Team USA (@TeamUSA) March 17, 2018
Kurka pins those setbacks on a desire to dominate, which admittedly clashes with frequent split-second differences between every shade of medal. His first career bronze in 2015 came from finishing 0.12 ticks behind Frederic Francois of France, and 0.89 behind gold-getter Corey Peters of New Zealand.
"Why does the fastest in the world need to be demolishing everybody by two seconds?" a more enlightened Kurka reflected. "You don't."
Although missing his would-be Paralympic debut was the defining wake-up call, Kurka subsequently sustained broken ribs, another back ailment and a concussion. Granted, in between, he nabbed his first gold in downhill at the 2017 world championships, then duplicated that feat at PyeongChang 2018. He did it with a stratospheric 1.64-second margin over Japan's Taiki Morii, and claimed super-G silver by finishing 1.06 ticks behind Canada's Kurt Oatway.
Redemption ✅ @Andrew_Kurka struck GOLD at #PyeongChang2018 in downhill! https://t.co/8OTNlHqzGP pic.twitter.com/3m9jQJfVEG


— Team USA (@TeamUSA) March 10, 2018
But the constant hopping between hardware and hard landings accentuated the need to adapt. Bettering his own previous mark by milliseconds every time, he found, was the best practice.
"Someone who crashes is still a loser in the end, and winning is always fun," he said. "I want to have fun in my sport and I want to keep going."
As his body healed, Kurka fixed his philosophy through myriad sessions with sports psychologists. One crucial take-home assignment was Dan Millman's semi-autobiographic novel, "Way of the Peaceful Warrior", the story of a nightmare- and injury-prone collegiate gymnast. The protagonist reverses his fortunes and raises his game through a guru named Socrates, and his story ends with a wedding.
"I still have that all-or-nothing type of spirit," Kurka insisted. "Still, with time on the team, I have learned when and where to push the limits."
One restriction he could not adhere to last season was any fixation on his speed-oriented specialties. As pandemic precautions depleted Team USA's 2020-21 world cup slate, he had to open up to technical events or risk missing all competition.
"We're still skiing on skis," he noted.
Two world cup meets — one of which would have featured the downhill and super-G — were cancelled outright. In Leogang, Austria, Kurka settled for the slalom and giant slalom, finishing fifth in the latter.
Beginning Nov. 24 at Canada's Panorama Mountain Resort, where he cultivated his first career medal, he will have a maximum four tune-up stations to thaw out his A-game ahead of Beijing.
"Just working on my GS or progressing in technical events in ski racing are just going to help me improve in my super-G and downhill," he said. "I think it's going to be there. I have a feeling."