Skate America — And Skating Fans — Return To Las Vegas This Week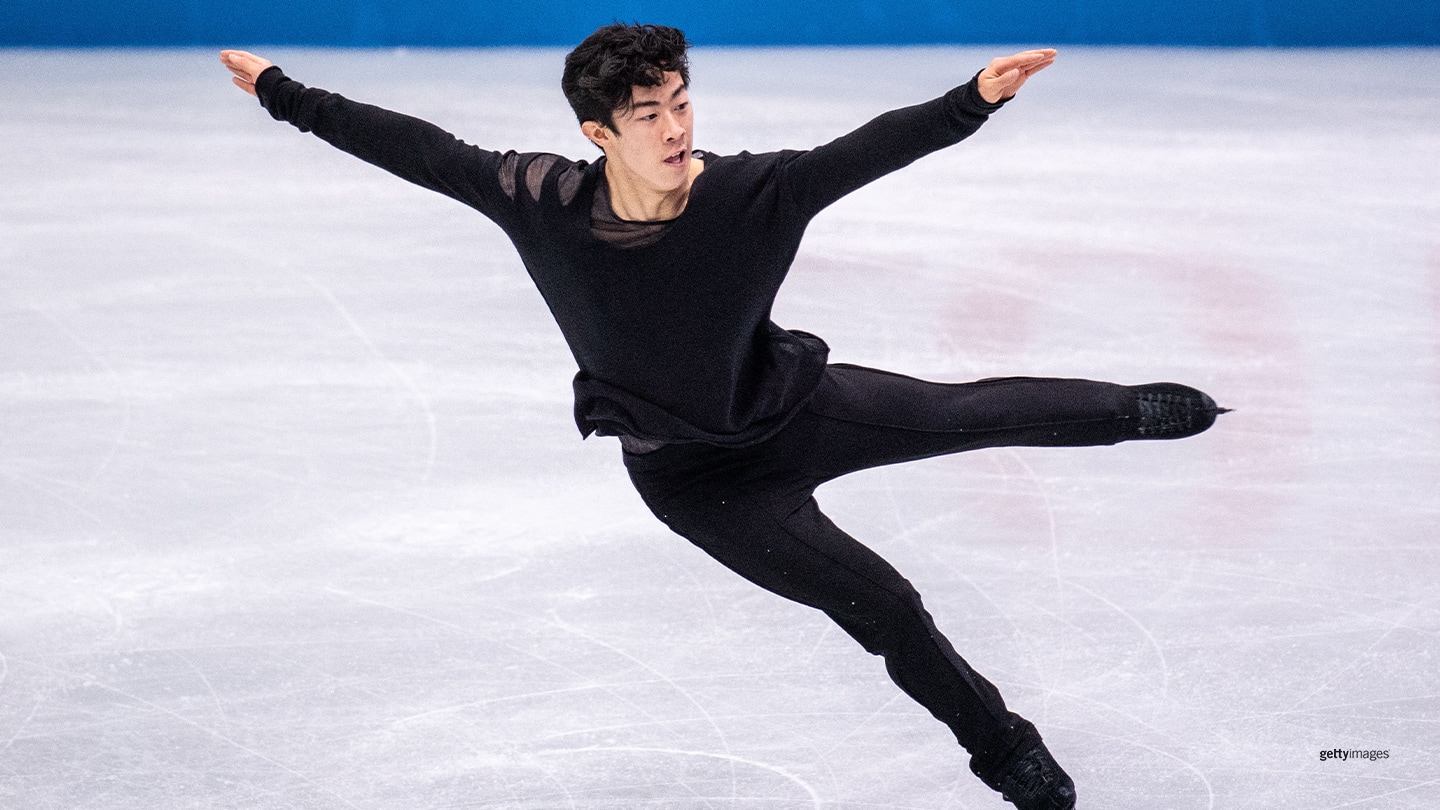 Nathan Chen competes in Men's Free Skating during the ISU World Team Trophy figure skating event on April 16, 2021 in Osaka, Japan.
For the third year in a row, Team USA figure skaters will converge at Orleans Arena in Las Vegas for Skate America, the first of six events comprising the ISU Grand Prix of Figure Skating.

In 2019, near-capacity crowds cheered a top international field. Last year, Covid-19 meant no spectators, few non-U.S. competitors and a highly restrictive, bubble-like environment, with athletes staying on designated hotel floors, eating in restricted areas and quarantined from the sights of Las Vegas.

This week, precautions are still in place: masks are required at all times inside the arena and social distancing will be respected. Competitors and accredited attendees, regardless of vaccination status, must present a negative PCR test upon arrival, taken no more than 72 hours beforehand. But fans are back, and so are top international skaters.

"I love competitions where you rise to the occasion and try to bring out the best version of yourself on the ice," Brandon Frazier, the U.S. pairs champion (with Alexa Knierim), said of the powerhouse pairs field. "I want those tests as much as possible leading into this Olympic year."

Three-time and reigning U.S. ice dance champion Zachary Donohue called competing at the Orleans Arena "a home court advantage."

"Athletes speak about visualization, trying as best they can to go through the experience so their nervous systems are ready for it," Donohue said. "Going back for the fourth time, we know the arena, we know the set-up, we can plan our days. Our first experience there was definitely a very energetic one with a live audience, so we're really looking forward to getting back to that."

"Zach and I love working with the audience, even in practices," added Donohue's partner, Madison Hubbell. "We're very lively skaters, we're very spontaneous and we're always interacting with people sitting close to the barrier. We've really missed that interaction."

Events kick off on Friday with the pairs short program and wrap up on Sunday with the women's free skate. Here are the storylines to watch.


Nathan Chen Seeks To Extend His
Streak
The last four Skate Americas have had one constant: Nathan Chen has won all of them.

Few athletes enter the Olympic season with a more impressive resume than the 22-year-old Chen, who is undefeated in individual competition since placing fifth at the Olympic Winter Games PyeongChang 2018 — a streak that stretches to three world titles, five U.S. crowns and three Grand Prix Final wins.

On a teleconference on Monday, Chen told reporters that the realization his skating life is finite helps keep pressure at bay.

"Every competition is a great opportunity to show the work I've been putting in, as well as know I will have a limited number of competitions in my life and (should) make the most of every competition and try to enjoy myself the best I can," he said.

"I find that when I'm able to adopt that ideal, I'm able to skate a lot better or at least put myself in a position where I'm a lot more relaxed and can enjoy it more, rather than be worried about the outcome will be."

Unlike pre-pandemic years, Skate America is Chen's first competition this season, although he performed his programs for U.S. Figure Skating officials at Champs Camp in August. Although he hits the ice for practice on Thursday, he was still unwilling to reveal his music choices.

"Generally, I just don't talk about my programs until I perform them, so I'll just stick to that trend," he said.

Chen may be playing it coy when it comes to his programs, but there's nothing mysterious about his records. He has won his last three Skate America titles by whopping point margins and is the odds-on favorite to do so again this week.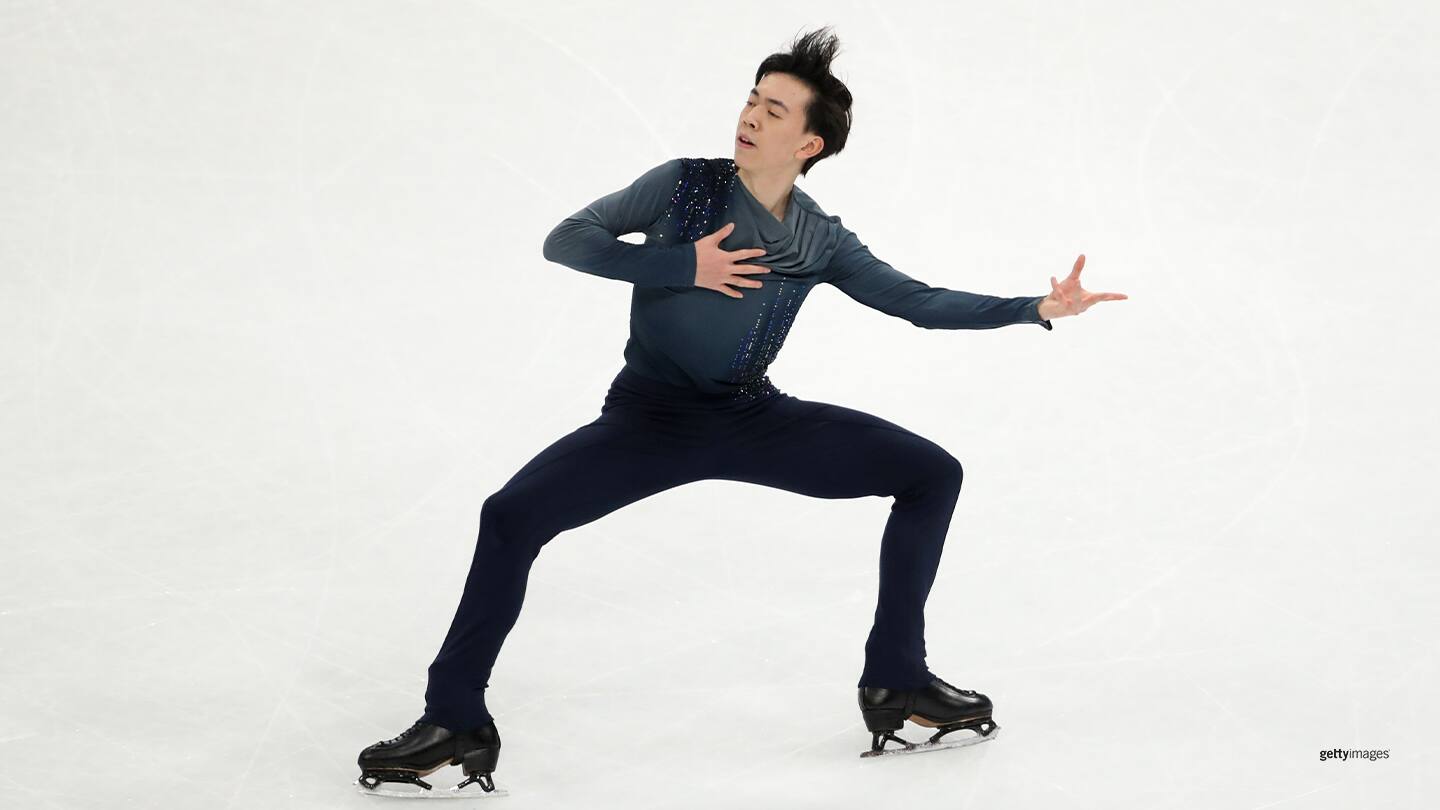 Vincent Zhou competes in the Men's Short Program during the ISU World Figure Skating Championships on March 25, 2021 in Stockholm, Sweden.
Vincent Zhou Lays Down The
Gauntlet
Vincent Zhou, the U.S. silver medalist, entered this season with a lot to prove. His 25th place short program at the 2021 world championships meant he had to compete at Nebelhorn Trophy last month to earn a third U.S. men's spot at the Olympic Winter Games Beijing 2022. He did so with ease, winning the event.

"I more or less expected to be assigned to Nebelhorn, so I prepared myself for that event way beforehand," Zhou, who turns 21 on Oct. 25, said. "I was ready to get my job done there. Obviously, there were a couple of things to improve on, and we've been addressing those ever since."

The skater, who won world bronze in 2019, is revisiting two past programs: last season's short to "Vincent (Starry, Starry Night)" and his 2018-19 free skate to the "Crouching Tiger, Hidden Dragon" soundtrack.

"For this season, I really thought it would be a good idea to try to bring together my biggest strengths, and one of the biggest strengths a skater can possibly have is their programs," Zhou said. "There's a reason people often reuse programs in an Olympic year. It's good to have tried-and-true programs that already work for you, so you spend less time in the beginning of the season trying on new shoes."

In the past, Zhou has often been injured early in the season; this year, he looks to be in top shape. With his confidence high, he hopes to include five quadruple (four-revolution) jumps in his free skate in Las Vegas.

"Since Nebelhorn Trophy, we have been cleaning up the jump elements, improving my spins and improving the packaging of my programs, the cleanliness of everything," he said, adding, "I think I would like to attack the five-quad long (program), just to get a little more mileage on it."

The charismatic Jimmy Ma, impressive in two international events held early this season, is the third U.S. man competing in Las Vegas.

Top international competition will likely come from Japan's Shoma Uno, the 2018 Olympic silver medalist, as well as former European medalists Artur Danielian of Russia and Michael Brezina of the Czech Republic. Two Frenchman, Kevin Aymoz and rising young talent Adam Siao Him Fa, will also challenge for the podium.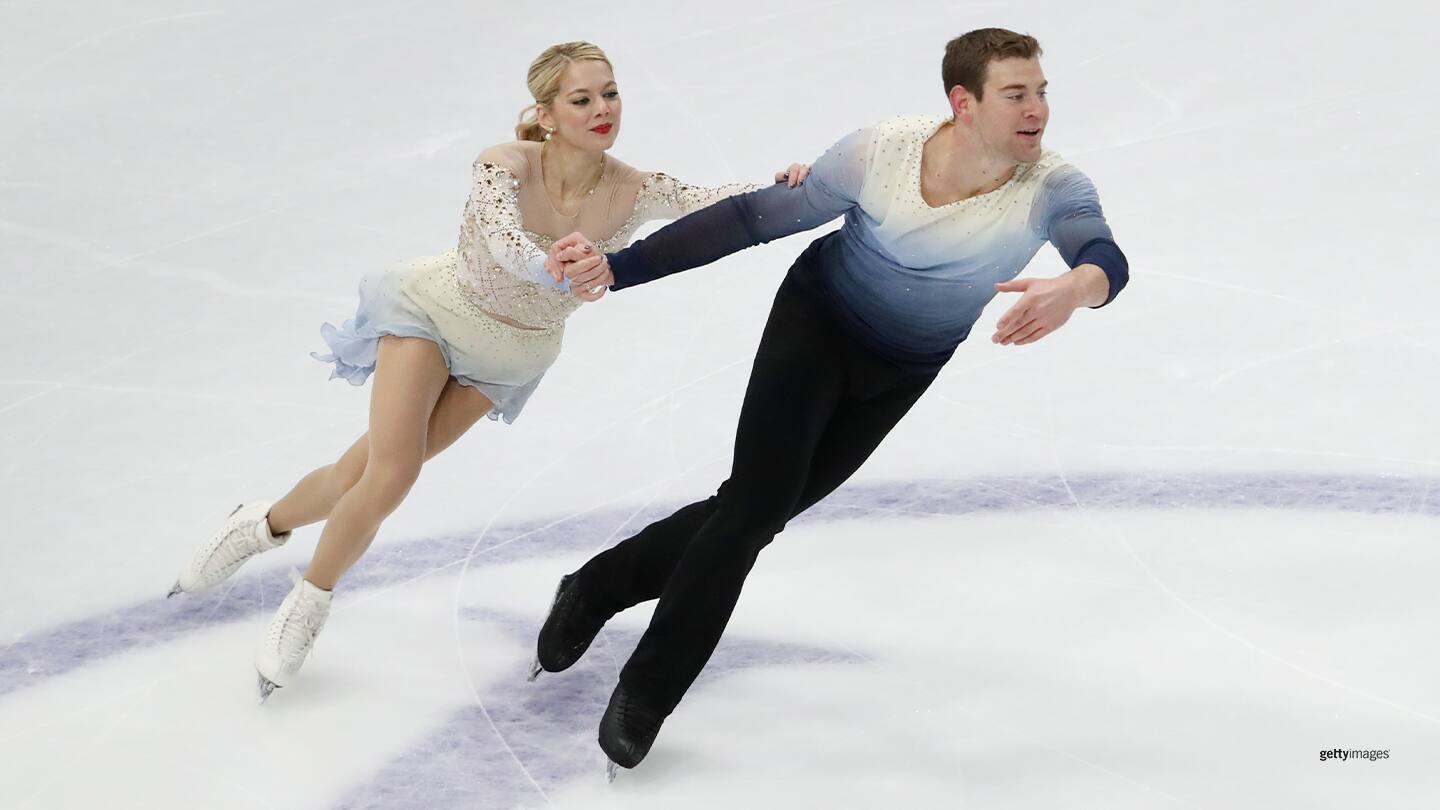 Alexa Knierim and Brandon Frazier compete in Pairs Free Skating during the ISU World Figure Skating Championships on March 25, 2021 in Stockholm, Sweden.
Knierim, Frazier Look To Establish Themselves As World
Contenders
After competing for many years with other partners, Alexa Knierim and Brandon Frazier teamed up and took the U.S. pairs ranks by storm last season, winning Skate America and the U.S. championships before placing seventh at the world championships.

Now, they want to show judges they belong among the sport's elite pairs.

"We got things rolling really early, so at this point we feel very familiar with our programs and feel like we've done a lot of great training leading into Skate America," Knierim, 30, said. "We are much further ahead than last season. Obviously, a huge component of that is we didn't have to spend the summer learning a throw or lift."

"We've been working hard, training hard, lots of run-throughs," Frazier, 28, added. "Since we started our season off early, we've just been working on getting into the best shape we can before (Skate America) and building on our skating skills."

Knierim and Frazier have already competed at two small international events this season, achieving impressive scores.

"One thing (judges) noticed from last season to this season right away is our improvement of speed and ice coverage," Knierim said. "They said from the start to end of our programs, we have a lot more power. They noticed we are starting to move as one unit versus two really strong (individual) skaters that can move well side-by-side."

Two pairs who train alongside the U.S. champions in Irvine, California, will join them at Skate America: U.S. silver medalists Jessica Calalang and Brian Johnson, and the new team of Chelsea Liu and Danny O'Shea.

If Knierim and Frazier are to repeat as Skate America champions, they will need to bring their A-game, and perhaps a bit more. A formidable trio of Russian pairs, including world bronze medalists Aleksandra Boikova and Dmitrii Kozlovskii, and Evgenia Tarasova and Vladimir Morozov, await.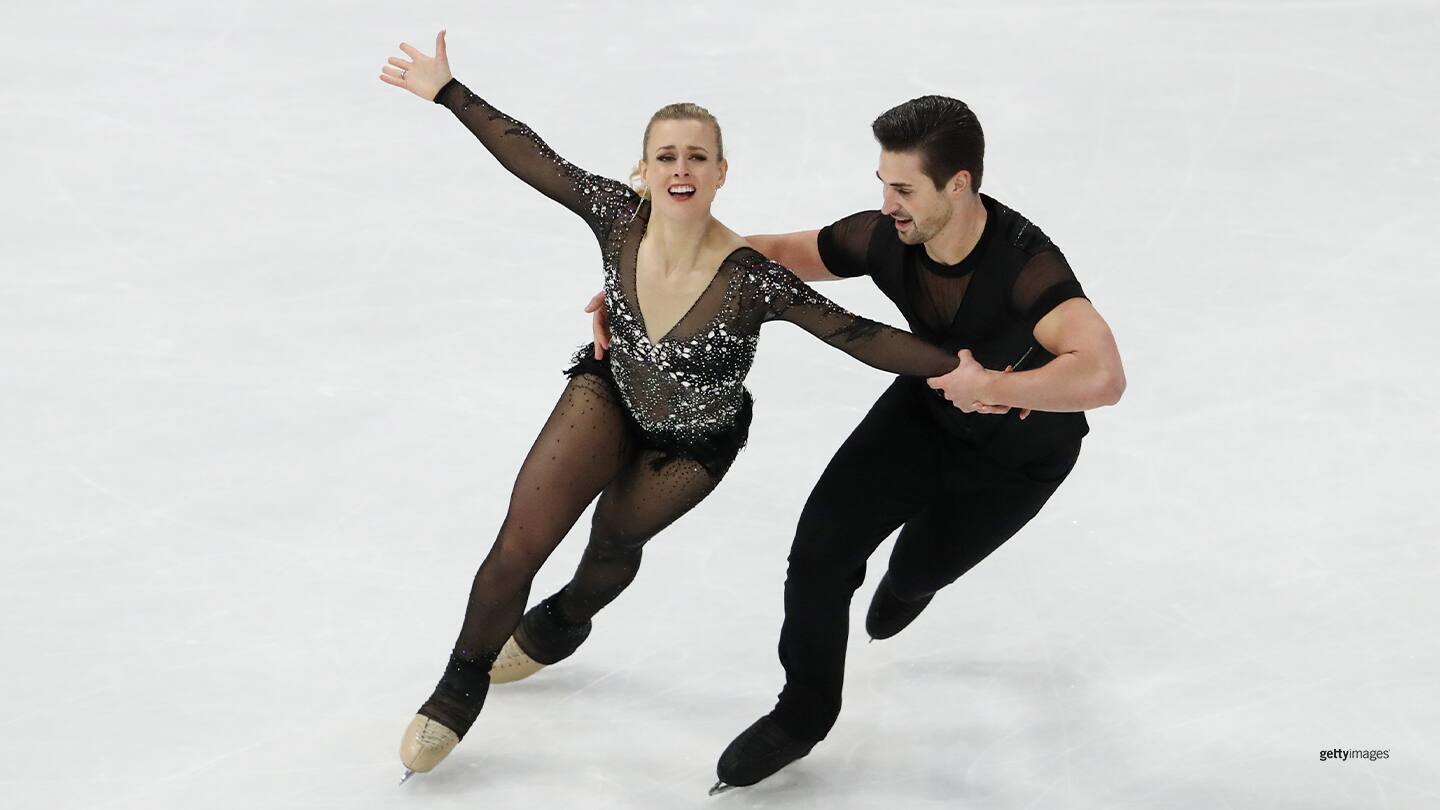 Madison Hubbell and Zachary Donohue compete in Ice Dance Rhythm Dance during the ISU World Figure Skating Championships on March 26, 2021 in Stockholm, Sweden.
Decade-Long U.S. Ice Dance Rivalry
Continues
To win a fourth consecutive crown, Madison Hubbell and Zachary Donohue must do what they have never done before at Skate America: defeat their Montreal training partners and longtime rivals Madison Chock and Evan Bates, who are competing at the event for the first time since 2016.

The two couples have been evenly matched throughout their careers, but for the last several seasons, Hubbell and Donohue have had an edge. They have won three U.S. titles (2018, 2019, 2021); Chock and Bates, two (2015, 2020). Last season, Hubbell and Donohue won silver at the world championships, while Chock and Bates placed fourth.

This season, though, Chock and Bates are ready to challenge, coming off strong performances at Finlandia Trophy early this month, where they placed second to three-time world champions Gabriella Papadakis and Guillaume Cizeron of France.

"We're definitely the strongest we've ever been, mentally, physically and together as a couple," Chock, 29, said, adding, "This year more than ever in the past, we feel what we are doing on the ice is really us. It's a great feeling in an Olympic year to know we have two programs we are really proud of, that really represent us as a couple."

The skaters are especially enthusiastic about their free skate, set to selections from Daft Punk. In it, they portray extraterrestrial beings who overcome their differences to forge a deep connection.

"We're really proud of taking a risk and doing something that maybe is unconventional," Bates, 32, said. "I don't think a lot of people expected us to do a sci-fi outer space program for an Olympic year, but we were really confident we could pull it off with the team of choreographers we have and what our strengths are. Based on the first performance (in Finlandia) and the feedback, it's going really well."

"There is a deeper meaning behind it, that we are really passionate about: that you can find love and appreciation for someone different than you," Chock added.

Hubbell and Donohue, too, have gained strong feedback for their programs, including a lyrical and romantic free skate set to French singer Anne Sila's "Drowning."

A stunning moment comes early in the four-minute routine: a combination lift featuring Hubbell practically doing a back somersault over Donohue's head. It's a risky maneuver, particularly since ISU rules state Donohue cannot fully extend his arms during the lift.

"The biggest thing for us was we wanted to push our lift elements, that's always been something we've never been quite satisfied (with)," Donohue, 30, said. "We worked for over a year to put this lift in, knowing full well what is stacked against us. We're very confident in our ability to perform it and navigate the rules as needed."

A new U.S. ice dance couple, Molly Cesanek and Yehor Yehorov, make their Grand Prix debut in Las Vegas.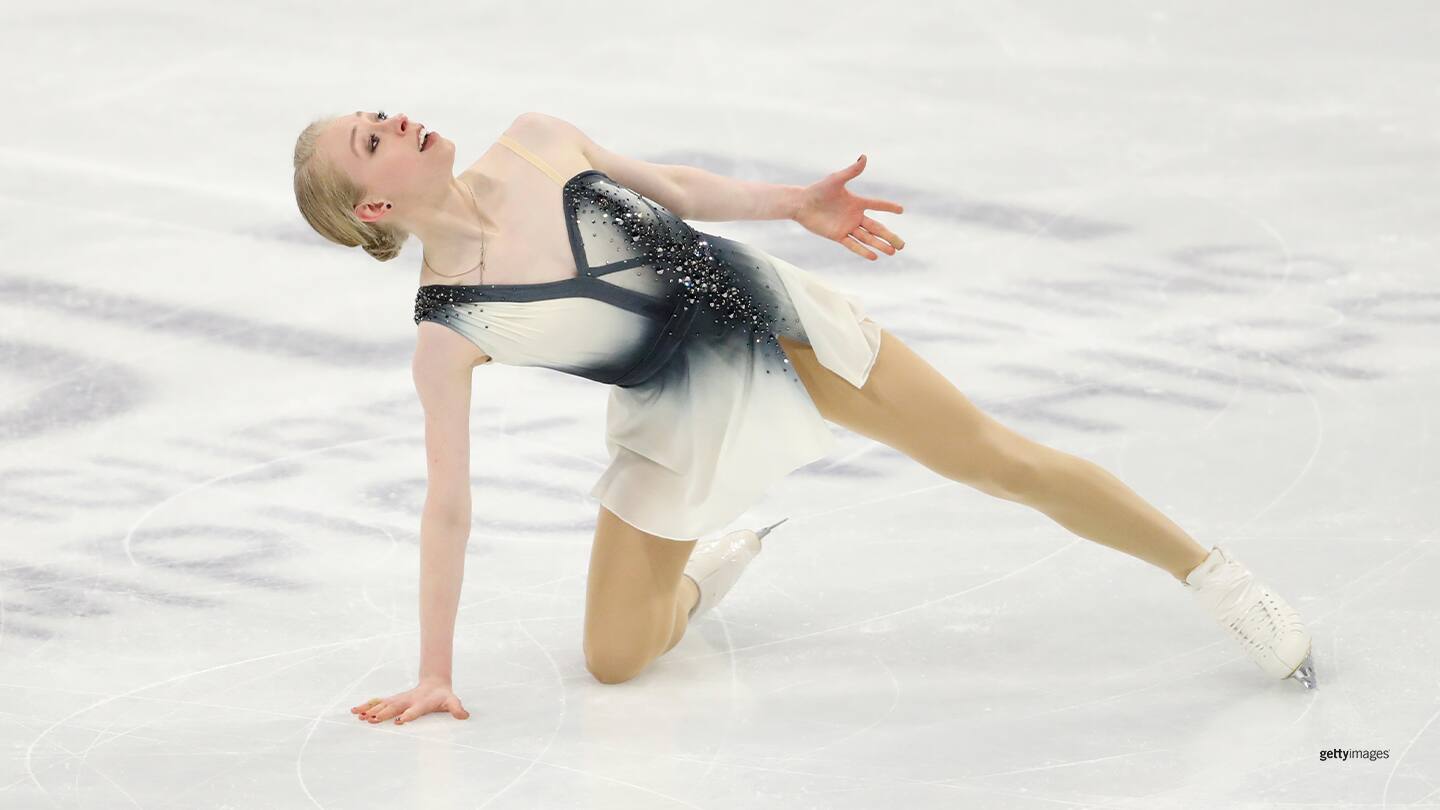 Bradie Tennell competes in Ladies Free Skating during the ISU World Figure Skating Championships on March 26, 2021 in Stockholm, Sweden.
U.S. Women Put To The Test Against Top Russian, Japanese
Skaters
Earlier this week, Bradie Tennell announced her withdrawal from Skate America with a foot injury. The two-time and reigning U.S. champion hopes to resume competition next month.

In Tennell's absence, Team USA's hopes may ride on U.S. silver medalist Amber Glenn, a powerful, creative skater who lands the difficult, three-and-a-half revolution triple axel in practice and seeks to include it in her competitive programs this season.

Glenn, 21, is coming off a 10th-place finish at Finlandia, where she landed the triple axel in warm-up but missed it in her free skate.

"First 'international' competition in 21 months," Glenn posted on Twitter. "I had quite a bit of nerves, but I'm so excited to have the opportunity this season to perform my programs on an international stage multiple times."

Team USA's Audrey Shin made a splash at Skate America last season, winning the bronze medal. Starr Andrews, a crowd favorite who placed 12th in the U.S. last season, was added to the field this week.

Top Russian, Japanese and South Korean women pack the field in Las Vegas, including world bronze medalist Alexandra Trusova of Russia, whose number of quads could challenge that of Chen and Zhou; the sensitive and artistic Satoko Miyahara, a two-time world medalist, and her powerhouse Japanese teammate Kaori Sakamoto, a two-time Skate America silver medalist; and up-and-coming Koreans You Young and Kim Ye-lim.
Lynn Rutherford is a sportswriter based out of New York. She is a freelance contributor to TeamUSA.org on behalf of
Red Line Editorial, Inc.