U.S. Gymnasts Head Back To Japan, This Time For Worlds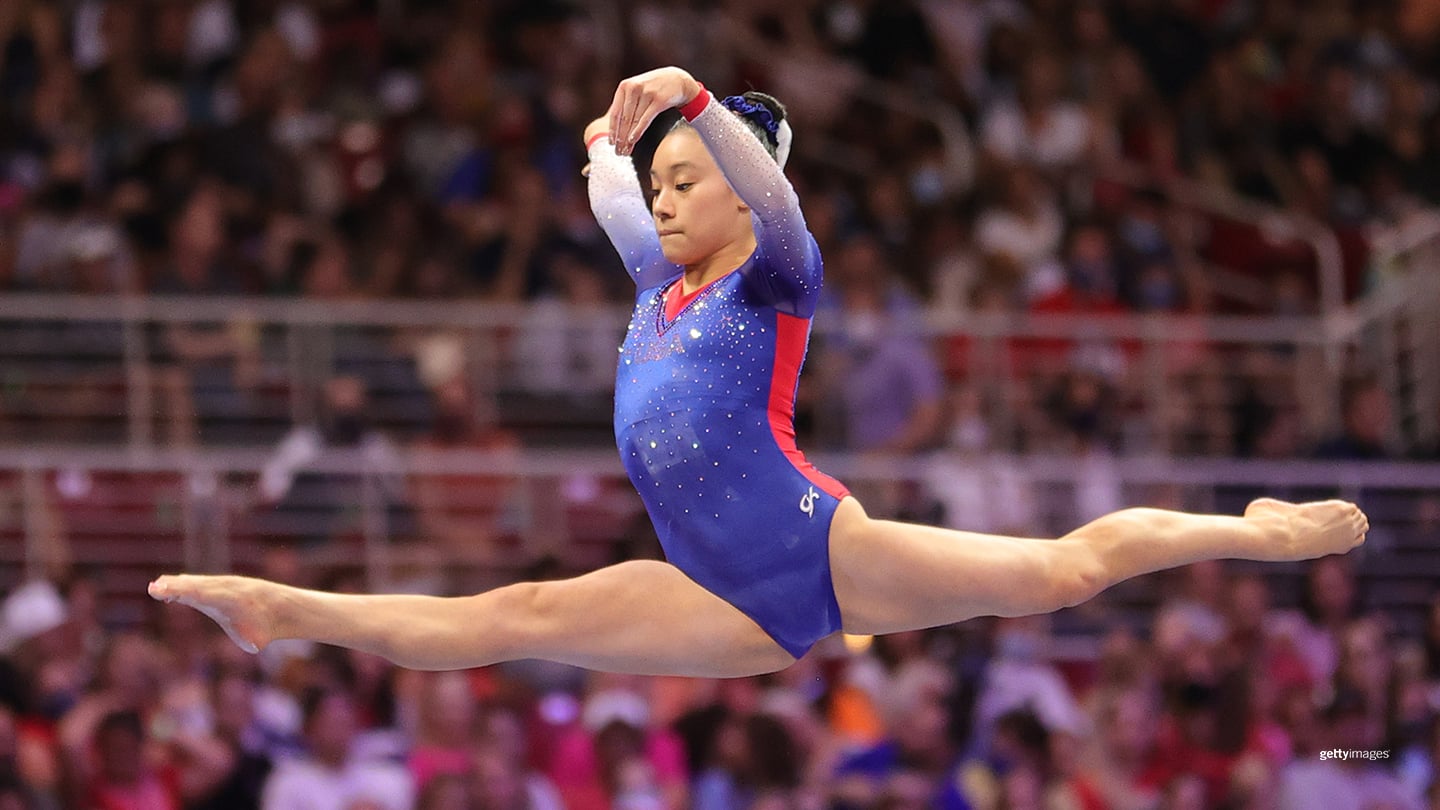 Leanne Wong competes on the balance beam during the women's competition at the 2021 U.S. Gymnastics Olympic Trials on June 27, 2021 in St Louis.
Leanne Wong had only been in Tokyo a few days when her Olympic experience was turned upside down.

As one of four traveling alternates to the U.S. women's gymnastics team, Wong had been looking forward to a Japanese experience complete with training on Olympic equipment, then cheering her teammates on from the stands of the Ariake Gymnastics Centre as the excitement of the Olympic Games Tokyo 2020 unfolded before her.

What she got was 11 days of quarantine, then a flight home to Missouri after her roommate Kara Eaker, also a team alternate, tested positive for Covid-19. Wong was deemed a close contact and isolated in a Tokyo hotel. She watched her teammates win medals from a room where she sometimes had trouble connecting to livestreams of the competitions.

"I was like, 'Yeah, I'm definitely going to do worlds after this,'" said Wong, one of four U.S. women selected to compete at the Artistic Gymnastics World Championships that begin Monday in Kitakyushu, Japan. Along with fellow Florida commit Kayla DiCello, eMjae Frazier and Konnor McClain, Wong intends to carry on Team USA's long run of success at the world championships, which includes every women's all-around title for the past decade.

The season, which began with February's Winter Cup and included Olympic team qualifiers throughout the spring and early summer, followed by the training stint in Japan before the Olympics, has been long. As is customary in the world championships following an Olympics, no team competition will be contested in Kitakyushu, just individual all-around and apparatus finals.

While neither Olympic champion Sunisa Lee nor Simone Biles will be present, international competition is expected to be stiff: Olympic all-around silver and bronze medalists Rebeca Andrade of Brazil and Angelina Melnikova of Russia have entered, while Japan's Mai Murakami, a former world champion on floor and world all-around medalist, will helm the host team effort.

With Lee focusing on college at Auburn and post-Olympic opportunities like "Dancing With the Stars," and Biles and the rest of the 2020 Olympic team performing on her "Gold Over America Tour," the torch has been passed, at least temporarily, to the new generation fronted by the 18-year-old Wong, who won golds at the Pan American Games and American Cup in 2019.

Even without the potential to take home a team gold, Wong and DiCello, another Olympic alternate, jumped at the chance to compete at the world championships, a second opportunity for both "to show the world what we can do," said DiCello, who won gold on vault at the 2019 junior world championships in Hungary. After she returned from Tokyo, DiCello, 17, went on vacation to unwind, "and then I decided that I wanted to go for the worlds team and actually compete this time," she said.

Floor is the key event for Frazier, whose older sister Margzatta is a gymnast at UCLA. Frazier broke her hand at the beginning of the year and did not qualify for the U.S. Olympic Team Trials, which made being selected for the world team even sweeter.

"Throughout the past couple years it's been a lot of setbacks," said Frazier, 17, who prides herself on being coolheaded in competition, "but I continue to keep practicing, getting my routines straight. I felt good coming into (the world team) selection and all I wanted to do was go out and hit my routines, which I did, and I was just happy."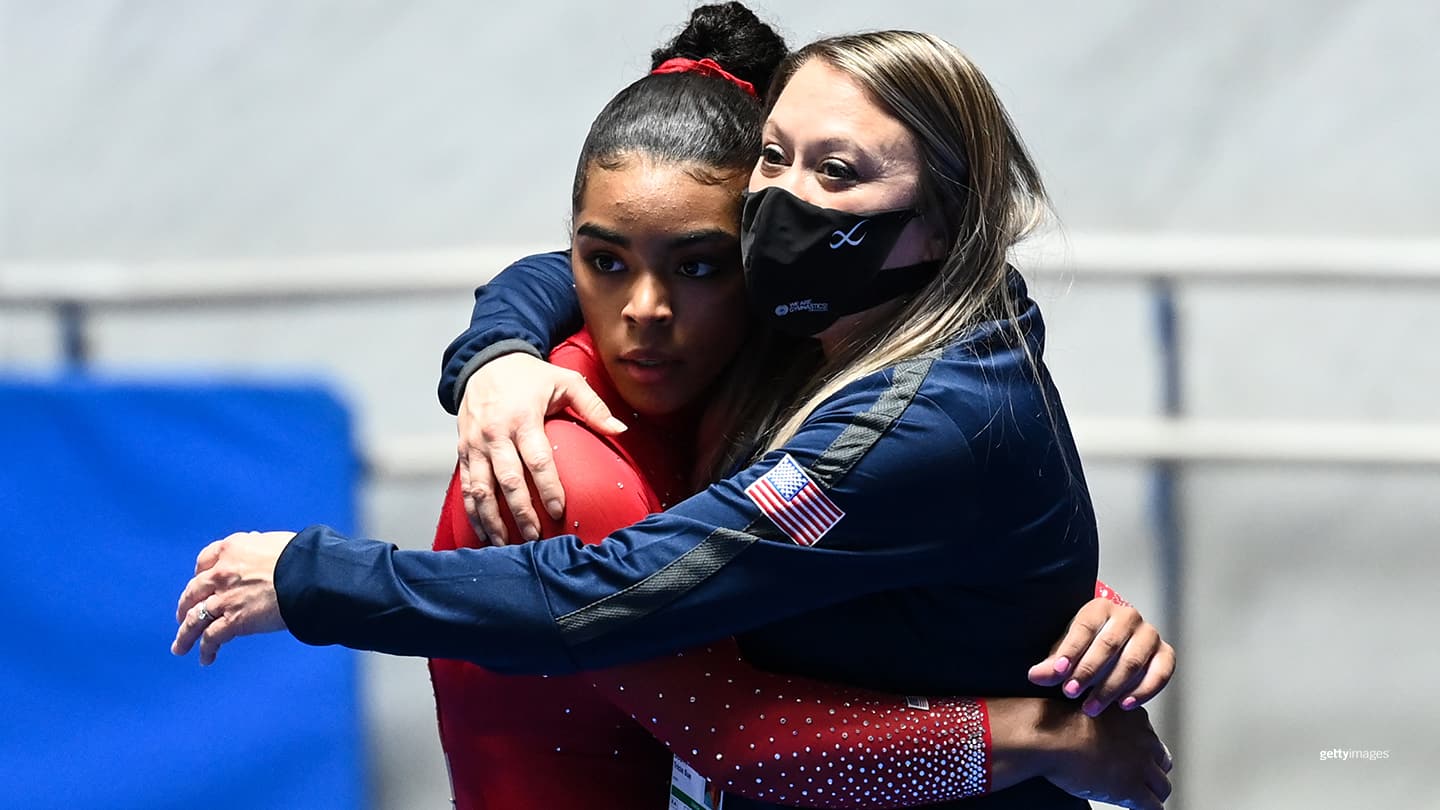 eMjae Frazier reacts after performing on the balance beam during the Friendship and Solidarity Competition gymnastics event on Nov. 8, 2020 in Tokyo.
McClain, a 16-year-old from West Virginia, left her longtime coaches and moved to train with Valeri Liukin in Texas earlier this year. The change has done her a world of good, she said.

"The difference in my gymnastics and the way I feel going into the gym and in the gym, it's just crazy how much it has changed and how happy I am," she said.

At her first world championships, she has modest goals.

"A beam medal would be great," she said, "but honestly, just making the world team this year was the biggest goal this year I had."

The six-man U.S. men's team includes three newly minted Olympic veterans in U.S. champion Brody Malone, Yul Moldauer and Alec Yoder, who finished sixth on pommel horse at the Games. Donnell Whittenburg, the 2014 world bronze medalist on vault, is headed to his fourth world championships, and first since 2017. Pommel horse specialist Stephen Nedoroscik and rings standout Alex Diab round out the team.

The Olympians admit to being a little tired.

"I think a part of me does want a break. I definitely need one. But this being an individual worlds, this is a great chance for me to stay in shape, and it's like two months after the Olympics," said Yoder, who took five days off after returning from Tokyo. "Any chance that I can make a world team, compete and travel the world with my teammates and friends is a blessing, so I don't want to pass an opportunity like this up. I'm looking forward to a vacation, but first we've got some business in Japan to do."

Malone, whose 10th-place all-around finish in Tokyo was the best by an American man, has also been beset by post-Games fatigue. His 2021, which began with a full slate of NCAA competitions for Stanford before the Olympic qualification process ramped up, has left his body "basically kind of wrecked." In Kitakyushu, he has decided to compete exclusively on high bar.

What will be going through Malone's mind when he steps up to compete at the world championships?

"Honestly it's the same thing that goes through my mind at any competition: I just try to focus, stay in the moment, trust my training," Malone said. "When I raised my hand at the Olympics, I had done so many routines. So many routines. At that point it's just like, what's another one? What's one more? It doesn't really matter what stage you're on; it could be a dual meet or it could be the Olympics, I would still get just as nervous. But I mean, it's all about trusting the training and that you can do your job when the time comes."
Blythe Lawrence has covered three Olympic Games and is a freelance contributor to TeamUSA.org on behalf of
Red Line Editorial, Inc.
Follow her on Twitter @rockergymnastix.