"A-Team" Takes Bronze At Beach Volleyball World Tour Finals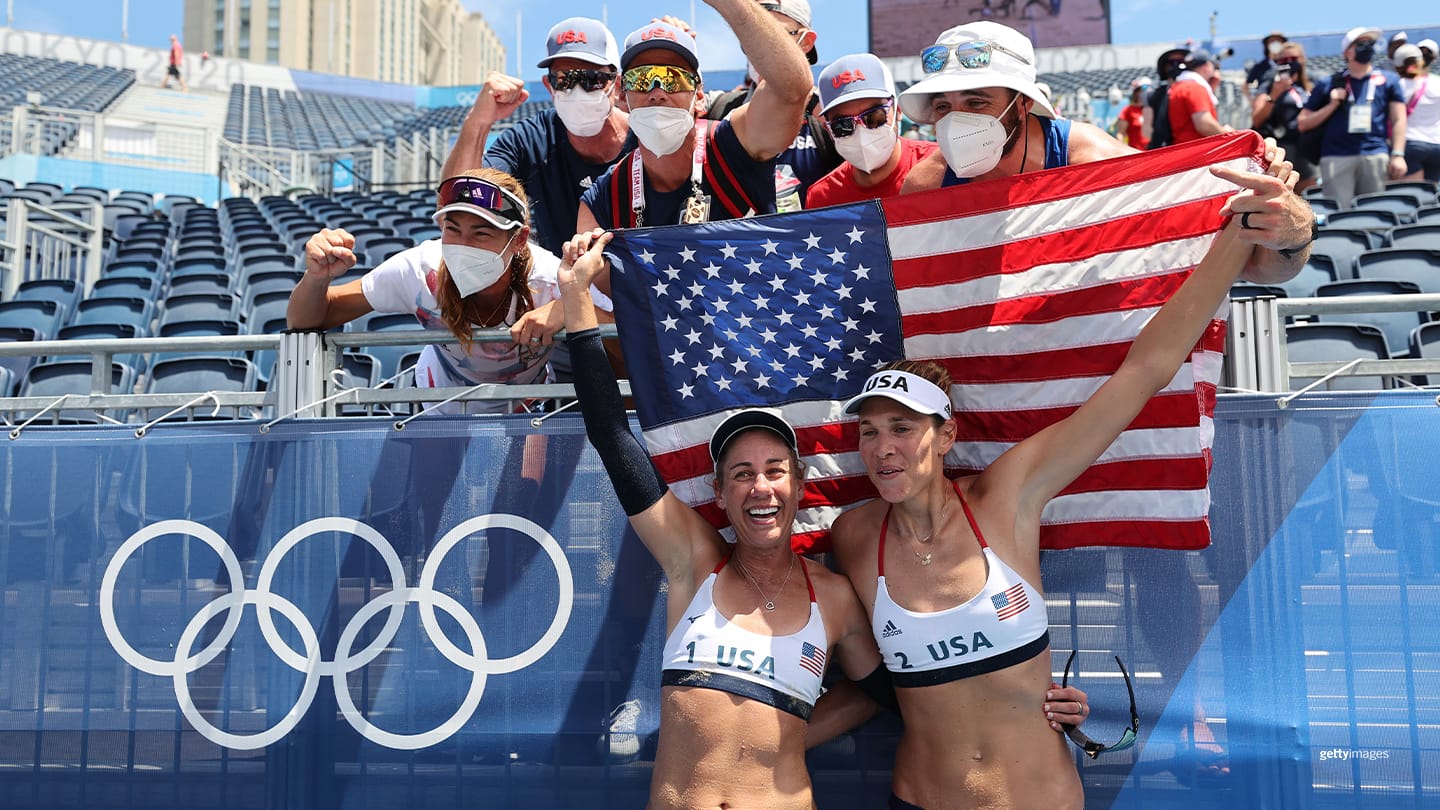 April Ross and Alix Klineman celebrate after defeating Team Australia during the Women's Gold Medal Match at the Olympic Games Tokyo 2020 on August 06, 2021 in Tokyo, Japan.
It wasn't supposed to be quite this easy, but the "A-Team" will take it.

Bouncing back from a difficult semifinal loss, the defending Olympic gold medalists April Ross and Alix Klineman of the U.S. posted an impressive 2-0 (21-8, 21-17) victory Sunday over the Russian duo of Nadezda Makroguzova and Svetlana Kholomina to win the bronze medal at the FIVB World Tour Finals in Cagliari, Italy.

Their medal marked the first for a U.S. women's team at the World Tour Final. It is the fifth international medal this year for the Ross-Klineman team.

"We are so happy with the bronze," Ross said. "They were difficult conditions. The air is really light. The ball moves a lot. To end on a really great note feels amazing, and we're so stoked to be going home with a medal."

"I don't think we played our best at times, but it's been a long year and we pushed through, and I'm so happy with the way that we pushed today," Klineman added. "I'm just so happy that we are going to be on the podium. It's always an honor to get a medal."

Ross and Klineman had suffered a 2-0 (21-15, 21-12) loss to Canada's defending world championship duo of Sarah Pavan and Melissa Humana-Paredes in Saturday's semifinal after defeating fellow Americans Kelly Claes and Sarah Sponcil in the quarterfinals.
The bronze-medal meeting with the young Russians — who finished ninth at the Olympic Games Tokyo 2020 — was expected to be a competitive one. They had beaten the Americans earlier in the week.

The Americans put on a serving clinic in the opening set to gain the upper hand, however. Ross and Klineman had a pair of seven-point spurts to take a convincing 1-0 lead.

The second set was closer and was tied at 9-9 when the Americans surged again, winning five straight points. The Russians closed it to 16-15 before the Americans restored order and closed out the match.

Ross and Klineman dominated the final match statistics. They enjoyed a 2-0 advantage in aces, 25-17 in attacks, 7-11 in errors and 4-1 in blocks.
Bob Reinert spent 17 years writing sports for The Boston Globe. He also served as a sports information director at Saint Anselm College and Phillips Exeter Academy. He is a contributor to TeamUSA.org