News
April Ross
Alix Klineman
April Ross And Alix Klineman Advance To Beach Volleyball Quarterfinals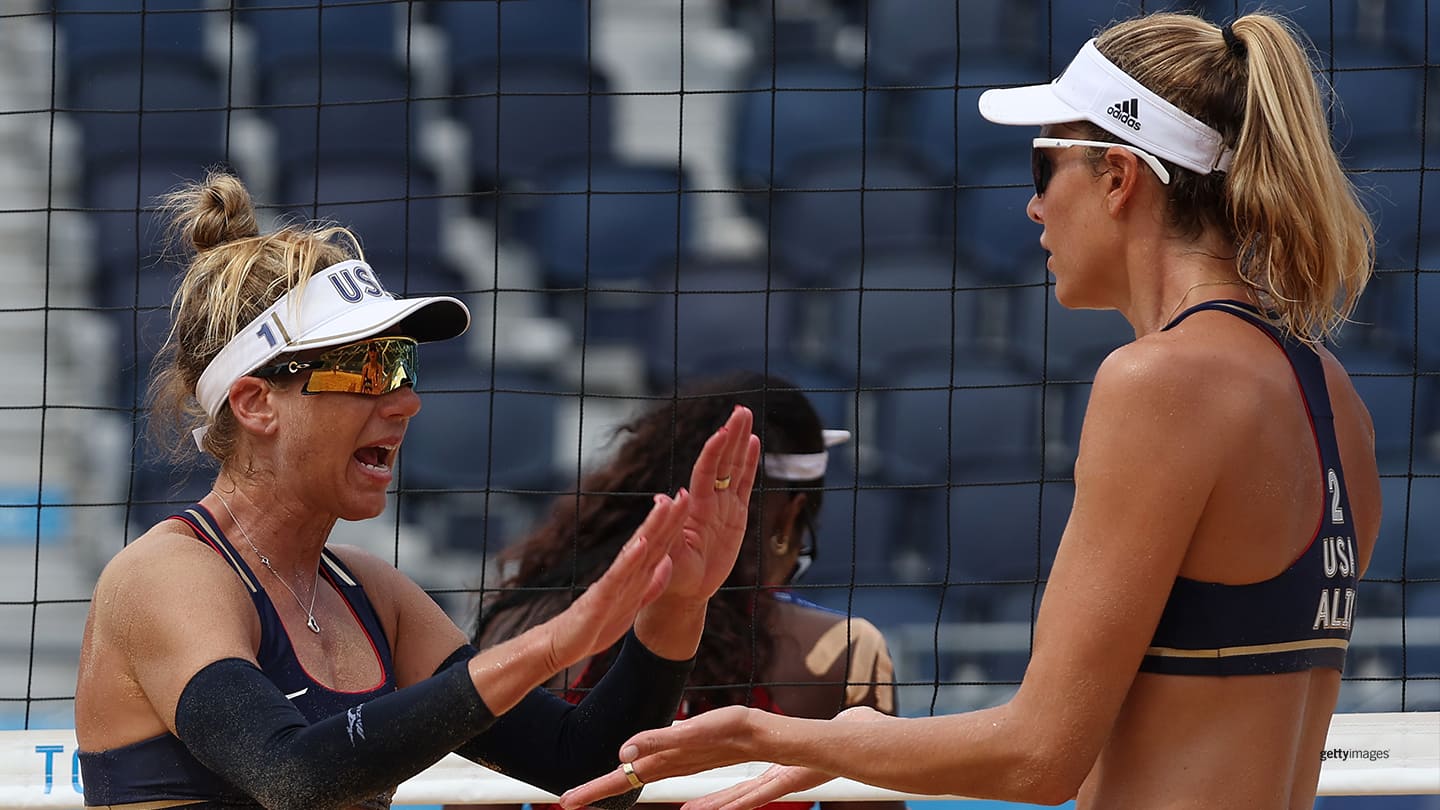 April Ross and Alix Klineman celebrate after the play against Team Cuba at the Tokyo Olympic Games on Aug. 02, 2021 in Tokyo, Japan.
One U.S. beach volleyball team advances, the other goes home. That was the story from Monday's Olympic Round of 16 play on the sand at Shiokaze Park. With the elimination of the two other U.S. teams on Sunday, just one is left standing at the Olympic Games Tokyo 2020.

April Ross and Alix Klineman earned a quarterfinal spot Monday with a 2-0 win over Cuba's Lidianny Echevarria Benitez and Leila Martinez Ortega. On the men's side, Jake Gibb and Tri Bourne weren't as fortunate, dropping a 2-1 decision to the German duo of Julius Thole and Clemens Wickler.

Ross and Klineman now will face Germany's Laura Ludwig and Margareta Kozuch on Tuesday. Ludwig is a defending gold medalist from the Olympic Games Rio 2016.

The American women never trailed in winning the opening set, 21-17. There were seven ties early, however.

"They're a team we've never seen before," Ross said. "We know that they're very good. It's a little hard to know what to expect. Alix even said in between the two sets that we know they can play a lot better, so let's be ready for that."

It was an accurate prediction. The Cubans came out strong in the second set and led 6-1 at one point.

"They came out in the second set, served really, really well," Ross said. "Luckily, we were able to adjust and handle that down the stretch. We knew we had to turn it up a little bit, too. And we just continue to try and make it work for us."

The Americans finally tied the second set at 9-9 on a Klineman block.

"We came out a little complacent in the beginning of the second," Klineman said. "I just knew it was time to turn it up a little bit. Otherwise, we weren't gonna win that set. This is too important of a match and too important of a tournament to not try to put your foot on the gas whenever you can."

The U.S. men never found the extra gear that the American women did. After a promising start that saw them take the first set, 21-17, they dropped the next two, 21-15, 15-11.

"We knew those guys are great volleyball players," Bourne said. "I think they played well, but we made some good plays in the first set. I kind of expected the match to go like it did in the first. It was really close, and then we pulled away.

"The second set went their way, which isn't a huge surprise, but we just didn't get the momentum going in the third. It's just (a) good, high level of Olympic volleyball."

After the match, Gibb, a 45-year-old four-time Olympian, retired from international play. He said he believed U.S. men's beach volleyball was in good hands.

"You're looking at the future right here," Gibb said. "Tri knows now what he can do at the Olympics. He led the tournament in side-out percentage. He knows now what he can do. There's a circle of guys like him that can step on and take it and go with it.

"I think he's gonna lead the charge, especially with Taylor (Crabb), and a bunch of guys that need to step off now, and I'll be there supporting them."

Gibb wasn't the only Olympian to announce his retirement. Phil Dalhausser, a 41-year-old Olympic gold medalist competing in his fourth Games, also announced he would be retiring from international competition following he and partner Nick Lucena dropping their match against Qatar by a score of 2-1 on Sunday. On the women's side, Kelly Claes and Sarah Sponcil were eliminated with a 2-1 loss to Canada.
Want to follow Team USA athletes during the Olympic Games Tokyo 2020? Visit TeamUSA.org/Tokyo2020 to view the medal table, results and competition schedule.

Bob Reinert spent 17 years writing sports for The Boston Globe. He also served as a sports information director at Saint Anselm College and Phillips Exeter Academy. He is a contributor to TeamUSA.org on behalf of Red Line Editorial, Inc.