Kelly Claes-Sarah Sponcil Move Closer to Olympic Beach Volleyball Berth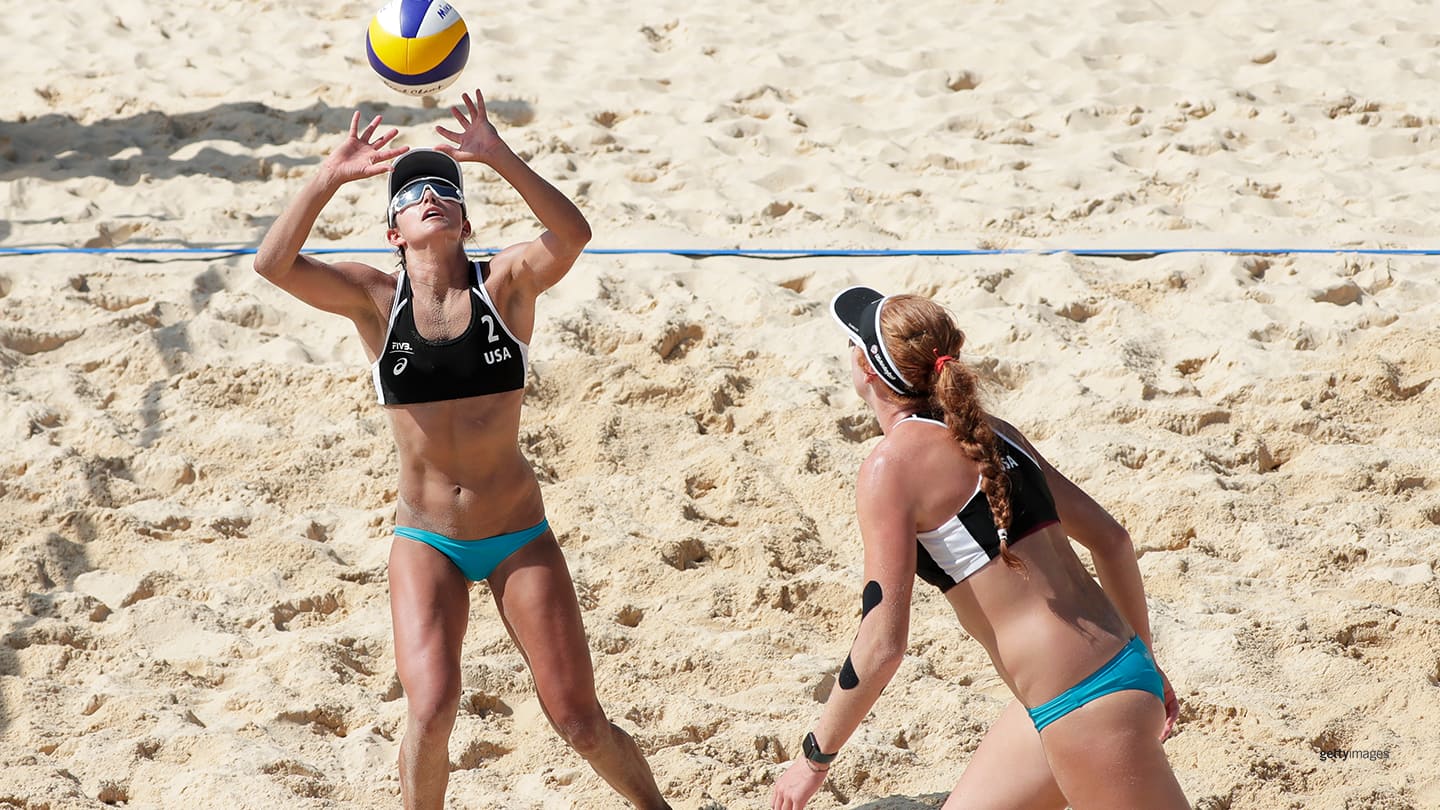 Sarah Sponcil and Kelly Claes compete in the Women's Round 2 match on day four of the FIVB Beach Volleyball World Tour Tokyo, Tokyo 2020 Olympic Games Test Event, at Shiokaze Park on July 27, 2019 in Tokyo, Japan.
It was already a big weekend for Kelly Claes and Sarah Sponcil before they even stepped onto the court for the women's final of the FIVB 4-star tournament in Sochi, Russia on Saturday.

Winning their first gold medal in their 100th match together on the FIVB World Tour was the richly deserved icing on the cake. Claes and Sponcil beat the Swiss duo of Tanja Huberli and Nina Betschart 21-19, 21-17.

In the penultimate tournament of the Olympic qualifying period, the duo entered the weekend ranked third among U.S. women's teams with 6,800 points in the international rankings that will determine who goes to Tokyo this summer. Brooke Sweat and Kerri Walsh Jennings were just ahead of them in second with 6,960 points.

The top two teams will guarantee a spot in this year's Olympics. Top-ranked April Ross and Alix Klineman have already secured one of those places.

With the points earned making it to the final, Claes and Sponcil moved into second place with 7,600 points.

Facing Huberli and Betschart, Claes and Sponcil narrowly won the first set 21-19. The U.S. duo opened a 16-12 lead in the second, then rallied for a tough point after Switzerland scored a pair. They completed the sweep with the 21-17 win.

Claes, 25, and Sponcil, 24, joined forces in September 2018 to make a run at Tokyo. Claes won NCAA beach volleyball titles with USC in 2016 and 2017, and Sponcil claimed her own back-to-back titles in 2018 and 2019 with UCLA. They would be the youngest U.S. beach volleyball team in history.

In their first four matches this season they finished fifth three times but never any higher. They had a pair of runner-up finishes in 2019.

In Sochi, they beat a team from Italy and then knocked off the formidable Brazilian duo of Agatha Bednarczuk and Duda Lisboa in Round 1 of the main draw, then on Friday beat fellow Americans Emily Stockman and Kelley Kolinske 21-15, 21-18.

Another all-American matchup took place in Friday's quarterfinals, with Claes and Sponcil facing Ross and Klineman and beating them for the first time ever with a 21-18, 19-21, 15-7 victory.

Claes and Sponcil's move to No. 2 now puts the pressure on Walsh Jennings and Sweat, who went 0-2 in Sochi and will need to make the semifinals at the final qualifying event on the schedule next week in the Czech Republic. Walsh Jennings, owner of an unprecedented three gold medals and one bronze in Olympic beach volleyball, is seeking her sixth appearance at the Games at the age of 42.
Karen Price is a reporter from Pittsburgh who has covered Olympic and Paralympic sports for various publications. She is a freelance contributor to TeamUSA.org on behalf of Red Line Editorial, Inc.