Kelly Claes And Sarah Sponcil Win Second FIVB World Tour Title In Two Weeks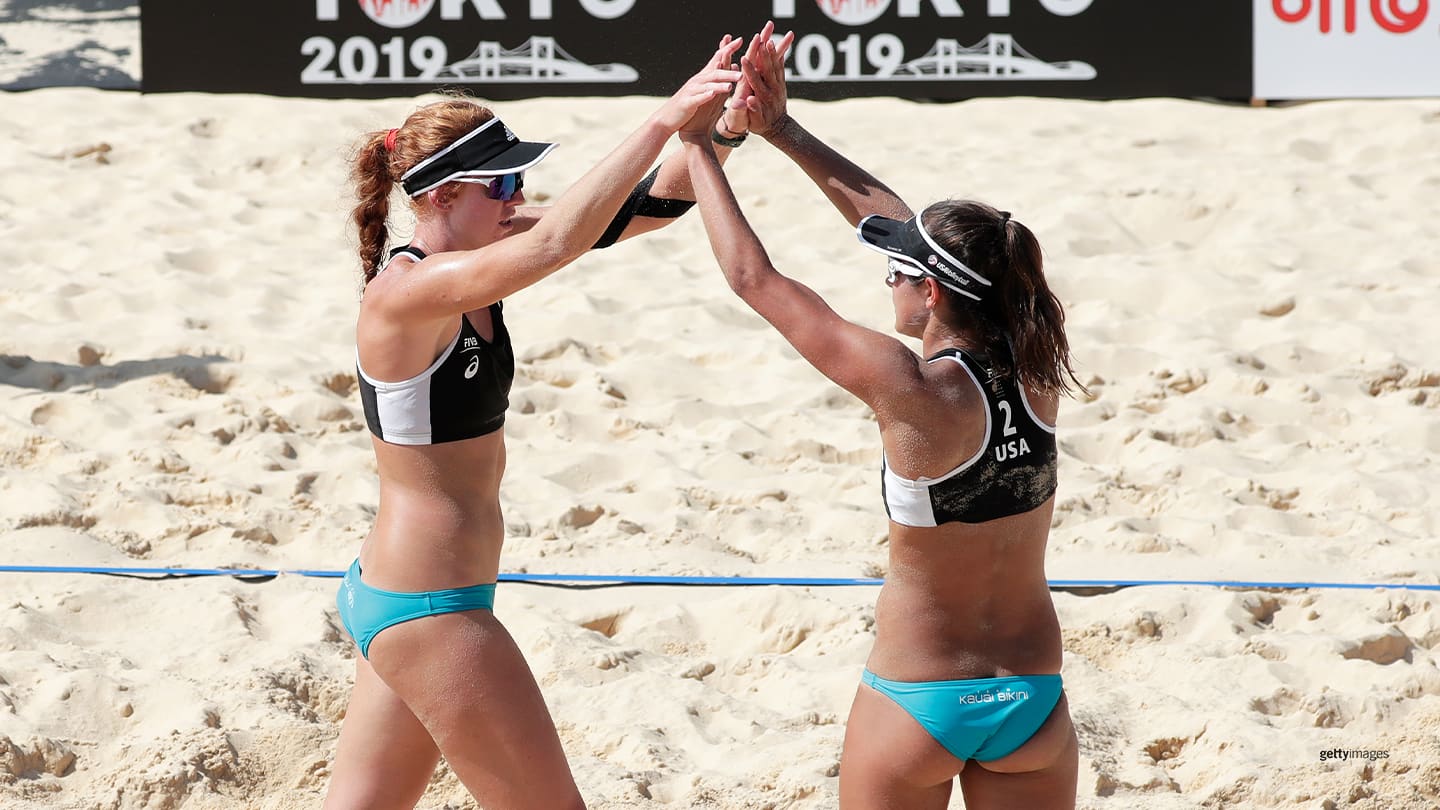 Kelly Claes and Sarah Sponcil celebrate in the Women's Round 2 match on day four of the FIVB Beach Volleyball World Tour Tokyo,Olympic Games Tokyo 2020 Test Event, at Shiokaze Park on July 27, 2019 in Tokyo, Japan.
Their spot in the Olympic Games Tokyo having been secured a few days ago, the U.S. women's beach volleyball team of Kelly Claes and Sarah Sponcil enjoyed a coronation Sunday.
The U.S. pair won for the second straight week on the FIVB World Tour, capturing the title at the four-star event at Ostrava, Czech Republic. Claes and Sponcil beat Anouk Verge-Depre and Joana Heidrich of Switzerland 21-18, 21-15.


Winning last week at a four-star event in Sochi, Russia, put Claes and Sponcil in position to claim one of the two women's spots on the U.S. Olympic Team. But when the legendary Kerri Walsh Jennings and her partner Brooke Sweat lost in the Ostrava qualifier this week, Claes-Sponcil's ticket to Tokyo was punched.


Both enjoyed great success on the collegiate level: Claes won NCAA beach volleyball titles with USC in 2016 and 2017, with Sponcil going back-to-back herself in 2018 and 2019 with UCLA. Now they will be the youngest American duo in Olympic history, with Claes being 25 and Sponcil 24. Alix Klineman and April Ross clinched their trip to Tokyo earlier this year.


Still, Claes and Sponcil seized their opportunity to put an exclamation point on this week.


The duo went undefeated, losing just two sets to conclude the Olympic qualifying period. They beat Brazil's Carolina Solberg Salgado and Olympic silver medalist Barbara Seixas de Freitas in straight sets in Saturday's semifinal.
Steve Drumwright is a journalist based in Murrieta, California. He is a freelance contributor to TeamUSA.org on behalf of
Red Line Editorial, Inc.