Patrick Kane, Auston Matthews And Seth Jones Named To Olympic Hockey Team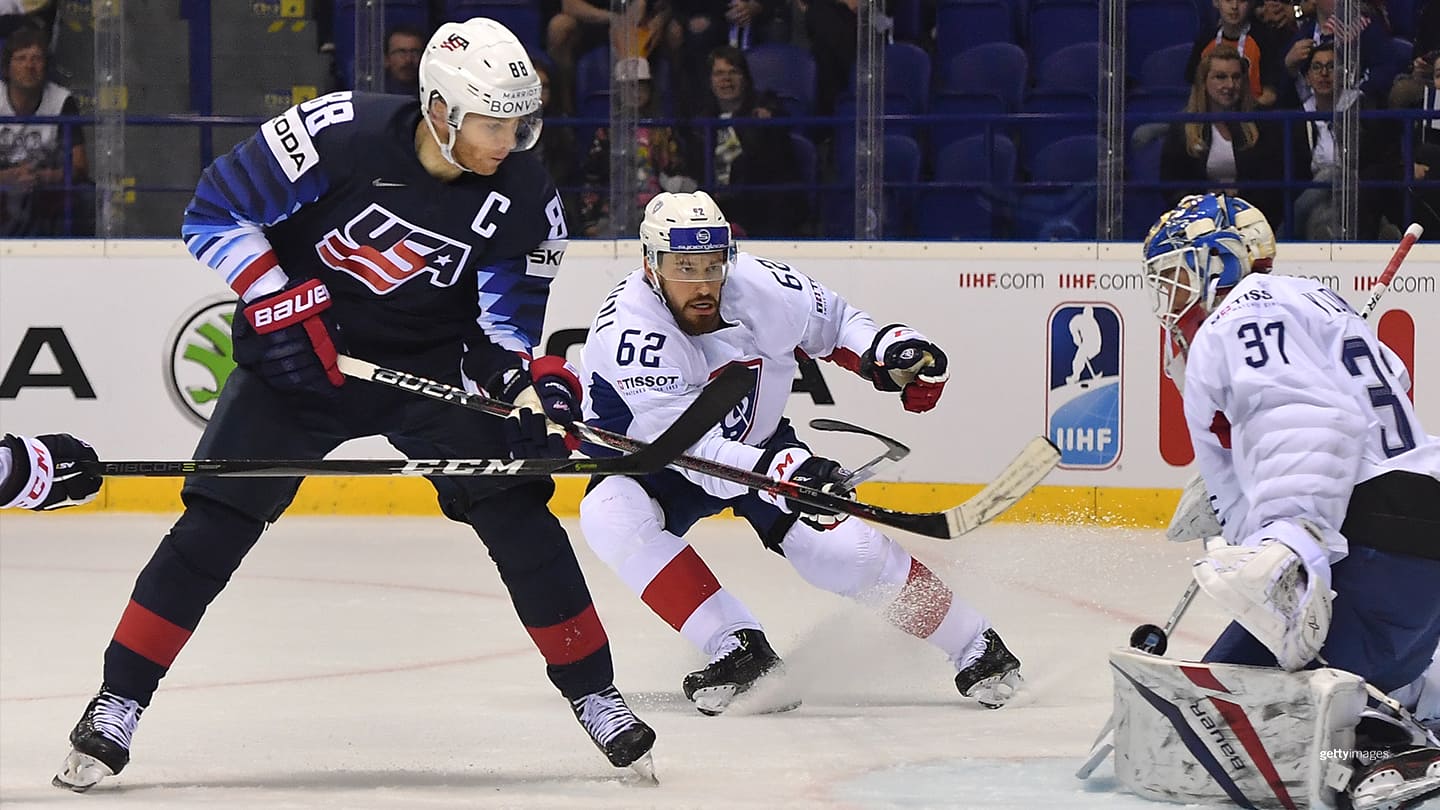 Patrick Kane competes during a group match against France at the 2019 IIHF Men's Ice Hockey World Championships on May 12, 2019 in Kosice, Slovakia.
There are plenty more roster choices for USA Hockey to make in the months leading up to the Olympic Winter Games Beijing 2022, but the three players named Thursday to the U.S. men's team are a pretty good place to start.

Returning to the team will be two-time Olympian Patrick Kane, one of the highest-scoring American-born players in NHL history and a three-time Stanley Cup winner with the Chicago Blackhawks. He joins Auston Matthews of the Toronto Maple Leafs, the NHL's leading goal scorer last season, and fellow Blackhawk Seth Jones. Matthews and Jones would be making their first Olympic appearance as NHL players return to the Games for the first time since 2014.

"It's no secret we're excited about the prospects of our team for the 2022 Games," said U.S. Olympic Team General Manager Stan Bowman, in a news release. "Patrick, Auston and Seth reflect the high level of talent that will make up our final roster as we strive to bring gold back home to the U.S."

That gold medal has indeed proven to be elusive as the 1980 "Miracle on Ice" team represents the most recent Olympic triumph for Team USA. The team does have two silver medals in the years since, most recently in 2010 with Kane on the team. He helped the team to bronze in 2014. Kane, 32, is a good bet to serve as Olympic captain, a role he filled for Team USA at the 2018 and 2019 world championships.

Matthews, 24, led the NHL in goals in the shortened 2020-21 season with 41. That's already the third 40-goal season of his young career as he rockets up the American-born scoring charts. Matthews helped lead the U.S. to consecutive under-18 world championships in 2014 and 2015.

Jones, 27, recently signed an eight-year contract with Chicago after six years in Columbus. A four-time All-Star defenseman, Jones has gold medals from the 2011 and 2012 Under-18 world championships and also from the 2013 World Junior Championships where he was an alternate captain. Like Kane and Matthews, Jones is an alum of the USA Hockey National Team Development Program.

The rest of the 25-player roster is expected to be named in January. The opening game for Team USA in Beijing is scheduled for Feb. 10 against the host nation.
Todd Kortemeier is a sportswriter, editor and children's book author from Minneapolis. He is a contributor to TeamUSA.org on behalf of
Red Line Editorial, Inc.