Indigenous Hockey Player Abby Roque Is Aiming To Make History In Beijing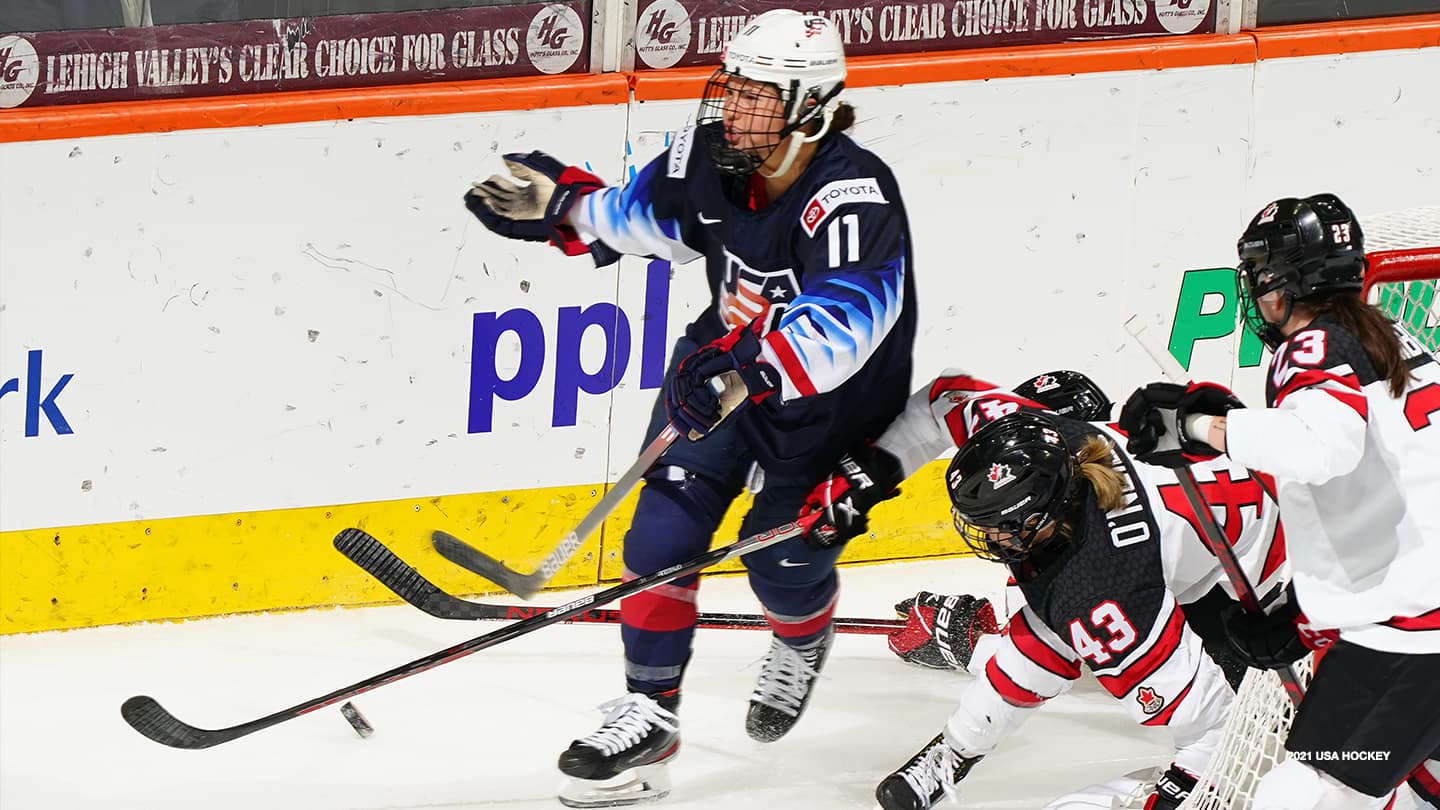 Abby Roque competes against Canada during the My Why Tour on Oct. 22, 2021 in Allentown, Pa.
Her last name is pronounced like "rock," and she probably had to be one at times as a girl trying to navigate the mostly boys world as a youth hockey player growing up in Sault Ste. Marie, Michigan.

Abby Roque didn't know she was doing anything special at the time, however. After all, her dad, Jim Roque, was then a college hockey coach, and she spent a lot of time with him.

"So, I basically lived at the rink 18 out of the 24 hours a day sometimes if he had a game," she Roque said, "and I would not leave until he did."

If hockey seemed natural to her back then, what the 24-year-old is attempting to do now would be unprecedented if she's successful. Roque, a member of the Wahnapitae First Nation, is seeking to become the first Native American woman to play hockey for the U.S. in the Winter Olympic Games. The U.S. team for Beijing will be named in early 2022.

"I'm the only BIPOC (Black, indigenous, and person of color) on this national team," said Roque, a forward, adding that she's "proud of being indigenous and where I come from."

In October, Roque was one of 28 players who traveled to Blaine, Minnesota, to enter a pre-Olympic residency with the U.S. team. Players from that group are training together while taking part in the My Why Tour, a nine-game series against Canada, all with the goal of seeing their names on the final list of 23 who will compete in Beijing.

This is Roque's first time in residency with the team.

"So, it's been great being here in Blaine, Minnesota, training with all of the girls and just getting to see what it's all about and just how hard we're working up until this Olympic Games," she said. "Obviously, I wasn't at these last Olympics like these girls were, so for me, it's a little different."

Roque has always stood out on the ice. On NBC's "Today" show recently, she talked about growing up with the game since she began skating on a backyard rink that Jim — now a scout for the Toronto Maple Leafs — built.

"I just always wanted to be like my dad," Roque told Today. "People called me a rink rat. I think it was kind of in my blood, but it was a passion for me that I just wanted to be a part of."

There weren't many opportunities for girls to play the game when Roque was rising through the ranks, so she did what she had to: play with the guys.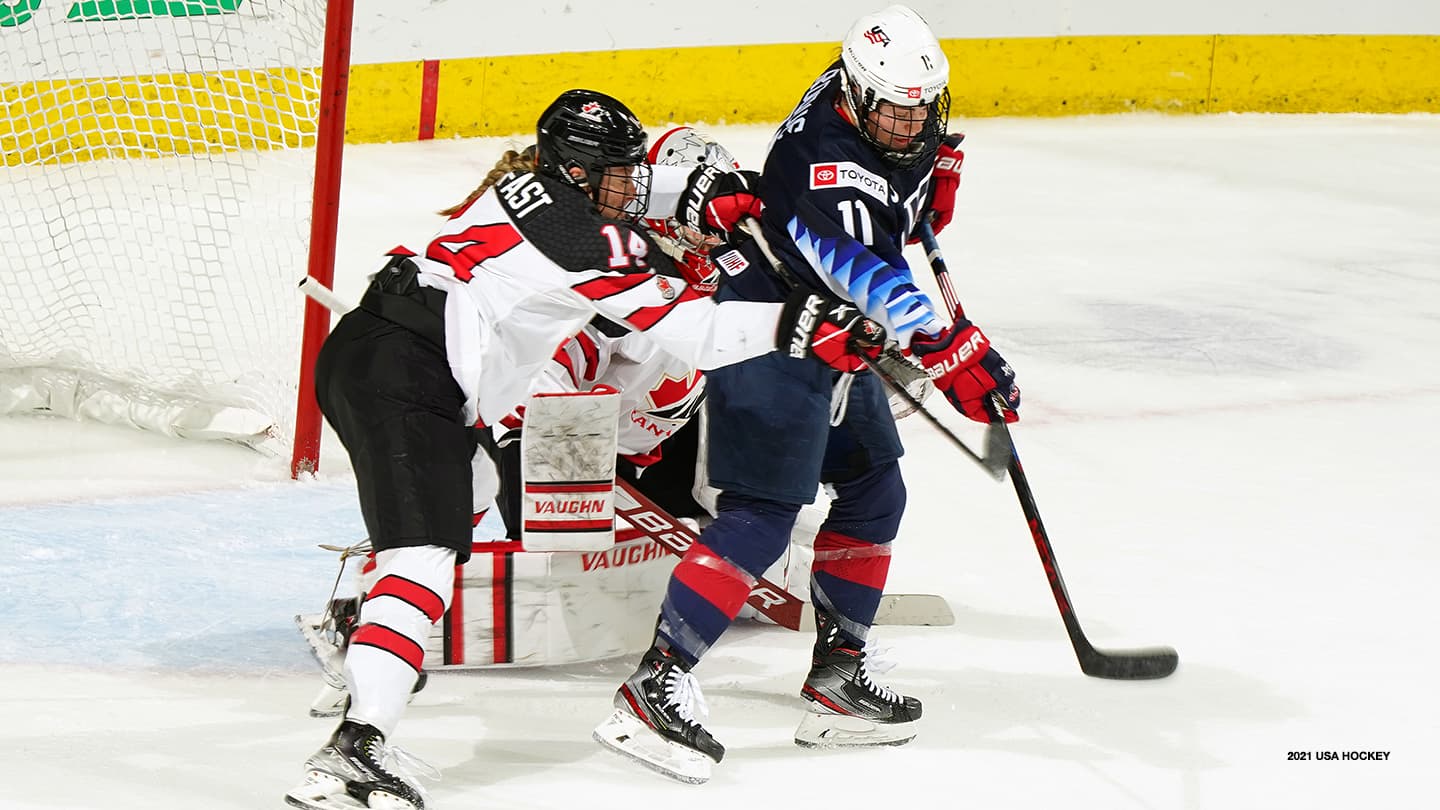 Abby Roque competes against Canada during the My Why Tour on Oct. 22, 2021 in Allentown, Pa.
"I was the only girl," she told Today.

That would change when she got involved in USA Hockey and then reached the powerhouse University of Wisconsin program. Roque earned gold and silver medals with the U.S. team at Under-18 world championships in 2015 and 2014, respectively.

She made her mark at Wisconsin by leading the Badgers to the 2019 national championship and being named a top-three finalist for the 2020 Patty Kazmaier Award given to the top player in women's college hockey.

Since joining the senior national team, Roque was selected to play in a pair of world championships. The 2020 tournament was canceled due to COVID-19, and she earned a silver medal earlier this year.

Roque's Wahnapitae First Nation tribe is based in northern Ontario, and she's a dual citizen of the U.S. and Canada. She's proud of her background and talked about it with Today during this — Native American Heritage Month.

"There's not many indigenous players playing, especially in the United States, so a big piece for me is to try to show that you can do it," Roque said. "You want to make hockey more diverse.

"My family back home, they obviously do a lot of the ceremonies and pow-wows, and my cousin's a dancer … Where I'm from, it's all around you."

Despite her relative youth, Roque has obviously made an impression on the veteran players and coaches with Team USA.

"You really have to have the hunger to be able to go out there every, single day wanting to learn," three-time Olympic medalist and U.S. teammate Hilary Knight told Today. "And I see that in her."

U.S. coach Joel Johnson told Today: "She just has a unique ability to impact her teammates and an incredible impact on the game itself."

And Roque's influence will continue to extend well beyond the sport.

"It's great to be able to talk and teach about my Native American culture and of our specific community's culture," Roque told USA Hockey in January. "When I left, I didn't realize how small the numbers were of Native American hockey players, so for me, it's doing all I can to help do things to allow hockey to be more inclusive."
Bob Reinert spent 17 years writing sports for The Boston Globe. He also served as a sports information director at Saint Anselm College and Phillips Exeter Academy. He is a contributor to TeamUSA.org on behalf of
Red Line Editorial, Inc.