Elana Meyers Taylor Wins Second Straight Monobob World Series Event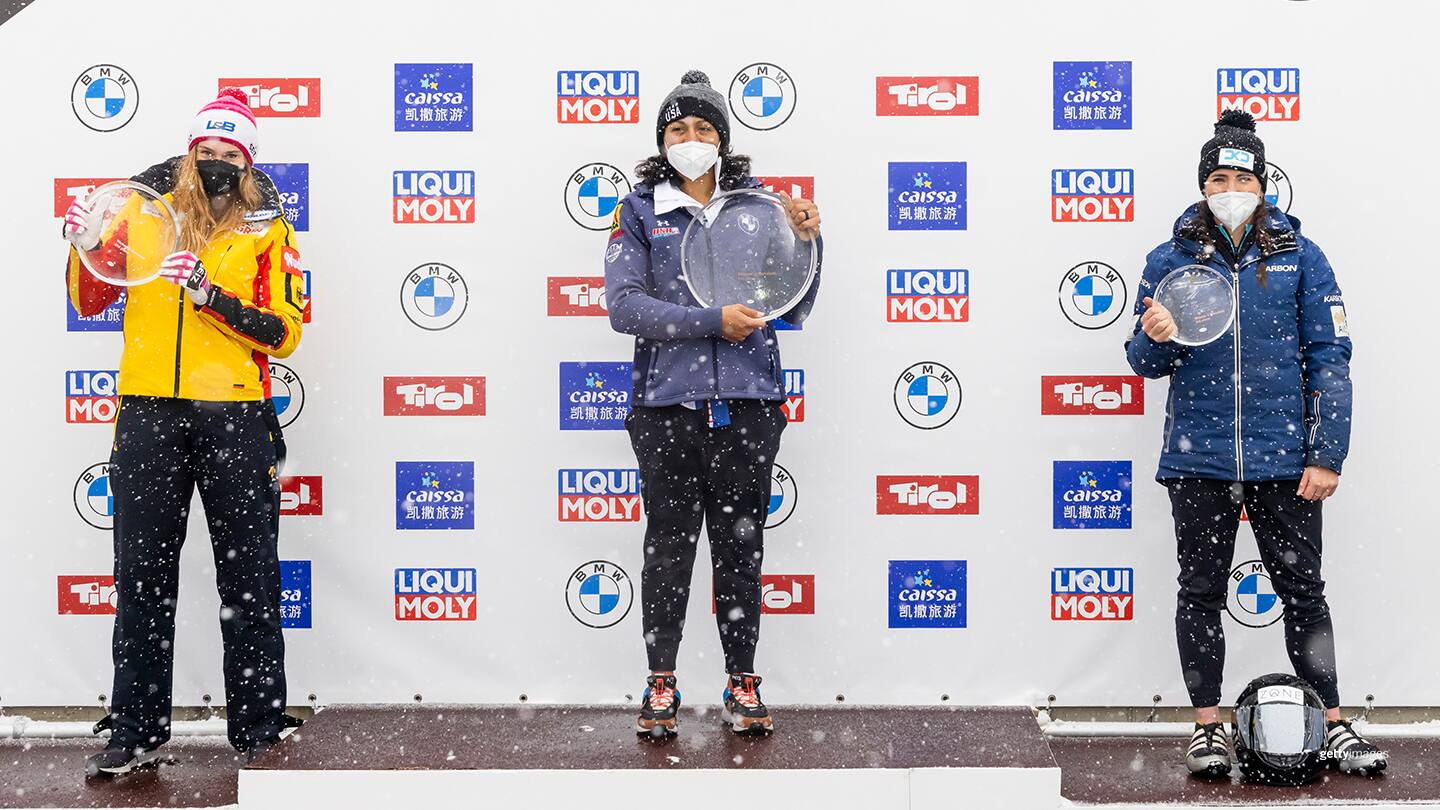 (L-R) Laura Nolte (Germany), Elena Meyers Taylor and Breeana Walker (Australia) pose during the flower ceremony of the women's monobob competition at the IBSF Bobsled and Skeleton World Cup on Nov. 27, 2021 in Innsbruck, Austria.
Elana Meyers Taylor couldn't ask for a better start to her season.

For the second straight week, the three-time U.S. Olympic medalist in the two-woman bobsled earned a gold medal in the Monobob World Series to remain undefeated for the campaign. Monobob makes its Olympic debut in February in Beijing.

In Saturday's event at Igls, Austria, Meyers Taylor posted a combined time of 1 minute, 51.60 seconds to win for the second time in as many weeks. American teammate Kaillie Humphries placed sixth, 0.24 seconds behind Meyers Taylor.

Joining Meyers Taylor on the podium were Laura Nolte of Germany (1:51.56) and Breeana Walker of Australia (1:51:79).

Meyers Taylor wasted no time jumping into the lead, sliding to an impressive time of 55.51 seconds in the first heat. In the second heat, she cruised home in 56.09 seconds to secure the victory. She had the second-fastest push times in each heat — 5.83 and 5.91 seconds, respectively. Meyers Taylor led by 0.16 seconds after the opening run.

"It was an incredibly close race," Meyers Taylor said to USA Bobsled-Skeleton. "Snow races, and races in Igls in general, are always close. You just have to go out there and do the best you can. As a driver you have to decide if you take snow lines or take the lines you're comfortable with, and it's always difficult to navigate which is best. We saw that play out with the results and a lot of shuffling with finishes in the second heat."

As Meyers Taylor emerged from her sled at the finish, she waved at the camera and greeted her son, Nico, watching from the team hotel in Igls.

"It's always a race to get back to the hotel after races to see Nico and hang out with him," Meyers Taylor said. "When we race in the morning, I don't get to see him before I leave the hotel. "I always think about him all of the time. That's what I'm here for, to show him what's possible."

Meyers Taylor and Humphries placed 1-2 last weekend at the same site.
Bob Reinert spent 17 years writing sports for The Boston Globe. He also served as a sports information director at Saint Anselm College and Phillips Exeter Academy. He is a contributor to TeamUSA.org on behalf of
Red Line Editorial, Inc.