Three-Time Gold Medalist Tianna Madison Announces Birth Of Baby Boy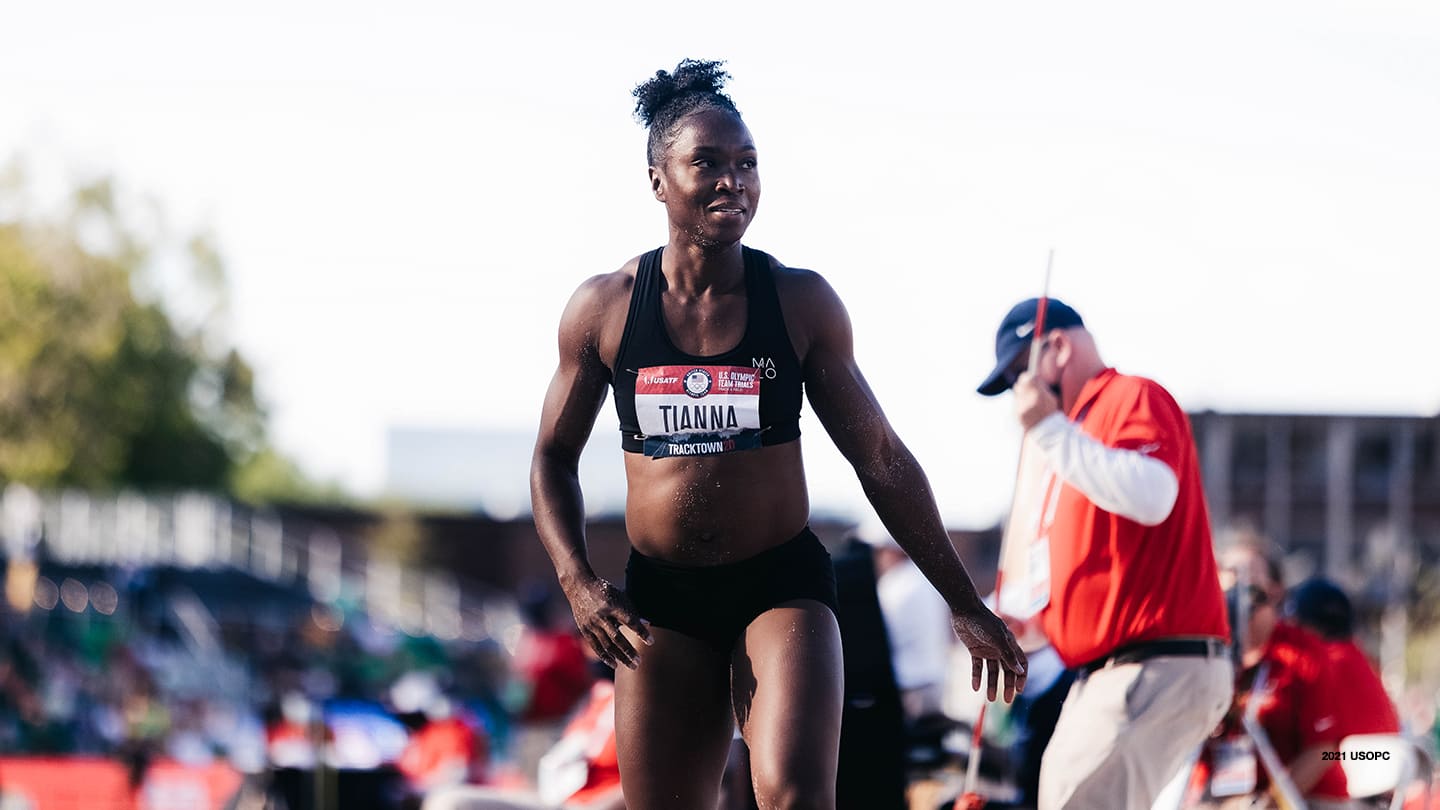 Tianna Madison competes at the 2021 U.S. Olympic Team Trials – Track and Field on June 25, 2021 in Eugene, Oregon.
Tianna Madison had a surprise for readers of her blog.

In a post titled "Cobra Kai," she wrote, "My son is three weeks old. You read that right. I, have a son."

While Madison's followers didn't know she was pregnant, neither did she when she competed at the U.S. Olympic Team Trials – Track and Field in June. At that point, Madison was about six or seven weeks along.

"Obviously, I would NOT have even bothered if I knew I was pregnant," said Madison who recently changed back to her maiden name after competing for several years as Tianna Bartoletta.

She said that Kai Madison Ryan, who was born Nov. 4, was not named after the "Cobra Kai" television show – which she coincidentally binge-watched during the Trials. However, it's clear that both Kai and his mother are fighters.

Madison had a difficult pregnancy, giving birth to her son at around 26 weeks, which was 14 weeks early.

While Madison, 36, was discharged from the hospital, she told TeamUSA.org that Kai "unfortunately isn't home. He will likely stay until his original due date" in February. "But I spend hours with him every day because we live only 20 minutes from the NICU," Madison said.

Kai's father is Charles Ryan, director of track and field for San Jose State University.

Madison won gold medals in the 4 x 100-meter relay in 2012 and 2016 and also was Olympic champion in the long jump in Rio. In the run-up to the Olympic Games Tokyo 2020, she had emergency surgery for a fibroid tumor.

With the pandemic forcing a postponement of the Tokyo Games, Madison took advantage of the extra year to finish and promote her memoir, "Survive and Advance." Returning to form, she was encouraged when she ran 10.9 seconds twice in the 100 meters in a meet in June 2021. Unbeknownst to Madison, she was about four weeks pregnant at the time.

The Olympic Trials were two weeks later. Madison ran 11.09 in the semifinals of the 100 on June 19, then competed in the long jump on June 24 and June 26. Despite a season-best of 6.54 meters, she placed 10th.

Madison then went to Scandinavia to compete in Diamond League meets, noting that "all I wanted to do was sleep, eat, sleep, and eat some more. Once I did learn I was pregnant – nah. Nope. That's a story for another day…"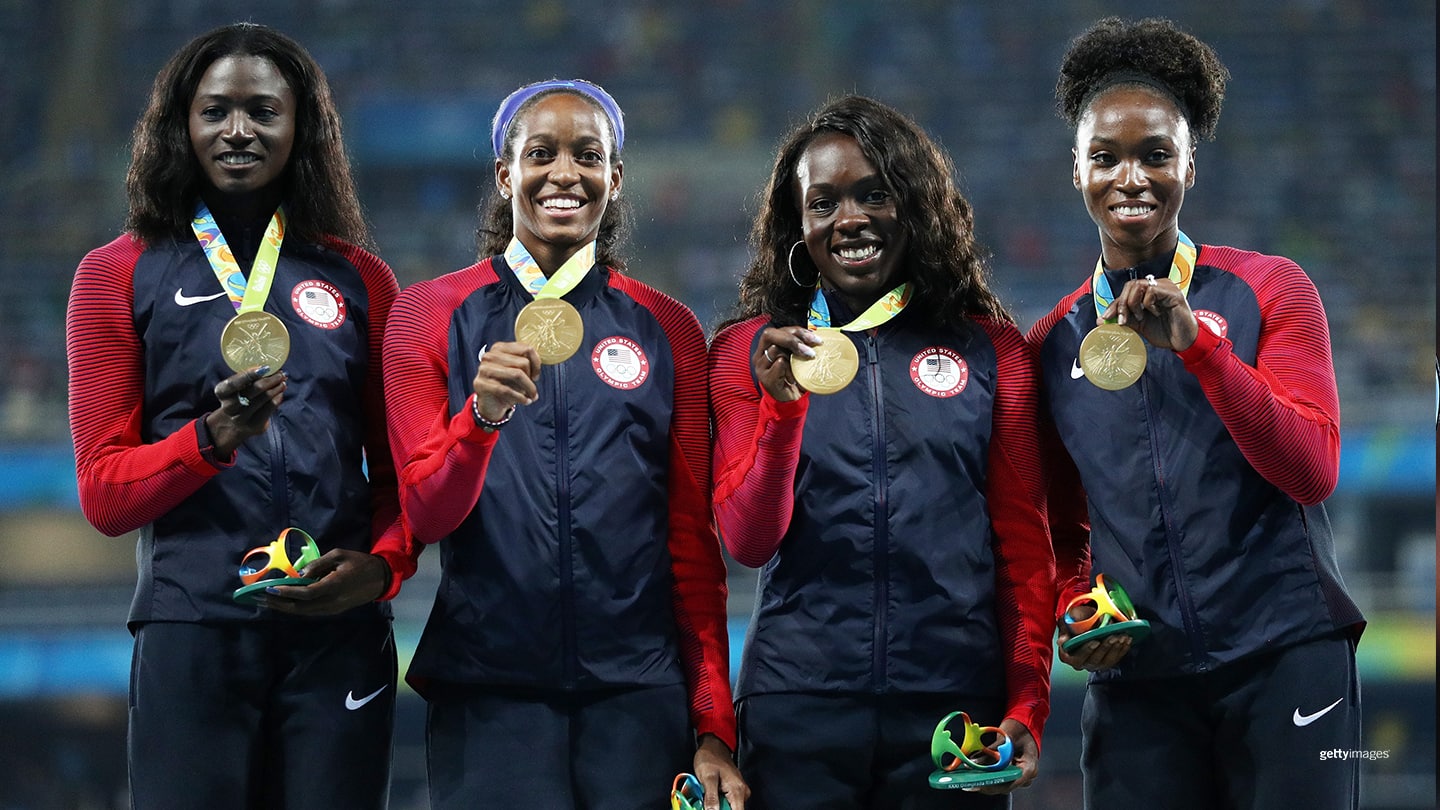 (L-R) Tori Bowie, English Gardner, Morolake Akinosun and Tianna Madison during the medal ceremony for the women's 4x100-meter relay at the Olympic Games Rio 2016 on Aug. 20, 2016 in Rio de Janeiro.
Yet Madison did reveal in great detail – with the intensely personal and straightforward style her readers have come to expect – what happened when she went into premature labor. She said she "waddled to the hospital," held up by Ryan. Once admitted, Madison was told she needed to stay pregnant for at least three more days so she could be given a full course of medication to help her baby's lungs mature. She would also have to keep her feet higher than her head.

Madison prepared herself for a classical C-section. "R.I.P. eight-pack abs," she wrote. "It was fun while I had 'em."

The three-time world long jump champion added, "The pregnancy was a surprise, unplanned and coming to terms with not making the team, being pregnant, doing all that work to get my body right and watching it morph into a human incubator was a lot."

Joining her at her bedside, Ryan, whom Madison calls "Chuck," massaged her neck, head and feet as she held on to her pregnancy despite her own breathing difficulties, body spasms and a migraine.

Once Madison's doctor finally allowed her to lay flat, she had an intense contraction and the baby's heart rate dropped "but slowly recovered, because he's tough," Madison wrote. "After all he's the fastest fetus on the planet and ran two rounds and took six jumps over two days at the Olympic Trials, too."

However, the doctor decided it was time to deliver Kai. Madison learned she would undergo a transverse C-section, which was better for her abs, but she wrote that she cried out in "complete terror" because she wasn't ready.

"None of us" were ready, Madison said. But with Ryan holding her hand, she delivered Kai. "The leading doctor held him up like she was presenting Simba to Pride Rock," Madison said.

She couldn't see her baby when he was wheeled back into the room, "but a nurse placed my finger on his little hand and I felt him," she said. "And I told him I'm sorry that I couldn't hold on to him and that he had so much work to do on his own."

Upon gazing at Kai later in his incubator, Madison wrote, "I had no doubt staring at him that he has what it takes to thrive."

Chuck, she said, "will be a great dad. If how he's taken care of me all this time is any indication."

Kai got her strength, Madison added, noting that often "what looks like the worst thing is just another opportunity for alchemy. Transforming pain into purpose and purpose into power."

She's sure of that.
Karen Rosen has covered every Summer and Winter Olympic Games since 1992 for newspapers, magazines and websites. Based in Atlanta, she has contributed to TeamUSA.org since 2009.