Teams Dropkin, Peterson Within One Win Of Qualifying At Olympic Curling Trials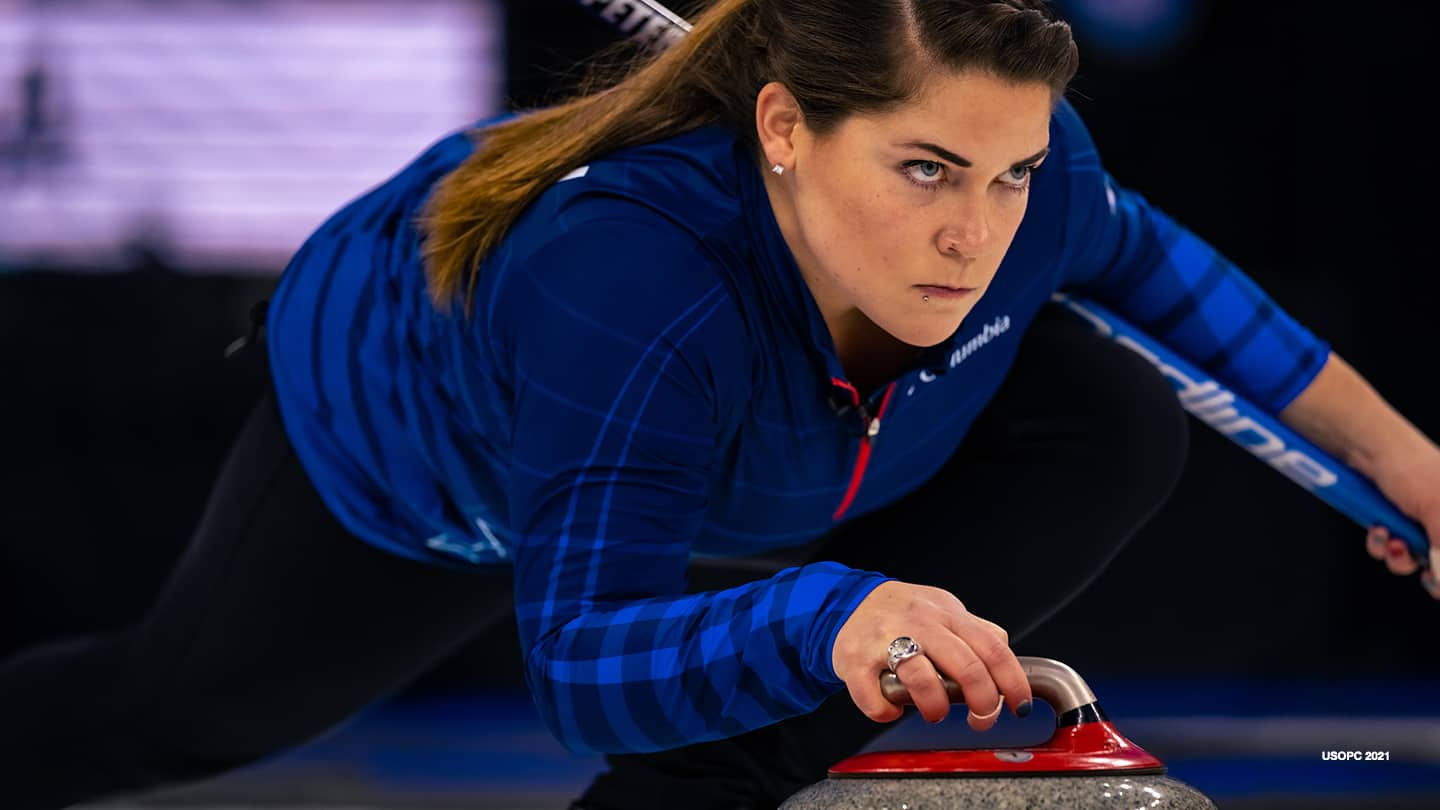 Becca Hamilton competes at the U.S. Olympic Team Trials - Curling on Nov. 19, 2021 in Omaha, Neb.
OMAHA, Neb. — Fast starts boosted Team Dropkin and Team Peterson to wins in the first game of the final series Friday night at the U.S. Olympic Team Trials for Curling.

They're both now just one win away from a spot at the Olympic Winter Games Beijing 2022.

Team Dropkin put the pressure on Team Shuster right out of the gate in their game, stealing two in the first end and going on to win 8-4 in seven ends. Team Peterson raced out to 3-0 and 5-2 advantages over Team Christensen and ended up winning a back-and-forth game 8-7. The teams will battle again from Baxter Arena Saturday night.

For some of the players involved, there may have been a sense of déjà vu in the results. Nearly four years ago to the day on the same sheet of ice, John Shuster — and most of his current team — lost his opening match of the finals in the 2017 Olympic trials. Korey Dropkin was on the winning team that night as well, as second on Heath McCormick's team. Shuster will hope for the same ultimate outcome as his team came back four years ago to take the title and the Olympic berth.

"We've had our backs against the wall and had to win before," Shuster said after the game Friday. "Honestly, throughout our careers we've all been in that position. A lot of times we battle our hardest when our backs are against the wall."

Dropkin's team was excellent in its shot-making on the night, especially from Dropkin himself but also third Joe Polo and second Mark Fenner. They put Shuster under pressure right away with the steal of two that helped set the tone for the rest of the game.

"It's huge to go out and really get on the board first," Dropkin said. "They had hammer, we were able to put some pressure on them and we had a fortunate opportunity to make that freeze to sit two and force Johnny to make a tough shot. Thankfully, we got out of there with a steal of a couple and we were just able to kind of use that to move forward and kind of capitalize."

The way they made shots left few opportunities for big scores. Team Shuster managed only singles throughout the game. In what turned out to be the final end, Fenner hit a triple peel that helped eliminate any threat of a comeback, which he punctuated with an emphatic, "Let's go!" that echoed across the ice.

"(It's tough to come back) against a team that leans to the peel," Shuster said. "… So I've gotta do a better job of getting us in a position to try to not be playing from behind tomorrow."

Team Shuster rolled through the double round robin, with one notable exception. Its only loss was to Dropkin, and their other meeting was a narrow, extra-end victory for Shuster. But Dropkin knows it will be difficult to beat them for a third time.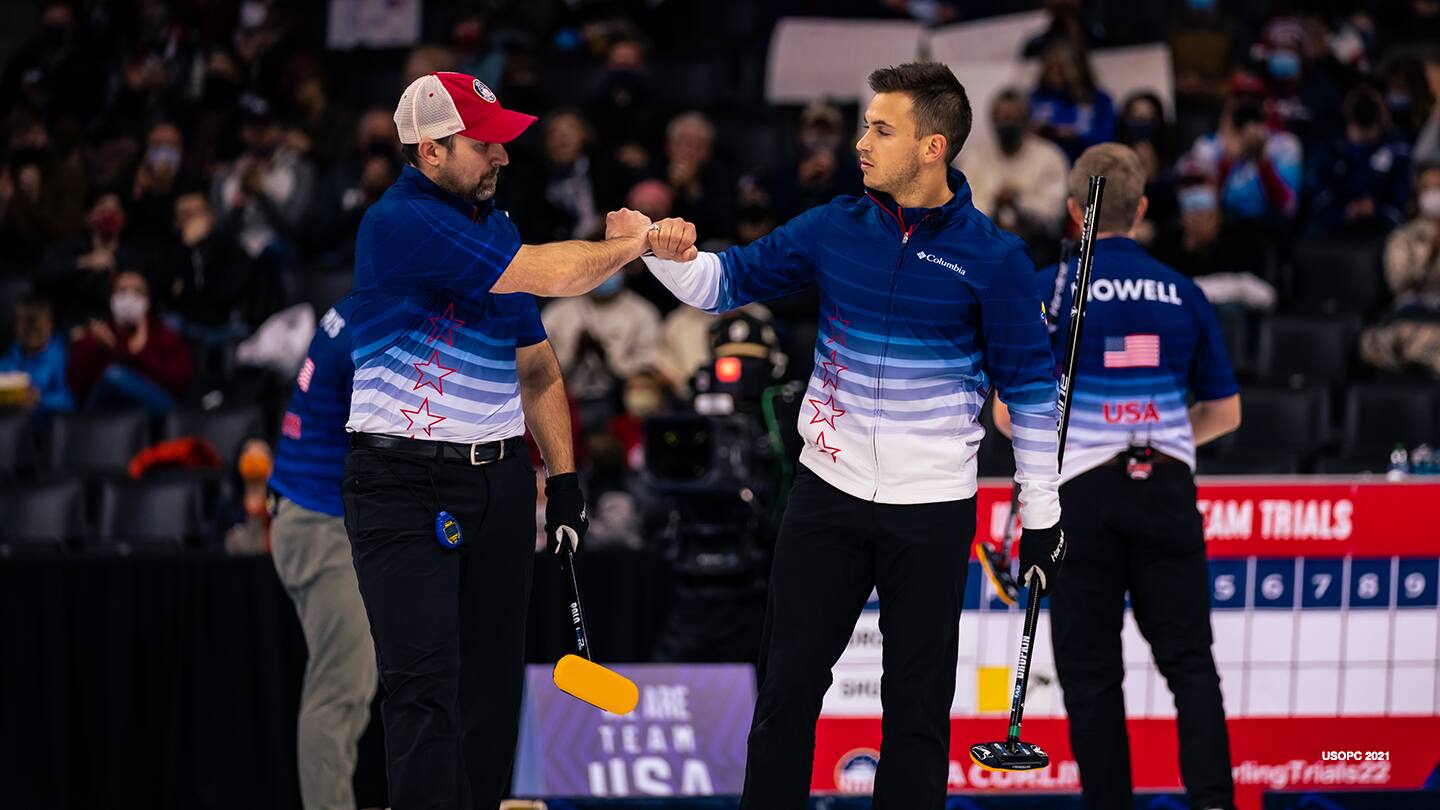 Joe Polo and Korey Dropkin celebrate after winning the first final at the U.S. Olympic Team Trials - Curling on Nov. 19, 2021 in Omaha, Neb.
"I think we played really well," Dropkin said. "I think we got a lot more left in us, I know tomorrow Shuster's gonna come back and he's gonna be strong out there, they're gonna make a lot of shots and we've gotta be sharp. They're gonna bring their 'A' game and we gotta bring our 'A' game as well."
Shuster and Dropkin weren't the only players in familiar spots. Most of Tabitha Peterson's team was there four years ago when they won their first match of the finals. They of course went on to win, something they're hoping to repeat. But Friday's up-and-down game was a "battle" in the words of Peterson. After staking themselves to a lead, Team Peterson gave up a score of three just before halftime to fall behind.
"It was kind of up and down for the first half of the game," Peterson said. "We kind of didn't adjust to the ice conditions as much as we'd have like to. It was a little different out there. Going forward to tomorrow that's what we're probably going to focus on."
But just as quickly as they lost the lead, Team Peterson gained it right back. Peterson's draw for three in the sixth end put her team back on top for good. Coming right out of the halftime break, it turned the tide for the second half.
"That was huge, that was probably the game changer right there," Peterson said. "We felt like we were in control from there on out."
Christensen twice pulled to within one but was only able to manage singles. Cory Christensen had a look at a game-tying deuce in the ninth end, but the second rock rolled just far enough away to leave them with another single.
"I thought it was close," Christensen said, "but I also saw it from the hack and thought that it was maybe not even makeable, so it was closer than I thought it was gonna be. But yeah, a bummer to not get two there for sure."
The final end resulted in a duel of guards and ultimately ended in a blank to preserve an 8-7 victory for Peterson. But despite the loss, Christensen saw enough good to feel good about their chances of evening the series.
"I think we're happy with how we played that game, we were really getting some rocks in good spots and capitalizing on some misses," Christensen said. "I think if we bring out the same game tomorrow and a couple more makes here and there, we'll have them beat."
Game 2 in the Shuster/Dropkin series begins at 5 p.m. CST with the Peterson/Christensen matchup to follow.
Todd Kortemeier is a sportswriter, editor and children's book author from Minneapolis. He is a contributor to TeamUSA.org on behalf of
Red Line Editorial, Inc.