Terese Cannon And Sara Hughes Win Bronze In Final Beach Volleyball Tour Event Of 2021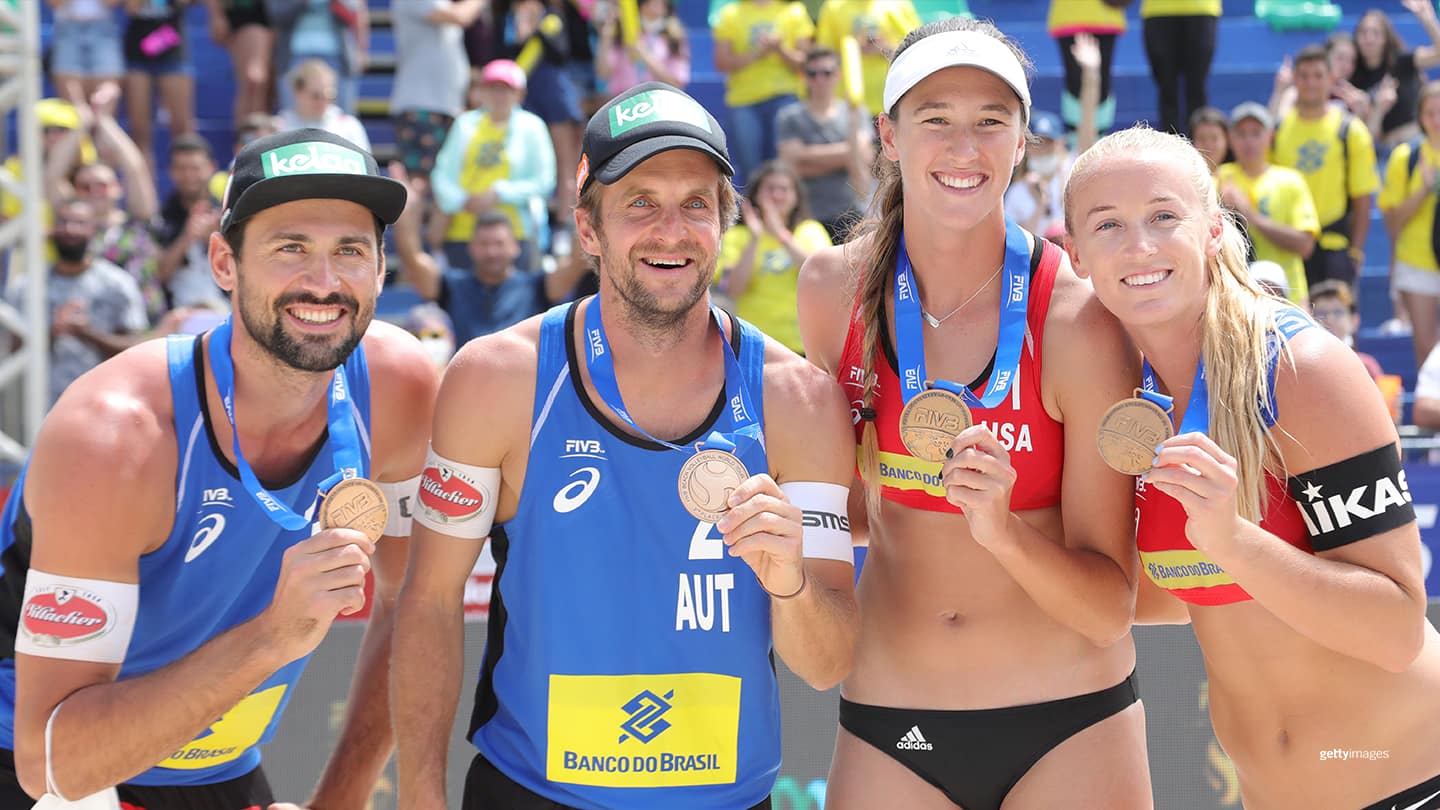 (L-R) Christoph Dressler, Alexander Huber (Austria), Terese Cannon and Sara Hughes pose after the medal ceremony at the FIVB Beach Volleyball World Tour on Nov. 14, 2021 in Itapema, Brazil.
Playing in just their second tournament together, Terese Cannon and Sara Hughes mounted an impressive comeback to take the bronze medal in Itapema, Brazil, in the final FIVB Beach Volleyball World Tour stop of the year.

After dropping the first set to Taina Silva Bigi and Victoria Lopes Pereira Tosta of the host nation, 9-21, Cannon and Hughes rallied back to take the next two sets, 21-18, 15-9.
The Americans performed well across the tournament despite their relative inexperience playing together, entering the 4-star Itapema event as the No. 12 seed and advancing to within one win from the gold-medal game. They would drop a narrow semifinal to Olympic medalist Agatha Bednarczuk and partner Eduarda Santos Lisboa of Brazil, putting them in the third-place game.

The duo may be new to playing together but have their fair share of accomplishments on the beach. Cannon, 26, won back-to-back NCAA titles with USC, scoring the final kill to top Pepperdine in 2017.
She made her FIVB debut in 2019, and in 2020 won her first medal, taking silver at the 2-star Siem Reap Open with partner Kelly Reeves. She now has three medals on tour this season, including her first win this past September at the World Tour 1-star Nijmegen with Delaney Knudsen.

Hughes, 26, also helped the Trojans to NCAA titles in 2016 and 2017, playing with Kelly Claes. At one point ranked No. 9 in the world with partner Summer Ross, Hughes won her first FIVB gold medal in 2018 and also earned two bronze medals that season. In 2021 she and Emily Day previously won at the 2-star tournament in Rubavu, Rwanda.
Todd Kortemeier is a sportswriter, editor and children's book author from Minneapolis. He is a contributor to TeamUSA.org on behalf of
Red Line Editorial, Inc.