Sara Hughes And Kelly Cheng Team Up For Beach Volleyball Elite 16 Win In Australia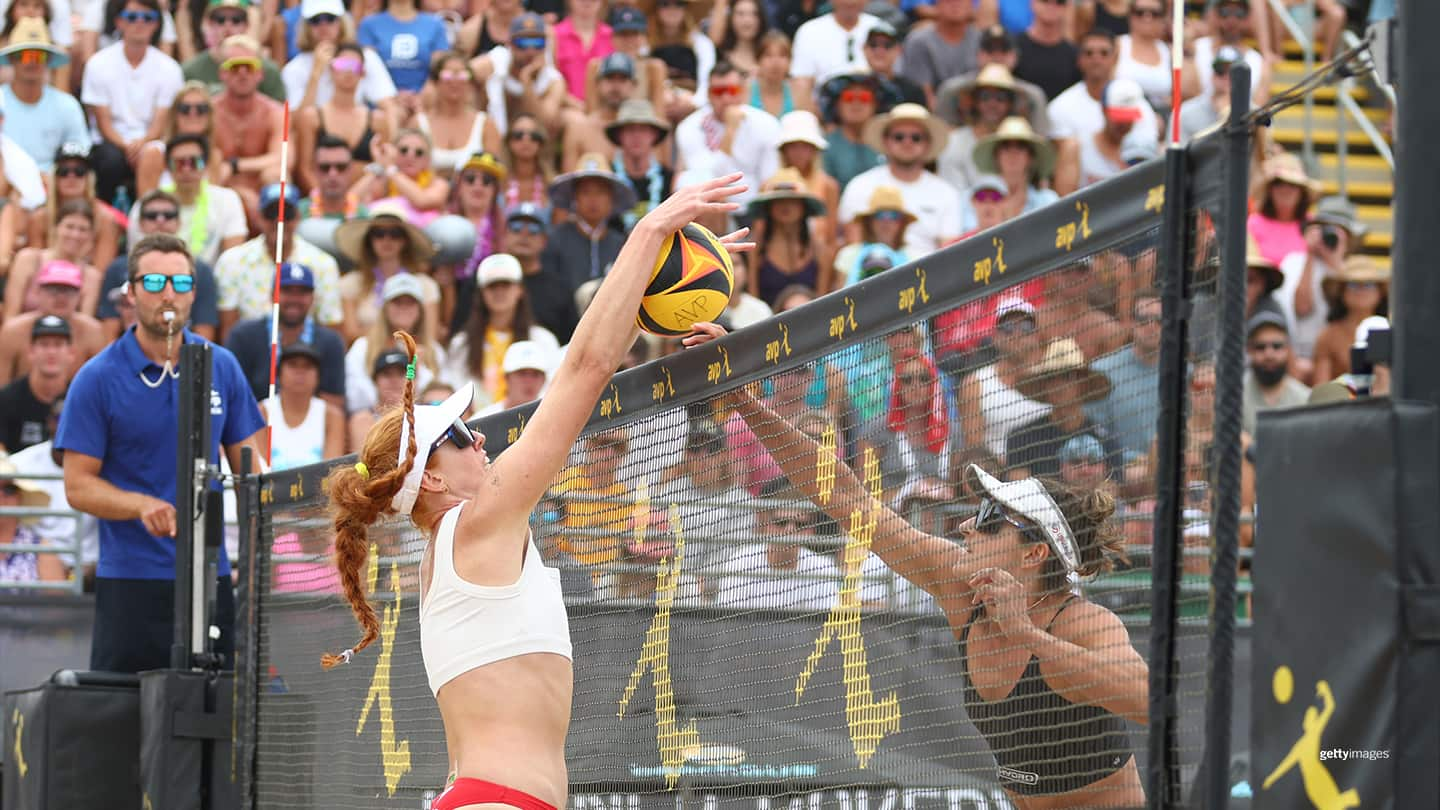 Kelly Cheng (left) blocks Sarah Sponcil (right) during the women's final match at the Hermosa Beach Open on July 10, 2022 in Hermosa Beach, California.
In an all-American final on Saturday, Sara Hughes and Kelly Cheng defeated Betsi Flint and Julia Scoles in straight sets to win the women's title at the Volleyball World Beach Pro Tour Elite 16 event in Torquay, Australia.
Cheng (née Claes), a 2020 Olympian, and Hughes, who won a pair of NCAA titles together at the University of Southern California in 2016 and 2017, took down Flint and Scoles by scores of 21-17, 21-11 in the final Elite 16 event of the year.
Hughes and Cheng, who reunited after four years apart, also won gold medals at last week's Pro Tour Challenge event in Torquay. They reached this weekend's final with a sweep over Kristen Nuss and Taryn Kloth in an all-American semifinal.
Flint and Scoles collected a silver medal in their first tournament together. Cheng and Flint were teammates up until a few weeks ago.
Hughes and Cheng put on a dominant performance in the final. Cheng posted a match-best 19 points. She had five kill blocks and an ace.
"It's been so fun teaming up with Sara again after so long apart," Cheng told volleyballworld.com. "I just love getting on the court with her. I love fighting with her and I am excited for what's to come."
"I'm so grateful to be back on the court with her," Hughes said. "I think we are just going to take these two wins, proudly go home, show off our gold medals and enjoy Christmas with our families.
"But most importantly, we are going to get back to work because we've got a big year next year."
A pair of American teams lost bronze medal matches.
Nuss and Kloth, reaching an Elite 16 medal round for the first time, dropped a 14-21, 21-19, 15-13 decision to 2020 Olympic silver medalists Taliqua Clancy and Mariafe Artacho del Solar of Australia.
On the men's side, eighth-seeded Paul Lotman and Miles Evans lost to Adrian Carambula and Alex Ranghieri of Italy by scores of 21-15, 21-16.
Bob Reinert spent 17 years writing sports for The Boston Globe. He also served as a sports information director at Saint Anselm College and Phillips Exeter Academy. He is a contributor to TeamUSA.org on behalf of
Red Line Editorial, Inc.