Vincent Zhou Wins Silver At NHK Trophy To Book His Spot At Grand Prix Final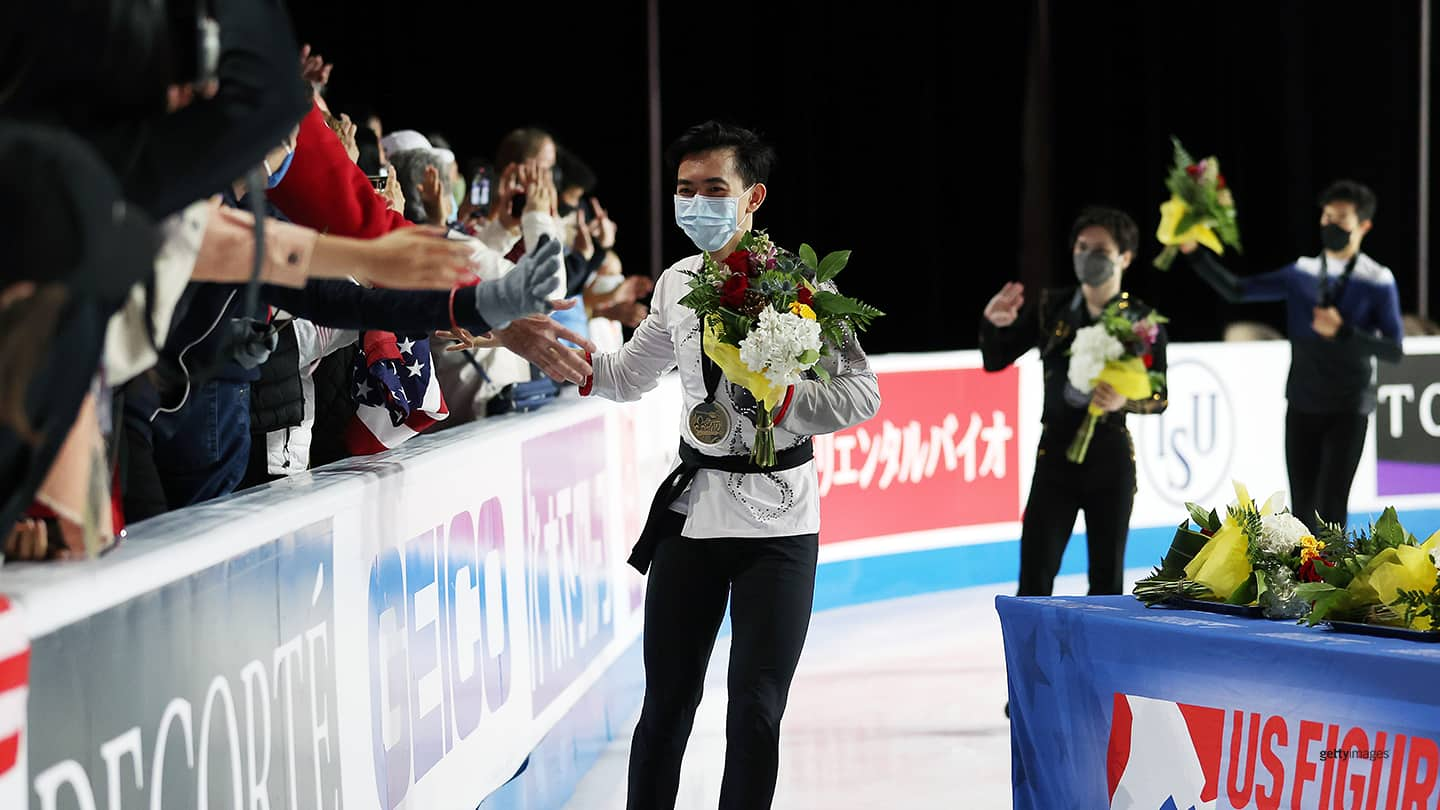 Vincent Zhou greets fans after the medal ceremony for the men's free program at Skate America on Oct. 23, 2021 in Las Vegas.
Vincent Zhou made sure his trip to Japan this weekend wouldn't be his last of the year.

With a silver medal at NHK Trophy in Tokyo on Saturday, the 2018 U.S. Olympian booked his first-ever trip to the Grand Prix Final, to be held Dec. 9-12 in Osaka, Japan.

The U.S. silver medalist, who defeated teammate and three-time world champion Nathan Chen to win Skate America last month, had to fight his way through the five quadruple jumps in his "Crouching Tiger, Hidden Dragon" free skate, popping his opening quad lutz into a single and landing a few other quads a bit short of rotation.

Although Zhou placed just sixth in the free skate, his strong short program on Friday, and 260.69 point total, was good enough for second place.

"I'm very disappointed in my performance," Zhou said. "I made a lot of mistakes. I really wish I could have done better and capitalized on my opportunity here, but thankfully this is not the Olympics. I think this is good to get this out of my system now."

Team USA's Tomoki Hiwatashi placed ninth with 217.08 points, while Camden Pulkinen was 11th with 193.18 points.

Two-time world silver medalist Shoma Uno of Japan landed four quads in his free skate to Ravel's Bolero to win the title with 290.15 points, some 30 points above Zhou's score. Junhwan Cha of South Korea won bronze with 259.60 points.

NHK Trophy is the fourth of six Grand Prix events held this fall. The top six performers in each discipline will qualify to compete at the Final.

The U.S. ice dance team of Madison Hubbell and Zachary Donohue already qualified. They're likely to have some American company in Osaka.

Two-time Olympians Madison Chock and Evan Bates, who placed second to training partners Hubbell and Donohue at Skate America last month, won their second Grand Prix silver medal of the season in Tokyo. Although still unofficial, these results have very likely earned the veteran ice dancers their seventh trip to the Grand Prix Final; they won their third silver medal at the event in 2019-20.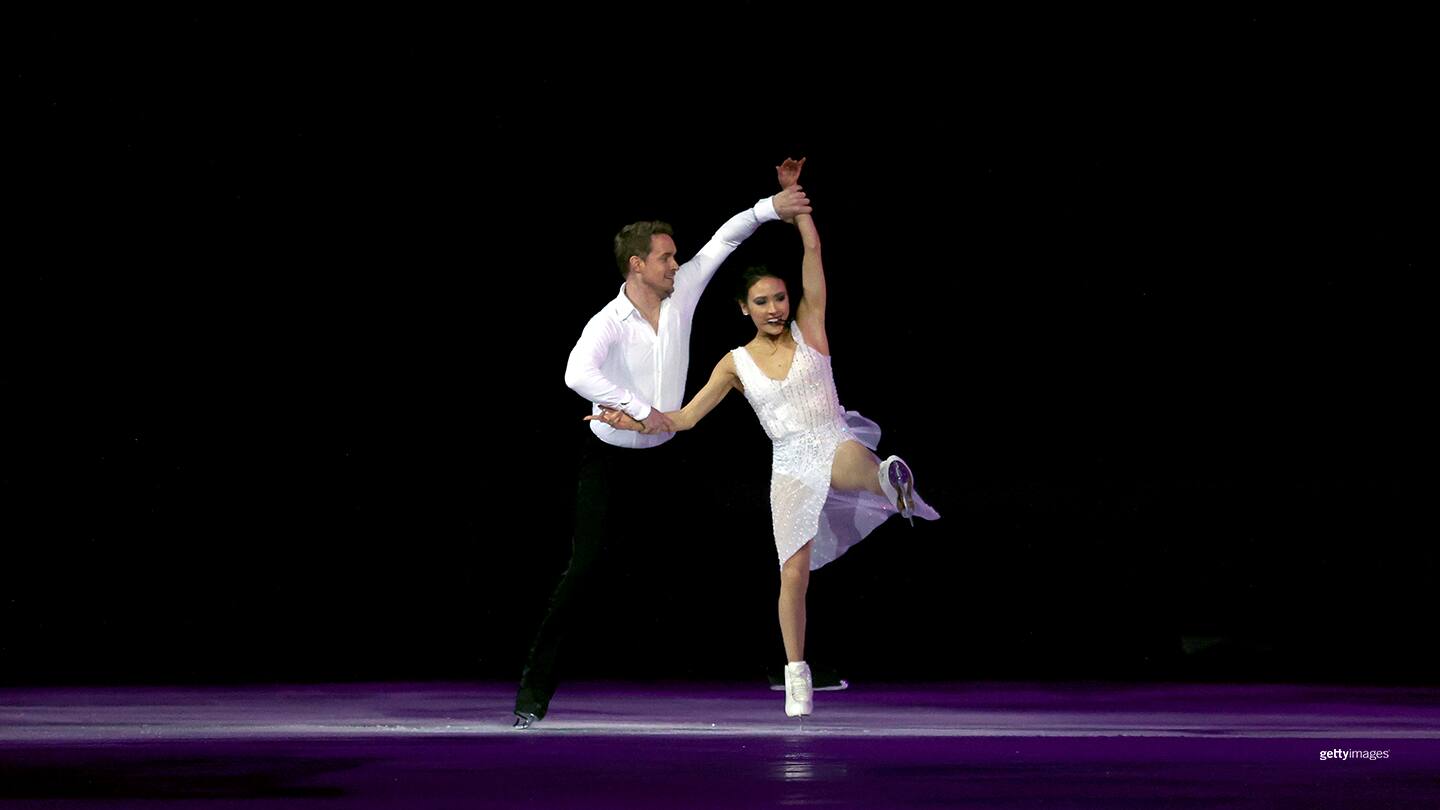 Madison Chock and Evan Bates perform in the exhibition program at Skate America on Oct. 24, 2021 in Las Vegas.
The two-time U.S. champions, second after Friday's rhythm dance, overcame a fall by Bates at the start of their free dance to deliver a strong outing of their "astronaut-meets-alien" program, highlighted by three stunning lifts as well as perfectly synchronized twizzles.

"Today's performance was an interesting one, mostly because I fell within the first 20 seconds of the program on a transition (move) before the first element," Bates said.

The skaters, who have competed together since 2011, used their experience to recover in time to flawlessly execute their first element, a challenging straight-line lift.

"I never experienced something like that (fall) before," Bates said. "We responded well and put together a good performance, considering the early mishap. We learned something from that type of performance."

Despite the error, Chock and Bates earned a season's high 124.76 points for the free dance and ended with 210.78 points.

U.S. bronze medalists Kaitlin Hawayek and Jean-Luc Baker, who won NHK Trophy in 2018, withdrew from the event due to Hawayek's ongoing recovery from a concussion sustained during training earlier this season.

Reigning world champions Victoria Sinitsina and Nikita Katsalapov of Russia won ice dance gold with 215.44 points, while Great Britain's Lilah Fear and Lewis Gibson claimed bronze with 191.91 points.

Two-time U.S. champion Alysa Liu narrowly missed winning her first Grand Prix medal, placing fourth at NHK with 202.90 points, just 0.70 out of bronze medal position.

After falling on the jump in her short program on Friday, Liu landed a triple axel at the start of Saturday's free skate to Tchaikovsky's Concerto in D, although the technical panel judged it one-quarter short of the full three-and-a-half rotations. She went on to land another seven triple jumps, including a triple-triple combination, to earn 135.18 and third place in the free skate.

Amber Glenn was seventh with 175.83 points.

Japan's Kaori Sakamoto won gold with 223.34 points, while her countrywoman Mana Kawabe claimed silver with 205.44 points. Young You of South Korea took bronze with 203.60 points.

Two U.S. pairs competed at NHK. 2019 U.S. champions Ashley Cain-Gribble and Timothy LeDuc were fourth with 202.79 points, and Audrey Lu and Misha Mitrofanov placed fifth with a career-high 190.03 points.

Russians Anastasia Mishina and Aleksandr Galliamov, the reigning world champions, dominated the pairs event, earning 227.28 to win by 14 points. Their teammates Evgenia Tarasova and Vladimir Morozov scored 213.27 to take silver, while Japan's Riku Miura and Ryuichi Kihara won bronze with 209.42.

The Grand Prix continued next weekend with the Internationaux de France in Grenoble.
Lynn Rutherford is a sportswriter based out of New York. She is a freelance contributor to TeamUSA.org on behalf of
Red Line Editorial, Inc.