News
Kym Crosby
Jeremy Campbell
David Blair
Breanna Clark
Jaleen Roberts
Roderick Townsend
Deja Young
Femita Ayanbeku
Team USA's Best To Hit The Track In Arizona For Desert Challenge Games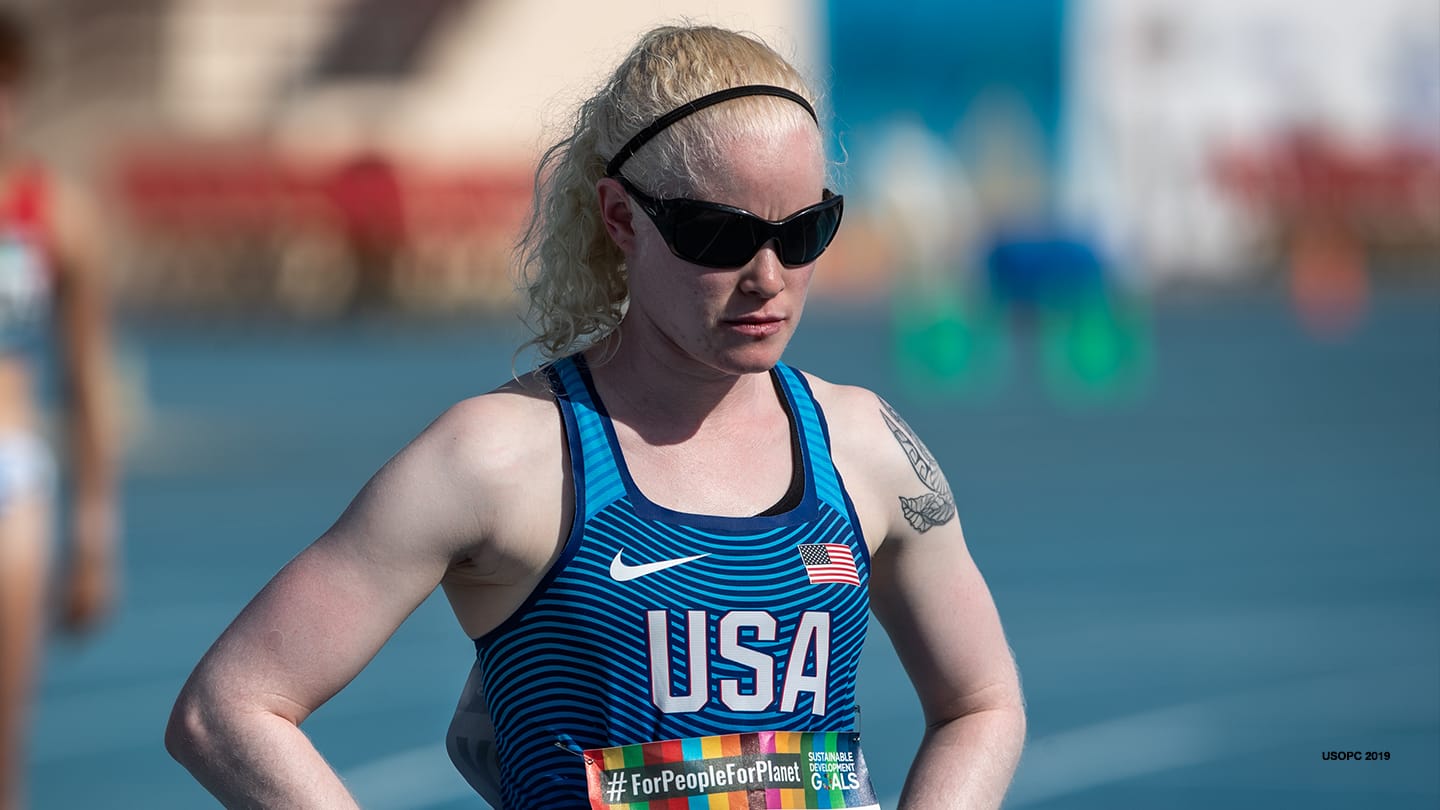 Kym Crosby competes at the IPC World Para Athletics Championships 2019 Dubai on Nov. 9, 2019 in Dubai, United Arab Emirates.
If you're anxious to see some Paralympic action after the year-long postponement of the Paralympic Games Tokyo 2020, look no further than next weekend's 2021 Desert Challenge Games.

The event, hosted by Arizona Disabled Sports annually since 1990, is one of the most prestigious Para sports events in the United States, drawing some of the top talent in Para athletics from the U.S. and around the globe. Over three days of elite-level competition, Paralympic hopefuls will compete to qualify for the U.S. Paralympic Team Trials and a shot at the Paralympic Games Tokyo 2020.

They'll also be looking to gain valuable competitive experience, something that's been hard to come by this past year. After the pandemic shut the country down in March 2020, many athletes had their training put on hold, and many competitions — including last year's Desert Challenge Games — were cancelled. Some athletes will be competing here for the first time in over a year.

That means that, more than ever before, the Desert Challenge will function as a reunion of sorts.

"Desert Challenge is one of my favorite meets of the year because it's usually the first meet of the season that I get to see all my friends and teammates," said Paralympic bronze medalist Kym Crosby, who is making her comeback at Desert Challenge after recovering from an injury. "It's one of the biggest Para meets in the U.S., so I really enjoy the coming together of everyone to have fun and improve our athletic abilities."

It will also provide a unique opportunity for athletes to prepare for the Tokyo heat.

"I love this competition because the weather is always really good and I like the track surface," said Paraympian and four-time Desert Challenge Games participant Femita Ayanbeku. "Coming from Boston, it's always nice to go to Arizona and get some real heat."

Most importantly, though, the competition will act as a stepping stone for the Paralympic Games, giving fans a good preview of what to expect from America's best in Para athletics as we get closer to Tokyo. Here are just a few of the other athletes to look out for at the competition:


A relative newcomer in the sport, Brittni Mason made her mark at the 2019 world championships with a gold medal in the 100-meter dash. This will be her very first Desert Challenge Games, and there, she's hoping to perform even better.

"I hope to improve my 100-meter mark and my 200-meter marks for the season. I have currently tied my world record in the 100-meter dash already this season, so I am hoping to run a similar time if not break the record," Mason said. "I am also using this meet to just get out there and compete at a Para meet for the season, since I have not done so already. Ultimately, I thought this would be a good meet with some competition to help me prepare for Trials and the Paralympics."


Deja Young is a Paralympic veteran with two gold medals to her name in the 100 and 200. Since Rio, she's stayed at the top of her game, winning gold medals at the 2017 and 2019 world championships. Young competed for the first time since the pandemic this April, writing on Instagram, "It wasn't my best meet but there's definitely room to improve."


Jeremy Campbell is a three-time Paralympic discus thrower and multiple gold medalist who most recently won the event at 2019 worlds. He bested American rival David Blair at that competition, but Blair topped the podium over Campbell in Rio. Here, we'll see where he stands in his quest to hold off Blair in Tokyo.


David Brown can run 100 meters in under 11 seconds. He holds the world record in the 100 for a blind runner, and won gold in his class in Rio. Be on the lookout for Brown at Desert Challenge and in Tokyo — just try not to blink, or you might miss him.


Cassie Mitchell — a wheelchair athlete who specializes in club and discus — is a Desert Challenge aficionado, competing in every event but one since 2012. Now, she's back in her quest to make her third Paralympic team and, potentially, earn her third medal.

"My objective for Desert Challenge is to maintain a positive performance trajectory as we build towards the climax of the season — the USA Paralympic Trials and the Tokyo Paralympic Games," she said. "I want to improve my 2021 season marks in F51 discus and club."


Justin Phongsavanh is a javelin thrower and a quick study, going from becoming paralyzed in a shooting in 2015 to winning nationals in 2017 and coming in fourth at 2017 worlds. And this year he's getting even stronger, setting a new personal record of 31.73 at his last meet.


The high jump world record holder already has two Paralympic gold medals to his name, and won gold in the high jump at 2019 worlds. He's competed a few times in 2021, and looks like he's on track to another podium sweep in Tokyo. Townsend is one of the biggest names on the Desert Challenge roster, and his performance is sure to turn heads.


Breanna Clark has been on a roll in the past few years, winning gold in the 400-meter dash, and then following up with golds at the 2017 and 2019 world championships. Clark also holds the world record in the 400 in her classification, putting her on a medal trajectory for Tokyo.


Sprinter Jaleen Roberts' resume is so impressive, you'd be surprised to find that she's going for her first Paralympic Games. Roberts made her Para debut at the Desert Challenge Games, then went on to win three medals at 2017 worlds and two more at the 2019 worlds. Roberts has been open about the mental health struggles she faced during the pandemic, but says now, she's stronger than ever.


Wheelchair sprinter Alexa Halko made headlines in 2016 as the youngest American at the Rio Games, making the team at just 16 years old. Halko lived up to the hype, coming home from Brazil with two silvers and one bronze. Now, five years later, she's a seasoned veteran — and this time, she says, she's going for gold in the 100 and 800.


Take a look at the full event schedule for the Desert Challenge Games.
Jessica Taylor Price is a sportswriter from Somerville, Massachusetts, whose work has appeared in various publications. She is a freelance contributor to TeamUSA.org on behalf of Red Line Editorial, Inc.