A Look Inside The Numbers As Climbing Nears Its Olympic Debut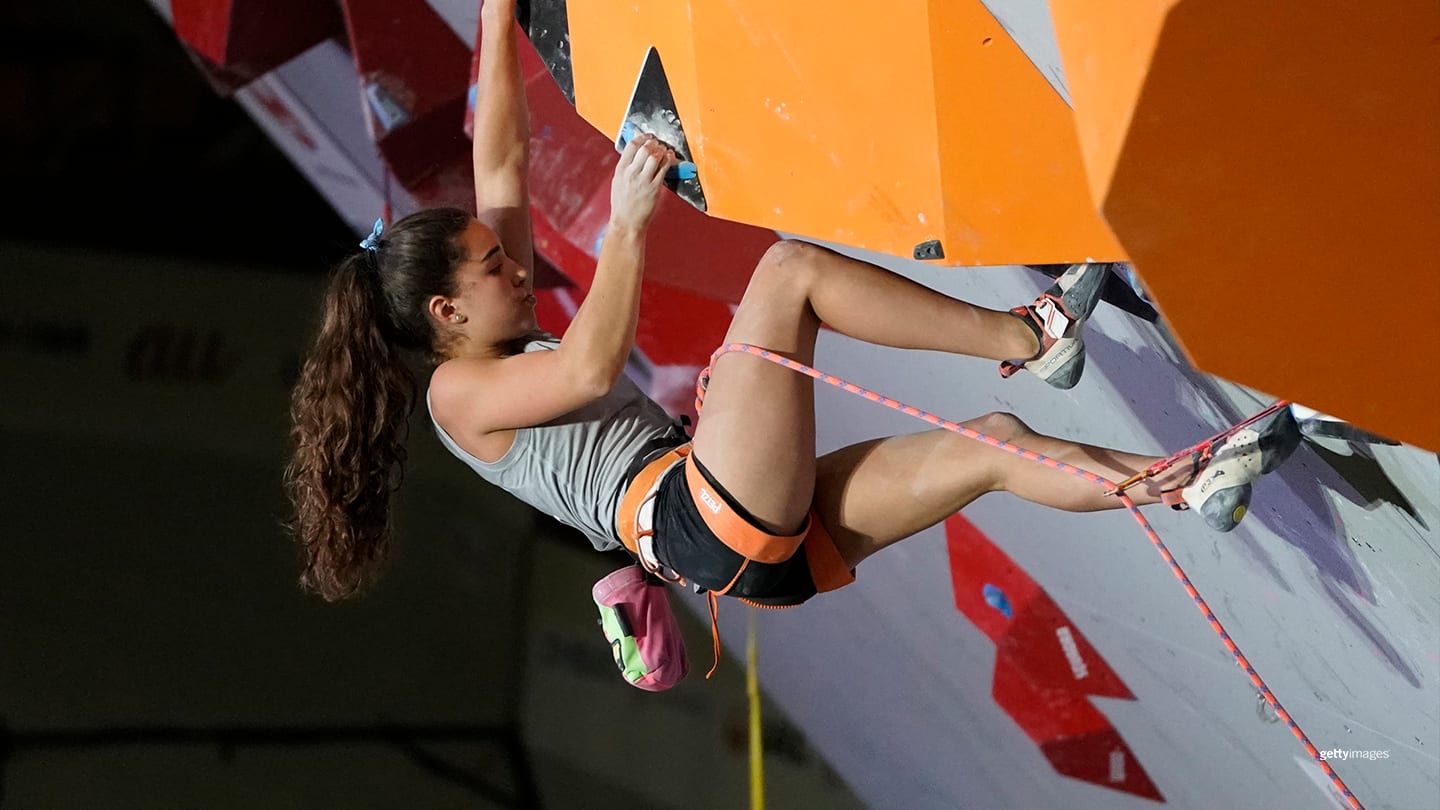 Brooke Raboutou competes in the Women Lead event during Combined Women's Qualification on day eight of the IFSC Climbing World Championships at the Esforta Arena Hachioji on Aug. 18, 2019 in Hachioji, Tokyo, Japan.
Inside the Numbers presented by DeVry is a series that gives fans a peek at the numbers behind what it takes to qualify for Team USA and other incredible facts about Team USA sports.



Climbers didn't grow up aspiring to win an Olympic gold medal. That's because sport climbing hasn't been included in the Olympics until now. It will make its debut on the world's largest stage at the Olympic Games Tokyo 2020 this summer.

The U.S. Olympic climbing team, consisting of two men and two women, was finalized on March 1, 2020, following the 2020 IFSC Pan-American Championships. However, the athletes have had to wait more than a year to compete at the Olympics because of the coronavirus pandemic.

With the Tokyo Olympics now set to begin in two months, here's a closer look at sport climbing by the numbers presented by DeVry University.


1
Athletes will compete in sport climbing for the first time at the Olympic Games this summer in Tokyo. In 2016, the International Olympic Committee added the sport to the Olympics during the 129th IOC Session in Rio de Janeiro. Climbing will be among several sports to make its Olympic debut in Tokyo, including skateboarding and surfing.


3
In Tokyo, athletes will compete in a combined format that features all three climbing disciplines — bouldering, lead and speed. Climbers must carefully plan their moves in bouldering, which requires athletes to complete a number of fixed routes that are low to the ground. Athletes don't use safety ropes in bouldering. Lead climbing requires athletes to clip in their safety ropes as they attempt to reach the top of a wall in six minutes. Speed climbing is a head-to-head race between two climbers to see which one is faster at scaling the wall.


4
The U.S. joins France and Japan as the only countries that will field a full team of two men and two women at the Olympics. The four Americans who qualified for the Olympics are Kyra Condie and Brooke Raboutou on the women's side and Nathaniel Coleman and Colin Duffy on the men's side.


5.14b
Brooke Raboutou comes from a family of climbers. Her parents are former climbing world cup champions Robyn Erbesfield-Raboutou and Didier Raboutou. She started climbing at an early age, and at 11, she became the youngest person in the world to climb a 5.14b. A 5.14b is a climbing grade that is intended for elite athletes with years of training.



10

Kyra Condie showed as a kid that she was a natural climber, but she learned that she had severe idiopathic scoliosis. Her spine was curved at more than 70 degrees. On March 12, 2010, three months before her 14th birthday, Condie had back surgery to fuse 10 vertebrae, T2-T12, to correct the curvature and allow her to return to climbing.


15

While speed and lead are different climbing disciplines, the height of the wall that is used in both events is pretty much the same at 15 meters. (In lead, the wall measures more than 15 meters.) The wall in bouldering is only 4.5 meters.


17

Colin Duffy is set to make his Olympic debut before he begins his senior year of high school. At age 17, the teenager from Broomfield, Colorado, is the youngest member of the U.S. Olympic climbing team. Duffy continued his meteoric rise in the sport when, at 16, he shocked many by winning a gold medal at the 2020 IFSC Pan-American Championships in Los Angeles. The win punched his ticket to the Tokyo Olympics.


20

Men and women will be equally represented in Tokyo. Forty climbers split evenly by gender — 20 men and 20 women — are set to compete in the Olympics this summer.



24

Nathaniel Coleman and Kyra Condie are the oldest members of the U.S. climbing team, at age 24. Condie will turn 25 on June 5, before the Tokyo Olympics start in July. Brooke Raboutou turned 20 on April 9, making her more than two years older than Colin Duffy.


95

The wall in speed climbing is set at a 95-degree angle, and climbers race against each other to scale it as quickly as possible. Male athletes usually climb the wall in around 5-6 seconds, while female climbers tend to reach the top in around 7-8 seconds.
Alex Abrams has written about Olympic sports for more than 15 years, including as a reporter for major newspapers in Florida, Arkansas and Oklahoma. He is a freelance contributor to TeamUSA.org on behalf of
Red Line Editorial, Inc.