Nathaniel Coleman Secures Silver In Olympic Debut Of Climbing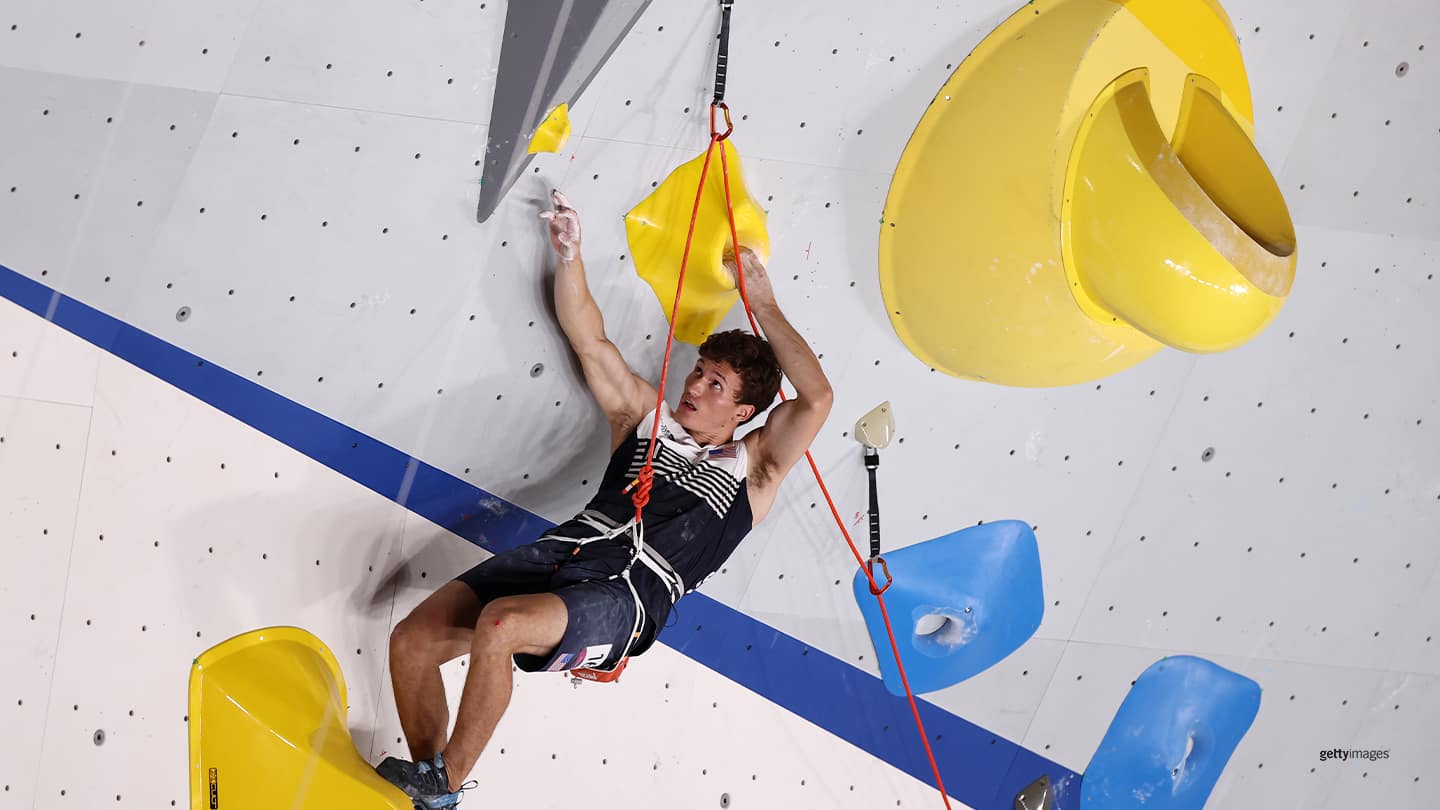 Nathaniel Coleman during the Sport Climbing Men's Combined Final at the Olympic Games Tokyo 2020 on August 05, 2021 in Tokyo, Japan.
From the moment climbing was announced as a new Olympic sport, Nathaniel Coleman set his sights on making the team.

Now, he's made history.

The 24-year-old from Salt Lake City who's been climbing since the age of 9 won the first-ever Olympic medal in the sport for the United States, claiming silver in Thursday's final at the Aomi Urban Sports Park in Tokyo. Colin Duffy, 17, who also made it to the men's final, finished seventh.

The Olympic format for climbing is unlike most competitions. Usually athletes specialize in one or two disciplines and can win medals separately, but in Tokyo it is the combined score from all three — speed, bouldering and lead — that determines the podium.

Coleman qualified in eighth — the last spot available — to make it into the final. He was 11th after speed and bouldering, his strongest of the three disciplines, but had a strong lead climb to squeak into the final.

On Thursday, he was sixth in speed. It's a discipline that makes for fantastic viewing, as climbers race one another side-by-side on identical courses up a 50-foot wall. It's not one that's practiced heavily in the U.S., however.

Bouldering, where Coleman usually excels, shows climbers' strength and problem-solving abilities as they try to complete insanely difficult "problems" that stick fairly close to the ground so climbers don't need ropes. On Thursday, he came through with the best finish in that event as the only climber to finish two of the three problems.

That left only lead climbing, where climbers ascend a 50-foot wall, clipping in their safety rope as they go. Coleman finished fifth, but when Austria's Jakob Schubert made it to the top of the route it ensured him the bronze, Coleman the silver and Spanish teenager Alberto Gines Lopez the gold.

During the medal ceremony, Coleman shook his head seemingly in disbelief, put his hands together in gratitude and examined both sides of the medal before putting it around his neck.

The women's final will be held on Friday, when Brooke Raboutou will look to become the first U.S. woman to medal in the sport. Kyra Condie did not qualify for the final.
Want to follow Team USA athletes during the Olympic Games Tokyo 2020? Visit TeamUSA.org/Tokyo2020 to view the medal table, results and competition schedule.
Karen Price is a reporter from Pittsburgh who has covered Olympic and Paralympic sports for various publications. She is a freelance contributor to TeamUSA.org on behalf of Red Line Editorial, Inc.