Sprint Canoer Nevin Harrison Qualifies For Tokyo At The ACA Sprint Olympic & National Team Trials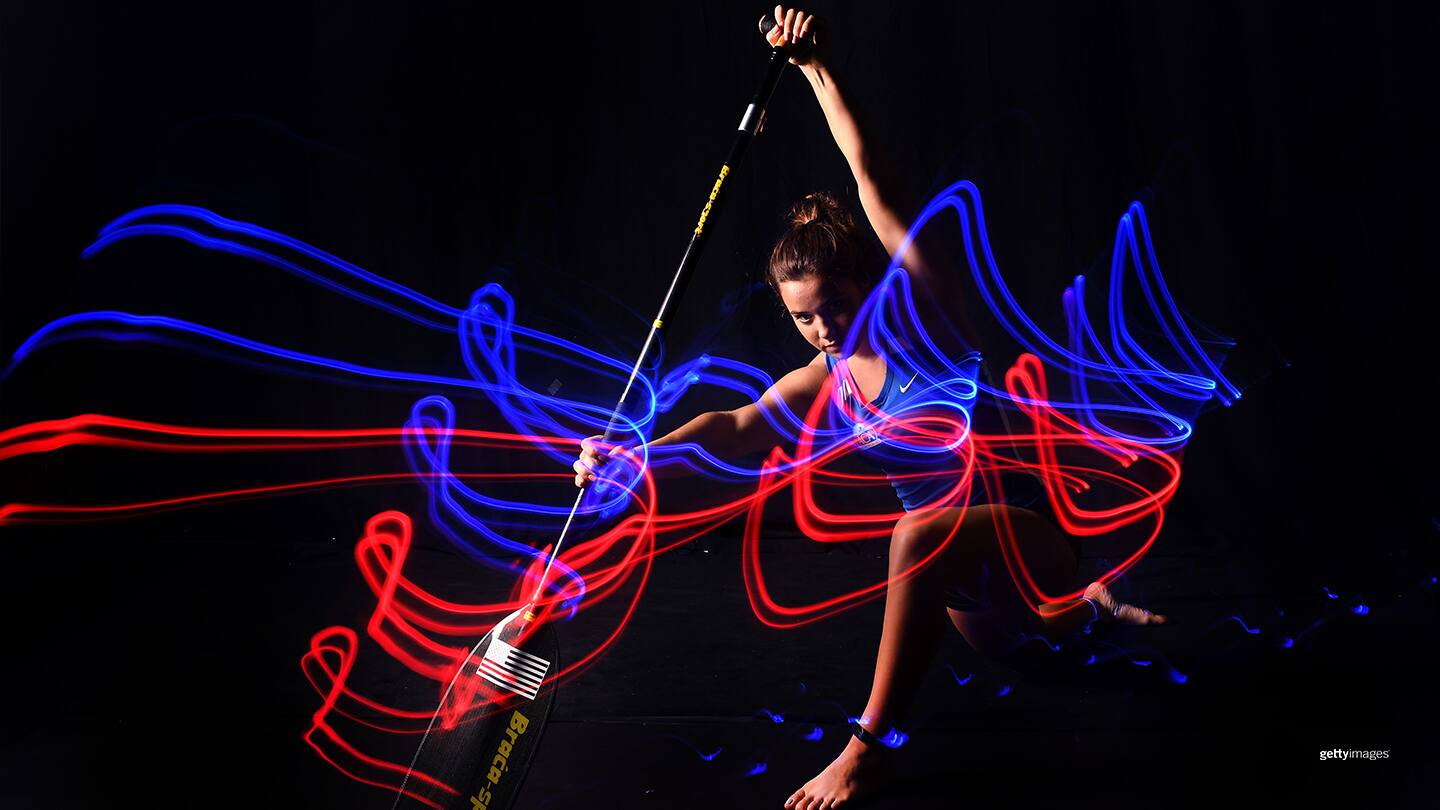 Sprint canoeist Nevin Harrison poses for a portrait during the Team USA Tokyo 2020 Olympic shoot on Nov. 22, 2019 in West Hollywood, Calif.
Nevin Harrison came into the ACA Sprint Olympic & National Team Trial with only one race under her belt in almost two years. And there was one race left to dominate to earn her spot at the Olympic Games Tokyo 2020.
After taking first in the women's C1 200-meter event at world championships in 2019, she secured a quota spot for Team USA for Tokyo. And with Friday's final, she was able to write her place among the Olympic team headed to Tokyo. Harrison also took first in the women's C1 500-meter race this weekend.
Pending confirmation of the quota by the International Canoe Federation, Harrison will make her Olympic debut — along with her sport — this summer. This will be the first time canoe sprint (previously called flatwater) will be sending the same amount of female athletes to the Games as men — thanks to the addition of women's canoe, which only became a world championship event in 2010.
It's easy to see why she had a lot of emotions going into this weekend.
"I think I was more nervous than I expected," the 18-year-old paddler revealed about her first race of 2021. "I haven't raced the other girls within the U.S. in almost two years, so it was a little nerve-wracking."
She recently admitted to Team USA that she tends to cry before competitions — as a way to "release some anxiety and nerves." But this time she said the waterworks before the race were for another reason.
"This is embarrassing; I got a little emotional during the national anthem because hopefully they're going to be playing this in Tokyo."
The realization that she will be going to Tokyo is "a dream come true," she said, but to think of the red, white and blue flag going up in honor of her podium finish was too much to keep inside.
And with official word today that no international spectators will be allowed in Tokyo, Harrison was thrilled to have her mom in Sarasota, helping out as the announcer.
"I got to listen to her voice and know, mom's there," she said. Because of the coronavirus, the two had not seen one another in person in months.
National team canoe sprinter Stanton Collins was another athlete struggling to keep his emotions — and his boat — in check.
"This was a tricky race for me because it was the first time I raced since 2019," the 26-year-old admitted. "Getting back in racing mode was tough for me to do after such a long break."
Lining up for the men's K1 200m, he shared how he jumped the gun and started paddling a bit too early.
"Because there's a gate there, the boat bounced backwards. I was probably a half a boat behind," he said about the start, "because I was moving backwards when everyone else was moving forward."
Thankfully he said he was able to calm himself down and quickly got to work trying to move back up in the race.
"Luckily my middle pace and my finish pace was enough to pass everyone before the finish," he said about his winning race.
With no other quota spots confirmed for Tokyo yet, the top two boats in each event at trials gained a place on the national team. And the first place finishers will go on to compete in May at the 2021 ICF Canoe Sprint World Cup in Russia to try to earn the remaining Olympic quota places.
For sprint kayaker Shaye Hatchette, who took first in the women's K2 500-meter and second in the K1 200-meter, Russia will mark her first international race ever.
"I'm still kind of new to the sport," said the former gymnast who was one of the winners of "The Next Olympic Hopeful" in 2018. "In August it will be three years, so to be able to get this race experience was good for me," she said. "Just being able to go down the course again in a competitive atmosphere."
Harrison couldn't have agreed with her more, "I was just really, really excited to do the race we've all been talking about for so long."
Click here to see the full list of winners from the ACA Sprint Olympic & National Team Trial.
Lisa Costantini is a freelance writer based in Orlando. She has covered Olympic and Paralympic sports for various publications, and has contributed to TeamUSA.org since 2011.