Nevin Harrison Wins First Ever Olympic Gold Medal In Women's Canoeing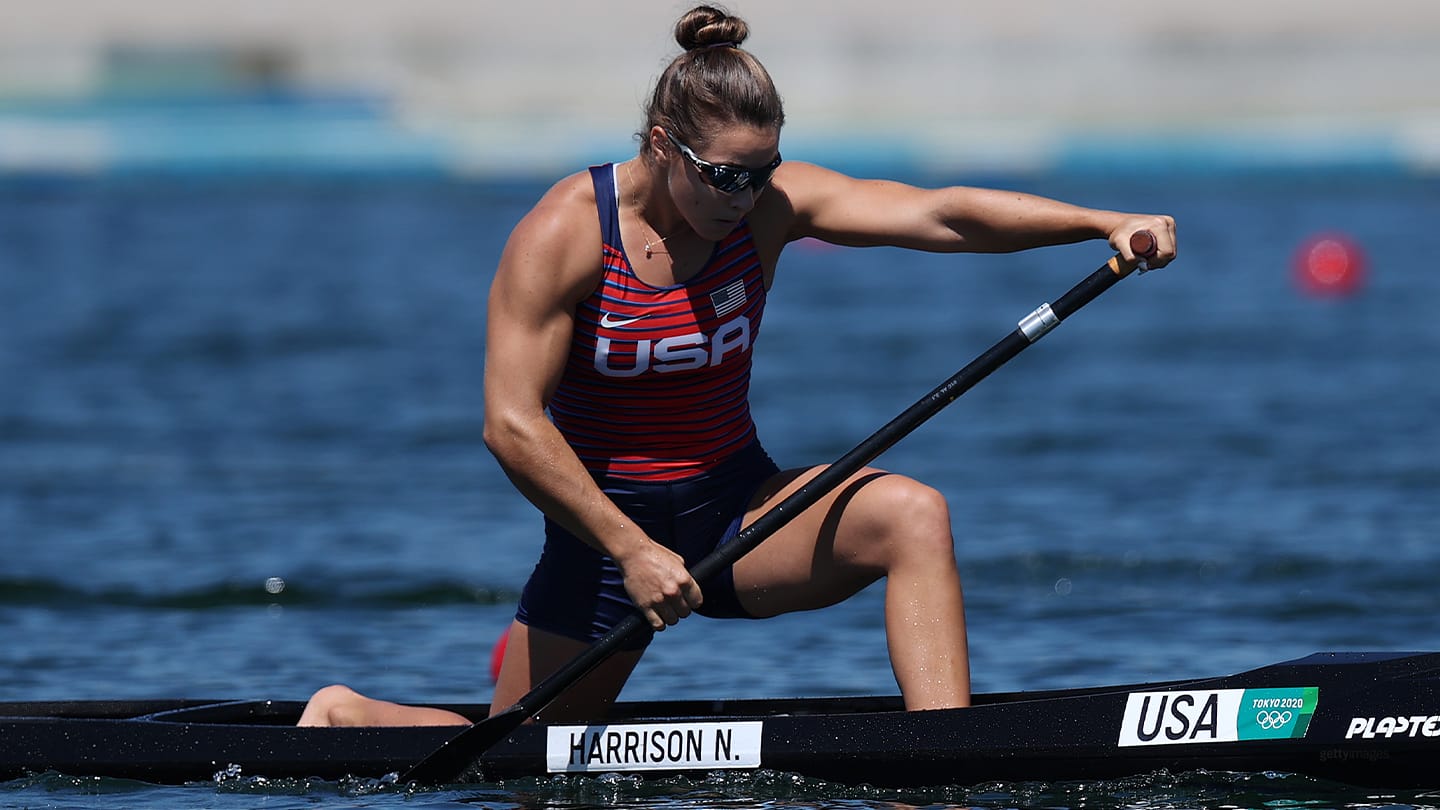 Nevin Harrison competes in the women's canoe single 200-meter semifinal at the Olympic Games Tokyo 2020 on Aug. 5, 2021 in Tokyo.
After becoming the first American world champion in sprint canoe in 2019, Nevin Harrison made even more history Thursday in Tokyo by earning the first Olympic gold medal in women's canoeing.
Harrison had the top time in the women's C-1 200-meter in her heat, semifinal and in the final, where she won in a time of 45.932 seconds. And she did it by beating one of the true greats of the sport, six-time C-1 200 world champion Laurence Vincent-Lapointe of Canada, by .854 seconds. Harrison got off to a fast start and never looked back, leading wire to wire. Liudmyla Luzan of Ukraine was third, 1.102 seconds back.

"I'm definitely still in a dream," Harrison said after the race. "This is crazy, I'm speechless … I'm so stoked. It's the perfect thing I could have asked for, I couldn't have asked for anything better."

Harrison's gold medal is the first Olympic canoeing medal of any kind for Team USA since Greg Barton took bronze at the 1992 Barcelona Games in the men's K-1 1000. And it was the first Olympic medal for a U.S. woman in canoeing — before 2020 all women's Olympic events were in kayaks — since 1964. It is just the fifth Olympic medal for Team USA in a canoe event and first since 1948.

"What a wonderful group of girls, amazing girls on that podium with me," Harrison said. "I'm really lucky. On our way out we gave each other a hug and said, 'We're making history.' Because we are, this is our first year and I'm so excited to be gold medalist for the first year, that's crazy."
Clean start, clean finish.

We can't get enough of this historic win by @nevin_harrison. #TokyoOlympicspic.twitter.com/RvDbVXdiXa


— Team USA (@TeamUSA) August 5, 2021
The 19-year-old from Seattle, Washington, originally dreamed of making her Olympic debut in track and field, but a hip dysplasia diagnosis led her to choose a lower impact sport.

"It taught me really young that you can't take for granted anything," Harrison said, "and it's given me a whole new perspective on life, everything, it makes this moment even better."

Harrison took up canoeing at the age of 12, and by 17, won her historic world championship. That title clinched the Olympic quota spot for Team USA in the event, a spot she then claimed for herself at the ACA Sprint Olympic & National Team Trial this past March. Harrison admitted to some nerves as she prepared for the biggest race of her career.

"It was scary, for sure," she said. "I just told myself, this is it, this is all the work coming together. Those 45 seconds really matter this time. I just gave it everything. I'm really happy with my performance. It's awesome."

Want to follow Team USA athletes during the Olympic Games Tokyo 2020? Visit TeamUSA.org/Tokyo2020 to view the medal table, results and competition schedule.
Todd Kortemeier is a sportswriter, editor and children's book author from Minneapolis. He is a contributor to TeamUSA.org on behalf of
Red Line Editorial, Inc.