Nevin Harrison Paddling Toward Sprint Canoe History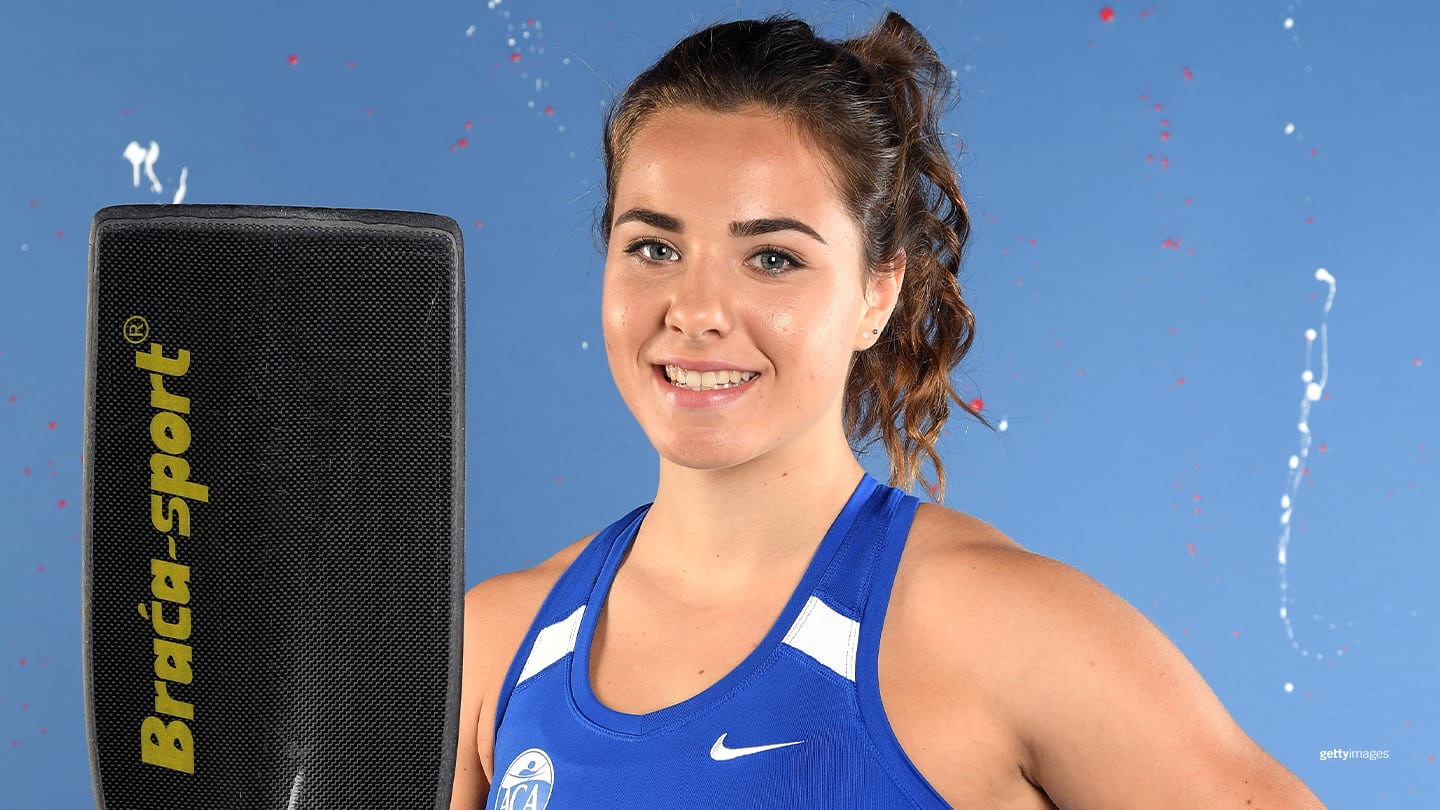 Nevin Harrison poses for a portrait during the Team USA Tokyo 2020 Olympic shoot on Nov. 22, 2019 in West Hollywood, Calif.
At first glance, Nevin Harrison's pre-race ritual is a bit disconcerting.

An hour or two before a major event, the usually chatty paddler finds a quiet corner, shuts everyone out, listens to calming music and … cries.

"I used to be really freaked out by the fact that I would cry," Harrison said. "My coaches were like, 'Oh no, she's going to blow it. She's crying.' But it's just something that allows me to release some anxiety and nerves. And then the second I get on the water it just totally shifts and I focus in."

Since 2019, any tears shed after Harrison's races have been tears of joy. She was only 17 when she became Team USA's first female sprint canoe world champion. With that victory in August 2019, Harrison earned a quota spot for the United States in the women's C1 200-meter event at the Olympic Games Tokyo 2020.

Now all she has to do is win next weekend at the ACA Sprint Olympic & National Team Trials in Sarasota, Florida, to claim that spot and compete at the Olympics this summer.

Might be time for another good cry.

"It's definitely going to be weird to get on a race course again, just because I was only able to race once in 2020, which is not enough," said Harrison, who won a world cup in Hungary last September. "If things all go as planned and I put down the times that I know I'm capable of, hopefully I shouldn't have any issues."

And if she reaches her potential this summer, Harrison could become the first female American Olympic gold medalist in sprint canoe (previously called flatwater). She would also be the first Team USA Olympic champion in sprint canoe or kayak since kayaker Greg Barton won two golds in 1988 and the first U.S. woman to win a medal of any kind in the sport since Rebecca Giddens took the silver in slalom in 2004.

"I would say 'terrified' is a really good word," Harrison, now 18, said to describe her feelings about the Olympics. "It's been my dream since I was a kid to compete at the Olympics.
I'm hoping I can live up to what I know I can do. The amount of pressure is going to be ridiculous, and I'm just hoping to not disappoint myself or anyone else."


New Event on Olympic Program
As if that's not enough stress, women's canoe will be in the spotlight, making its Olympic debut as the Games move toward gender equity. Women's canoe did not become a world championships event until 2010. Kayaking, though, has been an Olympic sport for women since 1948.

"I've always tried to use the platform I have to advocate for women's rights as much as I can," Harrison said. "Being in a sport like canoe where men have been competing for almost a century (since 1936) and this is our first Games is huge. It's so exciting to be a part of this group of women who are making change and making things better within our sport by making it equal."

And to think it's been only six years since Harrison first climbed into a canoe at age 12. She was at a sailing camp near her home in Seattle when the counselor, a former national team paddler, thought she might like to try something new on her final day.

"I got in the boat and it totally clicked," Harrison said. "I wasn't very good at it, obviously, because the boats are so tippy and it's so tough to properly do it your first time, but I made it out maybe 100, 200 meters.

"And I remember her yelling, 'You're going to be a world champion someday,' It was crazy. And I was just like, 'You know maybe I will be,' and it just kind of stuck. I kept doing it, and I kept loving it and meeting amazing people and gradually year by year I climbed the ladder and made it here."

Harrison has stayed in touch with that counselor, though so far she hasn't offered any other predictions.

Originally, Harrison had hoped to do all her sprinting on the track. She saw herself competing for a collegiate track team.

"I'm sure I was not anywhere near good enough for going to the Olympics," Harrison said. "I loved track, but I have hip dysplasia, and when I was diagnosed with that, they pretty much said that running was going to be really, really hard and it was going to cause me constant pain."

She needed to pick a sport that didn't hurt, and the technical aspects of paddling both intrigued and frustrated her.

Quest to be the "GOAT"

Because Harrison was too new to the canoe/kayak world to have role models, she grew up admiring track athletes like Allyson Felix and Usain Bolt and gymnasts such as Gabby Douglas.

"I think it always amazed me how certain athletes were so dominant, and it inspired me to one day be the greatest of all time," Harrison said. "Those names in each sport - you think of gymnastics, you think right now of Simone Biles. You think swimming, you think Michael Phelps. I always wanted to be the person where when you think of the sport, you think of me.
"Obviously I'm a long way away from that, but the idea of being the best the world had ever seen was something that I always wanted, but I didn't really know how I was going to get there. I'm hoping I'm on the path towards that, but you never know."

Harrison's coach, Zsolt Szadovszki, saw reflections of greatness the first time he saw her on the water at the 2019 Pan American Games in Lima, Peru.

Szadovszki, a two-time silver medalist in sprint kayak at the 1998 World Championships, is from Hungary, where the sport is extremely popular. He remembers being amazed by the way his teammate, Olympic gold medalist Gyorgy Kolonics, would go into a zone as soon as he started paddling. Tragically, Kolonics died of heart failure at age 36 as he was getting ready for his fifth Olympic Games in 2008.

"When Nevin pushed herself off of the dock and started making a couple of strokes, I had goosebumps," Szadovszki said, "because I saw my friend and my teammate. I always thought that man had not just joy, but something special - not just with the sport, but with the water, with the boat, with everything. I just thought, 'Yes. Whatever she's doing - she's really young -she does have that connection."

After winning the Pan Am Games, Harrison went on to win the world championships by a margin of .44 seconds in Szeged, Hungary, and then took the bronze in the Olympic test event.

She's still not quite sure how she did it, but figures hard work had a lot to do with it.

"I dropped something crazy like 3 seconds in a 200-meter within that year," Harrison said. "I just went from being an OK junior to winning the senior division, which was unheard of. I'm astounded that I won the world championships in 2019. Still, to this day it didn't really completely make sense."


Making a Big Move
In early 2020, Harrison moved across the country to Gainesville, Georgia, to begin working with Szadovszki full-time at the 1996 Olympic venue at Lake Lanier.

However, neither was happy with her performance in winning that lone race of 2020, the Canoe Sprint World Cup in Szeged.

After an uncharacteristically poor start, Harrison, who usually races from the front, had to play catch-up. She won with a time of 45.77 seconds, defeating Liudmyla Luzan of Ukraine by .02.

"I told her after the race, 'You just made my life probably a few years shorter. Let's never do this again,'" Szadovszki said.

And yet he was impressed. "She is a fighter," Szadovszki said. "It's really rare when somebody can provide the best performance under pressure."

To avoid shortening her coach's life any further, Harrison has been working on her start. She is also fine-tuning her technique under Szadovski's tutelage.

"I've shifted around the way I apply my power throughout the stroke," Harrison said, noting that compared to 2019, "I look like a completely different paddler. I used to bend my arm a lot because I had really strong biceps so I just wanted to muscle my way through.

"What I've been working on is to have full body extension and be able to access all that power that I have without shortening my stroke because I'm tired or nervous. I'm just trying to stay really consistent whether I'm all-out sprinting or doing a longer piece."

Szadovszki said they aren't really changing Harrison's technique; they are taking the best elements from paddlers around the world and "creating a Nevin Harrison technique," he said, "and people are going to start studying that. I see a limitless future."

After the trials, the coach plans to invite some of Harrison's competitors to his next camp. "I'm hoping they're not going to look at her as an enemy," Szadovski said, "that they are willing to train with her."

If not for the Tokyo postponement, Harrison had a chance at becoming the youngest Olympic champion in canoe/kayak history, eclipsing Birgit Fischer, who was 18 years and about 5 months when she won her first gold medal for East Germany at the Olympic Games Moscow 1980. The record-breaking kayaker won her last gold medal for Germany at age 42.


Pandemic Puts Plans on Pause
Instead, if Harrison prevails at the trials, she will arrive in Tokyo after turning 19 on June 2. The pandemic-forced postponement has also rocked the boat as far as her college plans. She was planning to start at the University of California, Berkeley last fall, and then go on to medical school.

"It's kind of given me a chance to step back and look at my life and sort of rediscover what I feel like I'm meant to do," said Harrison, who recently picked up surfing and fell in love with it. "It gave me a lot of time to not only get better at training, but also have a deeper understanding of myself, which I think at the end of the day is going to make me a better athlete."

For the past couple of months, she has been training near Tampa, Florida, where Szadovszki found a home on a private lake where the athletes can be isolated.

"It's been kind of a fun dynamic being the only girl in the house," said Harrison, who currently lives with six male athletes. "I definitely keep them in check, but we have a lot more fun than I'm used to having at training camps."

She's been baking for them – a chocolate mousse cake is her specialty – and they have been teaching her how to fish.

"I'm thinking about maybe after the Olympics starting some sort of food blog," Harrison said. "As of now, I don't have time to do that."

If the conditions are right this year, she hopes to break the world record in C1 200m of 44.504 seconds set by Canada's Laurence Vincent-Lapointe in 2018. Harrison has never raced Vincent-Lapointe, who missed the 2019 world championships after a positive doping test. The Canadian was found to have unknowingly ingested an illegal substance and was cleared to return to competition.

Harrison said that going at top speed "is like riding a horse, but on water." And she's providing the horsepower.

"Sometimes when I'm on the water," she said, "I remember how frustrating it was to be 13, 14 learning how to do this, and just feeling so incapable and so slow and seeing the older girls on my team going so fast and being amazed by how they were able to go in a straight line. I think about it and I'm like, 'Wow, I do this with such ease - 12-year-old Nevin would be amazed!"

And yet Harrison knows that the expectations have also gone in a straight line – straight up.

"I know that I put more pressure on myself than anyone puts on me," she said, "so I try to calm myself down and say, 'Don't worry Nevin, nobody cares about this as much as you do.'"

And then she cries, which does help her feel better.

Szadovszki isn't concerned by Harrison's expression of emotion, which he saw in former teammates who wound up performing well.

"I think it's a process, which I'm not going to touch," he said. "She's going to come out of a dark corner with her music on, and if she needs to cry, cry. It's fine. If it works, it works. As soon as it doesn't, we're going to talk about it. Some people run and hug trees. I was one of them. I remember we had a psychologist and she said, 'Go and hug trees.' I'm not sure if it worked."

Now that's a crying shame.
Karen Rosen has covered every Summer and Winter Olympic Games since 1992 for newspapers, magazines and websites. Based in Atlanta, she has contributed to TeamUSA.org since 2009.