Tokyo 2020 and Team USA Close Out A Successful & Unprecedented Olympic Games
Flag bearer Kara Winger at the Closing Ceremony of the Olympic Games Tokyo 2020 on Aug. 8, 2021 in Tokyo.
TOKYO — The weather on the final day of the Olympic Games Tokyo 2020 was a metaphor for these Games. With the Closing Ceremony looming in Tokyo's open-air Olympic Stadium, a typhoon was unleashing torrential rain on the city.

But as evening approached, the rain stopped and skies cleared, and a warm evening welcomed the athletes to the Closing Ceremony. Just like Tokyo had warmly greeted the athletes (and all Games participants) in the previous weeks.

The Games had been postponed for a year due to the Covid-19 pandemic. But the postponement is now, thankfully, a memory.

After 17 days of tough competition — and many months of uncertainty leading up to the Games, plus stringent restrictions and regular Covid-19 testing for all participants — the Closing Ceremony was a celebration that Tokyo had pulled off a successful Games. With a park-like setting, the ceremony offered a communal place for the athletes to relax and celebrate.

And U.S. athletes have much to celebrate. Team USA tallied 113 total medals, the most of any nation at the Tokyo Games, and the most gold medals, with 39 (one more than second-place China). Although it was not the most medals ever, or the most golds (the Rio Games still hold that honor), Team USA athletes scored many milestones.

With a silver in the team event and bronze on the balance beam, Simone Biles tied Shannon Miller as the most decorated U.S. gymnast in Olympic history, with seven medals. … Five-time Olympian Allyson Felix became the most decorated American track and field athlete, winning two more medals in her final Olympic Games. … Delaney Schnell and Jessica Parratto won the first medal for the U.S. in synchronized platform diving. … American teen Nevin Harrison won the first gold medal in women's canoe/kayak. … At the Izu Velodrome south of Tokyo, Jennifer Valente became the first U.S. woman to win a U.S. gold medal in track cycling. … And Caeleb Dressel won five Olympic gold medals — the most of any American here in Tokyo — and set two world records in the pool.

To name a few.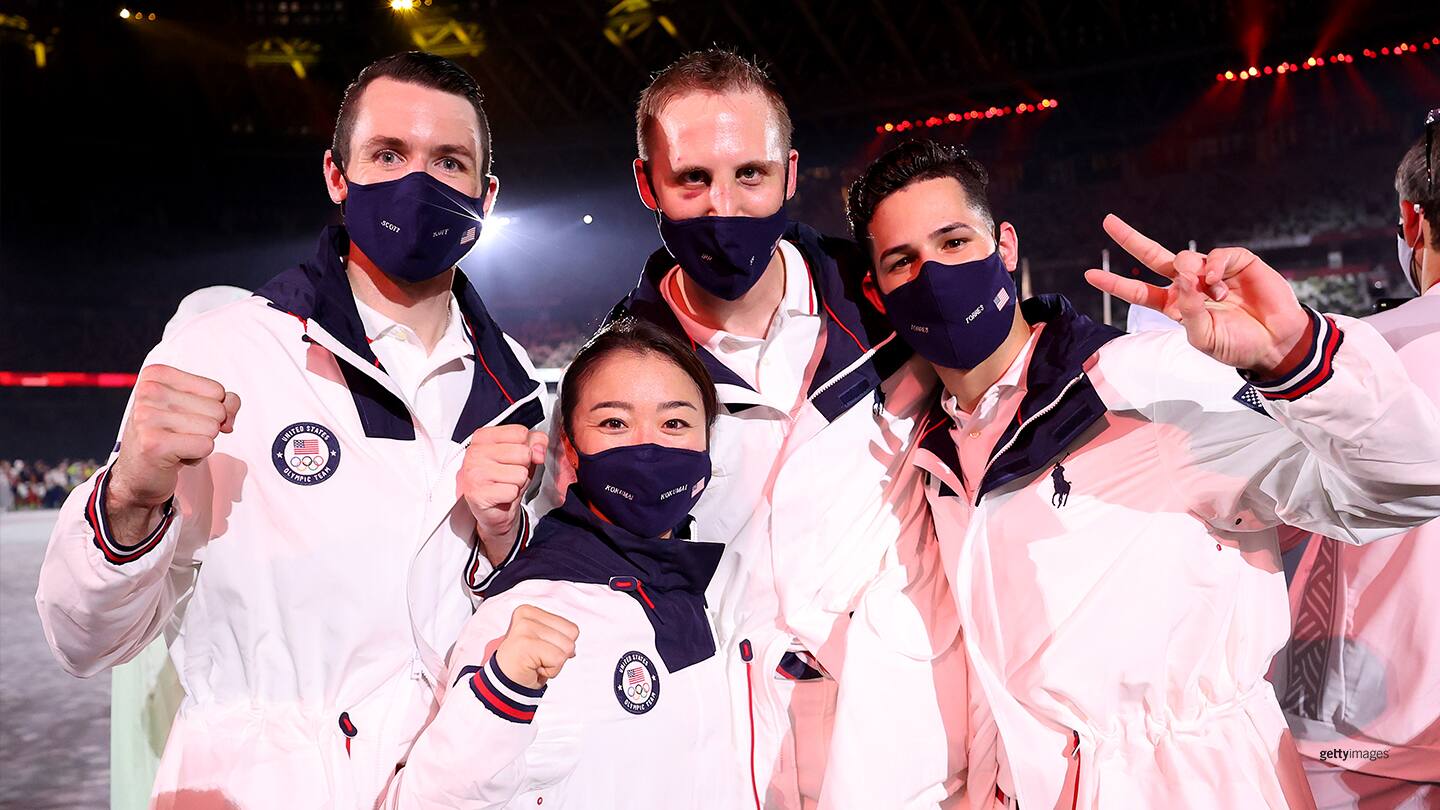 Members of Team USA pose at the Olympic Games Tokyo 2020 on Aug. 8, 2021 in Tokyo.
Notably, of the 257 American athletes who are taking home Olympic medals, two-thirds of them are women — a testament to Title IX and the continued fight for gender parity in sports. An example: the U.S. women won five Olympic gold medals in track & field, the American men claimed two.

"It's awesome," said Felix after she helped the U.S. women win the 4x400 women's relay. "The women showed up, and I think we've been showing up on the track and off the track in all of the ways."

Fueling the American medal haul is a collegiate system that offers world-class sports; 82 percent (210 of 257) of American medal winners competed collegiately.

Diving is a perfect display of the power of NCAA competition. The five U.S. athletes who won medals in Tokyo all came up through collegiate diving programs. This past year, with most diving competitions canceled or postponed due to the pandemic, college students like Schnell still had access to world-class facilities and regular competitions.

Then there were the new sports and events that made their Olympic debuts in Tokyo — like surfing, skateboarding, and sport climbing, plus mixed gender relays. In these new events, U.S. athletes won 10 medals, including two gold.

Fittingly, Carissa Moore brought gold home to Hawaii in surfing. And the American women competing in the new 3x3 basketball event showed that hoops — no matter the game — belongs in the U.S. (earlier today, the U.S. women's traditional basketball team won its seventh consecutive gold medal).

Of the 626 athletes representing Team USA in Tokyo, the ages of the medalists ranged from 17 (Lydia Jacoby, gold and silver medalist in swimming) to 56 (Steffan Peters, an equestrian who won silver in dressage).

"Everyone has overcome so much, and we have been so inspired by all of these dominant performances across the board," said Felix. "Tokyo has been an amazing host, and I'm grateful to have participated. There are so many young girls and boys looking up to Olympic athletes, it's a very neat cycle to be a part of, and very humbling."

Beyond records and medals, the Tokyo Games will be remembered for one that took enormous effort and world-wide collaboration to safely hold.

After the U.S. men's 4x100 medley relay team won gold and set a world record in the pool, the four men — Dressel, Zach Apple, Ryan Murphy, and Michael Andrew — held up a banner that read, "Thank you, Tokyo."

"It's just something we wanted to do as a team," said Apple, who anchored the team to gold. "Eighteen months ago, I don't know if any of us thought we would be here, let alone finishing on a high note. And there's just so many people that put so much work in to make this happen. The games is a huge undertaking, and then to plan it during a pandemic is mind-boggling."

To recognize the effort involved, Games volunteers were recognized during the Closing Ceremony as the athletes looked on — a symbol that the Games are as much about the people who make them and those who participate as those who win medals.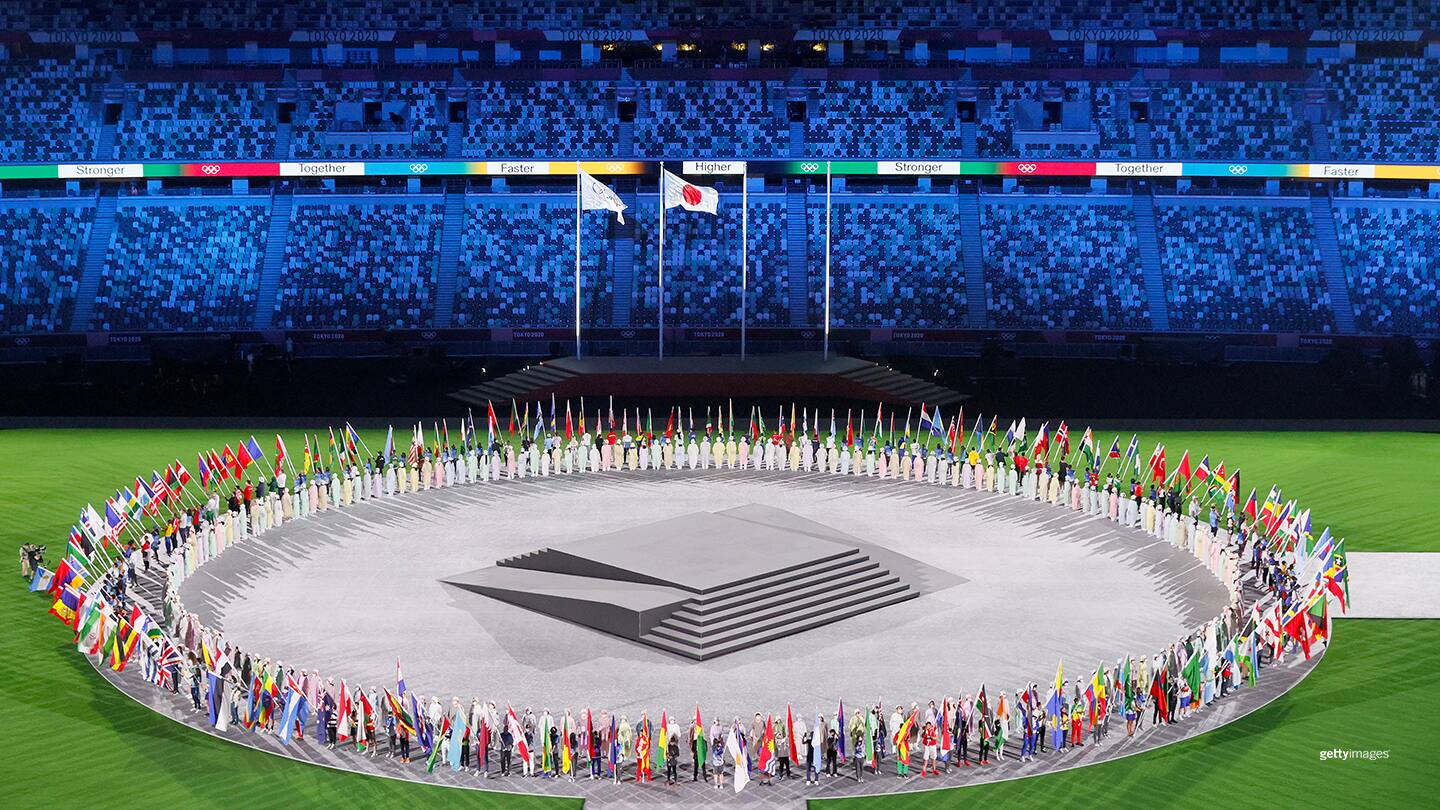 Flag bearers enter the Closing Ceremony at the Olympic Games Tokyo 2020 on Aug. 8, 2021 in Tokyo.
Faster. Higher. Stronger…. Together.

Team USA's flagbearer for the Closing Ceremony was four-time Olympian Kara Winger. One of two captains for the U.S. track and field team in Tokyo, Winger placed 17th in the javelin competition in Tokyo, marking her second-best career performance at an Olympic Games.

The ceremony was an expression of gratitude too — to the athletes, staff, and volunteers who came together to make the Games successful.

Zach Apple summarized it best — his words likely felt by all the athletes who competed in Tokyo.

He expressed the team's thanks to everyone who made Tokyo 2020 happen: "bus drivers, janitorial staff, everyone is a key part of making sure this Games happened."

"We're just so thankful to everyone who put in the work to make sure that this did happen," he said. "We just can't be thankful enough that they did that work and that we are here. Thank you. Thank you, everyone."
Want to follow Team USA athletes during the Olympic Games Tokyo 2020? Visit TeamUSA.org/Tokyo2020 to view the medal table, results and competition schedule.
An award-winning freelance writer based in Vermont, Peggy Shinn has covered six Olympic Games. She has contributed to TeamUSA.org since its inception in 2008.