Dating Sprinters Hunter Woodhall And Tara Davis Stay Connected Through Trials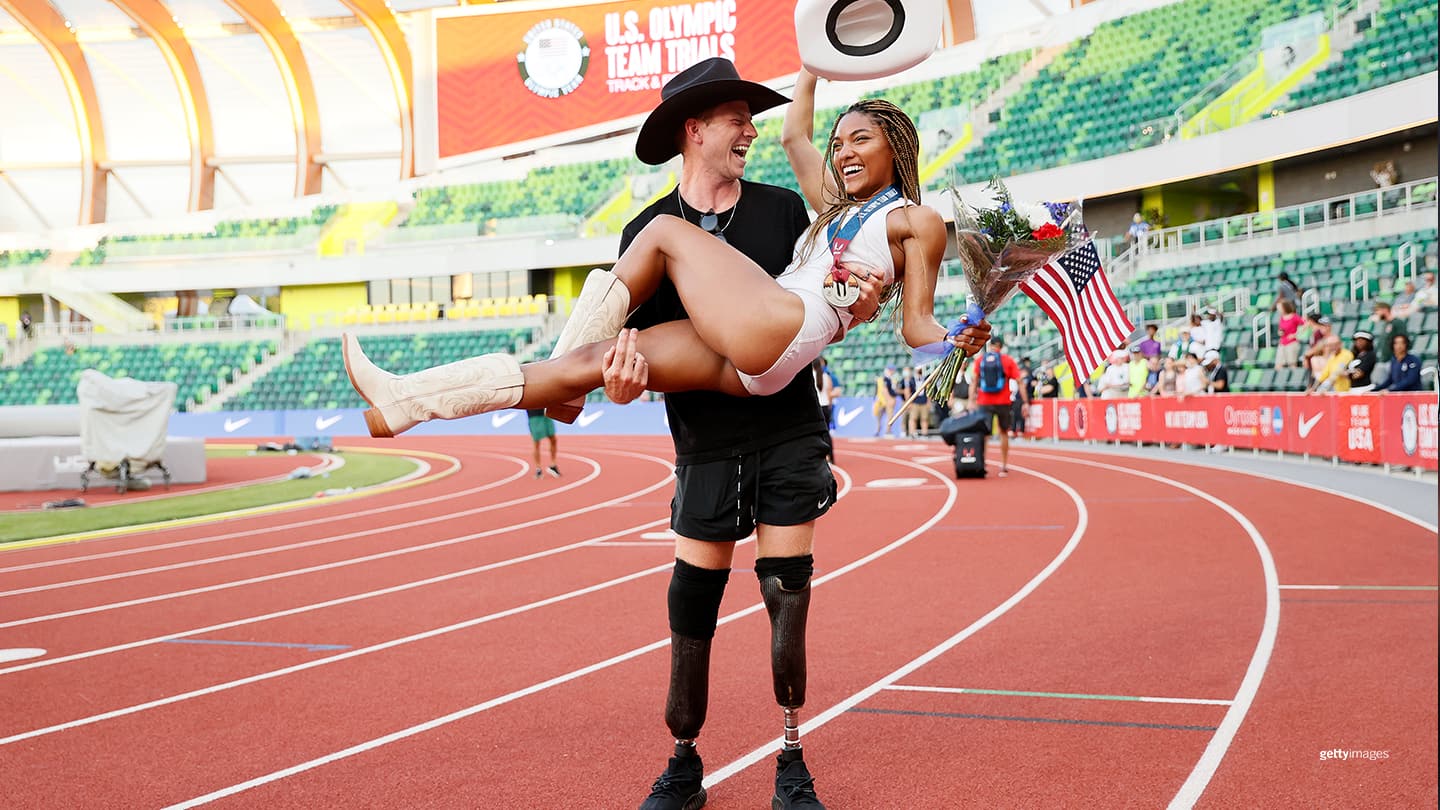 Tara Davis celebrates with boyfriend and Paralympian Hunter Woodhall on day nine of the 2020 U.S. Olympic Track & Field Team Trials at Hayward Field on June 26, 2021 in Eugene, Oregon.
After two-time Paralympic medalist Hunter Woodhall ran a season-best 11.04 seconds in the 100-meter T62 sprint at the U.S. Paralympic Team Trials for Track and Field on June 18 in Minneapolis, he picked up his phone and FaceTimed his girlfriend immediately upon stepping off the track.

Tara Davis was already on the other side of the country, preparing for the long jump competition at the U.S. Olympic Team Trials in Eugene, Oregon.

Woodhall and Davis, who train at the University of Arkansas and University of Texas, respectively, are accustomed to regular FaceTime calls at all moments in time to keep their long-distance relationship strong.

"We're used to it at this point. It's been four years of distance, so we've gone through a lot," Woodhall said. "But at the end of the day it's our support group. I'm here for her and she's here for me. Just after my race we were on the phone excited about it and then after Trials, I'm flying straight to Oregon to be with her at her Trials and watch her make the Olympic team."

Woodhall would learn on the following Thursday that he officially made the U.S. Paralympic Team. Then two days later, it was Davis' turn. With jumps of 7.04 meters and 7.02 meters in the finals, Davis finished second and thus secured her first Olympic Games. And Woodhall was there to congratulate her.

"TARA LANE DAVIS YOU ARE AN OLYMPIAN," Woodhall wrote on Instagram alongside a photo of the two embracing on the track. "I am so unbelievably proud of you, not just for what you did out there last night but for who you are."
Davis posted a photo of her and Woodhall as well, captioning it simply, "WE'RE GOING TO TOKYOOOOO."
In Tokyo, Woodhall is expected to compete in both the 100 and 400; at the last Paralympic Games in Rio he won silver in the 200 and bronze in the 400. While he's no longer competing at the NCAA level — he turned pro in January — he's still training with the Arkansas team, having adjusted his schedule to peak at Trials and the Games as opposed to indoor and outdoor collegiate nationals.

Davis was competing in her second Olympic Trials after finishing 19th in the long jump in 2016. She has held the American junior record in the event since 2017 and earlier this season broke Jackie Joyner-Kersee's collegiate record set back in 1985. Davis is also No. 2 at the junior level in the 60-meter hurdles.

"I can't put into words how I'm feeling right now, there just are so many emotions," Davis said to the website of the University of Texas, where she was an NCAA indoor and outdoor national champion. "I say it all the time, I didn't think I was going to be here. I was going through so much I just didn't ever think I was going to be at the Olympic Trials. But here I am, and I was so grateful for the opportunity, and I took advantage of it."

The couple, both 22, have been chronicling their journeys in their own YouTube channel, and Woodhall, a TikTok star who has more than three million total social followers across all his platforms, has been profiled by the likes of the New York Times and "The Ellen DeGeneres Show."

The first double amputee track and field athlete to have earned a Division I athletic scholarship insists there will be as many reasons to follow the Para track and field athletes like himself in Tokyo, as the Olympic athletes like Davis.

"The biggest reason to tune in is because of the stories that come along with the Paralympics — things that people have had to fight through and go through just to be here," he said. "At the end of the day we are all humans and all in the same field. If people can come out here and compete after the things they've gone through and still be chasing their dreams, that shows that everyone's on the same level."
Stuart Lieberman has covered Paralympic sports for 10 years, including for the International Paralympic Committee at the London 2012, Sochi 2014 and PyeongChang 2018 Games. He is a freelance contributor to TeamUSA.org on behalf of
Red Line Editorial, Inc.