Tokyo Bound: Meet The U.S. Women's Gymnastics Team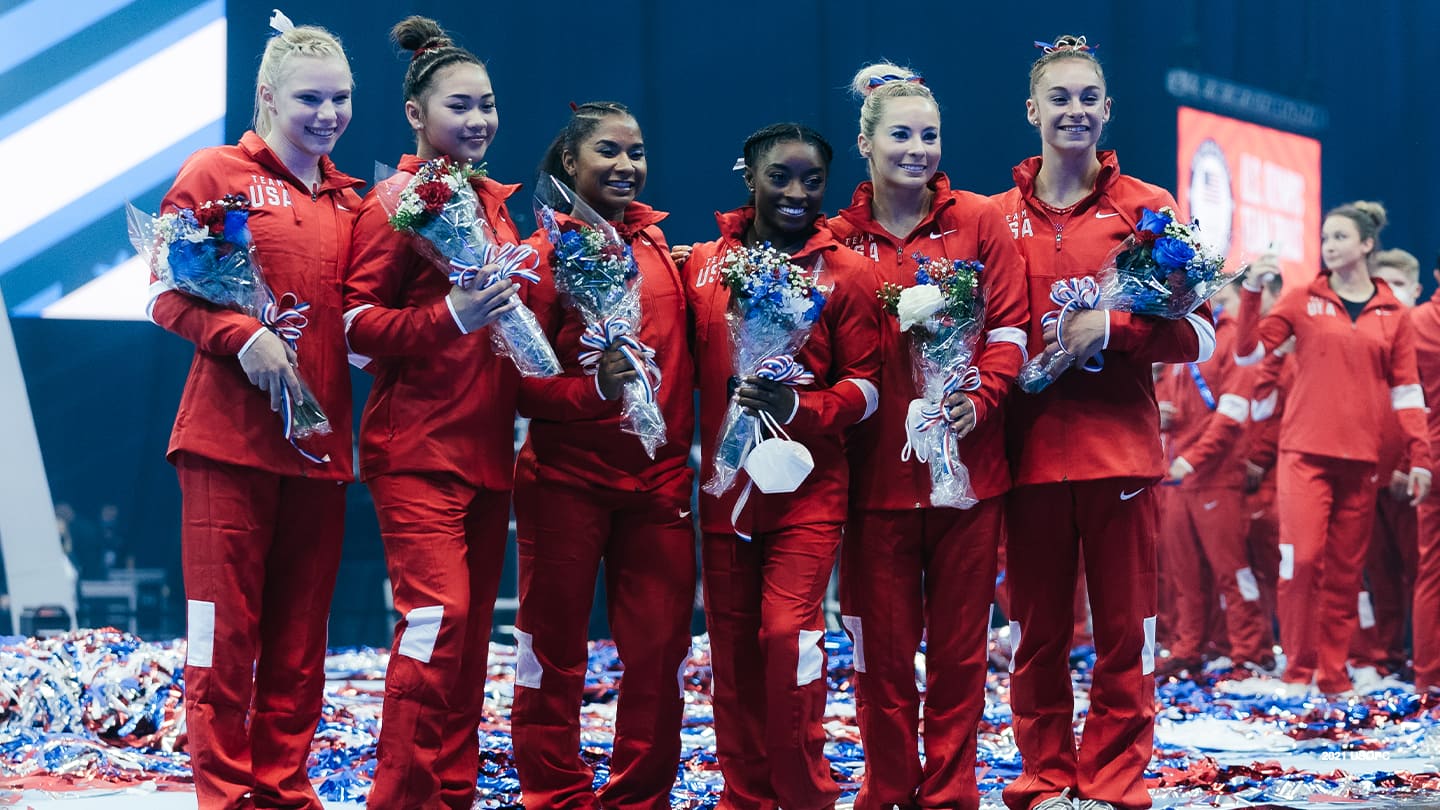 Jade Carey, Sunisa Lee, Jordan Chiles, Simone Biles, Mykayla Skinner and Grace McCallum pose for a photo after being named to the U.S. Olympic Team on June 27, 2021 in St. Louis.
ST. LOUIS - The U.S. women have dominated international gymnastics for the last decade-plus. Now we know the six women who will look to extend that reputation at the Olympic Games beginning next month in Tokyo.

Simone Biles, so good she's got a goat — Greatest of All Time — bedazzled onto her slippers, is headed to her second Olympics alongside Sunisa Lee, Jordan Chiles and Grace McCallum. In addition, Jade Carey and MyKayla Skinnerqualified for Tokyo as individuals.

The full contingent was introduced following the conclusion of Sunday's competition at the U.S. Olympic Team Trials in St. Louis.

Since winning the team silver medal at the 2008 Olympics in Beijing, the U.S. women are undefeated in the Olympic and world championships team competitions, a combined seven victories. The winning streak goes even longer in the individual all-around, with a U.S. woman having won every Olympic gold medal since Carly Patterson in 2004, and 10 of the 12 world titles during that span.

Those streaks are expected to continue in Tokyo, while the six American women should also be favorites to come home with a handful of individual medals, too.

Here's a look at the squad.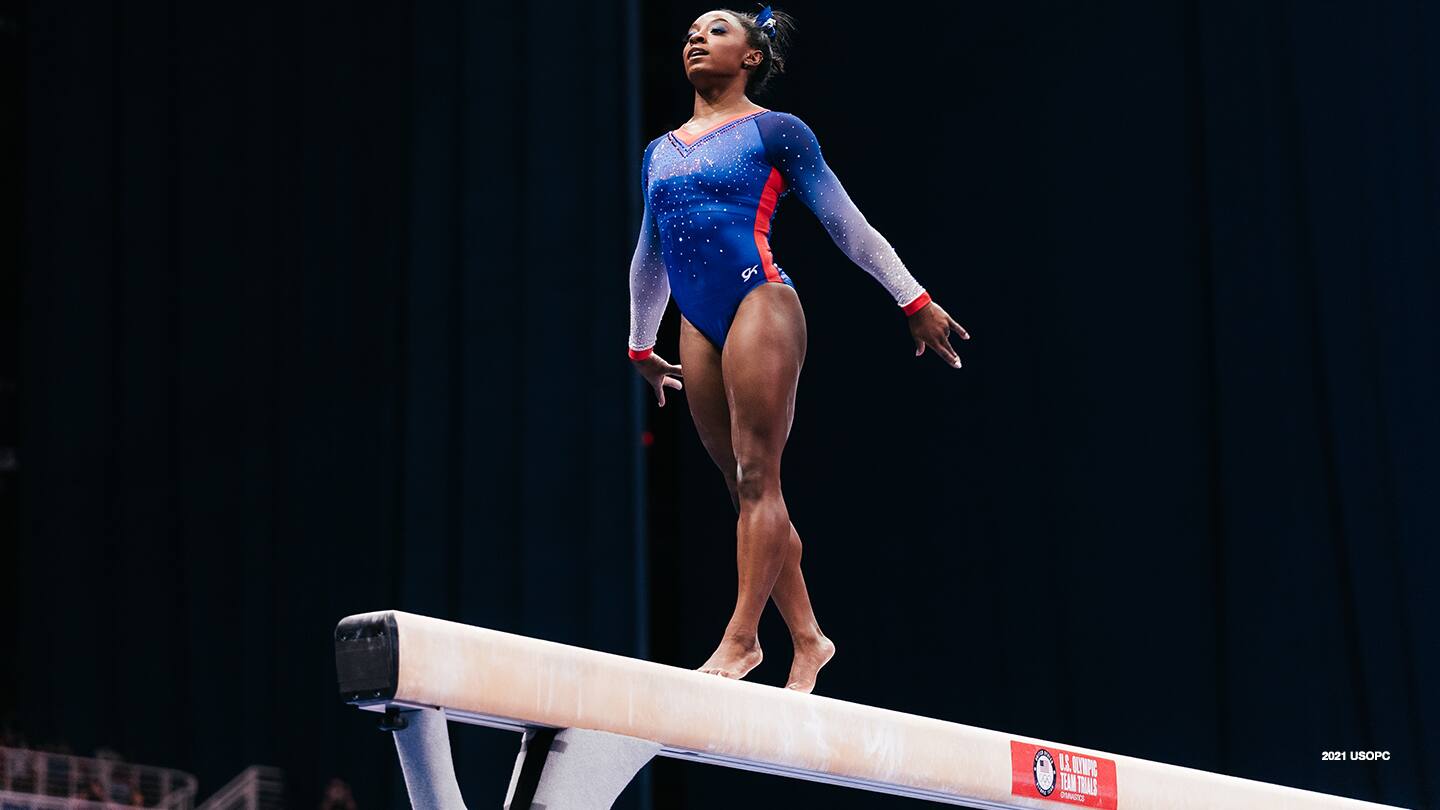 Enjoy her while you can. There's simply no one likes Biles — possibly ever.


So-called "four-year fans" will remember her stunning performance at the Rio Games, where she won four gold medals and a bronze. What you might not know is that gymnasts also compete in the world championships, and at five of those the 4-foot-8 Texan has won 19 more gold medals and a record 25 of any color. She also hasn't lost an all-around competition of any kind since 2013.


It's not the medals that set Biles apart, though. It's her ability to perform bigger skills than anyone else, and to hit them with near flawless execution. Her Cheng vault is one of the most difficult in the world, and yet the 24-year-old flies off her block like a bouncy ball, spins through the air with total control and more often than not lands it with just the smallest of hops.


In gymnastics, the first person to perform a particular skill at a major championship gets that skill named for her. Biles has four already — two on floor, one on beam and another on vault. She could get another vault if she breaks out the Yurchenko double pike in Tokyo. She's already hit it at the national championships three weeks ago.


Some gymnasts are good enough to win on the day; Biles is simply better than everyone else. Barring an injury or some sort of catastrophic error she will be the overwhelming favorite to win the all-around, floor and vault titles in Tokyo, and you can probably add balance beam to that list too. Even her weakest event, uneven bars, has the potential to make the podium, as it did in 2018 when she won a world silver medal. This otherworldly ability showed at the trials on Sunday, where Biles was far from her bet and yet still overwhelmingly won the title.


Don't just count her medals, though. Sit back and watch her opening tumbling pass on floor, which she punctuates with one of those moves named for her — the triple-double. She's still the only woman in the world who can do it, and yet her amplitude, form and control make it look like she's hardly breaking a sweat.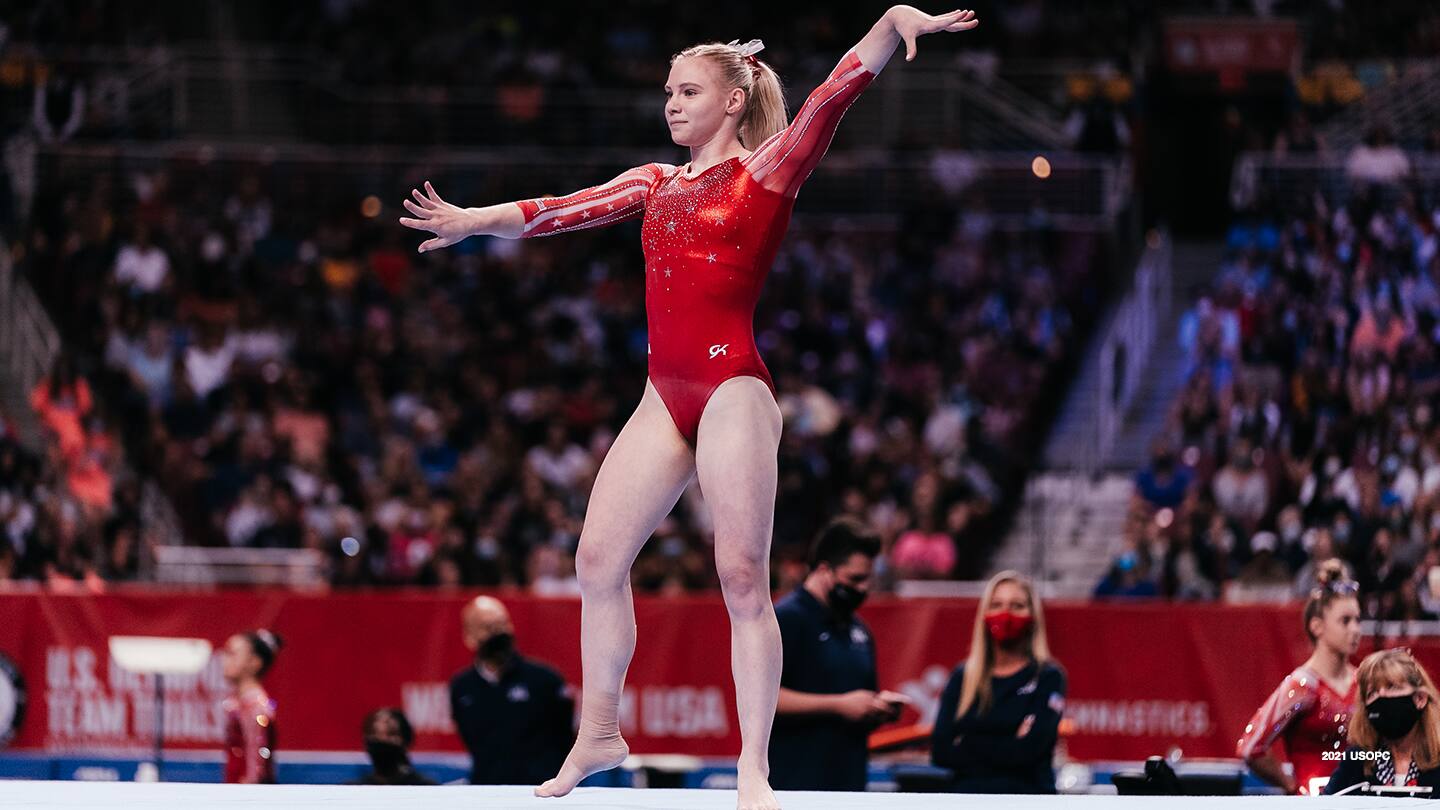 When a pathway opened for gymnasts to qualify for the Tokyo Games individually, and by name, Carey took it. All she had to do was win one of the apparatuses across the world cup circuit. The move made perfect sense for Carey at the time. After going from the lower-level Junior Olympic level to world championships medalist in the span of a year, her best shot at the Tokyo Games appeared to be as a specialist on her main events: floor and vault. Then she went out and did it, winning both world cup titles — all she needed was one.


Along the way, though, something funny happened. Suddenly Carey wasn't just a two-event specialist; her all-around scores were putting her squarely in the mix for the four-person team. This presented a problem. If she was selected for the team her individual spot would go to another country. A minor crisis was averted when the Arizona native confirmed before trials that she'd take the spot she earned.


To be sure, Carey probably got a raw deal. To qualify on her own she had to forego an opportunity to compete at the 2018 world championships, and the individual spot essentially took her out of the running for the Olympic team, where she could have won another medal. What's done is done, though. Carey, 21, is a four-time world championships medalist, and now the future Oregon State Beaver is headed to the Olympics, where she'll be a favorite to medal on her two key events.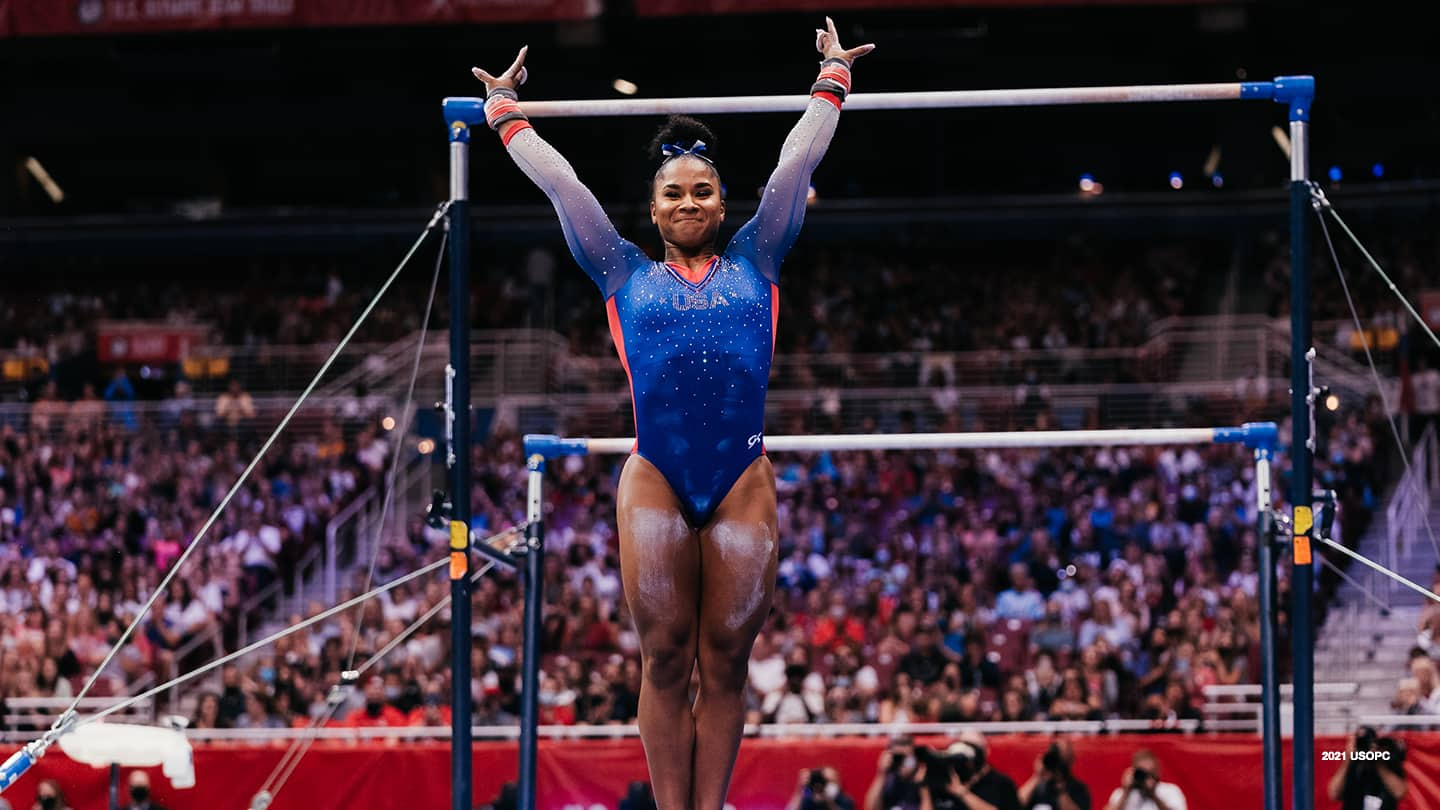 All Chiles does is hit routines. At least in 2021. The former junior standout arrived at the senior level in 2017 with high expectations, even finishing U.S. runner-up that year. However, inconsistency over the next two years kept pulling her out of contention for the world championships team. By 2019, she was lost, the only elite gymnast in Washington state wondering if she had a future in the sport. That's when Biles called and invited her to come down to Texas.


Chiles has been an unstoppable force ever since. She came into 2021 and won the Winter Cup, then took second in the U.S. Classic, with only Biles ahead of her on the score sheet. Biles and Lee topped Chiles at both the U.S. championships and Olympic trials, but here's the kicker: of the three only Chiles has hit every routine this year without a major mistake. That, combined with her scores, meant the 20-year-old came to St. Louis as pretty much a sure thing for Tokyo.


The Olympics will be her first major international competition, but she is in line to make a big impact for the team and possibly contend for event finals on floor and beam.
Lee's life turned upside down right as her elite gymnastics career was taking off. Just days before heading to her first senior U.S. championships in 2019, Lee's dad, John, became partially paralyzed after falling from a ladder. The Minnesota native decided to still compete, and all she did was finish as runner-up to Biles. Lee has since gone on to win a full slate of world championships medals — gold with the team, silver on floor, bronze on uneven bars — before claiming another U.S. runner-up finish earlier this month.

The journey to get here has come with more hardship, though. While John Lee has made progress in his recovery, an aunt the gymnast was close with died of COVID-19. Two weeks later, her uncle died too. This all came as the Lee was grappling with the reality that the Tokyo Games she'd been working toward had been pushed back a year. "You don't think something like this would ever happen to you," the gymnast who goes by Suni told the Minneapolis Star Tribune. "And when it did, it was like everything hit all at one time."
With her parents in the crowd at nationals and trials, Lee, 18, has looked the part of an Olympian. While recovering from an ankle injury earlier this year, Lee said she heard the whispers about whether she could be an all-arounder at the Olympics. So the future Auburn Tiger went out and posted the second best all-around scores at both nationals and the trials. Now she's not only an Olympian, but also the first Hmong American to make a U.S. Olympic Team. While Lee could no doubt factor into the all-around in Tokyo, the event to really pay attention is the uneven bars, where she starts with a world-class 6.7 difficulty score and connects a seemingly never ending chain of skills like it's no big deal. If she can hit that routine in Tokyo, Lee could come home with a gold medal.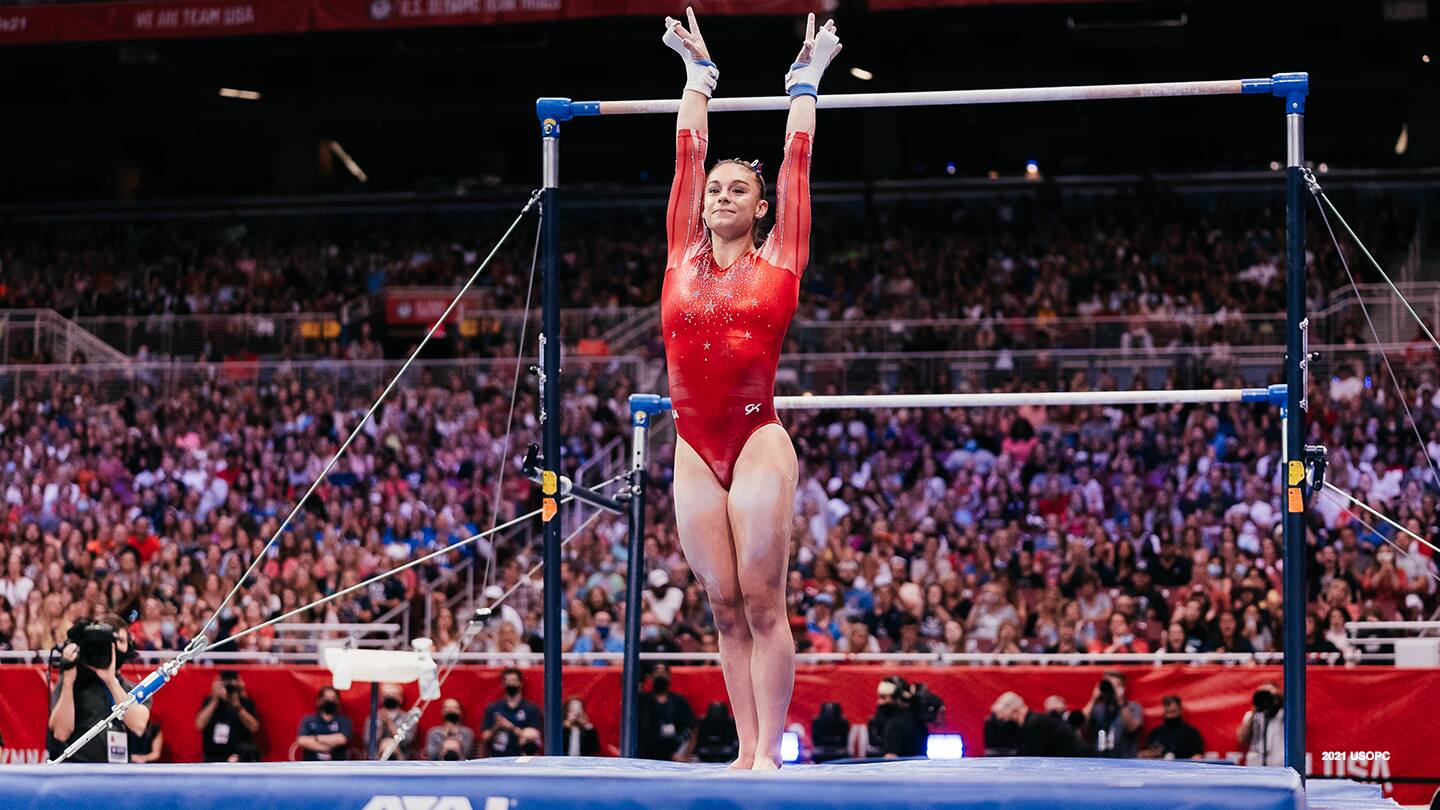 McCallum simply bided her time. With Biles always considered a lock for Tokyo, and Lee and Chiles establishing themselves as favorites at the U.S. championships, McCallum found herself as one in what appeared to be a crowded field competing for that fourth and final spot on the team.
Tied for seventh after nationals, McCallum knew she had the right stuff if she could just hold on and be consistent. The Minnesota native, 18, is one of the most experienced gymnasts in the cohort, having been part of the world-title-winning U.S. teams in 2018 and 2019.
Still, that was easier said than done. After undergoing surgery on her hand, McCallum still wasn't at her sharpest at trials. What she did do, however, was avoid any of the major mistakes that could singlehandedly take a gymnast out of contention. She provided vault and bars scores to the team final at the 2019 world championships, though she might be best known for her work on the balance beam. She was top five on bars, beam and floor at trials.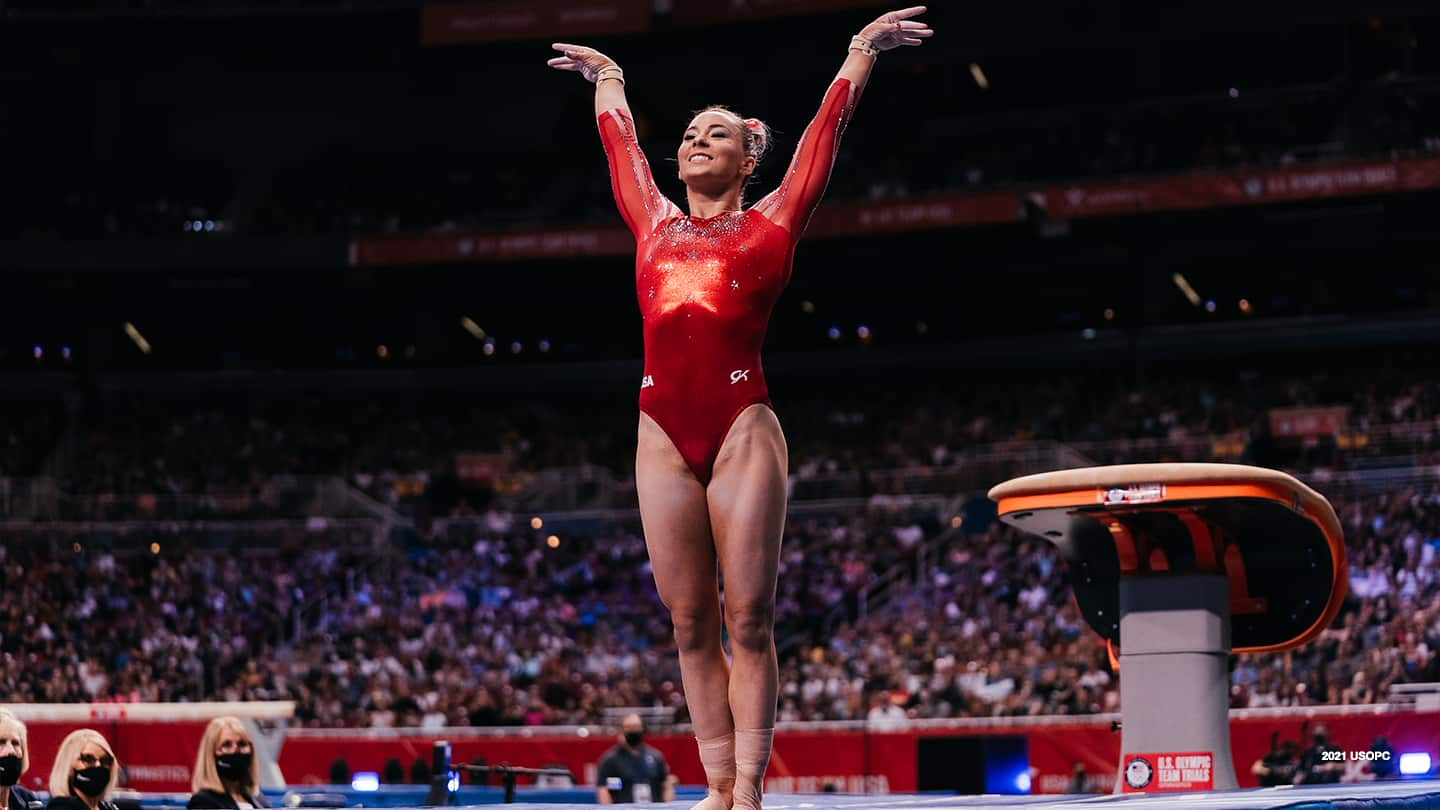 Not satisfied with being an alternate on the 2016 Olympic team, Skinner put her standout college career on hold to give it one more try on the elite level. The 24-year-old made it count, following up the meet of her life on the opening day of trials with another strong performance Sunday to secure her spot in Tokyo as the second individual.


The Arizona native had been one of the top U.S. gymnasts through the last quad but fell short of the team. From there she went on to become one of the best — and most popular — college gymnasts while competing for the Red Rocks at the University of Utah, winning a pair of NCAA titles along the way. But before her senior year she wanted to take care of some unfinished businesses.


There have been highs and lows in the last two years, from getting married (high) to having the Tokyo Games postponed and contracting COVID-19 (lows). She got here, though. Borrowing some of the crowd-pleasing rev-up tactics from college gymnastics, Skinner generated some of the biggest cheers of the weekend in St. Louis. Best known for her ability on floor and vault, she might have set herself apart with one of the best beam routines of her life on Friday. However, she's really going to Tokyo to try to win a medal on her signature events.
Chrös McDougall has covered the Olympic and Paralympic Movement for TeamUSA.org since 2009 on behalf of
Red Line Editorial, Inc.
He is based in Minneapolis-St. Paul.