Gabby Thomas Has FloJo-Esque Performance in Winning 200 Meters at Olympic Trials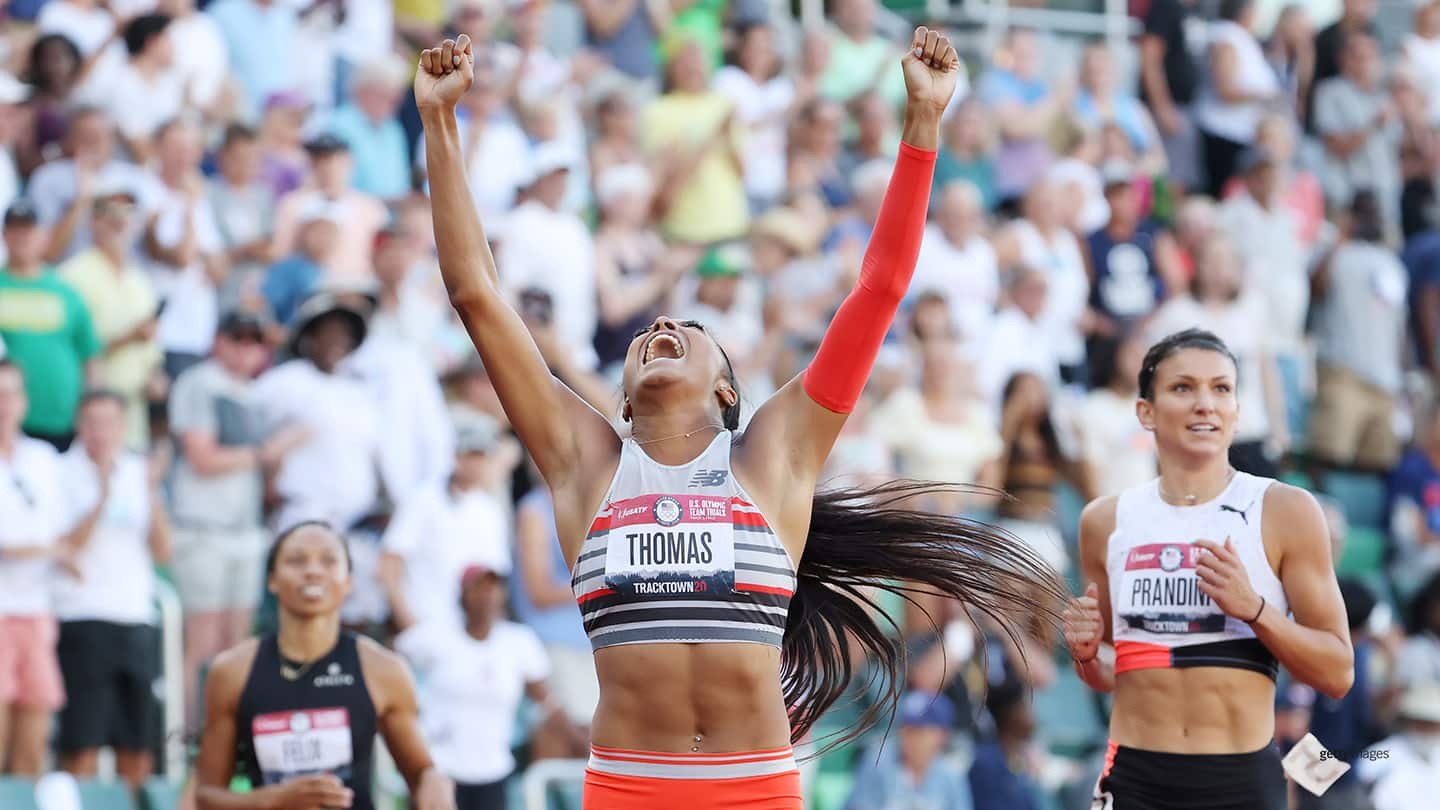 Gabby Thomas celebrates after winning the Women's 200 Meters Final at the 2020 U.S. Olympic Track & Field Team Trials on June 26, 2021 in Eugene, Oregon.
EUGENE, Oregon – Only one woman in history has run 200 meters faster than Gabby Thomas, and that's the legendary Florence Griffith Joyner.

Thomas posted an eye-popping time of 21.61 seconds in winning the U.S. Olympic Team Trials – Track & Field on Saturday. FloJo clocked 21.34 seconds to win the gold medal at the Olympic Games Seoul 1988 after going 21.56 in the semifinals.

And now there's Gabby, right below Griffith Joyner in the record books. Thomas even crossed the finish line with her arms in the air -- reminiscent of FloJo in her heyday – which begged the question of how much faster she could have gone if she had powered through.

The 24-year-old Harvard graduate knocked an astounding .33 seconds off her personal best – which she ran the day before – in recording the fastest time in 33 years. She also jumped ahead of 25 of the fastest women ever, including a Who's Who of American world and Olympic champions such as Marion Jones (21.62), Allyson Felix (21.69), Gwen Torrence (21.72) and Evelyn Ashford (21.83).

Felix was even in the race as Thomas broke her Olympic Trials record from 2012. That was also set at historic Hayward Field and actually was one of the first track memories Thomas has.

Felix placed fourth behind Jenna Prandini and Anavia Battle, but she had already made her fifth Olympic team by qualifying in the 400 meters.

"Allyson Felix was my biggest inspiration," said Thomas, who qualified for her first major national team. "She was the first person I remember watching on TV. Sitting at my granny's house, my mom told me to turn on the Olympic Trials because she saw someone who reminded her of me. That's the person who has been in the back of my head for so many years."

Thomas added that Felix's "humility and grace and how good she is at what she does… has been inspiring, so being on the team with her makes me want to cry."

Prandini also posted a personal best of 21.89 seconds to make her second straight Olympic team, while Battle, fresh off her college career, joined the exclusive sub-22 club with a time of 21.95 to make her first Games.

Thomas, who finished fifth in the 100 meters, displayed incredible momentum, lowering her time in the 200 in each of the three rounds from a personal best of 21.98 to 21.94 to the 21.61. And Felix, 35, definitely noticed.
"I think it was amazing," Felix, who won the 200 meters at the Olympic Games Athens 2004, said of Thomas. "She's been getting better and better every single round, so I think we have such a strong 200-meter team that we're sending and they all have really bright futures."

Thomas, who was born in Atlanta and raised in Massachusetts, had a health scare before leaving Austin, Texas, where she now lives and trains. She had an MRI of her lower back to determine what was aggravating her hamstring and doctors found a tumor on her liver.

"I worried I wouldn't be able to be in a good headspace here to perform just knowing that I could possibly have cancer," Thomas said. "Fortunately, they found out it was benign a couple of days before I left. So I came here with a clear mind and a clear headspace.

"I remember telling God, 'If I am healthy, I'm going to go out and win Trials. If this is not cancer, I'm will make this team.' And that's exactly what I did."

Thomas said running the 100 earlier in the Trials helped her shift into gear in the early phase of her 200, and she was able to roar around the curve. Saturday's performance could have been the perfect race, if only she could remember it.
"I couldn't feel my legs, I couldn't think, I was blacking out," she said. "I'm sure people are always capable of going faster; there had to be things to fix. I'm going to watch the videos over and over again, see what I did right, what I did wrong. As for me right now: perfect."

Yet, Thomas admits being surprised at the time, which makes her the favorite going into the Olympic Games Tokyo 2020. She has three of the top times in the world this season, with Prandini and Battle posting the other two. Shaunae Miller-Uibo of the Bahamas and Dina Asher-Smith have yet to break 22 seconds this season. Until the Olympic Trials, Miller-Uibo and Asher-Smith probably didn't view Thomas as their top rival – and neither did she.

"It definitely has changed how I view myself as a runner," said Thomas, who was not yet two years old when Griffith Joyner passed away in 1998. "I think the standard for myself is a lot higher. I am still in shock. I cannot believe that I put up that time. I'm sure my coach (Tonja Buford-Bailey, Olympic bronze medalist in 1996 in the 400-meter hurdles) was not surprised, but I really was."

Thomas graduated from Harvard with a degree in neurobiology with a secondary in global health and health policy and is now pursuing her masters in public health, specifically epidemiology at Texas. She said the trajectory of her career has also changed.

"I just want more for myself now," Thomas said. "I'm going to have to start thinking about different goals, different visions. Because this was my dream. My dream was to make the Olympic team, not to win the Olympic Trials -- not even to break the meet record. Now that I've accomplished those as well, I'm just going to set higher goals and I'm excited about that."

Does she see breaking breaking FloJo's world record in her future?

"I don't want to say no," Thomas said. "I don't know. I don't want to put a limit on myself, so I'm not going to say it's unattainable."

Prandini, returning to the Oregon campus where she went to college, also had three personal bests in three races. She was thrilled to make the Olympic Team after coming in fourth in the 100 a week earlier.

Prandini said she is better prepared than she was five years ago when she went to the Olympic Games in Rio.

"I think last Olympics I left with a little sour taste in my mouth," Prandini said. "I really wanted to get to that final and get a medal.

"I think I became a better athlete just by going there and getting that experience under my belt. To represent Team USA at a second Olympics is special to me. I can't wait to get back out there."

Battle, the Ohio State graduate who was the Big Ten outdoor champion in the 100 and 200, dropped to her knees after she realized she had made the Olympic team.

"I was so shocked and full of happiness," she said. "I just started crying. I was just overwhelmed."

Battle said that her coach told her after the NCAA meet that "I belonged and that I need to get myself together just so I can compete with this amazing field of women."

She admitted that her start needs work.
"Just imagine if I put everything together," Battle said. "It'd be amazing. It was just a matter of time for me to hit 21 -- yeah, it's the last meet of this season – well almost the last meet."

Now she has the Olympics. And so does Felix, who never intended to run both the 200 and the 400 at the Olympic Games if she qualified in both events. They overlap on the Tokyo schedule.

Felix said the plan "was to run them both here an evaluate and see where I looked best, so obviously this made it very easy. The 200 has always been my favorite, but as I've gotten older, the 400 has suited me best."

Felix, who was second in the 400 meters, said she tried to soak it all in during her last Olympic Trials. She fought back her emotions as she thanked her supporters.

"I feel a mix of all emotions," Felix said. "I'm really excited to be going to Tokyo, but there's a part of me that's sad. This has been my life for so long, that this was my last time around, I feel sad for that, but also excited for what's to come."
Karen Rosen has covered every Summer and Winter Olympic Games since 1992 for newspapers, magazines and websites. Based in Atlanta, she has contributed to TeamUSA.org since 2009.