Para Sprinter Femita Ayanbeku Ready To Show The World What She Can Do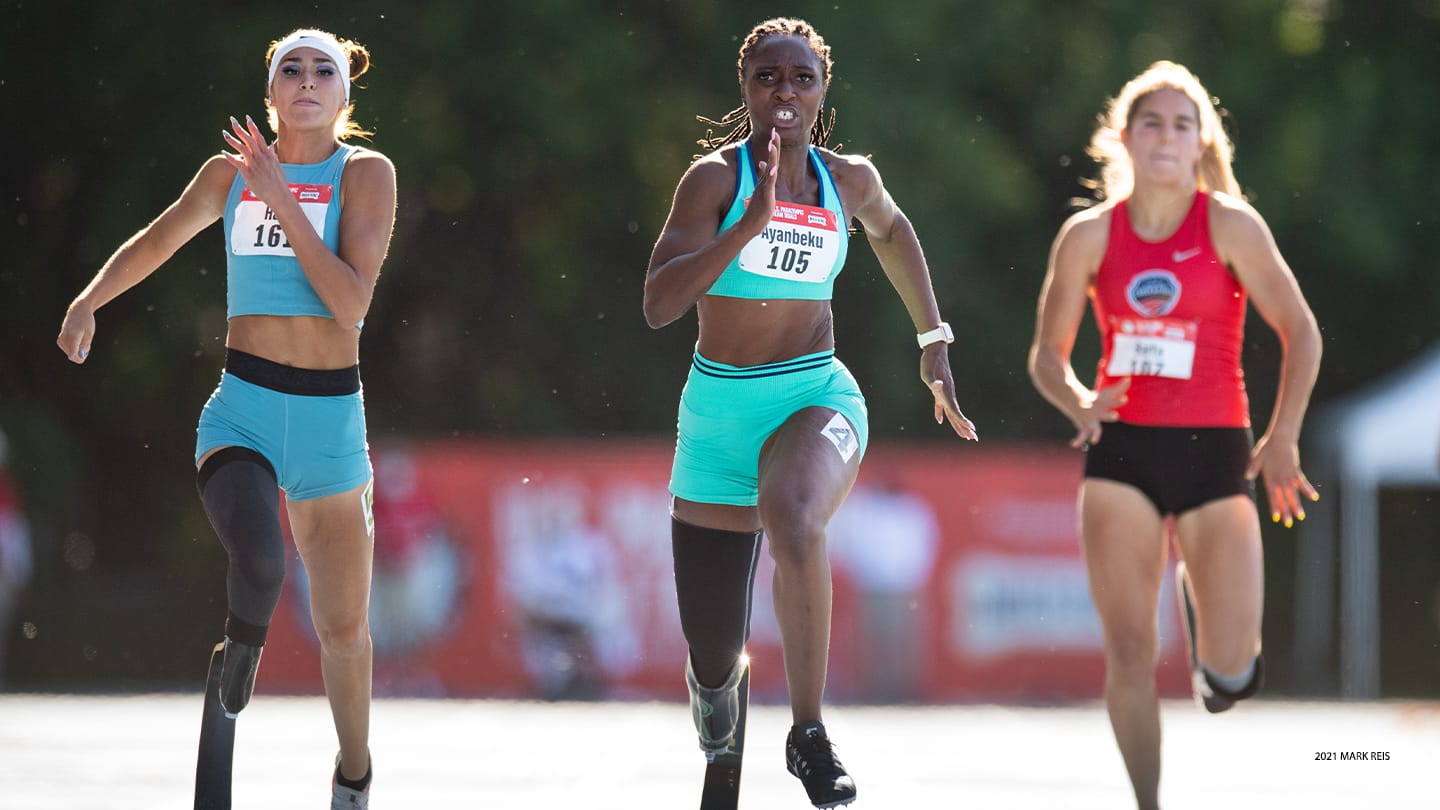 Femita Ayanbeku and others compete in the Women's 100 Meter Dash T44/64 Ambulatory final during the 2021 U.S. Paralympic Trials at Breck High School on June 18, 2021 in Minneapolis, Minn.
MINNEAPOLIS —Femita Ayanbeku's infectious laugh could be heard from the other side of the track every day at the U.S. Paralympic Team Trials for Track and Field in Minneapolis this weekend.

The Paralympian and world championship bronze medalist, who is part of Team USA's new #ShowTheWorld campaign to showcase the remarkable talents, backgrounds and passions of U.S. Paralympians, reflected just that on and off the track in Minneapolis. In the 100-meter T64 race, she broke four-time Paralympian April Holmes' 15-year-old American record, clocking 12.84, only two-tenths shy of the world record. She then finished third in the 200, an event she is steadily improving in.

"I'm really happy with my performance, especially in the 100 meters," she said. "It means the world to me. Seeing all the coverage we've had is amazing. I'm just really excited for the whole Paralympic Movement. I'm making history with my American record and NBC's making history with their coverage, so it's a great time to be a part of the movement."

All seven of her siblings — Sendy, Dolly, Kassy, Wendy, Andy, Bolaji and Shalewa — tuned into Trials, live streamed for the first time on NBCOlympics.com, to watch her all but punch her ticket to the Paralympic Games Tokyo 2020.

"I have a little bit of all of them inside of me, and it's nice to have such a huge support system," she said.

Ayanbeku, the daughter of a Haitian mother and Nigerian father, lost her right leg below the knee after a car accident when she was 11 years old. She had piled into the car with her sisters and cousins to go to the movies one night, but she and her sister were thrown out of the car onto separate sides of the highway in the accident.

After her amputation, she tried her hand at basketball in her hometown of Boston, but it proved quite difficult and she has said she spent a lot of time feeling sorry for herself and being insecure.

Then, her outlook on life completely changed when she switched from the hardcourt to the track after being introduced to the Paralympic Movement in 2015 by three-time Paralympian Jerome Singleton. Within a year, she found herself on the world stage, finishing sixth place in the 200-meter at the Paralympic Games Rio 2016. She then went on to compete at both the 2017 and 2019 World Para Athletics Championships, winning a bronze in the 200 in the latter and finishing fourth in the 100.

In 2017, she also had the opportunity to run with Usain Bolt's All-Star Team at the Nitro Athletics event in Melbourne, Australia, where she shared multiple laughs with the sprinting legend.

"It was a great experience to see him running in person, as he's such an inspiration," she said. "He was our team captain, too, so I got to meet him and hear all of his jokes. He's a funny guy."

Ayanbeku, a certified personal trainer herself, now runs on the track four days a week, in addition to pilates and weightlifting. But she doesn't want to be the next Bolt. She wants to be — and is already becoming — the next Holmes, who served as a spotter for NBC's production staff at Trials.

"I love April Holmes. We hugged after my race, she was so proud of me," Ayanbeku said. "I'm so happy to have her — we were direct competitors when I first started — as she's been such a helping hand and leader for me. I'm super grateful for everything she's done for the sport."

Ayanbeku, who turns 29 at the end of the month, is already setting herself up to pay it forward, too, just like her mentor. She is the president and founder of a non-profit organization called Limb-It-Less Creations, which provides support and raises awareness for the amputee community. With her hard-work ethic and world-class personality, she organizes outings and activities to bring amputees out of their shells on a daily basis.

But for the next two months, she'll be 100 percent focused on Tokyo, where she hopes to enter the track stadium listening to her favorite pump-up song — Nikki Minaj's "Itty Bitty Piggy" — and leave with a gold medal around her neck just like Holmes did in Beijing in 2008.

And she's eager to show it to the world, thanks to NBC's plans for an unprecedented 1,200 hours of Tokyo Paralympic coverage across its platforms.
Stuart Lieberman has covered Paralympic sports for 10 years, including for the International Paralympic Committee at the London 2012, Sochi 2014 and PyeongChang 2018 Games. He is a freelance contributor to TeamUSA.org on behalf of Red Line Editorial, Inc.