Paralympian David Wagner Shares His Love For Helping Others And Challenging Stereotypes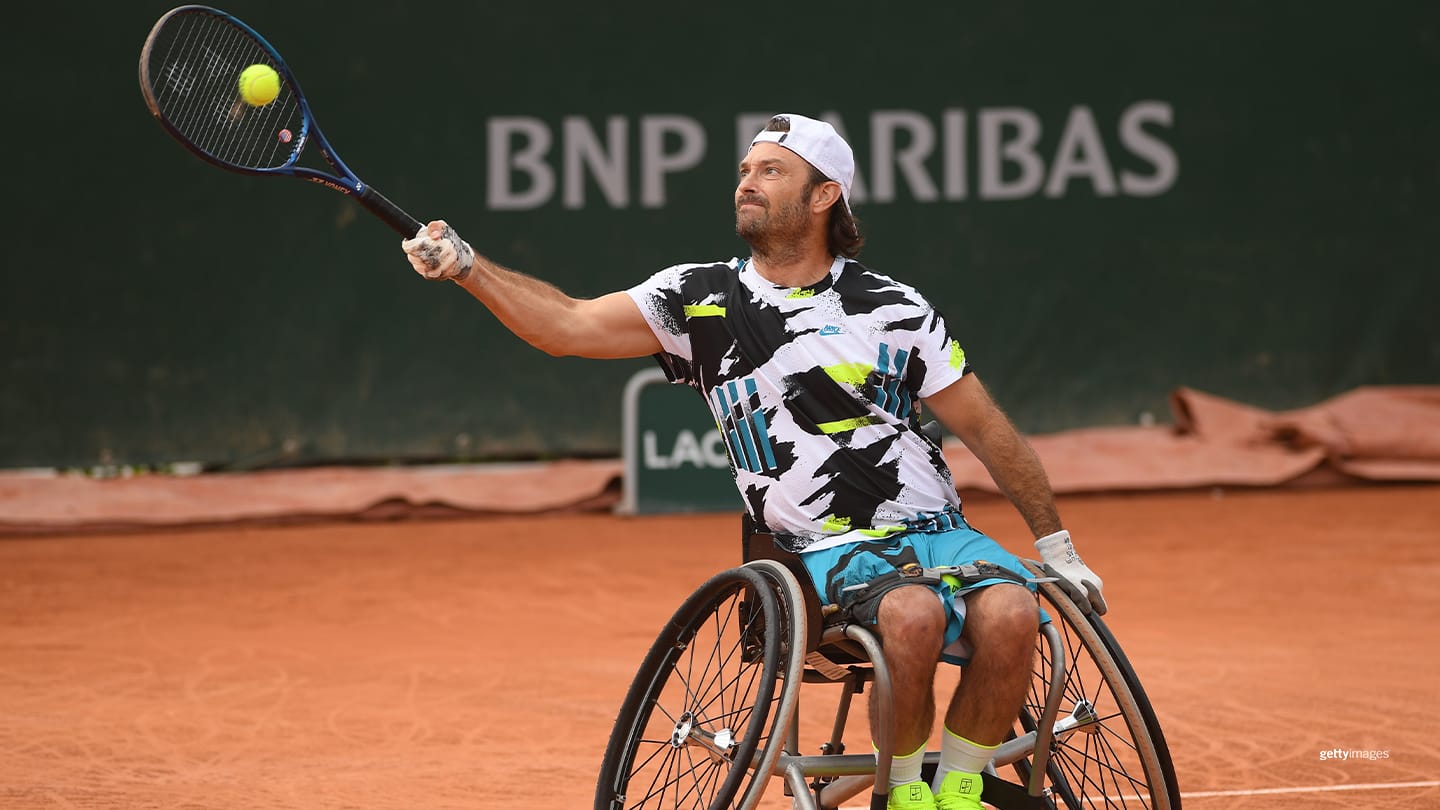 David Wagner plays a shot during the Men's Singles Quad Wheelchair semifinal match on day twelve of the 2020 French Open at Roland Garros on October 08, 2020 in Paris, France.
What's Your Why presented by DeVry highlights athlete's individual motivations that drive them to pursue greatness on their journey to achieve their Olympic & Paralympic dreams.
When I first started in wheelchair sports, I knew nothing.

I knew nothing about the Paralympics or the elite level that exists in wheelchair sports. I truly got into wheelchair sports, so I could play with my able-bodied friends. After I learned about the Paralympics and the opportunity to compete all around the world in disabled sports, I never looked back. It became my focus.

Growing up I was always an athlete and always trained and competed hard. After my accident, I took that same mindset into wheelchair sports.

My personal and internal drive has always pushed me to get better at whatever I've chosen or set my mind to. When I commit to something, I give 100% of myself to it. With wheelchair tennis, that was no different.

When I realized there was an opportunity to become the best wheelchair tennis player, I took on the challenge. I have always tried to become the best version of myself in everything I do. Of course, I take the same approach in wheelchair tennis. Not only am constantly striving to get better in all aspects of the sport, but I also strive to get better every day outside of my sport and in my non-athletic life.

I love helping others with a disability learn what they are capable of. Whether it's helping a newly injured adult get back to a sport they used to play or showing a child a sports wheelchair for the first time, seeing the smile on their face is what I love most about disabled sports. Knowing that an individual with a disability has been motivated to try something new whether it be sports, art, music, a different job, anything because I have help them, gives me purpose and drive to continue giving 100%.

One of the reasons I continue to compete and train as hard as I do, is I love proving people wrong. I love breaking barriers and defying stereotypes of what a person with a disability is able to do.

I can remember one of the first times being on a tennis court with another player in a wheelchair. We were hitting on a court that had another court next to us with two able-bodied players on the other court. They stopped, looked at us and were amazed at what we were able to do. They came over to talk to us and shared their thoughts when they first watched us play. To this day, I can remember how great it felt to have helped changed their perspective and outlook on feeling on people with disabilities.

Going into every Paralympic Games, I have that same mindset. Whose viewpoint can I change? In a country where people with disabilities aren't always forefront or recognized, I love being able to showcase what we can do at the highest level of sport. It is phenomenal to be part of something so large and so life-changing for so many people.