Point Guard Chelsea Gray Key To Helping U.S. Offense Come Together Quickly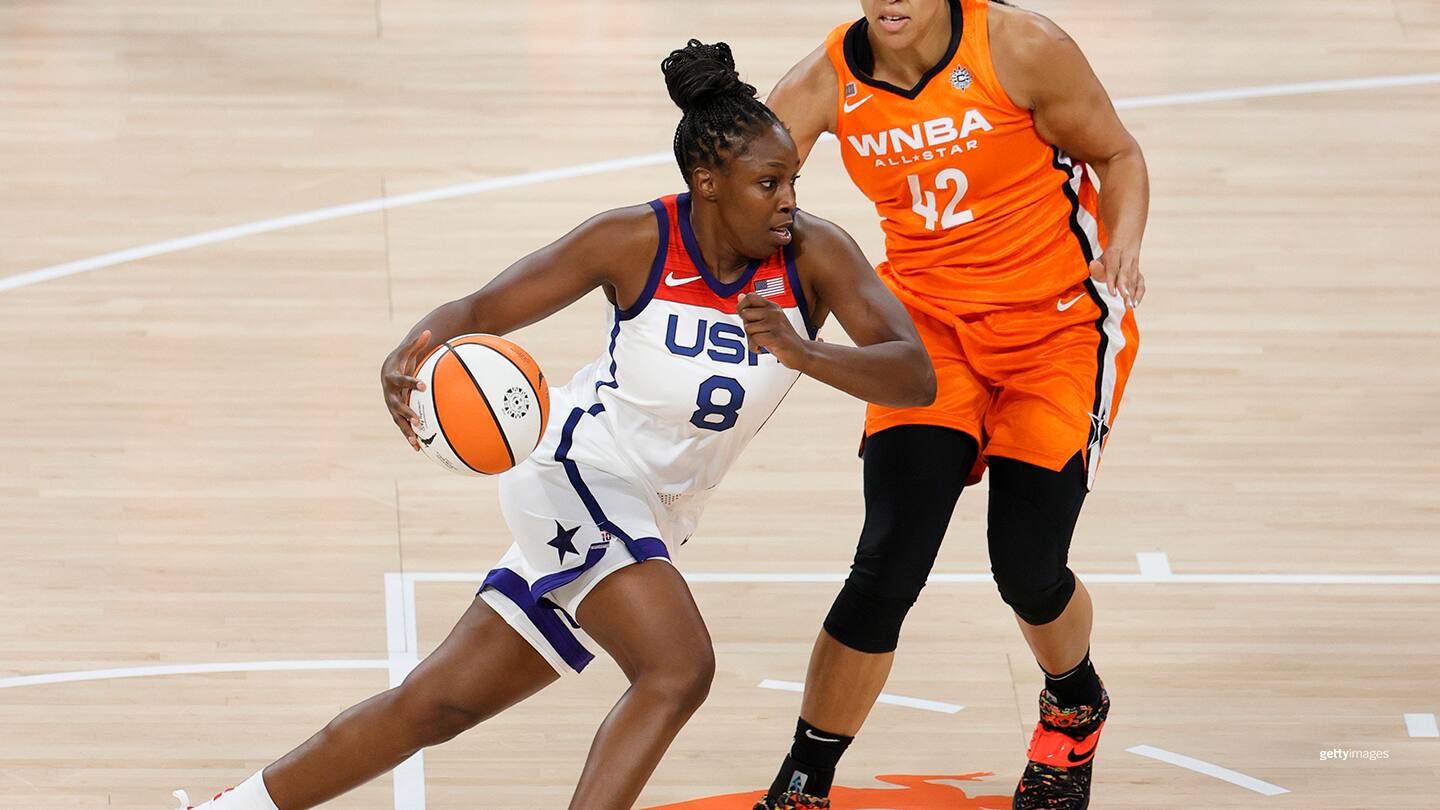 Chelsea Gray playing in the 2021 WNBA All-Star Game aon July 14, 2021 in Las Vegas.
LAS VEGAS — As one of the best point guards in the WNBA, Chelsea Gray is an expert in getting the ball to her teammates in the right spot at the right time for them to succeed.

As a first-time Olympian in Tokyo with the U.S. women's national basketball team, her role is essentially the same, but she has to learn the tendencies of 10 new teammates — she plays with A'ja Wilson on the Las Vegas Aces — in a very short period of time.

In five days before Sunday's Road To Tokyo exhibition finale against Nigeria, Gray had three practices and two games to commit that new data to memory.

"Just coming in and being myself," Gray said of her role with the U.S. "Learning the players and learning what makes us tick, what makes us better. Coming in with that second unit, just trying to keep the flow of the game, but also expand on the lead that we'll get. Communication is going to be key and that's what we're learning."

Gray has come off the bench for the U.S. in both exhibitions going into Sunday, averaging 6.5 points, 2.5 assists and 3.0 rebounds in 17.5 minutes per game. Those two games have been rocky for the Americans, who are aiming for an unprecedented seventh straight gold medal at the Tokyo Olympic Games, as they lost to the WNBA All-Stars 93-85 Wednesday and Australia 70-67.

With such a short time to prepare, consistency and chemistry are hard to come by quickly, but Gray and her U.S. teammates are working hard to meet the high standards of USA Basketball on the international stage.

"We'll have spurts which we're clicking on all cylinders on both ends of the floor," Gray said.
"(We will be better when) there's not as many spurts, there are longer periods of time in which we're playing that way on both ends. Playing the right way, moving the ball offensively, and then defensively staying engaged and making it difficult on their players to get an open shot. That's just going to be the key each and every day to get better."

The first Duke women's player to be an Olympian, Gray played in 11 games since 2019 with the women's national team before this camp. In her seven-year WNBA career, Gray is averaging 11.7 points, 4.4 assists and 3.0 rebounds per game, including 11.5 points, 6.1 assists and 3.1 rebounds in her first season with the Aces. She has been an All-Star four times, won a WNBA title in 2016, her first year with the Los Angeles Sparks, and named first-team All-WNBA in 2019.

As with any team with a big Olympic dream and having such star power on a 12-player roster, finding your niche with that group is key.

"When people are with their separate teams, they are their 1-2-3 option," Gray said. "So here, everybody is like that same (level) of option and it's going to be more even. I think people are going to play to each other's strengths and I think that's where you see the growth and that's where we have to come to be so dominant as a team is to play to everybody's strengths and it doesn't matter who gets the credit. I think that's the beauty of playing with each other as well."

Gray said fans shouldn't worry about the Americans' struggles shooting the ball, especially from 3-point range. In those two exhibitions, the U.S. is hitting 42.6 percent (60 of 141) of its shots and 23.7 percent (9 of 38) from 3-point range.

"No need to panic right now," Gray said. "The shots will start falling. Once we get a little bit more in a groove, we'll know when the shots are coming and be able to play off each other a little bit better."

That groove comes with more time together. Following Sunday's game, there is the lengthy flight to Tokyo that could provide a bit of a respite from a hectic recent schedule before getting back to the business of basketball and winning that seventh straight gold.

"The roles and the way you get to certain spots, the way you try to set up people is just going to be different, you are playing to people's strengths," Gray said. "That's what I'm learning throughout practices and throughout these games. From quarter to quarter, you see improvements or you see the communication improving and that's going to be key."
Steve Drumwright is a journalist based in Murrieta, California. He is a freelance contributor to TeamUSA.org on behalf of
Red Line Editorial, Inc.