With Rivals Pushing Him, Sam Kendricks Keeps Soaring To New Heights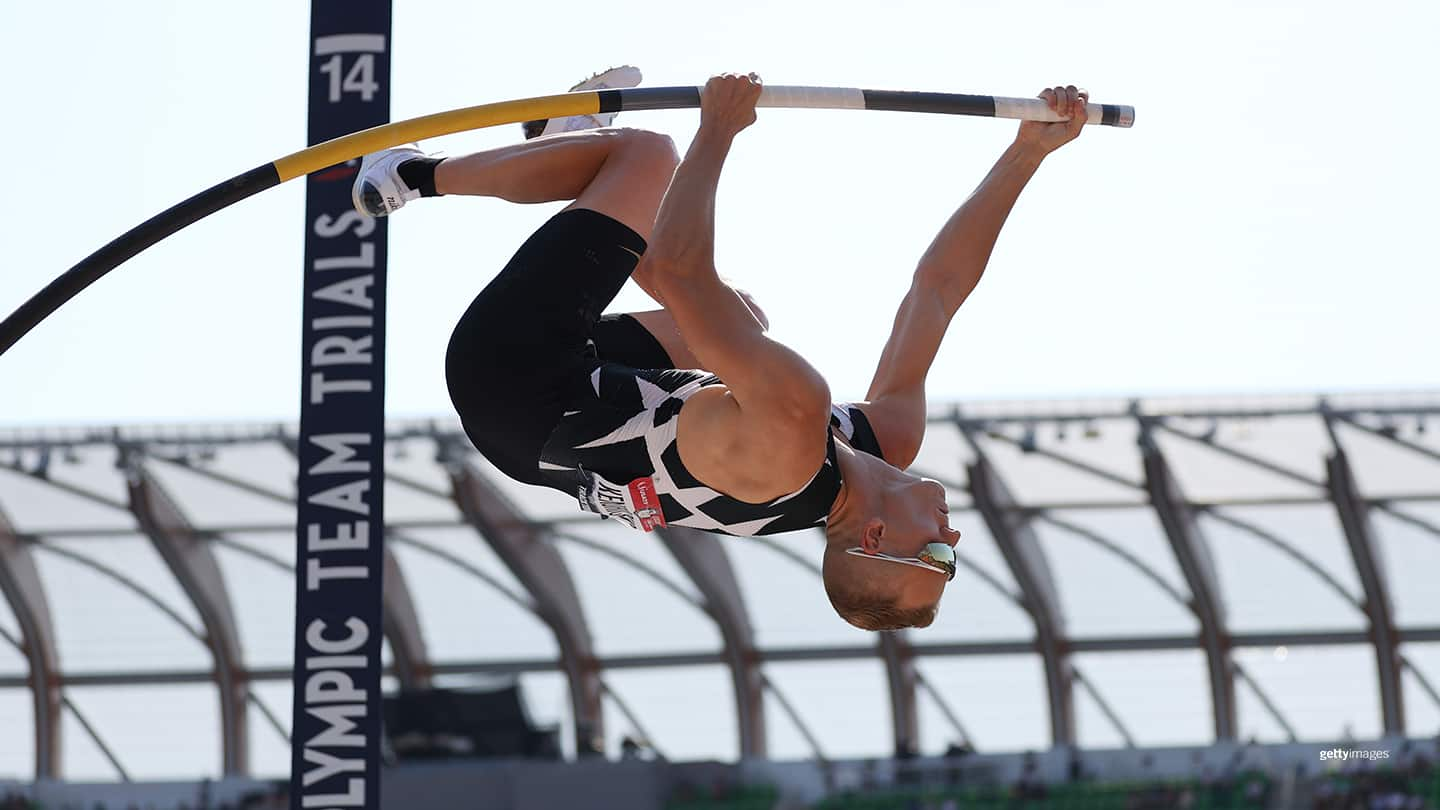 Sam Kendricks competes in the men's pole vault final at the 2021 U.S. Olympic Team Trials – Track and Field on June 21, 2021 in Eugene, Oregon.
An unusual sight unfolded last spring amidst the worldwide shutdown due to the coronavirus.

With no way for athletes to compete in person, a trio of the world's best pole vaulters opted for the next best thing.

American Sam Kendricks, Sweden's Mondo Duplantis and France's Renaud Lavillenie competed against one another virtually in what was billed as the Ultimate Garden Clash. They vaulted from their own backyards, and the winner wasn't the one who cleared the greatest height but the one who had the most clearances of five meters over 30 minutes.

It wasn't official and didn't count for anything other than bragging rights, but it also demonstrated the friendly but fierce rivalry in the sport.


It's a rivalry that will soar to new heights, pun intended, in Tokyo.
Kendricks, 28, made his Olympic debut at the Olympic Games Rio 2016 and captured the attention of many Americans before he ever stepped onto the podium. A U.S. Army Reservist whose father is a retired Marine captain, Kendricks was literally running down the track, pole in hand, during qualifiers when the national anthem began playing in the stadium. The Oxford, Mississippi, native immediately stopped, put down the pole and stood at attention.
Not long after, he became the first U.S. athlete to medal in pole vault since 2004 with his bronze-medal vault of 19 feet, 2 1/4 inches (5.85 meters).
Since that time, Kendricks has become a two-time world champion in the pole vault, having won the title in both 2017 and 2019.
A rivalry has also developed between Kendricks and Duplantis, a 21-year-old who is American-born but has dual citizenship and competes for Sweden. In 2017, Kendricks beat Lavillenie for the world title. Two years ago, he and Duplantis were locked in an epic dual that saw them both clear 19 feet, 7 inches and both miss at 19 feet, 9 inches. Kendricks had fewer misses overall, however, and defended his title.
Kendricks, Duplantis and Poland's Piotr Lisek, who won bronze, all celebrated at the end with a backflip.
While Kendricks goes into the Olympic Games Tokyo as the defending world champion, however, Duplantis goes in as the world record holder. He set the indoor record of 6.18 meters (20 feet, 3¼ inches) in early 2020. Seven months later, he set the outdoor record clearing 6.15 meters, or 20 feet, 2 inches. Duplantis is currently ranked first in the world, followed by Kendricks at No. 2.
If there's any question that the rivalry between the two is in fact friendly, look no further than this photo from a recent Diamond League competition. With the rain complicating things for the athletes in England back in May, Duplantis was snapped holding an umbrella over Kendricks as he prepared to jump. Kendricks won that day, and Duplantis came in second for the first time since their showdown at the 2019 world championships.
Kendricks holds a lifetime best of 6.06 meters, an American record he set in July 2019, and recently jumped a season-best 5.91 meters at a Diamond League meeting in Oslo, Norway. Duplantis won, clearing 6.01 meters. Lavellinie was third.
The U.S. hasn't had a pole vaulter medal in back-to-back Olympics since Bob Seagren in 1968 and 1972, and it's something that should be well within reach for Kendricks.
Exactly where he might land on the medal stand will undoubtedly be must-watch TV in a few short weeks. Although his personal best isn't as high as Duplantis' record jump, Kendricks does have a reputation for performing his best when the competition means the most.
The men's pole vault competition will start on July 31 and ends on Aug. 3.
Karen Price is a reporter from Pittsburgh who has covered Olympic and Paralympic sports for various publications. She is a freelance contributor to TeamUSA.org on behalf of
Red Line Editorial, Inc.