News
Katie Moon
Ronnie Baker
On Way To Tokyo, Katie Nageotte, Ronnie Baker Claim Wins At Diamond League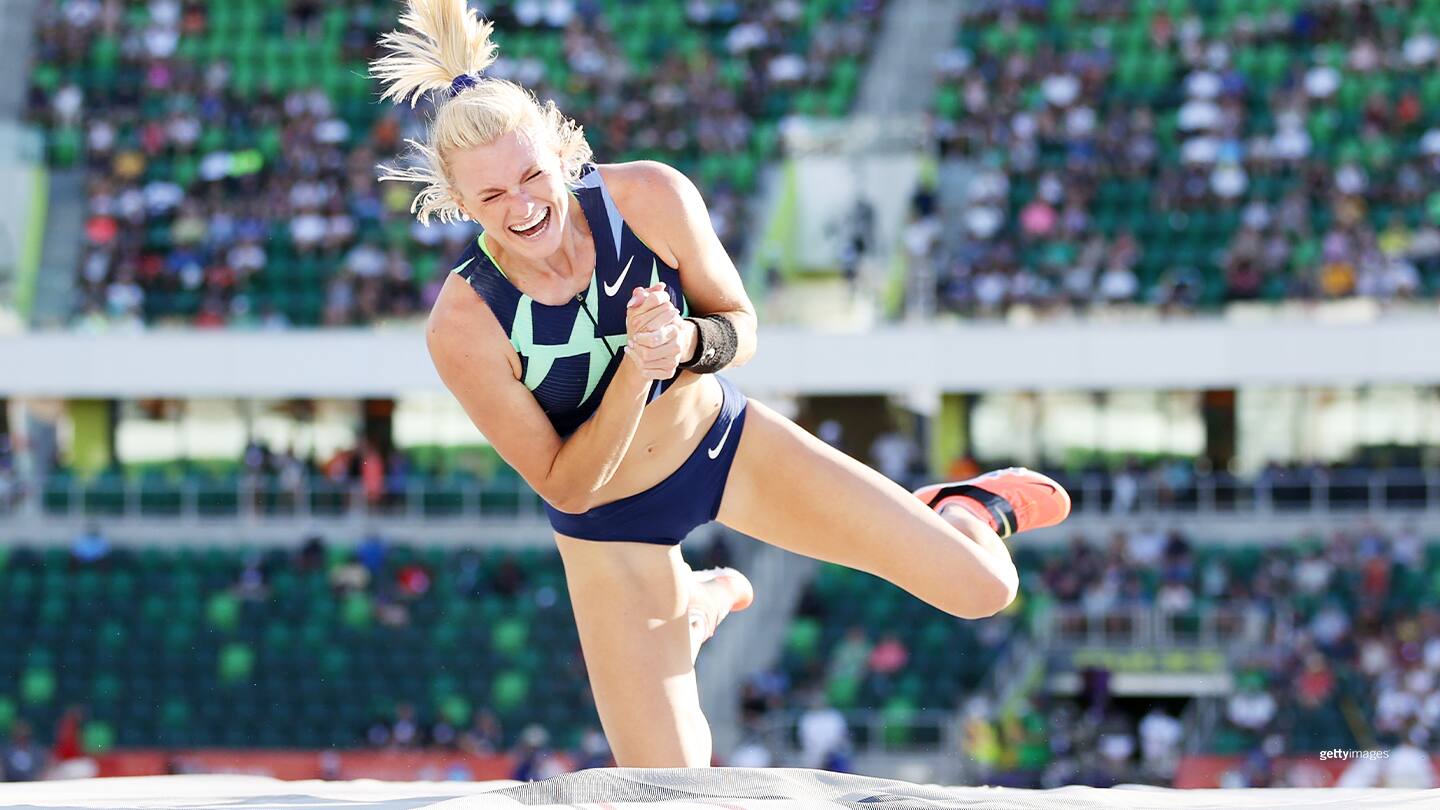 Katie Nageotte reacts as she competes in the Women's Pole Vault Final on day nine of the 2020 U.S. Olympic Track & Field Team Trials at Hayward Field on June 26, 2021 in Eugene, Ore.
Pole vaulter Katie Nageotte and 100-meter runner Ronnie Baker each claimed wins at the Diamond League stop Friday in Monaco, one of the final tune-ups ahead of the Olympic Games in Tokyo.

In total, 13 athletes who were recently named to the U.S. Olympic track and field team took part in the Monaco meet, which is the penultimate Diamond League stop before Tokyo. The series meets again July 13 in London and Gateshead, England, and the track and field events in Tokyo begin July 30.

Nageotte, who qualified for her first Olympic team by winning the U.S. Olympic Team Trials, was tops in Monaco with a best height of 4.90 meters. Sandi Morris, the 2016 Olympic silver medalist in the event who also qualified for Tokyo, finished sixth at 4.50 meters.

"I feel a bit of pressure ahead of Tokyo, but after the U.S. Trials, this is more like a relief and I am very excited now that I am there and get to go," Nageotte, a two-time NCAA Division II champion for Ashland University, said. "Let's just show everybody what we have been working on and what we can do."

Baker joined the other two U.S. men's 100-meter qualifiers in Monaco, though he was the only one to reach the podium with a time of 9.91 seconds. Trayvon Bromell was fifth in 10.01, followed by Fred Kerley at 10.15.

"I felt very good. I am confident because I know at the end of the day, I am one of the best runners in the world, hands down," said Baker, who finish second at trials. "I have been since 2018. Some injuries have kept me out of most of these competitions and a lot of big races, making world teams and Olympic teams, but at the end of the day, I know who I am."

Olympic bronze medalist and former world champion Emma Coburn (9:09.02) was just off the podium in fourth in the women's steeplechase, while Hillary Bor was fifth and Benard Keter ninth in the men's event. Bor's time of 8:14.69 was a season best, while Keter's 8:18.53 was a personal best.

Also finishing fourth was long jumper Marquis Dendy, who is headed to Tokyo after qualifying for Rio only to be injured before taking part. His best jump was 7.99 meters.

Olympic bronze medalist Clayton Murphy finished seventh in the men's 800 at 1:44.41, just ahead of fellow Tokyo qualifier Bryce Hoppel in 11th at 1:47.74.

Rounding out the Tokyo qualifiers were Heather MacLean (4:03.63) and Cory McGee (4:04.20), who finished 10th and 11th in the women's 1,500.

In other U.S. results, 2016 Olympian Kate Grace finished third in the women's 800 with a personal best time of 1:57.20, while Dezerea Bryant (22.79) and Tamara Clark (22.95) took fifth and sixth, respectively, in the women's 200.
Chrös McDougall has covered the Olympic and Paralympic Movement for TeamUSA.org since 2009 on behalf of
Red Line Editorial, Inc.
He is based in Minneapolis-St. Paul.